An Ol' Broad's Ramblings
Archive for 17 October 2007
Liberals are so invigorated by the story about a noose being found on an obscure Columbia University professor's door that now nooses are popping up all over New York City. Liberals love to make believe the Night Riders are constantly at their doors.
I'll be shocked by a noose appearing on a college campus the day an actual racist does it.
Could Columbia at least produce one student or professor who supports racism before holding another "rally against racism"? Every concrete example of the racism allegedly sweeping the nation's campuses keeps turning out to be a fraud. Far from "institutional racism," there is "institutional racial hoaxism" run amok in this country. Will anyone rally against that?
Out of legions, here are just a few hoax hate crimes on college campuses.
…..but sadly, fairly accurate.
Shared by Ick, via email.
I have read this several times over the last several hours, and I still can't make heads or tails out the 'logic' behind it:
Reading the paper today is too much. Oil reached $86 and "fears that $100-a-barrel oil is no longer such a distant prospect" jumped off the page. With gas close to $3.00 per gallon, imagine what will happen if Turkey invades northern Iraq. Yikes! Not to worry because the mandatory mark-up of 9% in Wisconsin was declared illegal. Result? Small independents will be driven out of business by the oil oligarchy and prices will leap across the three dollar gorge forever. (None of this will hurt the hedge fund folks who make billions off the misery of common people losing their homes.)
If Wisconsin does away with the ridiculous minimum mark up, there will be dire consequences, such as home loss, business loss, etc?  How?  Competition brings in more business.
Isn't it odd that so many other states do NOT have a minimum mark up, and gas sales are just fine, businesses haven't closed their doors, and no one has lost their homes…..at least not because of the price of gas being lower.
I paid $2.54 for a gallon of gas a couple of days ago.  There were several other folks buying gas at the same place.  Down the road, the price per gallon was $2.64, and there were just as many customers filling up their tanks.  So, explain to me how competition is a bad thing.
As violence falls in Iraq, cemetery workers feel the pinch
At what's believed to be the world's largest cemetery, where Shiite Muslims aspire to be buried and millions already have been, business isn't good.

A drop in violence around Iraq has cut burials in the huge Wadi al Salam cemetery here by at least one-third in the past six months, and that's cut the pay of thousands of workers who make their living digging graves, washing corpses or selling burial shrouds.

Few people have a better sense of the death rate in Iraq .

"I always think of the increasing and decreasing of the dead," said Sameer Shaaban, 23, one of more than 100 workers who specialize in ceremonially washing the corpses. "People want more and more money, and I am one of them, but most of the workers in this field don't talk frankly, because they wish for more coffins, to earn more and more."
Well, let's see….should we drop a few bombs just so these folks can earn more money? One of the oddest takes on the decrease in violence I've see, so far.
H/T: Barking Moonbat Early Warning System 
……she's so purdy!
And she knows it too.  sigh…
Voters unhappy with Bush and Congress
Deepening unhappiness with President George W. Bush and the U.S. Congress soured the mood of Americans and sent Bush's approval rating to another record low this month, according to a Reuters/Zogby poll released on Wednesday.

The Reuters/Zogby Index, which measures the mood of the country, also fell from 98.8 to 96 — the second consecutive month it has dropped. The number of Americans who believe the country is on the wrong track jumped four points to 66 percent.

Bush's job approval rating fell to 24 percent from last month's record low for a Zogby poll of 29 percent. A paltry 11 percent gave Congress a positive grade, tying last month's record low.

"There is a real question among Americans now about how relevant this government is to them," pollster John Zogby said. "They tell us they want action on health care, education, the war and immigration, but they don't believe they are going to get it."
If this Congress actually did anything to improve ANYTHING, I'd be real surprised. Seems to me that their main purpose is suck to the life out of the taxpayers, and make life a hell on earth for Bush. Real productive. Pfft!
I'd like to meet a couple of those who rated Congress in the positives.  Do they speak English?
Explain THIS:
Under the Democrats' SCHIP proposal, adults without children will be covered through FY 2009, and funding will be available to enroll new parents until the end of FY 2012.

President Bush's plan is a reasonable expansion of SCHIP that focuses on covering poor children first. The Democrats' plan to keep adults in the program is one more sign that they plan to use SCHIP as the first step toward government-run healthcare.
So, why are these people pushing so hard to provide healthcare for NOT children? Well, votes of course. Can't be any other explanation…….other than 'wealth redistribution'.
H/T: Steve Gill 
U.S. ship held in $500M booty row
Since the recovery of the estimated $500 million, Spain and Odyssey have been sharply at odds. In July, Odyssey sent one of its lesser-important exploration ships, "Alert," out of port in Gibraltar and Spain promptly seized and escorted to Algeciras port, where it was searched and held for several days.
Why do I think this might have something to do with the "you do all the work, we'll take all the credit" type scenario?
Clinton Heralds Plan To Expand Paid Family Leave
Under Mrs. Clinton's proposal, the federal government would spend more than $1 billion a year to encourage states to operate their own paid family leave programs with a goal of having a program in every state by 2016. In addition, Mrs. Clinton also hoped to expand the Family Medical Leave Act to cover an additional 13 million workers. The act provides unpaid leave to new parents, workers caring for sick family members, and those recovering from illness. In addition, the presidential candidate said she would increase funding for child-care programs. A spokesman for the Republican National Committee, Danny Diaz, criticized the proposal's cost, saying, "Hillary Clinton's agenda for working families is pretty clear: higher taxes to pay for outrageous spending proposals totaling more than $750 billion." A policy advisor to Mrs. Clinton, Brian Deese, said the proposal's $1.75 billion-a-year cost would be covered by closing a loophole on tax shelters, which he said would raise $26 billion dollars in revenue over 10 years, according to congressional estimates.
Is she going to pay the companies out of her pocket for this?
PM: We don't need to care for everyone who crosses out borders
"It is a wild and irresponsible exaggeration to say that we need to care for all infiltrators," Prime Minister Ehud Olmert told the Knesset on Wednesday during a debate on the Sudanese refugees.

"To present anyone who has crossed into Israel as someone who we have a humanitarian obligation to care for is an irresponsible exaggeration. Where did this idea come from?" asked prime minister.
HINT HINT!!!
Perry endorses former New York mayor Giuliani
Gov. Rick Perry this morning endorsed former New York mayor Rudy Giuliani for president, saying on Fox News that he would campaign for the man he believes is best-suited to lead America during "probably one of the most important times in our history with a war on terror going on."
A RINO supporting a RINO. Guess that makes sense.
The eight-member Prince William board on Oct. 2 voted unanimously in favor of implementing a policy that would allow police officers to check immigration status.

But the supervisors opted to further study how to fund the proposal and also postponed votes on measures that would prohibit illegal aliens from receiving specific county services and on finding money to pay for a new seven-member Criminal Alien Unit in the police department.
If the Feds won't do anything, they leave the locals no choice. At least someone is making the effort to stem the flow. Heaven knows, D.C. doesn't give a happy crap.
Markup law ruled invalid
U.S. judge assails state statute on minimum gas prices
Wisconsin's minimum gas markup law, which mandates a 9% profit for stations, violates federal anti-trust laws, a federal judge ruled.

U.S. Magistrate Judge William Callahan wrote in a decision that the state's 68-year-old law is unconstitutional because the state has failed to monitor the system. He came to that conclusion because the markup was last adjusted in 1998, when it moved from 6% to 9.18%. Since then, inflation has risen 27% but gas prices have as much as tripled, Callahan wrote.
It took them 68 years to figure this out? I want a refund!!
Iran's former UN envoy elected as UNESCO culture sector head
Iran's former ambassador to the United Nation, Mohammad-Javad Zarif, was elected Tuesday as the new chairman of the Culture Sector of the United Nation Educational, Scientific and Cultural Organization (UNESCO).
Are they freakin' kidding? …………………………………………………………………………………….

England fans attacked in Moscow
Four England football fans have been beaten up in Moscow ahead of the Euro 2008 qualifying match with Russia, the Foreign Office has said.

A spokesman said two of the fans – among 4,000 in the city – had been treated and released and the two others were expected to leave hospital later.
Soccer is the only sport I know of where the fans get hurt more than the players.
Nashville may be next city to ban smoking in parks
When she saw small children innocently picking up discarded cigarette butts at Metro parks and putting them in their mouths, Enas Yousef decided to do something.

Yousef, a mother of two preschoolers who lives near Donelson, proposed that the parks board ban smoking around playgrounds in the park system, but now the board might extend the prohibition much further than that.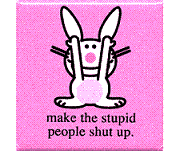 Ban the mothers who aren't watching their kids!
Social Security Going Up by 2.3 Percent
Come January, Social Security benefits for nearly 50 million Americans are going up 2.3 percent, the smallest increase in four years. It will mean an extra $24 per month in the average check, the government announced Wednesday.

The cost of living adjustment means that the monthly benefit for the typical retired worker in 2008 will go from $1,055 currently to $1,079 next year.
Woo hoo! How exciting! Pfft! I say we faze out SS altogether, and allow people to keep their own money to invest and save. One more thing the gubmint has screwed up. Big shocker!