An Ol' Broad's Ramblings
Archive for December 2007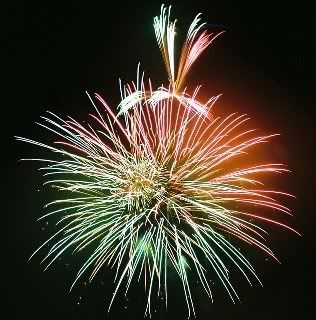 To all our serving men and woman, past and present, a very special Happy New Year! Be safe!
So, how are you spending YOUR New Year's Eve?  Mr Ol' Broad and I are playing babysitter while Ick and Brat are doing what reasonably adult type people do on this particular day of the year…..getting semi sloshed.  Well, maybe not…neither of 'em are major party types.  And smart folks that they are, they are NOT driving….they're walking.
When you were young, was there ever a time you thought you'd spend such a holiday at CiCi's, munching pizza and watching 'Who Framed Roger Rabbit?'  sigh…  Oh well….odds are, they'll both be asleep before the ball drops. 
One can only hope!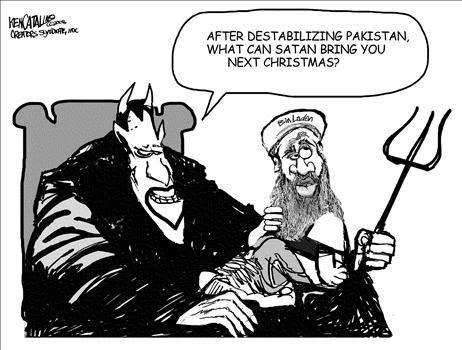 Vandals deface Vietnam war memorial
New Haven (WTNH) _ Veterans are outraged that a war memorial in New Haven has been vandalized.

The Vietnam War Memorial at Long Wharf was spray painted with the threatening words "Kill whites MS 13."

Seeing this just crushed the veterans we spoke to. The names on that wall that are covered in paint, are the names of those who fought and died for this country in the Vietnam War. Tonight, police are investigating whether this is the work of a violent street gang, but the veterans we spoke to, say whoever they are, aren't as tough as they might think.

"This irks me. This hurts me deep to my heart," Vietnam Veteran Emery Linton Sr. said.

Linton looked in disgust at the graffiti covering New Haven County's Vietnam War Memorial at Long Wharf.

Linton, who served in the Army, fought in Vietnam from 1969 to 1972. He lost friends there and he says the mess, on a memorial to honor veterans who made the ultimate sacrifice for their country, is a slap in the face.

"People here respect these names. They gave their lives for everything, for the freedoms they have," Linton said.

Whoever did it sprayed "MS-13″ all over the place. According to law enforcement, MS 13 is a violent international gang with roots in El Salvador. Members are involved in drug trafficking, weapons trafficking and even human trafficking and their presence is growing in the U-S. Just this summer, police in the Boston area did a big round-up of MS 13 gang members.

That said, New Haven police say there hasn't been any documented MS-13 activity so far in the city. But they are investigating this incident.

"I don't know who would want to do this," said Lori Grenfell, another veteran who is heart broken over the vandalism. "They have the right to say what they want to say. They can thank these guys for that right."

While it's unclear if these are true gang markings, Linton has a message for those responsible. "If it is a gang related thing and if you guys really think you're bad, join the service, get in the action and see what it's really like," Linton said.

It's unclear how much money it will cost to get rid of this paint, but members of the New Haven County Vietnam Veterans Group vow they will have it cleaned up.
Was this on the news anywhere? I didn't see a word about it, anywhere. It's possible I missed it, but why wouldn't something like this be repeated, nationally? I'm more angry at the total lack of respect shown those who gave all by those who give nothing!  I can't even find the words to express the anger I feel right now.
If anyone hears of them soliciting funds to help pay for the clean up, will you please let me know?
H/T: American and Proud 
Do not….I repeat….DO NOT go to North Park Mall today!  I'm guessing that many malls are packed today, but evidently, Cotton Bowl attendees are out in force at this particular mall.  What a zoo!
Speaking of the Cotton Bowl….evidently, Ick is going to take Mr Ol' Broad to said Bowl game tomorrow.  Ain't that a kick in the pants!  Uuuh….who's playing?  Heh!
I noticed a lot of blogs are postings stuff about 2007. Well, I started giving it some thought…..what made this past year special for me, personally. Yes, there have been a lot in the realm of politics. We managed to killed the Amnesty Bill, every body and their brother has been running for president, and we've been subjected to the never ending, boring as hell debates. There have been murders of innocents and assassinations of leaders. There has been good news out of Iraq, but you'd never know it judging by the main stream media. Not enough blood anymore I guess.
A lot of things have happened in the Ol' Broad's recollection of 2007.
1. I moved. A biggie.

2. I learned to dance with peacocks.

3. Major/minor health issues.

4. Jr came to live with us.

5. Mr Ol' Broad FINALLY made the move, too.

6. I reconnected with an old friend, only to find out one of her children had been murdered.
Obviously, more happened over the last 12 months, but those are the BIG ones.
So, how are you looking back on your year? Share!
Editorial: Do Bush, GOP have the guts to kill earmarks?
President Bush and Republican members of Congress have a critical choice to make and very little time left in which to do it. For Bush, the choice is whether to issue an executive order directing federal departments and agencies to ignore earmarks that aren't explicitly included in the legislative text of the recently approved $515 billion omnibus spending bill. As we noted a week ago in this space, the Congressional Research Service has advised Congress that such an executive order would with the stroke of a pen kill the thousands of earmarks that are routinely "air-dropped" into the federal budget via committee reports on spending bills. This is because the Constitution requires that all federal expenditures originate in the House and be approved by both chambers of Congress. Committee reports aren't and so are not binding on the executive branch.

Bush has considered such an order for a week. This is no time for timidity. Signing such an executive order tomorrow would make a fine New Year's Day present for American taxpayers. Finally, somebody in Washington would be acting decisively to end the waste and corruption of congressmen freely handing out millions of tax dollars to campaign donors, relatives and former staff members, and special interest allies.

Talk of a lame duck in the White House would cease because Bush would gain leverage to force Congress to stop talking about federal spending priorities and actually establish them. He would also bequeath to his White House successors a powerful precedent. If Congress resists, the issue will be starkly drawn for voters in an election year. The thought of Bush on the campaign trail speaking against those who opposed his effort to kill earmarks ought to be sobering. The executive order would be Bush's finest hour and a worthy legacy on domestic issues.

As for Republicans in Congress, a Bush executive order against earmarks is probably their last slim chance to prove their claim to have gotten the message of 2006. That's when voters turned to Democrats promising to clean up the "Republican corruption" in Washington epitomized by the Bridge to Nowhere in Alaska.

House Minority Leader John Boehner has indeed struggled mightily in 2007 but too often too many of his own troops have joined Democrats when earmarks were at stake. On the Senate side, Minority Leader Mitch McConnell and other Old Bulls continued talking and voting for earmarks as if the 2006 elections never happened. If congressional GOPers don't present a united front supporting a Bush executive order against earmarks, voters will be entirely justified in permanently looking elsewhere for leadership.
If Bush has the ability to make this absurd spending bill go away, and doesn't, then I might just jump on that impeachment bandwagon.  Heaven knows, the last couple of years, he hasn't inspired a great deal of confidence as a 'leader'.  Neither has the rest of the so called leadership….ON EITHER SIDE of the aisle.
Well, try as I might, this dadburn contraption won't let me post links today.  I haven't quite gotten to the bouncing it off the wall state…………………….yet……but ……….
The only way I could post the previous pictures was to put them in the photo thingy, and link that.  Won't let me 'send to editor'.  I have NO idea what is going on!  Is it the web host?  No, don't think so, cuz it doesn't matter what sight I'm on, the url is all screwed up.  The last time this happened, if I remember correctly, I was at this same motel.  Is their server trying to drive me totally insane?  Well, it's possible, but I don't think it's a conspiracy.  Who knows, maybe later in the day it'll all work itself out.  For now…… 
 


Ick said to show Silent E this, so, here it is:
The man has a shrine to sports figures.  Go figure!  Ok, yes, Ick, it is 'tastefully' done.  sigh….
We made it to Dallas, with no serious problems. Saw a whole lot of vehicles with "Roll Tide", "Go 'Bama" and the like. We maneuvered through the Dallas Sunday afternoon traffic, listening to my 'Boys get their hinders creamed. sigh… We got checked into the motel, make it to the room…..it's a non-smoking room. Say whut? Well, ok, our reservations is for a smoking room, so no problem, right? The clown that did the room assignments, naturally isn't on the premises. That poor girl behind the desk will probably be extremely happy to never see us again. Well, if she sticks with this job, no doubt she'll see us more than she could ever wish. What kind of property has only ONE person working….all by their lonesome? She had to come up and clean a room for us, and there weren't enough sheets? Another sigh…. I even had to remake the bed. I'll survive….till I chew someone a new one today! I'm not blaming the girl at the desk, I'm blaming the moron who did the room assignment.
To give her a break, we just dropped our bags off and got out of her hair. On to 'Christmas' with the kids! Now, I can be sure I got a couple of things no one else got for Christmas.
Well, someone might have gotten one, but definitely NOT the other!
Seriously, how many people get their own bat? Yep….Brat and Ick got me my very own bat named Cleobatra! Ok, so I don't get to take her home or anything….I'm her sponsor! This, of course means……ROAD TRIP! Well, what's the point of having your very own bat if ya don't get to see it, live and in person! Since she's in Arizona, that's a perfect excuse to go to the Grand Canyon! Heh!
Ain't she cute????? Why a bat you ask? Well, since the Brat has been calling me an ol' bat for longer than I can remember…..why not? As a matter of fact, this blog came a frog's hair close to being called "An Ol' Bat's Ramblings". I thought better of it.
My second major present, from Ick and Elvis (hockey guru)…..a hat. And not just any ol' hat. One of a kind!
You say there's a lot of those hats out in the general public? Not so, says I! Turn it around!
(Ok, ignore the Dasani bottle. That was only way I could get the picture. No, I don't buy that stuff, it came with the room.)
Now, is that cool or what!

For reasons I don't understand, I am having posting problems.  I've got this thing all typed up, and the pictures won't load.  It's late, I'm tired.  I'll worry 'bout it tomorrow.
Do computers bounce?
Taliban Dismisses Top Leader Mansoor Dadullah
A key Taliban commander who was reportedly kicked out of the militia said Sunday that he believed Taliban leader Mullah Omar has not signed off on the dismissal order, and blamed the report on a "conspiracy" by his enemies.

Taliban spokesman Zabiullah Mujahid said a day earlier that Mansoor Dadullah, a militant commander in southern Afghanistan, had been kicked out of the Islamic militia for "disobeying orders" and conducting activities "against the Taliban's rules and regulations." Mujahid did not give details.
What kind of job do ya get after you've been fired as a bad guy? I suppose there's always the corner bodega.
Perfect Pats: New England Makes It 16-0
New England Patriots Make History With First 16-0 Regular Season, Holding Off Giants 38-35
I was SO cheering for the Giants. sigh….
Iraq on alert for Saddam anniversary
Iraqi security forces were on high alert Sunday around Baghdad and in the Sunni heartland north of the capital as the country marked the one-year anniversary of Saddam Hussein's execution.

Iraq army Brig. Gen. Qassim al-Moussawi said security forces were "ready and prepared for any emergencies that might happen."
You'd think these folks would realize that Hussein being gone was a GOOD thing. No more mass graves!
Bhutto's son takes mantle as party leader: officials
The 19-year-old son of Benazir Bhutto was appointed Sunday as leader of the assassinated Pakistani opposition leader's party, with her husband as co-chairman, party officials said.
No offense to any 19 year old, but I can't think of any, right now, that I'd put in charge of something that important. Maybe Pakistani 19 year olds are more mature than U.S. 19 year olds?
Leader of Christian Iowa Group Gives Romney His Vote
Mitt Romney got a surprise endorsement on Saturday from the Rev. Morris Hurd, chairman of the Iowa Christian Alliance, a prominent conservative Christian group in the state, as he introduced the former Massachusetts governor at a rally tonight.

Officials with the group typically avoid making public endorsements because of their tax-exempt status, but Mr. Hurd blurted out his decision tonight in what felt like a bit of an accident.
I honestly wish some of these so called Christian leaders would do a little more research before endorsing someone. I like Mitt, I'd have no problem with a Mormon as president, but these people quoting the Bible should look at the WHOLE Bible. Sheesh!
Bin Laden Warns Iraq Sunnis Not to Fight
Osama bin Laden warned Iraq's Sunni Arabs against fighting al-Qaida and vowed to expand the terror group's holy war to Israel in a new audiotape Saturday, threatening "blood for blood, destruction for destruction."

Most of the 56-minute tape dealt with Iraq, apparently al-Qaida's latest attempt to keep supporters in Iraq unified at a time when the U.S. military claims to have al-Qaida's Iraq branch on the run.
Guess OBL is worried. It seems to me that the Sunnis are getting sick of al Qaeda's indiscriminate slaughter too.
Police disarmed in Mexican town
The Mexican army has confiscated guns from the entire police force of the town of Rosarito, near the Mexican border with the US.

Mexican authorities suspect that the town's police have been colluding with drug trafficking gangs.

Mexican troops carried out a similar crackdown in January on Tijuana police.
It's taken them this long to figure it out? Real competent, ain't they!
Thompson's only hope may lie in S. Carolina
South Carolina, which will choose its Republican nominee on Jan. 19, is looking like the make-or-break state for Thompson.

"It's absolutely critical," said Republican strategist Whit Ayres. "If he can't win in South Carolina, it's hard to know where he could win."

Thompson's advisers acknowledge the importance of South Carolina but play down the widely held perception that it is the place that will either keep him in the race or become his last stand.
I question just how much in depth searching conservative voters have actually done. Again, I honestly think the media have chosen the contestants, and we are suppose to follow along.
French president severs ties with Syria until further notice
French President Nicolas Sarkozy said Sunday that his country will hold no more discussions with Syria until Damascus shows its willingness to let Lebanon elect a new president.
I really like Sarkozy. I'm even buying French products again!
We made it to Vicksburg, all in one piece.  Extremely hungry too.  We had stopped in Corinth hoping to have breakfast before we started the longer stretch, and sat there for 45 minutes AFTER we had ordered.  No food.  We finally got up and left.
Jr had her head set on Waffle House, so got a to-go omelet from Waffle House.  Mr Ol' Broad and I headed to the casino, where we had a pleasant dinner….together…..alone……quiet!  Then proceeded to lose some money.  Oh well, can't take it with ya, right?
…..Stew!