An Ol' Broad's Ramblings
Archive for 8 December 2007
NBC Reverses Course, Agrees to Air Troop 'Thank You' Ad
NBC reversed course Saturday and decided to air a conservative group's television ad thanking U.S. troops.

The ad, by the group Freedom's Watch, asks viewers to remember the troops during the holiday season. NBC had refused to air the ad because it guides viewers to the Freedom's Watch Web site, which NBC said was too political.

But in a statement issued Saturday evening, NBC said:

"We have reviewed and changed our ad standards guidelines and made the decision that our policy will apply to content only and not to a referenced Web site. Based on these amended standards the Freedom's Watch ad will begin to run as early as Sunday."

NBC' head of standards and practices, Alan Wurtzel, notified Freedom's Watch's media consultant Saturday by e-mail, writing: "This will confirm that the Freedom's Watch spot is approved for air."

NBC initially said that airing the spot would violate the network's prohibition on controversial issue ads. Wurtzel, in an interview Friday with The Associated Press, said NBC found nothing wrong with the ad's content, but rather objected to the link to http://www.FreedomsWatch.org, viewing the Web site as too political.

The group's home page is critical of liberals and has a link to a page urging lawmakers not to "cut and run" from the war in Iraq. The home page also links to another Freedom's Watch page dedicated to ways to assist the troops and provides links to organizations that send care packages to soldiers.

News of NBC's initial rejection caused an angry reaction on the Internet. Former House Speaker Newt Gingrich, appearing on the Fox News Channel on Friday, called for a boycott of NBC.

Freedom's Watch, a group backed by wealthy Republican fundraisers, has emerged as one of the best-financed conservative groups. It seeks to be a vocal advocate of President Bush's current policy in Iraq.
We can, and DO, make a difference!
H/T: The Cutting Edge
Every once in a while I come across things that make me shake my head in wonder. Then there are items that makes me say WTF!?, a term I rarely use.
The provincial gun regulator will begin inspecting the homes of older gun owners in Toronto to ensure they are storing their firearms safely, an initiative one sporting association said amounts to "harassing" seniors.

Ontario's Chief Firearms Office says it is responding to concerns raised by Toronto police, which have in the past been called to the homes of gun owners who had either died or been hospitalized and did not have their registered firearms securely stored. In some cases, the guns were found lying around. Authorities worry they could get into the wrong hands.

"This is a very real public safety concern," Ontario's Chief Firearms Officer Chris Wyatt wrote in a letter to the Canadian Shooting Sports Association (CSSA), which is against the idea.

The Chief Firearms Office says it is exercising its right, under the Firearms Act, to inspect homes where there are more than 10 firearms, including a restricted or prohibited gun.

It is targeting owners who are 75 years or older. The office has sent letters to 48 owners in Toronto advising them of the upcoming inspections, which will be prearranged.
When elderly Canadian gangs start holding up convenience stores, and go on shooting sprees, you let me know.
This is one of those

times.
H/T: Right Wing News
Milwaukee pizza delivery man shot
A 53-year-old pizza delivery man was fatally shot about 3 a.m. today and police have more than 10 people in custody, said Capt. David Zibolski.

The Milwaukee man, who has not been named pending notification of relatives, was pronounced dead at the scene, Zibolski said. Zibolski would not answer any more questions about the incident, other than to say police had been called to the 1500 block of W. Hopkins St. for a disturbance, and found the body.

This is the city's 96 homicide compared to 99 at this time last year, Zibolski said.
Yes Milwaukee, you can be very proud. That's a WHOLE 3 FEWER PEOPLE WHO HAVE BEEN MURDERED ON YOUR STREETS THAN AT THIS TIME LAST YEAR.
Sean Penn will endorse Kucinich this afternoon at a press conference in San Francisco, a source close to the Hollywood actor said. He will also be speaking on "the Constitution, the media and Dennis Kucinich," the source said. Expect a political speech.

Penn has donated $4,600 to John Edwards' campaign and $2,300 to Kucinich during this cycle, per FEC campaign finance data.

In March of this year, Penn wrote in a WorldNetDaily column that, "As things stand today, I will be voting for Dennis Kucinich, who has fought this war from the beginning. You might say Kucinich can't win. Well, we have an opportunity to re-establish the credibility of democracy as viewed by the world at large."

Penn is set to deliver "a blistering indictment of political leaders and an impassioned endorsement of Presidential proportions," according to a Kucinich press release.

More: "Penn and Democratic Presidential candidate Dennis Kucinich have been close friends for years, but the Kucinich campaign was not involved with Penn in preparing the remarks he plans to deliver today. 'Sean Penn is a good friend, but he's also a very intense, independent-minded person,' said a spokesman for the Kucinich campaign. 'He's going to say whatever he's going to say.'"
I have to say when I saw this on the news crawl yesterday, Jr thought I had hurt m'self from laughing so hard.
1) Does anyone really care who Sean Penn endorses?
2) Does anyone really care IF Sean Penn endorses a candidate?
3) Has Kucinich been taken up to the 'mother ship' with Penn lately?
4) Does anyone give a happy crap what Sean Penn does, period?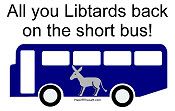 Senate Intelligence Committee Begins Review of Destroyed CIA Tape Trail
The Senate Intelligence Committee has begun an investigation into the destruction of CIA tapes made during the interrogation of two terror suspects.

The CIA said Thursday it destroyed the tapes because of concerns that its agents could be put at risk.

Democrats on Friday also made loud calls for the new Justice Department chief, Attorney General Michael Mukasey, to look into whether the CIA violated any laws by tossing the tapes, which reportedly featured interrogators using harsh methods.
I may get some flak for this, but I have NO problem with the CIA destroying interrogation tapes. I'd like to know why the feel the need to tape it anyway. When it comes to the safety and security of my family (and yours too, btw) any and all means necessary is ok with me. Animals who want to destroy this country are being aided by our very own. With THIS, I do have a problem.
Closures on I-70, I-25 due to storm
Truckers failing to chain-up during a snowstorm have closed eastbound Interstate 70 on the west side of Vail Pass, according to the Colorado State Patrol.

A number of semi-trucks have jackknifed across the roadway, causing several minor accidents with automobiles, the patrol said.

The road was closed around 4 p.m., with no estimate as to when it might reopen. Westbound traffic is moving slowly, the patrol said.
Ummm….what happened to all the global warming?
Huckabee Wanted to Isolate AIDS Patients
Mike Huckabee once advocated isolating AIDS patients from the general public, opposed increased federal funding in the search for a cure and said homosexuality could "pose a dangerous public health risk."

As a candidate for a U.S. Senate seat in 1992, Huckabee answered 229 questions submitted to him by The Associated Press. Besides a quarantine, Huckabee suggested that Hollywood celebrities fund AIDS research from their own pockets, rather than federal health agencies.

"If the federal government is truly serious about doing something with the AIDS virus, we need to take steps that would isolate the carriers of this plague," Huckabee wrote.
Ok, here I go, being tacky and UNpc again, but if we had isolated folks with AIDS back then, it might not have spread? Obviously, the threat of the disease didn't change anyone's lifestyle. Too late now though. It was just a thought.
US urges Arabs to unite over Iran threat
In a speech to a security conference in Bahrain, the Pentagon chief will reiterate the US intention to maintain a long-term military presence in the Gulf, defence officials say.

The Pentagon says it considers much of Iran's military activities a threat to the United States and its allies in the region as well as the global oil market.

Washington also accuses Iran of funding, training and arming Shia militias in Iraq. A US intelligence assessment this week said Tehran halted its nuclear programme four years ago.
Honestly, I doubt Iran has 'halted' anything. These are the folks who are trying to hurry the return of the '12th Iman', or whatever he is, remember? Not to mention 'wipe Israel off the map' and 'destroy the Great Satan'.
Lawmakers finalize 2008 Defense spending bill
House and Senate negotiators on Thursday finalized plans for a $507 billion fiscal 2008 Defense authorization bill, the last remaining piece in next year's defense budget.

Congress is expected to pass the measure next week and put the bill before the president by the end of the month. The measure does not contain up to $50 billion in supplemental war funding under consideration in Congress but does feature a host of spending and policy priorities for next year.
Is it just me, or does anyone else find it absolutely embarrassing that Congress dicks around with defense spending, but has NO problem making sure Congressman Something or Senator Whatsit gets his/her pork?
Neither snow, nor rain, nor heat halts mail, but violence might
Milwaukee residents who live in tough neighborhoods are being warned by the U.S. Postal Service their mail service might be interrupted if violent crimes occur in the area or carriers get targeted.
(…)
"It is only used as a last resort," Groen said of the notices. "It is to give information to the community that something has happened and we are looking for information and that they are looking out for their carrier."
You know it's bad when even the USPS is threatening to NOT deliver mail.
Accompanied by a team of six high-powered lawyers, former Giants star Barry Bonds strode into a crowded courtroom Friday and pleaded not guilty to charges of lying under oath about his use of steroids and other banned drugs.

Huckabee snags voters Thompson counted on
Mike Huckabee has vaulted from nowhere into second place in the Republican presidential race, riding a burst of support from evangelicals, Southerners and conservatives, a poll showed Friday.

The former Arkansas governor's surge comes largely at the expense of Fred Thompson, according to the national survey by The Associated Press and Ipsos. Thompson did not galvanize the party's right-wing core as much as some had expected.
I don't know where these people are coming from….they sure aren't around THESE parts. I don't want, or need, to be galvanize, or wowed, or any other such thing. I want the most conservative person possible in the White House, and I don't see that as Huckabee.
Is a World Government on the Horizon?
The U.N. treaty governs the law of the seas – not just ocean access by military and commercial vessels – but control of natural resources from fishing rights and oil exploration to deep sea mining.

The 25-year-old treaty rejected by President Reagan and signed by President Clinton is being pushed by Bush. He's urging the Senate to ratify the treaty that already has 154 nations on board.
If Reagan rejected it, that's all I need to know. (Not really.) The thought of surrendering ANYTHING to a UN like body should make any thinking person cringe in horror, and fight tooth and nail to prevent.
When I read about someone who believes their life is meaningless, I know that it's NOT society that has failed them, but family.  I don't feel any sympathy for the piece of shit kid.  I feel anger that someone, somewhere didn't notice he had a major problem, and should have been locked up.
Here's his 'note'.  If you stomach reading it, without wanting to smack someone, more power to ya!
It just amazes me that there are those who express shock when something like this happens.  Why be shocked?  We've created these monsters.  We took G-d out of school, out of daily life, out of our homes.  We worry so much about their self esteem that we have forgotten to actually TEACH them right from wrong.   People can't tell the difference between "Thou shalt not murder", and the death penalty.  Killing evil isn't a sin, mindless murder of the innocent is.
Democratic presidential hopeful Barack Obama has moved a campaign rally with talk show host Oprah Winfrey to a football stadium that can hold more than 80,000 people, officials said Wednesday.

Obama's campaign has said it had already filled a planned Dec. 9 event with Winfrey at the Verizon Wireless Arena in Manchester, N.H., which holds about 12,000 people.

The South Carolina event had been scheduled for an 18,000-seat coliseum near the University of South Carolina campus, but the campaign ran out of the free tickets just two days after it began distributing them. Tickets will no longer be needed.

"We wanted to make sure everyone in South Carolina who wanted to see Barack Obama and meet Oprah Winfrey had the opportunity," said Inez Tenenbaum, an Obama supporter and former state schools superintendent. "Everyone can attend who wants to attend."
Would Obama need a stadium if Oprah weren't in the mix?  And please, someone tell, just what the big deal is about this woman?  I don't get it.  I also don't watch her show.  I find her so sugary, it makes my teeth ache.  I have no doubt she's a real nice person, and has used her fame for some good.  But honestly, what's all the whup de do about?