An Ol' Broad's Ramblings
Archive for 24 December 2007
Heh!
….from Disgruntled Truck Driver
Elect me and oil prices instantly drop, says Hillary Clinton in Iowa
Hillary Clinton predicted Saturday that just electing her President will cut the price of oil.

When the world hears her commitment at her inauguration about ending American dependence on foreign fuel, Clinton says, oil-pumping countries will lower prices to stifle America's incentive to develop alternative energy.

"I predict to you, the oil-producing countries will drop the price of oil," Clinton said, speaking at the Manchester YWCA. "They will once again assume, once the cost pressure is off, Americans and our political process will recede."

Clinton argued that former President Jimmy Carter in the late 1970s actually started moving in the right direction toward energy independence, but his successor, Ronald Reagan, "dismantled" that work.

"Because costs were low, people didn't care, didn't complain," she said.

She warned that folks shouldn't be grateful now if oil countries cut prices from near $100 a barrel to $60 or $70, and compared it to trying to boil a frog.

"You put him in hot water, it jumps right out, you put him in cold water and turn up the heat – he's a goner," she said. "We've got to figure out how were going to not be the frog in the cold water anymore."
What an arrogant b*tch! Can she possibly be serious?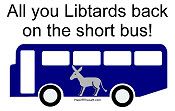 H/T: Real Debate Wisonsin
WWII vet receives Bronze Star award in surprise ceremony
Haynes C. Smith, 83, received the Bronze Star, the nation's fourth-highest combat award, Sunday from his minister, the Rev. Michael Sluder of Bearden United Methodist Church.

The coveted medal, a bronze star 1 1/2 inches in circumscribing diameter and a red ribbon that is a little more than an inch wide, was 63 years late in coming to Smith.

But what made the receiving even sweeter was the secret his family kept since November when they learned he was eligible for the award.

He didn't know he was getting the medal until Sunday's church services.

"The Bronze Star just means everything to me," Smith said. "I can't say more than that. I just can't believe it."
Thank you sir, for all you have done for us!
Yesterday in church, the pastor brought up Xmas, that we've come to assume is an abbreviation for Christmas, and how much it annoys him. I use to think the same thing. Many years ago, I was working retail at Christmas (Lord, don't ever make me go through that again) when I mentioned to a customer how much I disliked the use of Xmas. The customer, it turned out, was a minister. He explained to me there is nothing sacrilegious about the use .
Way back when Christians were being persecuted, they had to have a way to signaling to other believers. Usually it was a fish, as in 'fishers of men'. He told me many Greeks used a slanted cross, looking like the Greek letter X, so hide from their persecutors, kind of like short hand.
I don't know if this is true or not. I searched for some reference, but came up empty.
So, while I'm sure there is sincere annoyance by many with the use of Xmas, I always think back to what that customer told me, and how the early Christians suffered for their faith.
I wonder how long it will be before we have to come up with a 'signal' to recognize others of our faith, in secret?
Deadly Storm Leaves Dangerous Roadways
Highways were treacherous for holiday travelers Monday in the upper Midwest in the aftermath of a blustery snowstorm that blacked out thousands of homes and businesses and snarled air travel.

At least 11 deaths were blamed on the weekend-long storm, which led to multi-car pileups that closed parts of several major highways on the Plains.
I love Tennessee! Don't miss that mess at all! Everybody….BE SAFE! Stay home! That last present isn't so important!
Clinton urges Iowa voters to caucus on wrong day
Democratic presidential hopeful Hillary Clinton may have shot herself in the foot trying to get Iowa voters to pledge support to her — she is encouraging them to caucus on January 14, 11 days too late.
Yes Iowa Dems, make sure you vote on the 14th! Heh.
Western sources: Deal for Shalit's release may be finalized soon
A deal between Israel and Hamas for the release of kidnapped Israeli soldier Gilad Shalit will apparently be finalized during Defense Minister Ehud Barak's scheduled visit to Egypt this week, western sources were quoted as saying by UK-based Arabic-language newspaper Al-Quds Al-Arabi on Monday.
I'm sure his family will be happy to see him. I've never understood the Palestinians 'need' to kidnap. No doubt, it's all about money, to fund their weapons. Giving in to such tactics boggles the mind. What about the other two who were kidnapped?
Not-so-special day for Packers
A lost weekend cleared up a lot of things for the Green Bay Packers.

For one, there won't be an NFC championship game in Green Bay unless the Dallas Cowboys put on a playoff performance similar to the regular-season clunker the Packers staged here Sunday.

For another, the theory that the Packers always play well in cold, windy and wintry weather was blown away by the 35-7 loss to the Chicago Bears on the shores of Lake Michigan.
Yep, a seriously bad day. Although, it sure made things good for my 'Boys!
U.S. Officials See Waste in Pakistan Aid
After the United States has spent more than $5 billion in a largely failed effort to bolster the Pakistani military effort against Al Qaeda and the Taliban, some American officials now acknowledge that there were too few controls over the money. The strategy to improve the Pakistani military, they said, needs to be completely revamped.
Isn't way past time we stop supporting every damn country on the planet? With the money we send overseas, we could solve a great many problems right here within our own borders. I don't have a problem with humanitarian aid. However, a lot of that money gets wasted by the countries whose people it's supposedly sent to help.
Teen wants tougher state laws against child abuse
A teen whose father and stepmother chained him to a bed and starved him says he's determined to help other abused young people.

Joshua Osborne's life has changed dramatically since he was found in his parents' Lebanon home three years ago weighing 49 pounds. Now 18, he graduated from La Vergne High this year, works part time and has met some of country music's biggest stars, including Garth Brooks, Trisha Yearwood and Gretchen Wilson.
Tougher? I'd love to see people who treat kids in such a manner suffer the same way they make kids suffer, for the same amount of time…..then fried!

Anybody who treats another living being in such a manner does not deserve to live!
Report: Iran Would Suffer Up to 20 Million Casualties in Nuclear War With Israel
The Center for Strategic and International Studies (CSIS) also estimates that between 200,000 and 800,000 Israelis would be killed, the Jerusalem Post reported.

The report, which is theoretical and based on limited verified knowledge of Israel's and Iran's nuclear capability, paints a bleak picture for both nations.

It estimates that a nuclear war would last approximately three weeks and ultimately end with the annihilation of Iran, based on Israel's alleged possession of sophisticated and powerful nuclear weapons.

The report does not predict the number of deaths due to nuclear fallout.
It would probably be a good idea for Ahmabooboo to stop spouting off about 'wiping Israel off the map'.
Holiday cross has new home after KY business says it could 'offend'
A gas company in Owensboro, Kentucky, decided not to light its 50-foot by 30-foot cross for Christmas this year because of concerns over offending people of faiths other than Christianity. The controversy has ended with the donation of the cross to a local Baptist church.

Texas Gas Transmission's Owensboro affiliate had been lighting the cross for four decades before the company's decision not to do it this year. Associated Press reported that president Dean Jones said the cross is a religious symbol that is not accepted by everyone, and the company did not want to offend those employees or visitors — a statement given only after employees complained when Texas Gas did not place the cross out for decoration this year.
"Holiday cross"? Just what the hell is a 'holiday' cross?