An Ol' Broad's Ramblings
Archive for 7 January 2008
Some people have a talent for putting into words what many think. This is one of those examples:
Crocodile Tears, Security Ignorance, and "Change"
Here's a snippet:
And what about the new buzz word – change?

Any Republican elected who is a fiscal Conservative, a true fiscal Conservative so Huckster take a seat, is change. Because George W. Bush isn't a fiscal Conservative. Democrats are banking on the word change. they want you to think that just because they are Democrats that represents change. They are perpetuating the notion that all Republicans are the same and since there is a Republican in the White House now electing one of them represents change. That's nonsense.

The Republican 109th Congress spent money like a pack of Democrats and the Republican President didn't reign in that spending. That made him just as bad as they were on fiscal matters. Electing Democrats to Congress didn't change that. They proposed more spending. That's not change. Electing a Democrat President and keeping those thieves in the majority in Congress will make it easier for them to steal more of your money.

Everyone wants change. I want change. I want a true Conservative elected to the Presidency and then we will have change not a bunch of rhetoric based on misguided and/or ignorant perceptions of the definition of change.
State's cigarette dragnet ends; agents seize 31,000 packs
Tennessee's Revenue Department is ending its surveillance program to catch people trying to avoid higher taxes by bringing in large numbers of cigarettes from out of state.

Commissioner Reagan Farr today told The Associated Press that the program accomplished its objective of educating people that only 20 packs, or two cartons, can legally be transported across state lines.

"We feel that we've been very successful in this program, and it's accomplished the majority of our goals," Farr said. "So we are winding down our regularly scheduled surveillance activities."

The department will still enforce the law, but it won't conduct scheduled surveillance of tobacco stores in neighboring states, Farr said.
Odds are, they made themselves look as ridiculous as possible, and decided perhaps all that extra money being spent wasn't such a good idea after all?
H/T: No Silence Here
Agents have seized 31,000 packs of cigarettes along state lines
The state Revenue Department says agents monitoring traffic across state borders have seized more than 31,000 packs of cigarettes since September.

The seizures are part of a heightened enforcement program launched because Tennessee's cigarette tax is now higher than all neighboring states'.

Tennessee's tax on each pack of cigarettes jumped from 20 cents to 62 cents in July.

State law only allows people to bring up to two cartons – or 20 packs – into Tennessee.

Agents seized 8,104 packs in December, which was down from the 11,567 packs seized the month before.
Don't the cops have any REAL criminals to deal with, like say, in the Capital building in Nashville? How about illegals invading the state? Odds are, if the weasels in Nashville hadn't decided to raise the flippin' tax, they wouldn't be wasting even more money on catching those evil smokers. I wonder how the tax hike compares to the bucks spent on catching said 'criminals' comes out, not to mention the loss of state revenue?
Honestly, I question our willingness to back away from the government trough.
We have become a nation of people that no longer looks at a problem and determines a personal solution to implement, we have become a nation that looks at a problem and demands a governmental solution to intervene. Even as recently as 40 years ago, Jack Kennedy could tap into the original American Spirit and challenge us with the words, "Ask not what your country can do for you, ask what you can do for your country!" The current leaders of the Party which produced a man who could utter such sentiment now stir our hearts with ringing questions like "Where did I put Universal pre-K?"

There is a way out. There's always a way out. But it won't be easy and some will say it's impossible. Well, I imagine the folks that first suggested a trans-Atlantic trip were sneered at and laughed at, too. The brave souls that got in Conestoga wagons and headed West were surely misunderstood by most of their neighbors. Why would they leave the peace, safety and security of the established East where all the amenities of life were at hand? Why not just stay where society is developed and there are no cholera epidemics, no Indian predators, no rivers to drown in or snowstorms to freeze in or mountain ravines to fall in or prairies to starve on? Of course, had the few not ignored the loud pleas of the comfortable many and followed instead quiet whisper of the lone voice of Freedom we would not have the resources of the Mississippi, the fertility of the Great Plains, the beauty of the majesty of the Rockies and the wealth of the 49ers gold, among so many other things.
Is it possible for those of us who are sick of governmental interference to let go of the many benefits of that interference?
The Twenty Most Annoying Liberals In The United States: The 2007 Edition
20) Barack Obama
19) Cindy Sheehan
18) Michael Moore
17) Ted Rall
16) Jimmy Carter
15) Bill Maher
14) The Huffington Post
13) Chris Matthews
12) Geraldo Rivera
11) John Edwards
10) Mike Malloy
9) The Daily Kos
8) Joy Behar
7) Al Sharpton
6) Al Gore
5) Keith Olbermann
4) Nancy Pelosi
3) Harry Reid
2) Rosie O'Donnell
1) Hillary Clinton
If you want to know why, go to Right Wing News to find out.
Honorable mentions: ACLU, Barbra Streisand, Bill Clinton, Bill Moyers, Bill Richardson, Brian DePalma, CAIR, Chuck Schumer, Code Pink, Columbia University, David Gregory, Dennis Kucinich, Ellen DeGeneres, George Soros, Glenn Greenwald, Helen Thomas, Howard Dean, Jack Cafferty, James Cameron, Jesse Jackson, Joe Biden, John Cougar Mellencamp, John Kerry, John Murtha, John Soltz, John Kerry, Juan Cole, Kathy Griffin, MoveOn, New York Times, Pete Stark, Randi Rhodes, Ray Nagin, Roseanne Barr, Scott Thomas Beauchamp/New Republic, Sean Penn, Ted Kennedy, William Arkin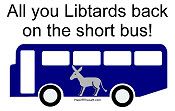 Mary adds Lawrence O'Donnell.
In New Hampshire, Bill Clinton Finds Less Spark
Is this what it would have been like had Elvis been reduced to playing Reno?

Former President Bill Clinton has been drawing sleepy and sometimes smallish crowds at big venues in the state that revived his presidential campaign in 1992. He entered to polite applause and rows of empty seats at the University of New Hampshire on Friday. Several people filed out midspeech, and the room was largely quiet as he spoke, with few interruptions for laughter or applause. He talked about his administration, his foundation work and some about his wife.
Perhaps the glitter has worn off, and folks are starting to see exactly what these two are all about? Wishful thinking, I guess.
Sarkozy Set to Wed as Approval Falls
Operation "Lookit Me!" may have just hit a wall. Ever since French President Nicolas Sarkozy took office in May, leaked media reports on his private life have increasingly overshadowed political news that was often less uplifting. But French pundits and pollsters are now saying that if that preference for soft news over hard has been orchestrated by the Elysée, it is beginning to backfire. New opinion polls are showing serious erosion in Sarkozy's support — and displeasure with the over-exposure of his private life — just when the news splashes that he plans to wed former super-model Carla Bruni.
If his personal life is what is tanking his popularity, then I'd say the French are rather hypocritical. Do the French only disapprove when they actually get married? Perhaps if the French news agencies paid more attention to the job he's doing, or not doing, as the case may be……..
Islamic Militants Kill 8 Tribal Leaders in Northwestern Pakistan
Suspected Islamic militants fatally shot eight tribal leaders involved in efforts to broker a cease-fire between security forces and insurgents in Pakistan's volatile northwest, authorities said Monday.

The tribal leaders were killed in separate attacks late Sunday and early Monday in South Waziristan, a mountainous region close to Afghanistan where Al Qaeda and Taliban militants are known to operate, a security official and the military said in a statement.
This trash doesn't want peace, they want to control. If Musharef was even remotely interested in controlling the violence, he'd take out the garbage! He gave them the foothold, now he's going to have to pay the price.
A freeway shrouded in fog became a chaotic scene of twisted metal, wounded bodies and scurrying emergency crews Sunday afternoon after two big pileups on I-90/39 involving dozens of vehicles killed two people and injured dozens more.

At least 50 people were injured, including three with life-threatening injuries, and taken to hospitals in Stoughton and Madison, authorities said during a news conference. Hospitals reported independently that they had admitted as many as 47 people from the crash scene and were expecting to treat more.
Two people are dead and many injured because of the 'it's MY road' mindset. SLOW YOUR ASS DOWN! Prayers with the families.
Boy suspected of using baseball bat to kill baby
Upset that the toddler left in his care wouldn't stop crying, a 12-year-old Lauderhill, Fla., boy picked up a baseball bat and beat the little girl to death, police said.

"He became enraged … because she made noise while he was trying to watch television," said Lauderhill police Lt. Mike Cochran.
Many things come to mind. Why the hell did the parents leave a small child with a twelve year old boy? What type of kid would think that was a good way to quiet a baby? What turned this kid into a monster?
Philippines: Muslims march for peace in Mindanao
Muslims in the troubled region of Mindanao have taken to the streets as the fragile peace talks between the the Moro Islamic Liberation Front (MILF) rebel group and the government seem on the verge of collapsing.

Thousands protested in Cotabato City on Monday calling for peace, and more protests are scheduled in other cities of the region on Tuesday and on 7 February.

In a statement sent to Adnkronos International (AKI), Professor Abhoud Syed M. Lingga, executive director of the Institute of Bangsamoro Studies, also urged the government to show flexibility.
I can't get my mind around two words – Muslim and peace. Somehow, they just don't go together. It's the government that has to show 'flexibility', not the Muslims, right? One more country going down the tubes in Islam's quest for world domination.
Univ. of Alabama hospital using tax dollars for abortions
The pro-life group frequently conducts Freedom of Information Act requests for state health department documents in order to monitor the state's abortion industry. Group director James Henderson says one of those queries recently paid off. He claims that it was mentioned in conversation that the University of Alabama in Birmingham (UAB) aborts babies up to the middle of the second trimester or 22 weeks.

"We had heard some rumors [to this fact], but this was the information that we needed. So we started to contact UAB," says Henderson.
I wonder just how many tax dollars across the country are being used to murder babies?
Death toll due to piercing cold wave touches 100 across India
The nationwide death toll due to piercing cold wave have touched 100 with three fresh deaths reported from Uttar Pradesh and one from Kashmir.

According to an All India Radio (AIR) report, the fresh casualties in UP, which took the toll due to the cold wave sweeping the state to 80, included two deaths in Siddharthnagar and one in Sultanpur district.

Gorakhpur stood the coldest with the minimum temperature at 5.8 degree.

One person was killed as the entire Kashmir valley, including Srinagar and world famous skii resort of Gulmarg experienced moderate to heavy snowfall during the last three days.
Al???????