An Ol' Broad's Ramblings
Archive for 15 February 2008
Clinton Declares Herself Candidate of the Middle Class
Sen. Hillary Rodham Clinton declared herself the "candidate of, from and for the middle class of America" as she worked to keep her Democratic coalition in Ohio intact against a hard-charging Sen. Barack Obama.
Ya know, I guess you could say I've been fairly "middle class" all my life. There have been times when I worried about where the next meal was going to come from, how was I going to pay the rent, seriously tough times. But when it averages out, "middle" is where I guess you could stick me. So, Hillary…FYI….you are NOT my candidate!
Clinton has relied on working-class Democrats for much of her support in six weeks of presidential primary contests across the country and is counting on them even as Obama racks up important union endorsements.
I have always thought the "middle class" was made up of reasonably intelligent people, perhaps with a B.A. in something or other, but at least a high school diploma. You know, those folks with a certain amount of common sense, who are capable of thinking for themselves, and not buying a 'pig in a poke'.
"I've never seen a candidate so wealthy in information," Martha Hanon, a retired teacher, gushed to Clinton during a discussion Friday of economic issues in a packed chili restaurant here.

Clinton did show off her grasp of details, easily reciting facts and figures on subjects from foreclosure to foster care. The occasion was a round-table session designed to feature Clinton's proposal to address credit card abuses, but the discussion strayed to a variety of economic issues.
No one ever said the woman was ignorant. She can quote numbers with the best of 'em. It's what she does with those numbers I find disturbing. (Same with Obama….I think. Does he ever really say anything, or does he just talk a lot?) I do find the gushing of the left a bit nauseating. Neither of them are capable of turning water into wine, y'know! Nor are they able to bring the country together.
"We're going to end every single tax break that still exists in the federal tax code that gives one penny of your money to anybody who exports a job. Those days are done," she said, her voice rising. "It is wrong that an investment money manager in Wall Street making $50 million a year gets a lower tax rate than a teacher, a nurse, a truck driver, and autoworker making $50,000 a year."
You might want to talk to those unions you are so fond of about that problem.  Does anyone know how much money she has invested in companies that have sent jobs overseas?
"This primary election offers a very big choice to the voters of Ohio," she said. "You can choose speeches or solutions."
In other words, "Choose freedom, or vote for me and get socialism!"
Barack Obama ended a day of stumping across the state with an evening rally in Green Bay attended by 4,000 people.

In a 30-minute speech at the Kress Events Center, the Democratic presidential hopeful promised change, an end to the war in Iraq and cooperation among all political parties if elected as the country's next president.
McCain in La Crosse defends the Iraq war
Republican presidential candidate John McCain repeatedly defended the war in Iraq today, saying President Bush's one-year-old troop surge is working and adding, "This war is being won."
Which way do ya think they lean?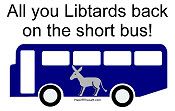 ….to kick Berkeley OUT of the United States!
I'd really like to know why those people were not arrested. Civil dissent is one thing, what they were doing was tortious interference of the United States Marines. (I think that's the term…if I'm wrong, please let me know.)
H/T: The American Mind
…..from Sparks from the Anvil 
Pelosi on FISA: Bush Has Nothing to Offer but Fear
House Speaker Nancy Pelosi (D-Calif.), who is under fire from Republicans for failing to bring bipartisan national security legislation to the House floor, accused President Bush of using fear to rally support for the Protect America Act, which expires on Saturday.

"Roosevelt said we have nothing to fear but fear itself," Pelosi said at a Thursday afternoon news conference. "President Bush has been telling the American people we have nothing to offer but fear."
Ya know what I fear? I fear the Dhimmis will keep the House, and won't have enough sense to send this woman back to the sidelines!
Pelosi said she doesn't believe Americans will be at risk when the Protect America Act expires on Saturday. "The president knows full well he has all the authority he needs to protect the American people," she said. (President Bush says if the FISA extension expires, telecommunications companies will be reluctant to help the administration conduct warrantless electronic surveillance. "We are already losing capability due to the failure to address liability protection," the White House says.)
Well, what a perfect time for the bad guys here to get instructions from over there. Thank you Queen Nanny! I appreciate your concern for our safety and well being.
House Majority Leader Harry Reid (D-Nev.) told Cybercast News Service the perceived crisis over the expiration is nothing but a "White House publicity stunt." "Legal scholars are uniform in saying legal powers are broad enough, and they will be until next year. The expiration of this act does not in reality threaten the safety of Americans."
Bush has done quite a few things I'm none too fond of, but I do think letting this expire wasn't the smartest thing to do.
"The president has created this crisis," Reid continued on the floor of the Senate. "During the last seven yeas he has become increasingly proficient at scaring the American people. And that's what he is trying to do today."
Does Reid ever say anything intelligent? I'd say 9/11 had a great deal to do with how the American people feel these days. Or is Reid suggesting that Bush caused that too, along with a couple of hurricanes.
Sen. John Cornyn (R-Texas) told Cybercast News Service the expiration of the law does in fact present a clear and present danger. "It is a fact that 3,000 people died on September 11. It is a fact we have been able to use this [FISA] capability to stop further terrorist attacks. Now I know it's a little hard to prove something that didn't happen, but the testimony from highly placed officials within the intelligence community, the director of national intelligence, and others say this is an essential activity that will save lives."
Congress had something much more important to deal with before they took their week long "Monday holiday"  other than national security ……BASEBALL!
Feckless weasels!
Click on the logo, follow the instructions!
Warning!  The videos are very violent! 
H/T: The Jawa Report
House Dems 'Leave Washington, Leave America Exposed to Attack'
President Bush and Republicans are blasting House Democratic leaders for taking a week-long President's Day recess without passing a key piece of national security legislation.

The Protect America Act — which authorizes the U.S. intelligence community to quickly monitor terrorist communications — will expire at midnight on Saturday.

"If Congress does not act by that time, our ability to find out who the terrorists are talking to, what they are saying, and what they are planning will be compromised," President Bush warned on Thursday. "It would be a mistake if the Congress were to allow this to happen."
I thought the Dhimmis didn't want to find out who the terrorists are, they don't WANT to protect America! And why the hell do they need a whole week? NO one else gets a week off for a federal "Monday holiday". Why should they?
Obama Likely to Get SEIU Endorsement
Sen. Barack Obama is poised to get a coveted endorsement from the Service Employees International Union, which could give his campaign a major boost going into the March primaries in Ohio and Texas against Sen. Hillary Rodham Clinton.

SEIU describes itself as the largest union in the country, with 1.8 million members, and its endorsement has been highly sought by the Democratic candidates because of its manpower and war chest. The organization has donated more than $25 million, mostly to Democratic candidates, since 1989.

The union is likely to endorse Obama on Friday, union officials said, speaking on condition of anonymity because they were not authorized to speak to the media. The officials cautioned that the union was still voting, but Obama was "99 percent" likely to get the endorsement, one said.
Just one more reason Obama should NOT get the nomination. Unions have become nothing more than socialist organizations. Side thought: Does this union check the legal status of their members? Just wondering.
Typo Spurs Erroneous Bonds Drug Reports
A typo in court papers regarding Barry Bonds filed late Thursday by federal prosecutors touched off a brief tempest over the mistaken belief that he failed a drug test in November 2001, one month after breaking the home run record.

In fact, the government meant to reference a previously reported November 2000 failed drug test, U.S. attorney spokesman Josh Eaton said. That drug test was included in the indictment unsealed last year, when prosecutors said the test was for a player they called "Barry B."

The mistake prompted at least one erroneous report that was quickly posted to Web sites around the country.
Yep. That report sure made the rounds on the web. I saw it on many blogs. Whether he failed in 2000 or 2001, he still failed.
Blair used 'irresistible pressure' to halt investigation into BAE-Saudi arms deal
Tony Blair wrongly influenced due legal process when he used "irresistible pressure" to end the Serious Fraud Office's investigation into alleged bribery and corruption involving arms deals between BAE Systems and Saudi Arabia, it was alleged in the High Court yesterday.

When he was Prime Minister, Mr Blair "stepped over the boundaries of what was permissible" and interfered in the highly sensitive criminal investigation because of threats by the Saudis, said the barrister representing two anti-corruption campaign groups challenging the decision to drop the case.
Why would Blair do that? Perhaps it's because the Saudis are such good friends? (sarcasm)
'The issue of Jerusalem will not be postponed in talks'
Asked about reports that Qurei personally confirmed that there had been secret talks about Jerusalem, Olmert said, back in Israel after his German visit was finished: "With all due respect, Abu Ala [Qurei] doesn't decide the agenda for the talks. We established a rule that Jerusalem would be discussed last and that's clear to both sides."
Jerusalem can NOT be divided!
Bowers gets 16 months in prison in Tennessee Waltz case
Former state senator Kathryn Bowers was sentenced to 16 months in federal prison on Thursday for accepting $11,500 in bribes.

Bowers will also be subject to two years of supervised release, although no fine was assessed. She will report to prison at an undetermined date.
I can guaran-damn-tee, if this was a Republican, she'd get a LOT more than 16 months.
Nearly 50 Charged in Mexican Border Human Trafficking Ring
Four dozen people accused of taking part in an immigrant trafficking ring have been indicted on human smuggling and money laundering charges, authorities said.

The group brought in as much as US$130,000 a week moving people from Naco, Mexico, to its center of operations in Phoenix and then to destinations across the U.S., Phoenix police Lt. Vince Piano said Thursday.

Piano said the ring was believed to be one of the biggest operating in Arizona, the busiest illegal entry point into the country.
Slave trading, alive and well in the 21st century!
Dismembered body found near bridge at Coldwater River
Investigators today will be busy trying to determine the identity of a woman found Thursday dismembered and discarded near the Coldwater River bridge off U.S. 78 near the Ingrams Mill Road exit in DeSoto County.

"Identity is obviously the first stop," said Cmdr. Mark Blackson with the DeSoto County Sheriff's Department. "It's obvious whoever did this did not want this person identified."

Workers with the state Highway Department found the torso of the woman at about 2 p.m. Thursday. Her head, hands and feet were missing and she was nude, Blackson said.
Just sick!
Sen. Sessions: More 'political' stimulus than economic
Alabama's Jeff Sessions is skeptical the highly touted economic stimulus package will significantly benefit the slumping economy. The conservative U.S. senator doubts it will give the economy a much-needed jolt.

President Bush signed a $168 billion economic stimulus package on Wednesday that he calls a "booster shot for our economy." The package awards a tax rebate of up to $1,200 per working couple, plus $300 per child. It also includes tax breaks for equipment purchases by businesses.
I see this stupid package doing nothing more than gubmint welfare. Why can't they just get the hell outta of the way?
New front in Berkeley-Marines war: U.S. Senate
South Carolina Republican Sen. Jim DeMint made good on his threat to punish the Berkeley City Council by introducing a proposal Thursday to strip the city of more than $2.1 million in federal earmarks and give the money instead to the Marine Corps.

"This particular case became the business of the American people when the city of Berkeley insulted our troops and their constitutional mission to defend our country, while still coming to the federal government asking for special taxpayer-funded handouts," DeMint said.
You remember earmarks? Those are the special funding that particular politicians suck out of the taxpayers money for their own districts. Well, it's OUR money, and I am with DeMint. Not one dime of our money should go to such a pack of useless trash!
Former Student Guns Down 6 in Attack at Northern Illinois University; Kills Self
A former student dressed in black walked onto the stage of a lecture hall at Northern Illinois University and opened fire on a packed science class Thursday, killing six students, wounding 15 and setting off a panicked stampede before committing suicide, FOX News has confirmed.

Police say they have no motive for the rapid-fire assault, carried out by the gunman who fired indiscriminately into the crowd with a shotgun and two handguns as students dove to the floor and ran toward the exits.
We really have lost our 'soul'. My most sincere prayers for the families and friends of those murdered and wounded, and for all those affected in this tragedy.