An Ol' Broad's Ramblings
Archive for 3 April 2008
Memo to Hollywood
By Bill O'Reilly
Hey, Hollywood people, thanks for taking this meeting. I wish I had some good news about the new movie "Stop Loss." But I don't. It's a bomb, a major disaster at the box office, despite the presence of Ryan Phillippe. Sorry.
One thing. Why do you guys keep making these Iraq war films when nobody wants to see them? I mean, "Home of the Brave" went straight to video, and most theatres wouldn't even consider "Redacted." I understand that billionaire Mark Cuban has no clue, but come on, the guy spends more than five million bucks on "Redacted" and it grosses about $65,000? Wow, that's some write off.
As you know, even the big boys are getting hammered with these anti-American movies. Tom Cruise and Robert Redford took in just $15 million for "Lions for Lambs." That doesn't even pay Cruise's Scientology tab. And what about Tommy Lee Jones, Charlize Theron and Susan Sarandon grossing less than $7 million for "In the Valley of Elah," a.k.a. "In the Valley of Failure?" Most films have peaks and valleys. No such luck in Elah.
When I use to drink, my choice was vodka (or rye after I moved to Wisconsin, but that's another story), and the vodka I drank was usually Stoliknaya. However, I was also a big Absolute fan, at least until they started making all those stupid flavored ones.
Now, I see THIS?
Nobody, and I do mean NOBODY, better ever bring that sh*t in my house!
Swiped from silent E speaks, who swiped it from Michelle Malkin, who has more details.
More at Outside the Beltway.
Some are celebrating this garbage.
Now, I know the loony toons in Congress decided this broad was a good idea….at the time, but honestly, the longer that (five lettered word) is in charge, the worse things become. The leftards are so worried about "America's Image" around the world, but yet, insult every Christian, Jew, Muslim, or anyone else who find homosexual behavior offensive.
Pelosi begs, Pentagon bends — congresswoman's 'partner' rides
A conservative group is calling on the Pentagon to apologize for its decision to permit a liberal lawmaker to take her homosexual partner on a taxpayer-funded trip overseas.

Politico.com reports Defense Secretary Bob Gates granted Speaker Nancy Pelosi (D-California) a special exception to House rules so she could allow Lauren Azar, the same-sex partner of Congresswoman Tammy Baldwin (D-Wisconsin), on a military flight for a congressional fact-finding trip to Europe. Baldwin and Azar reportedly "confirmed their commitment to each other" in 1998, and one news service says Azar is registered with the House as Baldwin's spouse.

House rules permit members of Congress to take their spouses with them on military flights if there is room for them and when it is "necessary for protocol purposes." However, Baldwin's home state of Wisconsin does not recognize homosexual marriage or the "wedding vows" Baldwin and her partner exchanged ten years ago.

Peter LaBarbera, president of the group Americans for Truth About Homosexuality, is condemning the Pentagon's accommodation of Baldwin. He says it is "outrageous" that the Pentagon gave in to Pelosi and the "homosexual agenda."
For the love of all that's holy, make that woman go away!  And can the SOB at the Pentagon who bent over for her!
To say I am appalled, would be an extreme understatement!
How long will society continue to support the slaughter of innocent children?
See here what Jenn has to say.
I didn't even know Air America was still on.
Is this what passes for liberal humor?  An excess of four lettered words?  Odd.  Really.  Quite odd.
Carter Hints at Support for Obama
Former President Carter wouldn't quite say it, but he left little doubt this week about who he'd like to see in the White House next year.

Speaking to local reporters Wednesday on a trip to Nigeria, the former Democratic president noted that Barack Obama had won his home state of Georgia and his hometown of Plains.

"My children and their spouses are pro-Obama. My grandchildren are also pro-Obama," he said at a press conference, according to the Nigerian newspaper This Day. "As a superdelegate, I would not disclose who I am rooting for, but I leave you to make that guess."

Carter's spokeswoman confirmed the comments.

Asked about Jimmy Carter indicating he would go for Obama, Clinton communications director Howard Wolfson said: "Both Senator Clinton and President Clinton have a great deal of respect for President Carter and have enjoyed their relationship with him over the years. And, obviously, he is free to make whatever decision he thinks is appropriate with regard to the presidential choice."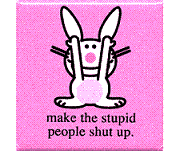 From left to right – Moebama, Shemcain, Larrary.
Swiped from No Runny Eggs, who swiped it from……
Israel Slow to Admit Gaza Patients, U.N. Says
A new report by the World Health Organization says that 32 Palestinians from Gaza have died in recent months largely because of Israeli restrictions that delayed their access to urgent medical treatment in Israel.

But Israeli officials rejected the findings on Wednesday. They said that the people who had compiled the report had never asked them about the cases, that Israeli officials had no records of entry permits being sought in some of the cases and that details of other cases were inaccurate. Israeli officials also said that the number of Gazans admitted to Israel for advanced medical treatment was increasing.
Well, isn't that surprising! A Useless Numnuts rip off organizations doesn't bother to check with BOTH sides. A better name for the UN would be I.N. Incompetent Numnuts! Because they aren't just useless, they are also inept!
The report, released Tuesday by the W.H.O., the United Nations health authority, and covering October through March, says that in some cases permits to enter Israel had been late, while other applicants had been denied permits on security grounds. In five cases, the reason given for the delay was a lack of available hospital beds.

Most of the report was based on interviews in Gaza with relatives of the dead, and with Palestinian medical workers and other Palestinian officials.
Well what did they think they would say? That Israel is a wonderful place, and all is well, and we love the Israelis? Come on people! If you are going to make a report, you might want to make sure it's an ACCURATE one. Jiminy Crickets! These are the same folks who are doing everything possible to destroy a nation and murder it's citizens.
As usual, the New York Slimes headline is completely misleading. The headline SHOULD have read,
"UN Report Totally Flawed!"
H/T: GuyK at Reject the UN
While checking my email, I noticed a banner at the top that asked the question:
Is Rwanda right in not wanting Paris Hilton visiting their country?
The link is www.ResponsibilityProject.com.
Welp, I can answer that question, with a question, without even seeing the comment, or article, or whatever.
Doesn't Rwanda have enough problems already?
UN: Humanitarian chief to visit Gulf states
The top United Nations humanitarian official will travel to Saudi Arabia this week in the first leg of a four-nation tour including the United Arab Emirates, Kuwait and Qatar.
Gee, I'm impressed. (insert sarcasm here)
John Holmes, under-secretary-general for Humanitarian Affairs and UN Emergency Relief Coordinator, is scheduled to arrive in Saudi Arabia on 5 April.

"The purpose of his visit is to strengthen collaboration and partnership between Gulf States and the United Nations in addressing humanitarian issues worldwide," said the UN Office for the Coordination of Humanitarian Affairs (OCHA).
I think there is already a lot of collaboration going on between the Useless Numnuts and the Gulf States.
Holmes will travel with Abdul Aziz Muhammad Arrukban.

He was appointed last year as secretary-general Ban Ki-moon's special humanitarian envoy to improve coordination between UN relief efforts and those of governments and aid groups in the Middle East and North Africa.
Been real affective, hasn't he. (more sarcasm) I'm sure those who are starving thanks to the Numnuts "help" are REAL grateful.
They will meet government officials, senior representatives of the Gulf Cooperation Council and Red Crescent Societies to encourage their active support of UN humanitarian activities.
Will there be belly dancers, and much jocularity, along with the sumptuous meals paid for by the taxpayers of members states?
Holmes will also give the keynote speech at the Dubai International Humanitarian Aid and Development Conference on 8 April.
Oooo…..I'll be waiting with bated breath!
Pfft!
Cross posted at Reject the UN 
A Nightmare!
In the nightmare I found myself nude in bed, and I was looking at a mirror on the ceiling, and I discovered that I am a Negro, and I'm circumcised!?
Quickly I sat up, found my pants and looked in the pockets to find my driver's license photo and it was that same color. Black.
I felt myself being very depressed, downcast, sitting in a chair. But it's a wheelchair!!
That means, of course, besides being black and Jewish, I'm also disabled!!!
I said to myself, aloud 'This is impossible. It's impossible that I should be black and Jewish and disabled.'
'It's the pure and holy truth', whispers someone from behind me. I turn around, and it's my boyfriend. Just what I needed!!!
I am a homosexual, and on top of that with a Mexican boyfriend.
Oh, my God….. black, Jewish, disabled, gay, with a Mexican boyfriend, drug addict, and HIV-positive!!!
Desperate, I begin to shout, cry, pull my hair, and…..Oh, noooooo…I'm bald!!!
The telephone rings. It's my brother.
He is saying, 'Since mom and dad died the only thing you do is hang out, take drugs, and laze around all day doing nothing. Get a job you worthless piece of crap… Any job.'
Mom?… Dad?… Nooooooooo… Now I'm also an unemployed orphan!
I try to explain to my brother how hard it is to find a job when you are black, Jewish, disabled, gay with a Mexican boyfriend, are a drug addict, HIV positive, bald, and an orphan. But he doesn't get it.
Frustrated, I hang up.
It's then I realize I only have one hand!!!
With tears in my eyes I go to the window to look out. I see I live in a shanty-town full of cardboard and tin houses! There is trash everywhere. Suddenly I feel a sharp pain near my pacemaker…. Pacemaker??
Besides being black, Jewish, disabled, a fairy with a Mexican boyfriend, a drug addict, HIV positive, bald, orphaned, unemployed, an invalid with one hand, and having a bad heart, I live in a crappy neighborhood.
At that very moment my boyfriend approaches and says to me, 'Sweetiepie, my love, my little black heartthrob, have you decided who are you going to vote for in the Primary? Hillary or Obama???'
Say it isn't so!!! I can handle being a black, disabled, one armed, drug addicted, Jewish queer on a pacemaker who is HIV positive, bald, orphaned, unemployed, lives in a slum, and has a Mexican boyfriend, but please, oh dear God, please don't tell me I'm a Democrat….
Shared by Sharon.  (The dibble made me post this!)

….and some real surprises!
CAGW Names Senators Who Voted to Kill DeMint-McCain Earmark Moratorium Porkers of the Month
Citizens Against Government Waste (CAGW) today named all 71 senators who voted against an amendment to impose a one-year earmark moratorium in the fiscal year 2009 Budget Resolution March Porkers of the Month. The amendment was offered by Sen. Jim DeMint (R-S.C.) and had fourteen bipartisan co-sponsors including all three presidential candidates.
As Sen. DeMint has said, "The earmark process allows politicians to fund pet projects based on political power instead of merit. Earmarks are rarely subject to public hearings or oversight, and they invite the kind of corruption that has sent lawmakers to jail."
In addition to inviting fraudulent behavior, earmarking diverts lawmakers' attention from important national business, like saving Medicare and Social Security for future generations. Many congressional offices have one or more staffers dedicated to procuring earmarks.