An Ol' Broad's Ramblings
Archive for 15 April 2008
Jimmy Carter Lays A Wreath at Arafat's Tomb
Former U.S. President Jimmy Carter laid a wreath of red roses at the grave of Palestinian Liberation Organization leader Yasser Arafat during a visit to the West Bank City of Ramallah on Tuesday.

"He and Mrs. Carter and his son Jeff wanted to pay their respects to President Arafat," Carter's trip director Rick Jasculca told Cybercast News Service. But the former president didn't make any comments there, he said.

Dubbed the "godfather of terrorism," Arafat was linked to the deaths of two American diplomats in the Sudan in 1973 — one of many terror acts laid at his feet.
I'm already in a fairly pissy mood today. For a former President of the United States to HONOR a freakin' murderer, is just beyond comprehension!  My disgust for that flotsam has grown, if that is at all possible.
To put it politely….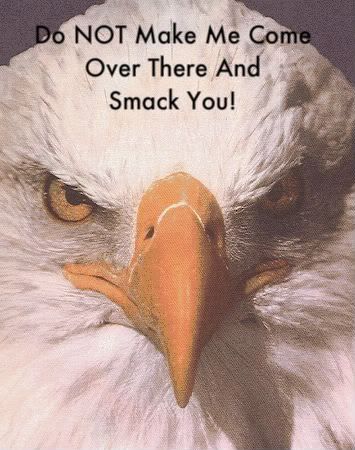 Obama Bitter About Free Markets
"In America, we have this strong bias toward individual action. You know, we idolize the John Wayne hero who comes in to correct things with both guns blazing. But individual actions, individual dreams, are not sufficient. We must unite in collective action, build collective institutions and organizations." — Barack Obama, Chicago Reader, Dec. 8, 1995.
Illinois Sen. Barack Obama was not only the most liberal member of the U.S. Senate in 2007, according to the National Journal, but if he becomes the Democratic Party's nominee, he will probably be the most liberal politician to ever to get it.

Obama's past stands, including opposing the death penalty under any circumstances, believing that people should not be able to own handguns, talking about doubling the capital gains tax or opposing free trade are not the only things that get him classified as a liberal.
B. cannot, MUST not, ever be President of the United States!
Source: U.S. Strike on Iran Nearing
Contrary to some claims that the Bush administration will allow diplomacy to handle Iran's nuclear weapons program, a leading member of America's Jewish community tells Newsmax that a military strike is not only on the table – but likely.

"Israel is preparing for heavy casualties," the source said, suggesting that although Israel will not take part in the strike, it is expecting to be the target of Iranian retribution.

"Look at Dick Cheney's recent trip through the Middle East as preparation for the U.S. attack," the source said.
The source? What source? Is it a credible source, or is it just some yahoo trying to make more trouble than we already have….and we've got plenty. If the U.S. was going to strike Iran, why wouldn't we do it as soon as we had confirmation that they were supplying the insurgents in Iraq?
Tensions in the region have been rising.
Gee, ya think?
In addition to long-range missiles Iran has been developing to strike Israel, Israel's military strategists see the Iranians using terror groups they back like Hamas operating from Palestine and Hezbollah from Lebanon to launch attacks.
Don't the Iranians have enough trouble within their own borders without having to stir up more problems elsewhere?
Iran remains intransigent to international pressure that it offer full transparency relating to its nuclear program. On Sunday the head of Iran's nuclear program "abruptly canceled a meeting with the head of the International Atomic Energy Agency, dealing a blow to the U.N. monitor's efforts to investigate allegations that Iran tried to make nuclear arms, an agency official said," according to an AP report.
"Full transparency"? Umm….. I don't think so. Didn't we find out recently, that the Iranians had continued with the nuke programs despite what the IAEA had claimed? As for the Useless Numnuts? Pfft! Joke. BIG, cumbersome joke.
Oh, you go read it all, make up your own mind.
I don't read Politico very often. Why? Well, mostly because there is already so much to read, it kind of goes by the wayside, not to mention they tend to lean more than just a little to the left. I finally noticed something though. Commenters are asked their party affiliation? What's up with that? Does it matter? Are Republican's comments refused on a regular basis? I was under the impression that a conversation was valid with all sides. I didn't know I was suppose to check your party "loyalty" before I allowed a comment. Odd. Very odd.
Oh, and for the record, I don't really give a flying flip what B.'s daddy wrote back in 1965.
How Liberals Lost a Liberal
By Dennis Prager
The Democratic Party's preoccupation with the question of when America will leave Iraq rather than with how America will win in Iraq reminds me of how and why this nearly lifelong liberal and Democrat became identified as a conservative and Republican activist.
I have identified as liberal all my life. How could I not? I was raised a Jew in New York City, where I did graduate work in the social sciences at Columbia University. It is almost redundant to call a New York Jewish intellectual a liberal. In fact, I never voted for a Republican candidate for president until Ronald Reagan in 1980. But I have not voted for a Democrat since 1980.
What happened? Did I suddenly change my values in 1980? Or did liberalism? Obviously, one (or both) of us changed.
As I know my values, the answer is as clear as it could be — it is liberalism that has changed, not I. In a word, liberalism became leftism. Or, to put it another way — since my frame of reference is moral values — liberalism's moral compass broke. It did so during the Vietnam War, though I could not bring myself to vote Republican until 1980. The emotional and psychological hold that the Democratic Party and the word "liberal" have on those who consider themselves liberal is stronger than the ability of most of these individuals to acknowledge just how far from liberal values contemporary liberalism and the Democratic Party have strayed.
GOP Lawmaker Apologizes for Referring to Obama as 'Boy'
Republican Rep. Geoff Davis apologizing to Democratic presidential candidate Barack Obama on Monday after referring to him as "that boy."

Addressing a Republican gathering Saturday night, the Kentucky lawmaker said, "That boy's finger does not need to be on the button." Davis was talking about political and national security issues at an annual GOP dinner.
When it comes to national security….he is a 'boy'. Very inexperienced. So, please, why should anyone apologize for calling it like it is? Have we become so politically correct, the truth is out of bounds??
White House Threatens Veto On Tax Simplification Bill
The White House statement said getting rid of the program would cost the federal government $578 million in lost revenue over the next decade from money recovered by the two private debt collection agencies the IRS hired to go after delinquent tax payers.
I'm not quite sure what I think of this. On the one hand, anything to do with taxes being vetoed is not so bad. On the other, it's going to cost us poor gun totin', Bible thumpers more money, then by all means, veto! Is this bill just another way for the Dhimmis to increase the size of the government, via the IRS?
Retailing Chains Caught in a Wave of Bankruptcies
The consumer spending slump and tightening credit markets are unleashing a widening wave of bankruptcies in American retailing, prompting thousands of store closings that are expected to remake suburban malls and downtown shopping districts across the country.

Since last fall, eight mostly midsize chains — as diverse as the furniture store Levitz and the electronics seller Sharper Image — have filed for bankruptcy protection as they staggered under mounting debt and declining sales.
Well, this should improve the left's mood. I thought they hated big chain stores. Although, I kind of doubt Wal Mart will be going under anytime soon. Not if that packed parking lot was any indication yesterday.
US increases food crisis aid as Philippines threatens rice hoarders
The United States promised 200 million dollars to help poor nations combat the global food crisis amid mounting warnings over the impact.

With many governments fighting unrest over sky-rocketing prices, the Philippine government declared war on rice hoarders and appealed for US help to boost stocks.
A couple of things here. One, I have no problem helping those in need. However, when we have poor right here at home, who need job training, and job, couldn't a good chunk of the aid we give to other countries be put to better use? Two, if the food into gas folks hadn't created such a big problem, then we wouldn't really be talking about "one", now would we? Is this an unintended consequence, or….if you control the food supplies, you control the people type of scenario? Just asking.
Iran: We'll 'eliminate Israel' if it launches attack
Iran will destroy Israel if Israel attacks Teheran, Iranian deputy chief of staff, Mohammad Reza Ashtiani, warned Tuesday in response to a threat issued last week by National Infrastructure Minister Binyamin Ben-Eliezer.

"We are not worried by the recent Israeli maneuvers, but "If Israel wants to take any action against the Islamic republic, we will eliminate Israel from the scene of the universe," the Iranian Mehr agency quoted him as saying.
I wonder how many times Ahmabooboo has threatened to "wipe Israel off the map"? Heard often enough, Israel just might take him seriously, and prepare for such an event, or even preempt. Makes sense to me. And ya know, even though Israel is a small country, I'd bet on their side every time.
Forecasters: Big quake likely to hit Calif. within 30 years
California faces an almost certain risk of being rocked by a strong earthquake by 2037, scientists said Monday in the first statewide temblor forecast.

New calculations reveal there is a 99.7 percent chance a magnitude 6.7 quake or larger will strike in the next 30 years. The odds of such an event are higher in Southern California than Northern California, 97 percent versus 93 percent.
That's plenty of time for Bushwack, Jenn and a few others to get packed up and outta there. But please, leave the moonbats there, ok?
Herenton to ask for property tax hike
The tax increase is needed to offset declining revenues and cover the rising costs of energy, health care and pay for city workers, officials said.

The present Memphis tax rate is $3.43 per $100 of assessed valuation. The taxes on a house valued at $150,000 are $1,287.45 a year.

Herenton's budget for the 12 months beginning July 1 asks for $58 million — 10.9 percent — more than this year and includes a 5 percent pay raise for city workers.
A Dhimmis answer to everything – raise taxes. I don't suppose it has occurred to him that one of the reasons they are losing money in the city is because no one want to go there anymore? I mean "murder capital" of the country is not a strong selling point. I also don't fault the city employees for wanting a raise, but when there is crunch on money, do you really think it's a good time to have a 5% increase?
NKorean Leader Promotes Generals
North Korean leader Kim Jong Il promoted 35 generals Tuesday as the country marked one of its biggest national holidays, the birthday of his late father.

Kim's father, Kim Il Sung, died in 1994 at age 82 but still holds the title of the country's "eternal president." The elder Kim's birthday is known as "Day of the Sun" and is celebrated along with the birthday of the country's current ruler.
Pfft! More like "Day of the Sunset"! They've been in darkness for a long time now.
The younger Kim often promotes generals to mark holidays and boost the morale of the military, the backbone of his totalitarian rule. He has promoted more than 1,000 generals since becoming supreme commander of the 1.2 million-strong Korean People's Army, the world's fifth largest.
I guess boosting the moral of the actual people never crossed him tiny little mind, like say with…I dunno…FOOD?
Fire kills 19 Ugandan school children
An overnight fire destroyed a primary school dormitory in Uganda, leaving 19 schoolgirls and two adults dead, police said Tuesday.

Sobbing parents sifted through the ashes of the girls dormitory at the Buddo primary school Tuesday, trying in vain to identify their daughters in the charred piles of bones and skulls.
My prayers are with these families. I cannot imagine the horror and pain they must be going through.
Romans 13:6-7
6  For for this cause pay ye tribute also: for they are God's ministers, attending continually upon this very thing.  

7  Render therefore to all their dues: tribute to whom tribute is due; custom to whom custom; fear to whom fear; honour to whom honour.
Why is there frost on my deck??