An Ol' Broad's Ramblings
Archive for 9 May 2008
But she's not listening! sigh….
…..and a good chunk of the afternoon too.
We got a new sink! And not just a sink….new fixtures too!
Why did we feel the need for this expense? Well, cuz what was there when we bought the house, was ugly. Obviously, that's not a reason for sending such a chunk of change. It also didn't work like it was suppose to. I honestly think someone went and found a house that was being torn down and installed it in here, before they put the house on the market.

Well, maybe not, but still, it was ugly.
Now getting a new sink isn't one of those mile stones, but talking to the guy who installed it is very worth mentioning. He's been out here a few times, so we know where the other stands on some key issues. He's an admitted liberal. Fine. I have no problem with that, he's a good plumber, and funny too.
What is of note: He is "terrified that Barack Hussein Obama will be the next POTUS!" His words, exactly. All through our conversation, while he was working to get that sink installed, he never once called him "Senator Obama", or Barack. No, HE called him Hussein. An admitted left of left person. Now, if he is scared, I KNOW we should ALL be scared!
Psst! The next item will be a new stove and microwave. heh Some day.
Some fodder:
So, why does the GOP seem to be trapped in this recurring political nightmare?
There are a plethora of different reasons for it: the war in Iraq, gas prices, a soft economy, George Bush's lack of communication skills, corruption scandals, the illegal immigration brouhaha, nominee John McCain, out-of-control spending — you can go on and on.
However, there is one overriding problem that dwarfs all the others, a problem that few people in the leadership of the Republican Party seem to have come to grips with. That problem is that conservatives, who are the heart and soul of the Republican Party, no longer believe that the GOP has their best interests at heart.
I don't think it could have been said much better than that!
Read the whole column here.
Excellent ad from the RNC.
H/T: Stop the ACLU
A Gulf in Giving: Oil-Rich States Starve the World Food Program
United Nations Secretary-General Ban Ki-moon and his top lieutenants on Monday are convening the first meeting of the U.N.'s Task Force on the Global Food Crisis. Ban says it will "study the root causes of the crisis," and propose solutions for "coordinated global action" at a summit of world leaders in June.
Root causes? Well, that pesky fuel based on food sources might be a BIG cause. Not the only one, but a big one.
WFP internal documents show that the major oil producing nations of the Organization of Petroleum Exporting Countries (OPEC) gives almost nothing to the food organization, even as skyrocketing oil prices and swollen oil revenues contribute to the very crisis that the U.N. claims could soon add 100 million more people to the world's starving masses.
Well, considering the biggest oil producing nations are either Muslim or dictatorships, it's not surprising they don't give squat.
The overwhelming bulk of the burden in feeding the world's starving poor remains with the United States and a small group of other predominately Western nations, a situation that the WFP has done little so far to change, even as it has asked for another $775 million in donations to ease the crisis.
Yep, the EVIL great "Satan" is the one they depend on for survival, yet hate. Well, ya know what? I'm of the mind that we need to pull all support from the UN. Do I want children to starve? Of course not. I don't want mine too either, and at this point in time, I think the US needs to be reminded "charity begins at home".
Donor listings on WFP's website show that this year, as in every year since 1999, the U.S. is far and away the biggest aid provider to WFP. Since 2001, U.S. donations to the food agency have averaged more than $1.16 billion annually — or more than five times as much as the next biggest donor, the European Commission.
If I ever hear the lefties whining again about how we, as a nation, don't do enough, I'm going to slap the dog fire out of them!
This year, the U.S. had contributed $362.7 million to WFP just through May 4, according to the website. That figure does not include another $250 million above the planned yearly contribution that was promised by President George W. Bush in the wake of WFP's April warning that a "silent tsunami" of rising food costs would add dramatically to the world population living in hunger. Nor does it include another $770 million in food aid that President Bush has asked Congress to provide as soon as possible.
No, NO, and HELL NO! Not another dime!
On the other hand, Saudi Arabia, with oil revenues last year of $164 billion, does not even appear on the website donor list for 2008.
Ok, putting anger aside, do the Saudis give directly to those in need? Isn't there a 'tenet of Islam' that says something about giving? Well, I don't take their "tenets" too seriously, since they've been proven false day after day.
And while Canada, Australia, Western Europe and Japan have hastened to pony up an additional $260 million in aid since WFP's latest appeal, the world organization told FOX News, the Organization of Petroleum Exporting Countries (OPEC), the international oil cartel, tossed in a grand total of $1.5 million in addition to the $50,000 it had previously donated.
The OPEC total amounts to roughly one minute and 10 seconds worth of the organization's estimated $674 billion in annual oil revenues in 2007 — revenues that will be vastly exceeded in 2008 with the continuing spiral in world oil prices.
Well, I'd say that breaks it down pretty well. In other words, about the time it takes to blow your nose real good!
Cross posted at Reject the UN
Lawyers: Gore's Pelosi Ad May Violate Election Law
"It's prohibited," a Republican campaign finance lawyer, Jan Baran, said. He said the ad constitutes a "coordinated" expenditure on behalf of Ms. Pelosi's campaign by the group sponsoring the ad, the Alliance for Climate Protection. Any ad of that sort distributed in a candidate's district within 90 days of a congressional primary or general election is deemed a campaign donation, Mr. Baran said.
"She's in the ad. That means it's coordinated," a Republican attorney who battles to overturn campaign finance laws, James Bopp Jr., said. "I'm a guy that specializes in loopholes. I don't know of any loopholes."
Oh, goody. Does this mean they'll take that excessively annoying commercial off the air?
Ahmadinejad: Israel a 'stinking corpse'
Iranian President Mahmoud Ahmadinejad said on Thursday that the state of Israel is a "stinking corpse" that is destined to disappear, the French news agency AFP reported.
"Those who think they can revive the stinking corpse of the usurping and fake Israeli regime by throwing a birthday party are seriously mistaken," the official IRNA news agency quoted Ahmadinejad as having said.
"Today the reason for the Zionist regime's existence is questioned and this regime is on its way to annihilation."
Isn't odd that the "stinking corpse" has made the desert bloom? The only corpse I want to see is Ahmabooboo's.
Burma seizes UN food deliveries
Burma's junta impouned two UN food aid shipments at Rangoon airport today, officials said, triggering more outrage at the military government's refusal to accept a major international relief operation.
"We're going to have to shut down our very small airlift operation until we get guarantees from the authorities," a furious World Food Programme regional director Tony Banbury told CNN.
These scum suckers would rather see their people starve? Evidently.
Happy Mother's Day: Woman pregnant with 18th child
It's a happy Mother's Day for an Arkansas woman — she's pregnant with her 18th child.
Michelle Duggar, 41, is due on New Year's Day, and the latest addition will join seven sisters and 10 brothers. There are two sets of twins.
Is she freakin' CRAZY?
Oldest gorilla in captivity turns 55 at Dallas Zoo
A gorilla recognized as the world's oldest in captivity celebrated her 55th birthday by munching down a four-layer frozen fruit cake and banana leaf wrapped treats.
Jenny's caretakers at the Dallas Zoo say she's having a few joint issues and her eyesight isn't what it used to be but she still looks good for an old ape.
Uh….happy birthday Jenny.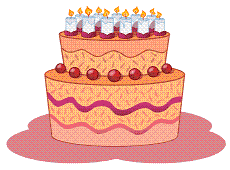 Neighbor fatally shoots man attacking doughnut shop worker
Fort Worth police said the woman, a doughnut shop worker, was hit on the head during the robbery as she tried to escape. A neighbor heard the commotion, grabbed a shotgun and came to her assistance.
The neighbor then shot the 44-year-old robbery suspect in the chest, police said.
The neighbor was not arrested. The case will be forwarded to the grand jury.
A hero!
US military denies Iraq claims of al-Qaida leader's arrest
The U.S. military says the leader of al-Qaida in Iraq has been not been captured — despite a claim by the Iraqi government.
U.S. military spokeswoman Maj. Peggy Kageleiry says "neither coalition forces nor Iraqi security forces detained or killed Abu Ayyub al-Masri. This guy had a similar name."
She said today that no additional details were being provided.
On Thursday night, Iraqi army and police officials said the al-Masri had been captured in Mosul.
Well shoot. I suppose they'll get him one of these days. Bombs would work….very large bombs.
A very good friend of my has a daughter in Afghanistan.  This young lady has already done a tour in Iraq, and now is with her unit off to foreign lands again.  She has a 6 year old daughter, who is absolutely adorable, and yes, the separation is really tough on them both.  My friend moved to her daughter's home in a different town so that young child wouldn't have to have too many changes in her life.  This mean that my friend is now living away from her home and husband.
There are many who say "if YOU support the troops so much, why don't YOU go over there and fight?"  Well, I'd say there are many who are unable to join the military who are making many sacrifices for those who choose to do so.
Here are some of those heroes.
Be safe, and God Bless every one of you!
Romans 8:1-2
1 There is therefore now no condemnation to them which are in Christ Jesus, who walk not after the flesh, but after the Spirit.
2 For the law of the Spirit of life in Christ Jesus hath made me free from the law of sin and death.