An Ol' Broad's Ramblings
Archive for 11 May 2008
"They hate liberals who can throw a punch," Baldwin tells Safer.
Asked who "they" are, Baldwin says, "They, yeah, this…they. The vast right wing conspiracy that's after me."
And:
The right went wild when it was reported he said he'd move out of the country if George Bush were elected.
"I never said that," Baldwin says. "I said, 'It might be a good time to leave the country.' There's a big difference between that and promising to leave the country. And even if I did, who cares? What difference would that make in anyone lives, you know?"
"Your eloquence, if that's the word, can get you into deep trouble," Safer remarks.
"So I don't make the eloquent point so eloquently, is that what you're saying?" Baldwin asks.
Then:
"You described your ex-wife's lawyer as a 300-pound homunculus with a face like a clenched fist," Safer says.
"I was being kind, Morley. I was being kind," Baldwin jokes.
"It's up there in the pantheon of abusive remarks, correct?" Safer asks.
"Yeah. Well, I think that people who treat someone the way I was treated during that case, you respond to them, I don't view that as abusive," Baldwin says.
How 'bout:
"As appalling as what you said may be, even more appalling was that it was released by someone," Safer points out.
"That tells you what I'm dealing with," Baldwin says. "But you know, listen, you use words like 'appalled' and you have, if I may say so, a pretty judgmental tone of me. But I think that as truly sorry as I am that that happened, to me it only illustrates how difficult this process has become for many, many people."
As an actor, I actually like Alec Baldwin. As a politician? Gimme a break.
One note, on his side….yes, I'm trying to refrain from losing my lunch, from 8 hours ago….I can all too well understand his frustration at his kid, and the song and dance he was going through with the divorce and all. I was embarrassed that Sean Hannity kept playing that tape over and over and over, ad nauseum.
H/T: Jenn
While snooping around, as I'm wont to do on occasion, I came across this little tidbit from a blogger in Colorado – Moonbat Ballot Initiatives. I SHOULD find this sort of thing surprising, but honestly, what the lefties come up with on a daily basis, no longer has the power to shock.
Here's the initiative this graduate student put forth:
Be it Enacted by the People of the State of Colorado: Shall there be a sex strike by the women only, January 1st, 2009, for one day in length, in support of the wife's and parents of U.S. combat troops receiving pay for support services rendered to the military, through an amendment to the Colorado Constitution?
Really? A graduate student? Isn't a graduate student a student that is furthering education after graduating from a four year college? I mean, really, is that the best colleges are producing these days?
Other than the obvious misspelling, is this person unaware that if there is a 'sex strike by the women only", the men will be on strike involuntarily? Ok, so the only folks having carnal knowledge will be homosexual males. No lesbians should have sex. They are after all, females, right?
I wonder if he was sitting around, in the apartment his parents are still paying for, smoking a doobie, trying to think up a way to make his mark on society?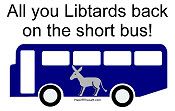 Earmarked pork, hard and soft
By Paul Jacob
The original metaphor was the pig. You could say, in the beginning was the pig. And the pig was with the politicians. And, boy, did the politicians pig out.
I refer, of course, to pork-barrel politics . . . that is, the kind of spending that usually falls under the rubric "earmarks" these days. Politicians love this "other white meat" because it allows them to take more direct credit for specific government spending.
But voters, for a number of reasons, have become increasingly fed up with earmarked, pork spending. They think of all that money wasted, tens of billions. Just a drop in the bucket, amongst trillions? Well, common sense suggests you cut the easy, least credible spending first.
And pork just seems wrong to many Americans, in part because it's all very un-federalistic. The Federal Principle — which, you know, is right there in the Constitution — assigns to the federal government only those tasks that cannot be handled at state and local level. Local projects (such as libraries and bike paths and such) are, ipso facto, not federal in nature. Therefore, to allow politicians at the national level to spend money on them is something of an affront.
Besides, pork encourages corruption faster than you can say "trichinosis." By slopping out huge dollops of the federal budget onto purely local projects, our representatives begin to think that their job is to spend federally raised tax money to appease influential constituents at home. It trades statesmanship for a never-ending auction, all to fund re-election campaigns.
Bush's odds for Mideast peace wane
Since Mr. Bush's first visit, hopeful talk of a miracle — a Middle East peace agreement — has been replaced by a renewal of fighting between Israel and the Palestinians. The prospects for a peace deal by the end of Mr. Bush's term have dimmed, and the mood in Israel is by many accounts grim.
Since it wouldn't be Bush's "peace", I'm not sure why they always refer to the person who does some talking. If there was ever peace, it would be Israel's and that's not going to happen because those who continue to war against her doesn't want it!
Fighting flares in northern and eastern Lebanon
The heaviest clashes took place in the northern city of Tripoli, where pro-government supporters in the Tebaneh neighborhood exchanged rocket propelled grenades and heavy machine gun fire with opposition followers in Jabal Muhsin, the officials said.
One woman was killed in the clashes, bringing the toll across the country for the past five days of violence to 38 — the worst sectarian violence since Lebanon's 1975-1990 civil war.
These pigs are not going to spare the innocent. They'll make sure every man, woman, and child dies to get what they want.
'Lebanon is a Hizbullah state, gov't has become irrelevant'
Lebanon must be treated as a Hizbullah state," Vice Premier Haim Ramon said Sunday, as violence in the country spread to the northern city of Tripoli, claiming three lives.
"Everything that happens there is the responsibility of Hizbullah. The country is controlled by this terror organization and its government has become irrelevant," Ramon said at the weekly cabinet meeting.
"The notion that there is another government apart from Hizbullah is entirely fictional," added the vice premier.
This is not the same Lebanon where my aunt and uncle went to visit family. No, this Lebanon is nothing more than evil waiting to spread.
Parading of fighters' bodies taunts Mahdi Army
As the vehicles roll slowly forward, the tooting of car horns rises to a crescendo in apparent celebration of victory in battle and the sound of whooping and gunshots can be heard.
A police officer in a blue uniform drives alongside, smiling as the Humvees are waved forward by a pedestrian in civilian clothes and head towards two large arches that span the road. The bodies are being paraded like prize stags after a hunt.
Is that really necessary? I realize it's a different culture, and all that, but isn't that just bit too …..umm…. barbaric? Maybe it's just the girl in me, but I have issues with such a display. It seems rather juvenile, kind of like the bully who stole your hat, and taunts you by wearing it.
Barack Obama faces an untested set of hurdles
For the first time, a major political party is on the brink of choosing an African American as its candidate for president, but when Democratic strategists and other analysts look ahead, they don't see race as Barack Obama's biggest challenge.
They worry more, they say, about other issues: Will swing voters view him as too young? Too inexperienced? Or too liberal?
How 'bout the fact that he's so full of sh*t, his eyes are brown….er?
Ex-manager says O.J. Simpson confessed
He said Simpson had smoked pot, took a sleeping pill and was drinking beer when he confided at his Brentwood home weeks after his trial what happened the night of June 12, 1994. Simpson said he went to his ex-wife's condominium, but did not bring a knife with him. Simpson told him Nicole Brown Simpson had one in her hand when she opened the door.
In a soft mumble, Simpson told him: "If she hadn't opened that door with a knife in her hand … she'd still be alive."
"Nothing more needed to be said," Gilbert writes. "O.J. had confessed to me. There's no doubt in my mind."
Stating nothing more than what most logically thinking people already know. He killed two people and got away with it!
Hearse, participants drive through city to remember unborn
An estimated 300 motorists and a hearse took part Saturday morning in a symbolic funeral procession through downtown Knoxville to commemorate abortions performed in Knox County last year.
(…)
"We need to have more funerals like this for abortions," Jones said. "It's important to give a face to all of those unborn babies and let everyone know that was a real person."
Amen!
Rulers Keep Grip on Aid as Burmese Cast Votes
The military appeared to be diverting some resources from cyclone victims to the voting, which was held in all but the hardest hit areas. A resident of Yangon, the main city, said by telephone that refugees who had sought shelter in schoolhouses had been evicted so they could be used as polling places. She said refugees had also been evicted from other buildings.
Isn't this exactly why the Useless Numnuts has a military type force? To protect the innocent from thugs who would be 'king'? Yep, still useless.
Arab countries discuss nuclear cooperation
Representatives of seven Arab states are currently meeting to discuss how to enhance nuclear cooperation in order to set up peaceful atomic programs, according to news reports.
Experts from Iraq, Jordan, Lebanon, Saudi Arabia, Syria, the United Arab Emirates and Yemen are participating in the meeting.
The delegates are discussing mechanisms for cooperation among various Arab countries for peaceful nuclear projects.
I dunno. Every time the word 'nuclear' and Arab are used in the same sentence, I see a future devastation we can't even begin to comprehend.
Obama outlines plans for race against McCain
Barack Obama began sketching the outlines of his expected presidential contest against Republican John McCain on Saturday, saying the fall election will be more about specific plans and priorities than about questions of political ideology or who is more patriotic.
Well, we already know who is more "patriotic". B's ideology should be enough to scare the pants off any rational thinking person, which tells me, one, there are a lot of irrational nonthinking people, and two, we have a lot more socialists in this country than could be imagined.
Ephesians 4:32
32 And be ye kind one to another, tenderhearted, forgiving one another, even as God for Christ's sake hath forgiven you.