An Ol' Broad's Ramblings
Archive for 27 May 2008
From Right Wing News:
Obama's Uncle Served in Red Army (or, Obama Caught in Another Lie)
Obama's hard-left connections just don't stop. Not only was he mentored in high school by rabidly anti-American Communist Party member Frank Marshall Davis, now it turns out he had a close relative in Stalin's Red Army.
Here's B.O. claiming that his uncle helped liberate Auschwitz:
The embellishment about the heroic uncle not coming out of the attic for six months afterward because we didn't have enough government programs to deal with his trauma was a nice touch. But O'Bigot misspoke when he said his uncle was in the American army. Auschwitz is in Poland. It was Russians that drove out the Germans, not Americans.
You can't blame Obama for not realizing that Poland is to the east of Germany. After all, according to the maps used in Obamaland, Kentucky is closer to Arkansas than Illinois.
History isn't his strong suit either. Remember when he claimed that his father was inspired by the Selma marches that started in 1965 to come to America and impregnate a white moonbat in 1960? Barack Senior was also inspired by the stirring words of John and Robert Kennedy, who instituted an airlift to import Africans; never mind that Eisenhower was still President at the time.
Apparently Obama's latest pratfall was intended to make it up to Jews that he hangs out with people who want to kill them.
Don't worry, Barry. The media will cover for you as always. At least you didn't misspell potato.
Now, whatcha wanna bet the MSM will just let it slide? "Oh, he was just so tired!" "Of course, Senator Obama mispoke, but later clarified."
Gimme a break! The SOB FLAT OUT LIED! AGAIN!
I'm not too sure if signing petitions to send to D.C. ever does much good.  Do they ever really pay attention to us peons out here?  Not often, that's for sure.  Anyways, here's a petition I was sent by….shoot, don't remember….Dick Armey maybe?
Gas Price Protest: More Gas at Lower Prices
Brought to you by, bless his heart, Rep. Paul Ryan.  Gracious sakes, I just love that guy!

Former U.S. President Jimmy Carter has publicly acknowledged that Israel has nuclear weapons. In an appearance at a British literary festival Sunday Carter was asked about Western efforts to curb Iran's nuclear program.
"The U.S. has more than 12,000 nuclear weapons, the Soviet Union has about the same, Great Britain and France have several hundred, and Israel has 150 or more," he told the audience.
The comments caused consternation in Israel, which traditionally believes the best deterrence is achieved by a policy of deliberate fuzziness on the claims regarding a nuclear arsenal.
Is that man truly that stupid? Senile? What?! No one can possibly that ignorant without having serious mental issues. Does he really not understand that you do NOT give information to the freakin' enemy?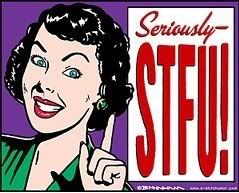 I've been pondering this for a bit, and am quite curious. Back in 2004, we heard much ado about Bush's time in the National Guard. And of course, unless you were under a rock, you heard about John Kerry's tour in Vietnam (what, for a whole 15 minutes?) and his Purple Hearts (which his ego insisted he receive, even if he didn't deserve them).
Now, here we are in 2008, with a whole new ballgame, in the top of the 8th inning, and not one single person, that I'm aware of, has brought up the fact that Barack Hussein Obama has never served his country in the military, in any capacity. Oh, there will be some that say he 'served' by being an activist for his community, or he 'served' in the Illinois state house, and he's 'served' his country by being a U.S. Senator. Well, ok….if serve is what you want to call that, although, I'd beg to differ on that "serve" part. Seems to me, the only person he has really served is himself.
So, with him spouting Queen Nanny's and Runnin' Reid's talking points ("the war is lost"), why has no one ever brought this up? Or have I missed it, and he actually has addressed this issue. No, I don't think you have to serve in the military in order to be Commander in Chief, but it sure doesn't hurt to have some idea of what those brave men and woman are all about, does it?
Well, I thought I'd try to help out!
Hey, what are friends for, right? 
Murdering children seems to be ok in California. Well, it's NOT ok with me!
Plea deal in death of infant found in trash can
A Montana woman whose newborn son was found dead in a trash bin near the University of Southern California campus in 2005 pleaded no contest to child endangerment Tuesday after four attempts to charge her with murder were dismissed.
Holly Ashcraft, 23, entered the plea in Superior Court to the charge and a special allegation that the endangerment resulted in death.
Under a plea agreement, she will be sentenced June 27 to time already served – about 30 days of jail time and about 695 days of electronic monitoring. She also will be placed on five years' probation, said Jane Robison, a spokeswoman for the Los Angeles County district attorney's office.
Judge Kathleen Kennedy warned Ashcraft she could face up to 10 years in prison if she violates probation.
It was "a fair ending to a tragic situation," said her attorney, Mark Geragos.
He has GOT to be kidding! Fair? Not even close!
A homeless man said he found the dead baby on Oct. 10, 2005, in a cardboard box in a trash bin behind a restaurant-bar that was a popular hangout for students at USC, where Ashcraft was studying architecture.
DNA testing showed the child was Ashcraft's. A coroner's investigation determined the infant was born alive and died from prematurity and other, unspecified factors.
Ever heard of 911? It's when you dial those 3 numbers, and someone comes to help. If she had bothered to actually call for help, perhaps the child would have lived, or perhaps not. The fact that she couldn't be bothered with the health and well being of her own child speaks volumes.
In April 2004, Ashcraft went to a Los Angeles hospital because she was bleeding, and doctors determined she had given birth. She said she had given birth to a stillborn child but no body was found and she was not arrested.
First she dumps the baby in the garbage, then she lies about it? "Fair ending?" Fair to whom? I can't even begin to express my disgust for the courts in California.
With "home owners associations"!
Vet Faces Lawsuit For Flying American Flag
A Central Florida war veteran faces a lawsuit for flying the American flag on a pole in his front yard.
"I don't understand why it would bring down the values of our homes by flying the American flag from a pole in my front yard," homeowner Jimmie Watkins said.
Watkins and his wife, Ria, received a final notice from the Sussex homeowners' association in Clermont that they must remove the flag or face legal action.
The former retired U.S. Navy communications officer said he refuses to back down for the American flag.
And he damn well shouldn't back down! This is the American flag, symbol of our freedom, and those scum buckets who find it offensive should pack their snooty bags, and get the hell out! I'm sure there are a few places, like Iran, or Cuba, who would welcome them with open arms!
"Each sub-association has its own set of documents and they can differ," Hart said. "The rationale for that only exists within the minds of the folks that are doing it. I can't sit here and tell you why."
The homeowner's association is not commenting about their rules. But state law said anyone can display a flag in a "respectful manner" as long as it is removable, Local 6 reported.
Oh, I can just bet the association isn't commenting. I can't imagine how they'd make themselves appear any more obnoxious than they already have.
H/T: silent E speaks
For the last couple of days, I've been trying to figure out how to post this tiny little logo
into my "In 2008″ links on the left, with a link to this site. I have been so dependent on Mr's Bushwack and silent E, I wanted to show 'em ol' dogs CAN learn new tricks.
Pfft! I can't even locate the place to put it. This ol' dog seems to need her tummy scratched. sigh….
And by the way, it's an excellent site! Go, check it out. No doubt it'll chap a few libs hides. Heh. In the meantime, I'll get that sucker on there one way or another!
Heh.
I know where my Life Preserver is, and He's NOT in D.C.
The era of big Clintons is soon over

…………………………………………………………………………………………………………………………………………………………….

There's been a Clinton running for the White House or living in it for approximately forever.
Bill, it could be said, was born to run. Running became Hillary's destiny, too.
Hopefully, running is all she will ever do!
One quarter of Americans have never known life without a Clinton trying for or having the presidency. Millions have gone from diapers to diplomas in the time of the Clintons.
Now, if New Yorkers would just vote her out of the Senate, and find a serious conservative to counter Chuckie, things would start looking a bit brighter.
When Hillary Rodham Clinton finally exits the 2008 Democratic presidential race, she will end a decades-long, power-couple streak of unique political energy, savvy ideas, colossal policy flops and raw ambition dressed in pants suits and briefs, not boxers.
I wouldn't count on the Shrilldebeast making that exit even after the June primaries.
By now, the Clintons have been assigned mystical qualities of perseverance. The notion that the adventure is over is almost beyond comprehension.
"I never quit," she says. "I never give up."
I have to admit, I've gained a grudging respect for the ol' girl. Most people would have bowed out gracefully after the media crowned Hussein as the messiah, but not her. Maybe she sees what we've been able to see for quite a while….B. Hussein is dangerous.
Then again, it just might be her ego.
Red Cross rues operational difficulties in Myanmar
Two years of negotiations havestill failed to secure access to detainees in Myanmar for Red Cross workers, the organization said Tuesday. The International Committee of the Red Cross had "tried, but to no avail, to overcome the difficulties that prevented it from visiting detainees and working for the benefit of civilians affected by the violence in sensitive border areas," said President Jakob Kellenberger in presenting the ICRC's annual report for 2007.
Is it so surprising that a gubmint who would rather see their people starve to death, would refuse Red Cross aid for "detainees"?
New law will require sex offenders to carry special license
The state of Tennessee will require convicted sex offenders to carry a special driver's license starting September 1, 2008.
The license, which will identify the carrier as a sex offender, is designed to alert police to potential trouble.
When officers stop people or pull them over and ask for identification, they call the information in to dispatch and are told only whether or not the person in question has an outstanding warrant. Lawmakers believe that this special driver's license will alert police when a sex offender violates the law, for example, when they are loitering in a park or hanging around a school. If police pull over a sex ofeender for any reason, the special license will let them know to look for things they normally wouldn't during a routine traffic stop.
They should have gone a step farther and made them put fluorescent pink tags on their cars!
Women's combat roles are likely to be on next president's agenda
Soon after the Gulf War in 1991, a group of military women pressed Congress to allow female pilots to fly combat missions. But a Vietnam War hero in the Senate, John McCain, pushed back hard.
"The purpose of the military is first to defend this nation's vital security interests throughout the globe and only second to ensure equality," the Arizona Republican argued on the Senate floor, framing the issue in a way that infuriated feminists.
Call me a sexist if ya want, but I still believe there are men's roles, and there are women's roles in this world. Fighting in a war, even if it is 35,000 feet in the air, is not a woman's role.
Expert: Golan Will Become Crowded Terror Base
Arab affairs expert Dr. Guy Bechor of the Interdisciplinary Center in Herzliya estimates that a "Golan for peace" deal will net Israel, in the long run, anything but peace.
Bechor, who authors a Hebrew-language newsblog on Israel and the Middle East, wrote an article for Ynetnews in which he predicts that no matter what Syrian Dictator Bashar Assad promises, he is likely to be toppled by radical Moslem forces – leaving northern Israel vulnerable to the terrorists on the plateau above.
Can we all say…..DUH! Honestly, I think common sense has flown out the window in some parts of Israel, and got blown up!
Continental pilot startled by encounter with 'rocket'
A Continental Airlines pilot reported being startled by what he described as a rocket that shot past his cockpit window Monday when the plane was about eight miles north of George Bush Intercontinental Airport.
The Federal Aviation Administration and the FBI's Joint Terrorism Task Force are investigating the incident, which occurred about 10:30 a.m.
"We don't know for sure what the object was. But we think it might be somebody doing model rocketing," said Roland Herwig, an FAA spokesman. "The pilot saw the rocket and some people saw the rocket's trail (of smoke)."
Given that Houston is a VERY large city, and isn't all that far from that wide open border, I certainly wouldn't rule anything out.
Elizabeth Dawn Nelson was arrested this weekend and charged with aggravated domestic assault after lighting her boyfriend on fire, according to police reports.
Nelson poured nail polish remover on Charles Dunigan and then ignited the flammable material. The incident occurred on Saturday at 21 Holly St., reports state.
Dunigan suffered severe burns to the shoulder, head and thighs, police reports state. He was sent to a local hospital and later transferred to the burn unit at The Med. in Memphis.
Nelson's bond is set at $50,000. She will be arraigned at 8:30 a.m. today in City Court.
Dayum. Couldn't she have just broken up with him?
U.N.: Iran May Be Hiding Nuke Evidence From Investigators
Iran may be withholding information needed to establish whether it tried to make nuclear arms, the International Atomic Energy Agency said Monday in an unusually strongly worded report.
The tone of the language suggesting Tehran continues to stonewall the U.N. nuclear monitor revealed a glimpse of the frustration felt by agency investigators stymied in their attempts to gain full answers to suspicious aspects of Iran's past nuclear activities.
Golly gee! The Useless Numnuts are just chock full of geniuses, aren't they. (insert obvious sarcasm here)
Boom in baptisms goes against trend
While baptisms in the Southern Baptist Convention continue to decline, reaching their lowest point since the 1980s, Long Hollow Baptist is having a baptism boom.
The Sumner County church baptized 515 people last year, more than any other congregation in the Tennessee Baptist Convention.
Makes me kind of wonder if this particular church is actually Bible based, and not PC/polls?
Acts 20:24
24 But none of these things move me, neither count I my life dear unto myself, so that I might finish my course with joy, and the ministry, which I have received of the Lord Jesus, to testify the gospel of the grace of God.