An Ol' Broad's Ramblings
Archive for 10 June 2008
US missile lands in NW Pakistan
A pilotless US drone has allegedly fired a missile into a Pakistani area on the Afghan border, Pakistani government officials say.
The missile was fired into the Mohmand ethnic Pashtun tribal area in northwest Pakistan on Tuesday, but there was no word on the target or casualties, Reuters reported.
The area is where this year US-controlled Predator aircraft have struck at least four sites used by al Qaeda operatives, killing dozens of militants.
"There was an attack by a spy plane close to the Afghan border but we don't have information about casualties or damage," said a government official in the region who requested anonymity.
The US authorities never confirm their missile attacks on Pakistani territory, which would be an infringement of Pakistani sovereignty.
Well, jiminy crickets!  We wouldn't do such a thing.  So, who's dead?  Anybody big?
H/T: Texas Fred
WARNING: per Chris…..swallow beverage before continuing to read.
I have penned an ode to Barack Obama which, if not fully canonizing just how wonderful he really is, at least does a passable job of praising him without devolving into flights of fancy like some people have done lately.
It's to the tune of "Little Drummer Boy."
Come, they said to me,
Come vote for Barack!
He is the man who'll win,
Come vote for Barack!
I cast my vote for him,
My vote for Barack!
He'll lift us up from Sin,
So vote for Barack!
Vote for Barack!
Vote for Barack!
He can solve Iraq,
So vote for Barack!
Peace in our times we'll find,
If we vote for Barack!
The Clintons are all gone,
So vote for Barack!
McCain's a toothless thug,
So vote for Barack!
Vote for Barack!
Vote for Barack!
I cast my vote for him,
In several states!
My granny votes for him,
She died in '78!
If he doesn't win then we will
Take to the streets!
Democracy only works,
If we get a piece!
We get a piece!
We get a piece!
If you're not racist,
Then vote for Barack!
He's got the holy vibe,
So vote for Barack!
It's not every day,
You vote for your god!
Barack is just that great,
So go shut your yob!
Vote for Barack!
Vote for Barack!
Do you understand?
You'll vote for Barack!
Or I'll break your back!
Swiped from The Daily Dollop!
One day the OPEC minister will look you in the eyes and say the following:
'We are at war with you infidels. Have been since the embargo in the 1970s. You are so arrogant you haven't even recognized it. You have more missiles, bombs, and technology, so we are fighting with the best weapon we have and extracting on a net basis about $700 billion/year out of your economy. We will destroy you! Death to the infidels!
While I am here I would like to thank you for the following:
Not developing your 250-300 year supply of oil shale and tarsands. We know if you did this, it would create millions of jobs for US citizens, expand your engineering abilities, and keep the wealth in the US instead of sending it to us to finance our war against you bastards.
Thanks for limiting defense department purchases of oilsands from your neighbors to the north. We love it when you confuse your allies.
Thanks for over-regulating every segment of your economy and thus delaying by decades the development of alternate fuel technologies.
Thanks for limiting drilling off your coasts, in Alaska, and anywhere there is a bug, bird, fish, or plant that might be inconvenienced. Better that your people suffer! Glad to see our lobbying efforts have been so effective.
Corn based Ethanol. Praise Allah for this sham program! Perhaps you will destroy yourself from the inside with these types of policies. This is a gift from Allah, praise his name! We never would have thought of this one! This is better than when you pay your farmers NOT TO GROW FOOD. Have them use more energy to create less energy, and simultaneously drive food prices through the roof.
And finally, we appreciate you letting us fleece you without end. You will be glad to know we have been accumulating shares in your banks, real estate, and publicly held companies. We also finance a good portion of your debt and now manipulate your markets, currency, and economies to our benefit.
Please, in November, elect Senator Obama, you really need to be led by a true Arab American!
THANK YOU, AMERICA!'
Courtesy of brother in law Tom.
Antarctic base gets condom haul before winter
WELLINGTON, New Zealand – One of the last shipments to a U.S. research base in Antarctica before the onset of winter darkness was a year's supply of condoms, a New Zealand newspaper reported Monday.
Bill Henriksen, the manager of the McMurdo base station, said nearly 16,500 condoms were delivered last month and would be made available, free of charge, to staff throughout the year to avoid the potential embarrassment of having to buy them.
The base only has a skeleton staff through the long winter.
16,000 condoms.  125 people.  Let's say at least 63 are male.  That's roughly 254 per.  This supply wold last about 8 months, assuming a once a day "diet".  Don't they have work to do? When would they have time with …..uh….well….uh…..all that boinkin' going on?
H/T: Brat
I've never heard of this guy, but he sure does brings up some interesting points.  It's an 8 minute video, and even if ya don't subscribe to televangelists (which I don't), you can't help but ask the same questions this guy is bring up about B. Hussein.
Airport tries to find owners of abandoned Boeing 727 passenger jet
The Vietnamese government is trying to figure out who abandoned a Boeing 727 at Hanoi's Noi Bai airport.
"The plane has a Cambodian flag on its fuselage and is emblazoned with the name Air Dream, but the authorities say they have no information about the airline," BBC News reports on its website.
The airplane has been sitting on the tarmac for more than six months, the broadcaster says.
Six months? SIX MONTHS? And no one noticed their plane was missing?
VietNamNet reports that there's no record of Air Dream in the international registry of air carriers. This photo suggests that the plane was operated by Royal Khmer Airlines.
Umm….have they done a search of the plane? You know, for things like a dead body or two? Most folks don't just walk off and leave a plane.
It's not exactly like not being able to find your car in a parking lot filled with cars similar to yours. This is a LARGE plane. It's not an "OOOPS, it's in the next row" type thing!
Report: Gitmo inmates suffer mental damage
Human Rights Watch warns of impact 'harsh' conditions have on detainees
Over two-thirds of the detainees in the Guantanamo Bay prison are suffering from or at risk of mental health problems because they are kept isolated in small cells with little light or fresh air, according to Human Rights Watch.
In a report entitled "Locked Up Alone: Detention Conditions and Mental Health at Guantanamo," the group says 185 of the 270 detainees at the U.S. military prison for terrorism suspects are housed in facilities similar to "supermax" prisons.
They spend 22 hours alone in cramped cells, have very limited contact with other human beings and are given little more than the Koran to occupy themselves, said the report, which is based interviews with government officials and attorneys.
Uh….and the problem is???? I don't give a flying flip if they "suffer mental damage", although honestly, I think there was a LOT of mental damage prior to their being um…..incarcerated! I'd much rather have them suffer, than the hundreds of thousand…perhaps millions….who would suffer even more mental, emotional and physical damage, with the probability of death being inserted in there.
If the so called "human rights" folks are so concerned, are they volunteering to take these pigs into their homes? No, didn't think so!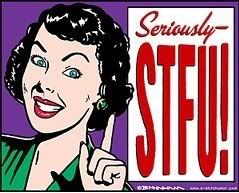 I have an excellent way of ending their mental problems. It's called…….wait for it…….. A FIRING SQUAD!
ACLU bats .000 in TN school case
The ACLU has come up empty in another attempt to stop religious expression by students in a public school.
The American Civil Liberties Union asked the court to ban students in the Wilson County, Tennessee, schools from five faith-related activities — playing a song with a religious reference in honor of a three-year-old cancer victim; observing the "See You at the Pole" student prayer event; participating in the National Day of Prayer; and holding any Thanksgiving or Christmas observances that included religious references. The liberal legal group also wanted to ban a parents' prayer group from meeting anywhere on campus.
Nate Kellum, senior counsel for the Alliance Defense Fund (ADF), represented two students' families: the Walkers and the Golds. He says the ACLU came up 0-for-5 on its requests.
"This is a clear win for religious freedom and, if not a total loss for the ACLU, certainly a hollow, shallow victory. The court acknowledged that Christians — like the Walkers, like the Golds and their families — cannot be discriminated against for their beliefs, and that personal prayer, mentions of God, and Christmas references are constitutionally appropriate in the school," Kellum contends.
The ADF attorney says the lawsuit should clear up any confusion about the ACLU's goals with regard to any public expression of Christian belief. "The ACLU, with this lawsuit, hoped to wipe out every reference to God, but walked away with a 'take nothing' judgment. We are very pleased that the Walkers and the Golds were able to repel the ACLU's unmerited attacks," Kellum explains.
The order issued by the U.S. District Court for the Middle District of Tennessee states that all of the activities the ACLU contested at the school may continue.
The way to beat these weasels is to stand up against them! The more who do, the less their influence will be, the more victories will be won for the good guys!
School Apologizes to Muslim Student Over Graduation Held in Church
A Muslim student who sued because his public high school graduation ceremony was held in a Baptist church has received an apology from Newark's school district and assurances that it will not hold future events in houses of worship.
No apology was needed, from anyone! What is this

???
Bilal Shareef said he had to skip his 2006 graduation from West Side High School because his religious beliefs prohibit him from entering buildings containing icons of God.
Poor baby! He missed a long list of names being called, waiting for his name to be called. Big freakin' whoopteedo! I've been in Baptist churches, and I have NEVER seen any "icons of God". Oh, or does he mean that Cross that some of them have? He's offended by that? Big freakin' deal!
The lawsuit was filed on his behalf by the American Civil Liberties Union. Newark public schools apologized to Shareef and his father and agreed to change its policies under terms of the settlement announced Monday.
Oh, now there's a surprise. The ACLU was involved. The most ANTI Christian organization in the country, bent on destroying anything and everything that might even hint of a REAL 'religion of peace'. Nope, doesn't jibe with their commie doctrine. Oh, but anything to do with Islam? Well, that's A-OK in their book.
"We're very pleased," said Ed Barocas, the ACLU lawyer who represented Shareef. "These are important policy changes to ensure that no student is made to feel like an outsider as Bilal was."
No, instead, they went out of their way to make sure that all the other students might feel like "outsiders"…..in their own country. Way to go sh*t fer brains!
"I was forced to choose between honoring my education and my faith, and no one should be put in that position," Shareef, now a college student, said in a statement. "I'm proud I stood up for my beliefs and I'm proud that my experience will keep other students from having to face the choices I did."
I'm pretty sure that you could have picked up your diploma at any time, and saved the rest of the school the embarrassment of having to deal with trash like the ACLU. Yep, standing up for your faith isn't a bad thing.  Standing up for a 'faith' that involves murdering other who don't share that same faith?  Not so much.  So, when are the Christians in this country going to do the same thing. There are more of us, than there are of them!  At least for the moment.
McCain says Obama bad for business
John McCain says Democratic rival Barack Obama is bad for business.
In remarks to small business owners Tuesday, McCain said Obama's policies would mean higher taxes and higher overhead costs. McCain also criticized the Illinois senator for pledging to renegotiate the North American Free Trade Agreement.
B. Hussein is a Dhimmi. Of COURSE he's bad for business. That's a given!
Corker says coal-based fuel could cut costs for Air Force
Sen. Bob Corker said Monday that a new synthetic fuel being tested by the Air Force could reduce the military's massive energy costs.
Corker met with officials at Arnold Air Force Base near Manchester, Tenn., to learn more about the coal-based fuel being evaluated at the Arnold Engineering Development Center.
When folks are yelling for alternative sources, and they have one staring them right in the face, it just boggles the mind. Clean coal IS an alternative and could cut costs, dramatically, in a LOT of areas, not just for the Air Force.
Iran Counter-Threatens 'Painful' Response, Signs Pact With Iraq
On Sunday, Najjar was quoted by Iranian state-controlled media as saying, "Our armed forces are at the height of their readiness and if anyone should want to undertake such a foolish job the response would be very painful." Najjar further said that Israel was "too weak to dare to attack" Iran, as he claimed was evident from Israeli actions in Lebanon and Gaza in recent years.
The Iranians seem to have forgotten, Israel actually has a BIG Friend, unlike Iran. God is on their side.
Senate debates windfall profits tax on oil
With gasoline prices topping $4 a gallon, Senate Democrats want the government to grab some of the billions of dollars in profits being taken in by the major oil companies.
Senators were to vote Tuesday on whether to consider a windfall profits tax against the five largest U.S. oil companies and rescind $17 billion in tax breaks the companies expect to enjoy over the next decade.
This shouldn't even be a topic for discussion! Yes, the oil companies make big profits, but what do they do with a good chunk of those profits? They turn around and use them for exploration and research. The only people who will end up paying is US, the little folks who actually have to pay for our own gas when we fill up. The loss of profits will hike the price of a gallon! What a bunch of jackasses!
Somali Islamist rejects ceasefire
A top Somali Islamist leader has rejected a UN-brokered, three-month ceasefire deal signed by Somalia's government and an opposition bloc.
Sheikh Hassan Dahir Aweys promised to continue fighting until all foreign troops left the country.
So, he'll continue to murder his own people in the name of……what? And in the meantime, people starve.
Worries Mount as Farmers Push for Big Harvest
In a year when global harvests need to be excellent to ease the threat of pervasive food shortages, evidence is mounting that they will be average at best. Some farmers are starting to fear disaster.
American corn and soybean farmers are suffering from too much rain, while Australian wheat farmers have been plagued by drought.
Perhaps if some feckless weasels hadn't pushed so hard to turn food into fuel, there would be enough in the stores to weather then lean times.
Number 2 with a bullet: Memphis ranks 2nd in violent crimes despite drop last year
Among large cities in America, Memphis ranked second in violent crimes last year even though the city showed a 4 percent drop compared with 2006, an FBI report released Monday shows.
Detroit edged Memphis for the No. 1 spot in cities with more than 500,000 people. There were 1,950 violent crimes reported in Memphis last year per 100,000 people vs. 2,286 in Detroit.
Now I'm going to say something here that will be construed as very racist. Don't care if that's what you think! Look at the racial make up of the cities that top the list. Seriously. Then look at the education system. Those two things speak volumes!
SWAT members search Kimball Wal-Mart for man suspected in killing two teenagers
SWAT team members from five area law enforcement agencies converged on the Wal-Mart in Kimball, Tenn., late last night after receiving a tip that a man wanted in the slaying of two North Georgia teenagers may be in the store.
Authorities evacuated customers and employees after a female caller said she believed she saw Phu Thien Tran in the store.
The man, who also goes by the name of Tony Tran, is wanted in connection with the shooting deaths Saturday night of an unidentified 13-year-old boy and 17-year-old Toby Thaboua in the Lynwood subdivision in Lakeview. Another man, Rick Nguyen, who was visiting Mr. Tran from California, was shot three times and taken to Erlanger hospital. Officials said Mr. Tran fired more than 30 shots into the home where the teenagers died.
Another one of those 'gun free zones'. No doubt there are a few customers who could have taken out "MR" Tran if the need arose and the opportunity presented itself.
US: Iraq security pact can be finalized in July
The U.S. State Department's top Iraq adviser said Tuesday he believes an agreement to establish a long-term security relationship between Iraq and the United States will be completed by the end of July.
"We're confident it can be achieved, and by the end of July deadline," David Satterfield told reporters in Baghdad's U.S.-guarded Green Zone.
The pact also would provide a legal basis for keeping American troops in Iraq after the U.N. mandate expires at the end of the year.
Oh yippee. The war that won't end, isn't going to end. But wait a minute, I thought Maliki told Iran there wouldn't be a U.S. presence in Iraq, or some such thing. So, who's lying to whom?
Severed Head, Threatening Note Found Outside Mexico Newspaper Office
A note threatening a Mexican journalist was found outside the office of a newspaper in southern Mexico on Monday, two days after someone left a severed head there.
Tabasco state Attorney General Gustavo Rosario said the letter was directed at Juan Padilla, editor of El Correo de Tabasco, which recently carried reports about migrant smuggling and kidnapping in the area.
"You are next," the note read.
And the pro illegal types think this is ok? They should be working to prevent this from spreading, instead they vocally advocate for it! Insanity! Build the freakin' fence! Moat, 'gators, gun turrets!
Chertoff Says Border Will Be Secure 2 Years After Bush Leaves
Secretary of Homeland Security Michael Chertoff on Monday blamed tightened security on the U.S.-Mexico border for increased violence there, and he said the border probably will not be fully secured until 2011, two years after President Bush leaves office.
"(Increased violence) is what typically happens when you start to enforce and make it harder to fight over the shrinking pie, so to speak, and who gets the best opportunity to exploit the additional space that's left," Chertoff said at a news conference at the U.S. Customs and Border Protection headquarters in Washington, D.C. on Monday.
Uh yeah. If it's coming out of his mouth, I'm more inclined to think B.S.! That damn fence should have been in place a couple of decades ago….after that amnesty fiasco during the Reagan years.
Worker finds military rocket on Tenn. golf course
A man working on a bulldozer discovered a live military ordinance on a golf course in Jackson. Freddie McGee described the device as an old military-type rocket that looked like something you'd see in a war movie.
The Madison County Sheriff's Department said the rocket was removed from the Hidden Valley Golf Course by a bomb disposal team from Fort Campbell, Ky.
It was taken to a farm where it was destroyed.
The bomb, which McGee said was about 3-feet long and weighed around 20 pounds, was thought to have been built in the late '60s or early '70s.
Authorities are investigating how it got on the golf course.
Well now. That's something ya don't see everyday. Odds are, it didn't walk there by itself.
Colossians 3:13
13 Forbearing one another, and forgiving one another, if any man have a quarrel against any: even as Christ forgave you, so also do ye.