An Ol' Broad's Ramblings
Archive for 20 June 2008
And no court on earth can change that!
I notice when asked what his solutions would be, he doesn't really have anything positive to say, only negatives. And why is it he doesn't want to listen to someone else's opinion? Ooops, forgot….there is no other opinion.
Two Crocodiles were sitting at the side of the swamp near the lake.
The smaller one turned to the bigger one and said, 'I can't understand how you can be so much bigger than me. We're the same age; we were the same size as kids. I just don't get it.'
'Well,' said the big Croc, 'what have you been eating?'
'Politicians, same as you,' replied the small Croc.
'Hmm. Well, where do you catch them?'
'Down the other side of the swamp near the parking lot by the Capitol.'
'Same here. Hmm. How do you catch them?'
'Well, I crawl up under one of their Lexus cars and wait for one to unlock the car door. Then I jump out, grab them by the leg, shake the sh*t out of them and eat 'em!'
'Ah!' says the big Crocodile, 'I think I see your problem. You're not getting any real nourishment. See, by the time you finish shaking the sh*t out of a Politician, there's nothing left but an a$$hole and a briefcase."
Courtesy of Sharon.
Swiped from Stop the ACLU!
…..of Marxists/Socialists/Communists for McCain. Somehow, it just can't be done. Well, at least not with my mental imaging capacity. However, there is such on the Democrat side of things.
Marxists/Socialists/Communists for Obama
This group is for self-proclaimed Marxists/Communists/Socialists for the election of Barack Obama to the Presidency. By no means is he a true Marxist, but under Karl Marx's writings we are to support the party with the best interests of the mobilization of the proletariat. Though the Democratic Socialists of America or the Communist Patty of America may have more Socialististic values, it is pointless to vote for these candidates due to the fact that there is virutally no chance they will be elected on a National level. The members of this group are not Leninists, Stalinists, etc. and do not support or condone the actions of North Korea, China, Cuba or any other self-procalimed "Marxist States." They do not in anyway represent the Marxist philosophy nor do they represent Socialism/ Communsim. We support Barack Obama because he knows what is best for the people!
Uh huh. I see. He knows what's best for the people. Got it. Kind of like taking his children to that racist church, eh? He knows what's best. Hmm…. Seriously, I'm having a tough time with this one folks. Someone help me out and explain to me just what exactly it is that he knows. Cuz honestly, if it weren't for the cue cards and teleprompters, I don't think he could put a coherent sentence together. Perhaps others have heard him speaking "off the cuff" where he made sense, but I sure haven't.
Question: Don't commies have spell checkers?
This site is linked to the official campaign website, by the way. And if one person brings up Bush's way of speaking, I think I'll reach through the wires and smack them. Bush isn't running. B. Hussein is.
H/T: Dakota Voice
When I posted this, I figured it was just a joke, and everyone who had ever mowed the grass would figure it out in no time at all.
My experience involved one of these things….
Yes, I have cut grass with the traditional push type mower. I had never been on one of these contraptions before in my life. Slanting sideways is not an experience I ever want to "enjoy" again, as long as I live! I'll do the front where it isn't so up and down, but that back area? Pfft! I don't freakin' think so!
Yes, I'm a wuss…a sissy, or whatever else ya wanna call it. Ain't happenin'!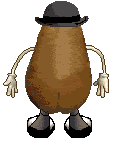 So, what does an ol' broad do when she's having one of those ever increasing "bad days"?  Why, she snoops the internet of course.  And what is she snooping, other than news and opinion and such?  TRUCKS! 
Seems Toyota has a rather interesting concept vehicle that might just be right up my ally.  Although, no doubt, the price isn't.  I don't think they have buck 95 vehicles, even in HotWheels, anymore.  sigh…
Isn't this one of the less ugly "hybrid" ones you've ever seen?
Unfortunately, the interior looks EXTREMELY uncomfortable.
Not to mention, butt ugly.  C'mon, can't y'all do better than that?  I've seen park benches that look more comfortable.
More pictures here.
Men arraigned in Toste killing
Five men accused of murdering a man in a downtown Santa Rosa parking garage in 2006 were arraigned in court and appointed public defenders Monday, beginning what promises to be a long legal road toward trial.
Joseph Kenneth Lopez Jr., 19, his father Joseph Kenneth Lopez Sr., 39, Paul Whiterock, 28, Nicholas Mejia, 30, and Raul Lopez-Granados, 20, appeared before Judge Lawrence Antolini with their wrists shackled to their waists for security reasons.
About a dozen family and friends of Toste attended court Monday, most getting their first glimpse at the men accused of killing their loved one. They were unavailable for comment immediately following the hearing.
Honestly, I can't imagine they would say anything right now. In a way, I hope Sally wasn't there, in a way, I hope she was. I haven't heard yet.
According to police and court documents, Lopez Jr. was armed with a semiautomatic gun when he and the other four waited for people they knew who were in Seven Ultra Lounge across Seventh Street. They were plotting some kind of retaliation for a beating Lopez Jr. had been involved in, according to the indictment.
Meanwhile, Toste, his date, his cousin and her husband were walking through the parking garage toward the same club when a group of men surrounded the women and began making sexually provocative comments, Toste's family and other witnesses said.
Toste was shot after defending his cousin, who had been grabbed on the buttocks, family members said. Toste apparently knocked out Lopez Sr. with a punch before he was shot, law enforcement sources said.
He was always a strong, wiry, little guy. And so lovable, even when ya wanted to smack him across the room. I wish that son of a bitch had never gotten back up!
I will repeat what I said before:  I hope they fry….if not in this world, the next!
McCain oil plan relies on Middle East
Sen. John McCain caps his weeklong push for U.S. energy independence with a trip Friday to Canada, but his own environmental plan discourages use of Canadian oil and drastically increases American reliance on oil from the Middle East and other potentially unfriendly places.
Someone needs to sit down and have a serious chat with this man. If he expects to win over the conservatives, he's going to have to think in broader terms of the future. We are of the mind that we should be self reliant, instead, McFeingold is using the lefty mentality and keeping us as a "welfare" state, dependent on others.
Analysis: Rejecting public funding won't hurt Obama
Sen. Barack Obama's decision to reject roughly $85 million in public financing — as well as the strict spending limits that would accompany those funds — did not come as a surprise to most political observers.
(…)
The presumptive Democratic nominee has smashed fundraising records this cycle by harnessing the power of the Internet to raise the once unimaginable sum of almost $266 million from more than 1.5 million donors through the end of April.
What should stop the man is the truth. But that seems to be in short supply where the media is concerned. The truth about him is out there, they just are so enamored of the guy, they don't seem to care. I don't suppose anyone has noticed that without his notes, or a teleprompter, the man stumbles around for words worst the Bush, have they?
Arab Terrorists Shoot and Wound Three Jews in Samaria
Area residents and leaders have warned that that the recent "good will measures" implemented by Prime Minister Ehud Olmert and Defense Minister Ehud Barak to ease travel restrictions and remove roadblocks in Judea and Samaria would lead to an increase in terrorist attacks on Israeli civilians.
Spokesmen for the nationalist Jewish Front organization blamed Defense Minister Ehud Barak for the shooting, noting that he ordered the lifting of travel barriers for Arabs in the area. "The time has come for the Defense Minster to worry about the security of Jews and not the quality of life for Arabs," the Jewish Front stated.
This is what they consider a "cease fire"? Interesting. I guess it never occurred to all those who pushed for this sham of a "peace" never took into considered the bred in hatred?
More gas pains: cash only coming?
Fink's woes are shared by other station owners and are increasing as the ability to pay at the pump might be in jeopardy. A gasoline retailers association in Philadelphia is urging its members to stop taking credit cards because of the fees they must pay to credit card companies.
"Our members are getting killed. Credit card gas is costing our dealers in excess of 8 cents a gallon, and many are working on a 10-cent per gallon margin," said Ross DiBono, executive director of the 600-member Pennsylvania Gasoline Retailers Association.
I can't say as I blame the station owners for considering putting an end to credit card sales, but since I rarely carry cash with me, it might be an inconvenience. I'll adapt.
Want to be a border patrol agent? Talk to U.S. Customs recruiters
U.S. Customs and Border Protection recruiters are in Jackson through Saturday to talk to people interested in becoming a border patrol agent. The recruitment drive is part of the largest expansion in the agency's history, according to officials.
Recruiters showed a short video about the agency during a presentation Thursday night at the DoubleTree Hotel. They will be in the Old Hickory Board Room of the hotel from 6 to 8 p.m. today and from 10 a.m. to 3 p.m. on Saturday. They'll also be at the Tennessee Career Center on Carriage House Drive from 9 a.m. to 4 p.m. today.
Nice to know they are actually expanding. 16,500 may sound like a lot, but when you are patrolling 8,000 miles, in 3 shifts, it's not anywhere near enough people. If I was 30 years younger……
Continental to join forces with United
Continental and United airlines finally found a way to get together.
The two couldn't work out a merger in April, but on Thursday they announced an agreement that will make ticketing seamless between them and calls for Continental to move from its international alignment with Sky-Team carriers to the rival Star Alliance.
It will mean a different set of airlines and hubs around the world for Continental customers. Some destinations will become easier to reach and others tougher.
Oh yeah. One sucky airline teeming up with another sucky airline.
Mexican Smugglers Make U.S. Lands Unsafe
Interior Secretary Dirk Kempthorne has said that drug traffickers sneaking into the United States from Mexico through U.S. lands administered by his department have made some of those lands unsafe for American families.

sigh…. There's a major "DUH" moment. We've been trying to tell them this for how many years, and they are just now figuring it out?

Mother charged in stabbing of two sons
The mother of two young boys who were nearly stabbed to death in an East Memphis home last week has been charged with two counts of aggravated child abuse/neglect.
That's it? That's all she's charged with? How about attempted murder? It seems pretty obvious to me if the woman stabbed her children, she was trying to kill them!
Ahmadinejad: U.S. Plotted to Kidnap, Assassinate Me in Iraq
The president told a meeting of clerics in the central city of Qom that Iran's "enemies" planned to kill him when he went to Baghdad in March, according to the president's Web site. Iranian leaders usually use the term "enemies" to refer to Western nations and the United States in particular.
What a maroon! If we wanted him dead, he would have been DEAD!
Defense lawyer seeks to link slain L.A. student to gang
The portrayal of Jamiel as a possible gang member — a depiction questioned by detectives — is a stark departure from the picture of a trouble-free athlete destined for top colleges that emerged immediately after the March 2 killing.
His death, allegedly at the hands of a Latino gang member, touched off a fierce debate over the role that race has played in recent violence against blacks. When authorities identified the suspect as an illegal immigrant, a public outcry led Jamiel's family and others to push for a change to a controversial policy that limits when Los Angeles police officers can inquire about someone's citizenship status.
That's right. Find any way possible to blame the victim for his (or her) own murder. Yep, makes total sense. (insert sarcasm here)
Discovery Of Sixth 'Human' Foot A Hoax
A coroner revealed the grim find was in fact an animal paw stuffed in a running shoe.
Five human feet have been washed up on Vancouver's coast in the past year.
Residents in British Columbia have speculated they were from massacre victims or the remains from a plane crash.
One a hoax, but five feet not a hoax. This is really weird. As for the plane crash theory, wouldn't there have been other parts found….not just feet?
U.S. Sees Crime in the Credit Crisis
Marking what some say is the start of the criminalization of the credit crisis, federal prosecutors indicted two Bear Stearns hedge fund managers yesterday and announced that more than 400 real estate lawyers, appraisers, and brokers have been arrested in recent months.
(…)
"There is no doubt that these indictments have opened up the door to the criminalization stage of the subprime fallout," a securities lawyer and adjunct professor at Northwestern University School of Law, Andrew Stoltmann, said. "I don't think there is any question that we are going to see more indictments coming."
Hmmm….wonder if there will be any handcuffing going on in Congress?
Mark 8:36
36 For what shall it profit a man, if he shall gain the whole world, and lose his own soul?