An Ol' Broad's Ramblings
Archive for 25 July 2008
Today one was one of those days.  I got my new bunny slippers
I needed some news ones.  I've pretty much worn out my Maxine ones, so they go on trips.  I've worn out the ones I wear around the house, hence…..NEW bunny slippers.  Fuzzy hiney and all. 
He ventured forth to bring light to the world
The anointed one's pilgrimage to the Holy Land is a miracle in action – and a blessing to all his faithful followers
Gerard Baker
And it came to pass, in the eighth year of the reign of the evil Bush the Younger (The Ignorant), when the whole land from the Arabian desert to the shores of the Great Lakes had been laid barren, that a Child appeared in the wilderness.
The Child was blessed in looks and intellect. Scion of a simple family, offspring of a miraculous union, grandson of a typical white person and an African peasant. And yea, as he grew, the Child walked in the path of righteousness, with only the occasional detour into the odd weed and a little blow.
When he was twelve years old, they found him in the temple in the City of Chicago, arguing the finer points of community organisation with the Prophet Jeremiah and the Elders. And the Elders were astonished at what they heard and said among themselves: "Verily, who is this Child that he opens our hearts and minds to the audacity of hope?"
Campaigns strain Secret Service
Agency requests $9.5M to cover cost
The Secret Service has asked for an extra $9.5 million to cover unexpected costs of protecting the presidential candidates during what has turned into a historic year for the agency's campaign security job.
That's a boatload of taxpayer money their asking for!
Among other things, the extra money would be used for the added costs for the candidates' international travel and a decision by Barack Obama to accept the Democratic nomination at Denver's Invesco Field at Mile High — an open-air, 76,000-seat stadium — instead of the 20,000-seat Pepsi Center, which is the site of the party's national convention.
I'd really like to know why he is so much higher than other candidates? Why does he feel the need to stand in a stadium, instead of where the actual convention is being held? Simple answer…..pure D arrogance! Even though there are a whole lot of folks who oppose the asshat, he's using their (OUR) hard earned money to serve his ego.
The 2008 presidential campaign cycle is the longest in Secret Service history by about five months. The Secret Service budgeted $106.65 million for the 2008 campaign, compared with $73.3 million in 2004.
Perhaps if they hadn't stated campaigning two years ago, we could have saved a few bucks. This is an absolute absurdity.
Obama received Secret Service protection on May 3, 2007 — the earliest the agency has ever stepped in to protect a candidate. Obama requested the protection.
You mean to tell me we've been paying for his security for more than a year? I was under the impression ya didn't get Secret Service until you were officially the candidate.  If memory serves (occasionally it does), wasn't the Hilldebeast the "presumptive" candidate?  So, why was B. Hussein granted such status?
McCain picked up protection on April 27 of this year.
So, I'm wondering, how much has been spent on the Obamassiah's detail as compared to McCains. Is the campaign going to repay the taxpayers for the time spent between then and when they are officially the candidates of their respective parties?
I gotta get one of these!
UPDATE: To order, go here!
Swiped from VOLuntarily Conservative.
Was this even on the news? I doubt it. If it had been the opposite, McCain had visited Israel and there had been B. Hussein signs held up, it would have been all over the place. Instead, I see it on a blog, Sultan Knish.
When the Mr brought in the mail yesterday, it turns out I got a real interesting letter.  It turns out my membership in the RNC has expired.  Noooooooo……really??????  DUH!  I suppose it's because I have not sent them any money in 4 years?  Not a dime!  I did however send one of the gimme money's back, sans check, with a nice little note:  "You start acting like Reagan Republicans again, I MIGHT consider sending money!  Until then, take me off your mailing list!"
Well, they did stop sending me requests for money, and all the little trinkets, for a while.  Now, it seems, they've found me again.  sigh….
I will send money to individual candidates, but I will NOT send a farthing to the Republican National Committee!  Needless to say, they have been a great disappointment to a good chunk of folks around the country.
When they pulled support for Tim Michels back in 2004 in the Wisconsin senator's race against Feingold right before the election, I knew they were screwing over the voters.  Told 'em that in my little note too!  When they forced McCain on us, I lost any desire to be associated with such a feckless Party.
Nope!  You can leave me as "expired" member.  As far as I'm concerned, y'all are expired!  I'll send some money to McCain, but only because I can't stand the idea of B. Hussein in the White House.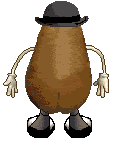 Traffic ticket facing inquiry
Top cop frequents eatery tied to speeder
City Atty. Elbert Jefferson said he is investigating whether a private citizen received special treatment from Memphis Police Department officials after receiving a speeding ticket.
Jefferson, who also serves as the city's chief ethics officer, said he is looking into whether police officials attempted to help businessman Bradley Greer, who received a ticket May 6 for going 64 mph in a 45-mph zone.
Ethics officer? From all I'm hearing, they seriously need some ethics in the MPD! I don't suppose the yahoo that was doing 64 considered what would happen if he HIT someone? Was there any consideration for the other drivers on the road? Obviously not.
Court records show Greer appeared in court June 19 and paid $61, but the transaction was voided after Judge Jane Chandler reinstated the case. Greer is scheduled to be back in court Aug. 5.
$61 for doing 19 miles over the speed limit? Dang! That's pretty cheap! Although the official site says it's suppose to be $59. Were the extra $2 for court fees? Honestly, I hate driving in Memphis. Those folks haven't a clue what a speed limit sign is actually suppose accomplish!  Do 5 or 10 miles over the limit, and you're likely to get run over by someone doing 20 or 30 miles over.
Jefferson confirmed Chandler sent a memo to Memphis Police Director Larry Godwin complaining about the incident, but wouldn't release the letter Thursday and said he did not know which officers are involved.
This is where things get interesting.
According to state records, Bogie's Midtown Inc. is owned by JoLynn Greer, who told The Commercial Appeal last year that she owns the local chain with other members of her family.
Godwin has been seen walking into the kitchen at the Bogie's restaurant in Midtown and making his own sandwich.
Aren't their any health regulations prohibiting non employees of a food establishment from going into the preparation areas?  Isn't that why they post those signs, "Employees Only"?
When asked about Godwin's relationship with Greer, Jefferson said, "We all have relationships outside the workplace and nothing is wrong with that unless it trickles over to your work and is inconsistent with the laws of the city."
Well, this is true.  However, I have worked in places in the past, where cops were good friends with owners, yet there were limits set at just how far that friendship invaded the work place.
Police spokeswoman Monique Martin refused to answer questions about Godwin, even declining to say if he was at work Thursday. She did not respond to a request to interview the officers in Chandler's courtroom the day Greer was there.
Refusing interviews is getting to be a habit with the higher ups of the Memphis PD.  Don't they know it makes the public question their motives, and integrity?
The investigation occurs at the same time Godwin and the city are involved in a lawsuit seeking the identity of bloggers who run a Web site critical of police leadership.
The lawsuit, filed in Shelby County Chancery Court earlier this month, asks AOL to produce all information related to the identity of an e-mail address linked to the blog MPD Enforcer 2.0.
Perhaps the consistent refusal for interviews stems from their fear someone will ask them what they hell are they thinking, violating the 1st Amendment?  Just a thought.
Speaking on the subject for the first time Thursday, Memphis Mayor Willie Herenton said there are "serious issues" behind Godwin's legal quest to uncover the identities behind the blog.
Well, Wee Willie hasn't impressed me as being the beacon of light at the end of the dark tunnel.  He seems to have serious issues of his own.  First he retires, expecting to be offered the school superintendent, then when he doesn't get the job, "Oops, I didn't really mean it!".
"There's no attempt to try to squash, you know, whistleblowers or that kind of thing," the mayor said in response to reporters' questions during an event at Medtronic. "There's some serious issues here that I think will surface as it moves forward."
Horse manure.  LARGE steaming pile of horse manure.  The whistle is being blown on one of his cronies, and the head honchos don't like it.
Radioactive material enters U.S. poorly inspected
Confusion and miscommunication at border crossings allowed large amounts of potentially dangerous materials to enter the United States without adequate checks, a government investigation has revealed.
In a report released last week, the Government Accountability Office, Congress' investigative arm, called on Border Patrol officers and nuclear regulators to do a better job of tracking and detecting radioactive materials.
Two questions: Why the hell are they announcing to the world that our border security seriously sucks? And: Don't they train the border patrol?
Mysterious noise plagues Wis. couple's home
It's not a sharp, shrill sound," Bob Ehrfurth said. "It's an even sound, like a car running or a motor. Sometimes it pulsates in your ears. … We're not getting our sleep. Our nerves are shot."
They know it's not caused by any health problem the two might share, because when they leave the house, they don't hear it.
The couple said it started two years ago, soon after St. Bernard's Parish across the street had the roofing, chimney and ductwork on a wing of its school redone. They now suspect the ducts could pick up sounds from industries and reflect them at their house, although the problem is intermittent, making it harder to diagnose.
Jeez, that would drive me nuts. I wonder if earplugs would help?
Story ties Karzai to drug lords
Thomas Schweich, who until June was one of the State Department's senior counter-narcotics officials, accused Karzai of protecting drug lords for political reasons. Schweich wrote in an article to be published Sunday in The New York Times magazine that "narco-corruption went to the top of the Afghan government."
Schweich said the Taliban-led insurgency fighting Karzai's government profits from drugs, but Karzai is reluctant to move against big drug lords in his political power base in the country's south, where most opium and heroin is produced.
First, I question the accuracy of ANYTHING that the NY Slimes is associated with. Second, fire bomb the fields. Simple. The surrounding countryside might be high for a while, but at least the fields would be gone. And when they start growing that crap again, torch 'em again. And again. And again. Until they get the message…..grow potatoes!
Britain's Brown dealt new blow in heartland by-election defeat
The Scottish National Party (SNP) reversed a majority of 13,500 in Glasgow East to snatch Labour's 25th safest seat in Britain, prompting more questions about how long Brown can remain in Downing Street.
The premier insisted he was "getting on with the job" following the result and would focus on steering Britain through tough economic times.
Although he has only been in the job for a year, Brown has already suffered a string of terrible results in by-elections, local elections and London's mayoral election. In that contest, Labour incumbent Ken Livingstone was beaten by Boris Johnson of the main opposition Conservatives.
I guess it's apparent to the Brits too….this guy seriously sucks! Perhaps they are getting fed up with the PC BS, and incompetent "leadership" too?
Top Democrat Meets Regularly with Code Pink
James O'Donnell, who told CNSNews.com that he joined Code Pink in Washington one month ago, said the group – which numbered about a dozen outside Bayh's office – wanted to meet with the senator because they oppose Senate Bill 3227, which tightens sanctions on Iran.
When asked by CNSNews.com if Code Pink thinks Iran is not pursuing nuclear weapons, O'Donnell cited the National Intelligence Estimate issued last December.
"I don't think it matters what I think," O'Donnell said. "I think it matters what is the consensus of America's 16 intelligence agencies. The National Intelligence Estimate says they are not pursuing them, and I think they know better than I do."
Meeting with these yahoos give them credibility they do not deserve.
Police To Probe Olmert Again; Mazuz Says PM 'Uncooperative'
The Attorney General told the High Court, "The police have met considerable difficulties in setting dates to interrogate the prime minister and in setting the length of the sessions. These are difficulties never experienced in the past with other public officials."
The police have evidence gathered in the United States and which investigators want to use in questioning him. Until now, the main witness has been American businessman Morris Talansky, who this week underwent five days of an intense and tough cross-examination by attorneys for Prime Minister Olmert.
Politicians, no matter what their stripe, should be open and honest with people. This no longer seems the case. Their arrogance is outweighing their service to the people they vow to serve and protect. Olmert seems to be falling right in with the rest of the world's egotistical "leaders".
The Hardin County man accused of killing one of his employees is scheduled to appear in Hardin County General Sessions Court this morning on charges of first degree murder
Ken Qualis, owner of Savannah Furniture Exchange, was charged by police in the shooting death of 27-year-old Charlie Garrard. Qualis is scheduled to be arraigned this morning.
Qualis, 52, is accused of shooting his employee while the two were sitting in Qualis' pick-up truck.
Sure glad I don't have a need to go through "downtown" Savannah today. At least I sure hope not!
Magnetic Explosions Draw Scientists Closer to Origin of Northern Lights
On Thursday, NASA released findings that indicate magnetic explosions about one-third of the way to the moon cause the northern lights, or aurora borealis, to burst in spectacular shapes and colors, and dance across the sky.
The findings should help scientists better understand the more powerful but less common geomagnetic storms that can knock out satellites, harm astronauts in orbit and disrupt power and communications on Earth, scientists said.
I'd kind of like to keep the "mystery". Although, yeah, if the research can protect astronauts, and keep my TV going, I suppose it's ok.
N-issue show of bullying of western powers
Ayatollah Rafsanjani also told the worshipers at Tehran University campus that the capability Iranians have gained in the nuclear domain is result of 30 years of their endeavors without seeking foreign assistance.
Uh….Russia comes to mind.
He warned that the world bullying powers are now trying to deprive the Iranian nation of the absolute right through making mischiefs and issuing threats and intimidation.
Who was it that stated the desire, and THREAT, to wipe Israel off the face of the map? Wasn't the US, or any other western country.
McCain Camp Hopes for Backlash
Introducing himself as a "fellow citizen of the world," the presumptive Democratic nominee stood in the German capital and called for Europe to stand with America in the fight against terrorism and forge a united front to eliminate nuclear weapons and curb the damage wrought by global climate change.
"In this new century, Americans and Europeans alike will be required to do more — not less," Mr. Obama said. "Partnership and cooperation among nations is not a choice; it is the one way, the only way, to protect our common security and advance our common humanity."
The outright arrogance of the bumbling clown never ceases to amaze me. Here's a backlash for ya. I'm going to breakdown and send McFeingold a few bucks! B. Hussein CANNOT occupy the Oval Office!
Rice: Pakistan should do more to end violence
Secretary of State Condoleezza Rice said Pakistan needs to do more to prevent Taliban militants from launching attacks into Afghanistan from its territory.
Speaking Friday in Australia, Rice suggested to reporters that a surge in Taliban-related violence in Afghanistan had its source in the restive semiautonomous tribal areas along Pakistan's border with Afghanistan.
Gee, y'think? Perhaps if the Pakistani government worked with the Afghani government, they could actually get something done? Just a thought.
Woman accused of trying to run down deputy with car
Meigs County Sheriff Walter Hickman said the incident occurred Wednesday while deputies were conducting a traffic stop. He said Bales, who was not involved in the stop, steered her vehicle toward deputies.
Hickman said deputies then chased Bales for eight miles during which time she drove recklessly.
She posted $12,500 bond and is due in court next Thursday. Bales served on the Meigs County Commission from 1994 to 1998.
Uh….was alcohol involved?
Obama's brief stop in Paris belies his popularity
"He is young, not from the establishment. It's a change of U.S. politics, of the U.S. image in the world," said Samuel Solvit, the 22-year-old head of a Paris-based Obama committee.
"We are not here to influence the American vote, to use it politically. We are here to say that what is going on in the US has an influence on the world," Solvit, an economics student, said in an interview with Associated Press Television News.
They might want to rethink their stand on B. Hussein if they are worried about what goes on in the US, because if he's elected POTUS, he'll not only drag the US into the pits of hell, he'll drag the rest of the world too.
Qantas plane suffered corrosion
THE Qantas plane forced to make an emergency landing in the Philippines after a massive hole opened up in its fuselage had been plagued by a history of corrosion.
News Limited reports today that engineers discovered a large amount of corrosion in the Qantas jumbo during a major refurbishment earlier this year.
They refurbished the inside. So, why was this plane even flying?
Isaiah 25:1-4
1 O Lord, thou art my God; I will exalt thee, I will praise thy name; for thou hast done wonderful things; thy counsels of old are faithfulness and truth.
2 For thou hast made of a city an heap; of a defenced city a ruin: a palace of strangers to be no city; it shall never be built.
3 Therefore shall the strong people glorify thee, the city of the terrible nations shall fear thee.
4 For thou hast been a strength to the poor, a strength to the needy in his distress, a refuge from the storm, a shadow from the heat, when the blast of the terrible ones is as a storm against the wall.