An Ol' Broad's Ramblings
Archive for 28 August 2008
McCain Campaign's Instant Response
Within seconds of Barack Obama's final word, Sen. John McCain's campaign issued a point-by-point rebuttal of Obama's historic acceptance speech.
"Tonight, Americans witnessed a misleading speech that was so fundamentally at odds with the meager record of Barack Obama," spokesman Tucker Bounds said. "When the temple comes down, the fireworks end, and the words are over, the facts remain: Senator Obama still has no record of bipartisanship, still opposes offshore drilling, still voted to raise taxes on those making just $42,000 per year, and still voted against funds for American troops in harm's way. The fact remains: Barack Obama is still not ready to be President."
The statement then offered what it said were seven misleading claims Obama made in the speech, with documentation they said supported their position.
Thank you thank you thank you thank you so much thank you thank you so much.
Jiminy crickets!
Gratitude…yada yada….I accept your nomination. Sucking up to the Shrilldebeast now. And to Billy. And to Teddy…the spirit….
Honestly, couldn't he have used a different word than "spirit"?
Dang, those are the cutest little girls. Shame they have to be shoved out there in the limelight. Kids need a childhood.
The country sucks, and your life is horrible. Everything is horrible, and it's all George W. Bush's fault.
Let's pour billions into a sinking city, and that's W's fault too.
8 is enough!
Oh yeah….a rallying cry!
Change we need. McCain votes 90% with Bush.
Change into what????? A socialist country, where the blood will be sucked from your veins, and none too slowly.
A nation of whiners.
Well, it's true. We have. We have NO idea what real sacrifice is, and the folks he's named are more than likely conservatives.
Tax relief to folks.
Most of whom don't pay taxes at all?
You are on your own!
Damn skippy! When you get right down to it, we ARE on our own. The gubmint can't fix everything, and this young pup should know that.
Lying numbers….goes up, goes down.
By the way, the numbers don't add up.
Factories shut down.
Yes, that happens when you have unions demanding more from the company than profits will allow. Or federal regulations that makes sure the company will leave the country.
I'm gonna win cuz I'm not a celebrity.
We should be responsible. Gubmint must do much for us.
What happened to the ask not what your country can do for you, but …. well, you remember JFK, right?
I am my brother's keeper.
Really? A dollar a month?
No tax breaks to companies who ship overseas. Eliminate capital gains for small businesses. Cut for 95% of working families.
'Cept raise 'em on those who create the jobs, right?
End dependence on oil from Middle East.
Not if ya don't start drilling, ya won't!
McCain says no no no to all kinds of federal regulations.
Good. Keep 'em out of the businesses.
Tap federal reserves?
What a maroon! What does he think those reserves are for anyways? Just to bring down the price of a gallon of gas? sigh….
Moral obligations.
Don't go there. Remember the millions of dead babies you've approved of!
Looking for better teachers.
Ok, I'll go along with that. End the unions, ya might find some!
Health care. I'm gonna make sure you got it! Whether you need it or not! NOW is the time…
….it's time for me to throw up. And people think this guy is charismatic? I find him down right frightening!
Equal pay, equal work.
Ok, I'll go along with that too. However, men and woman are still different. Can't get away from that little fact!
Fulfill America's promise.
Then get the hell outta the way!
Individual responsibility, mutual responsibility.
We give to charities. It's not up to the gubmint to be a charity.
McCain doesn't have the temperament to be commander in chief. I DO!
Pfft! Having a chat with the bad guys is not a good idea.
Won't follow Bin Laden to the cave where he lives.
Uh…. I don't suppose Pakistan has anything to do with us not getting that POS.
Talk tough. Bad strategy.
Let's quit now, and we'll all be good buds!
Restore moral standing.
I don't want to lose my dinner. it was really good!
Policies I will pursue.
What policies? I'm still a little muddled about those policies. Socialism is NOT what I'd look for in our country.
Praise the Lord, and pass the ammunition!
Dang, he get a tad wound up, doesn't he.
We all put our country first.
That's why you were over there campaigning in Europe, right?
Let's trash the 2nd Amendment while upholding it.
sigh….
Hospitals don't let gays see each other, lets stop that.
Uh….don't know of any hospitals that do that anymore. Maybe he knows something the rest of us don't?
I wanna cookie. We don't have any cookies.
Election not about me, it's about you.
I call male bovine excrement.
Change! Hope! Change!
New this, old that. Same sh*t, different day!
I see change! I see the light! I AM the light!
I'm waiting for the waters to part now.
I'm invoking the spirit of MLK! Our dreams can be one! We must NOT walk alone, we can not turn back! So much work to be done! I must fix the world!
Thank you! God Bless You! And God Bless The United States of America!
Up to 200 Seagoville students suspended over belts
Seagoville High School's first-year principal was sending a message about following rules when he gave up to 200 students in-school suspension for wearing belts that violated the campus dress code, a Dallas school district spokesman said today.
The dress code calls for plain black or brown belts with a standard buckle. Anything else – like holes punched around the belt – is considered a decoration and does not comply, DISD spokesman Jon Dahlander said.
I don't know if you've been shopping for belts for teens lately, but it's really hard to find any belt that is completely plain. Hole punched around the belt is considered not acceptable? Gimme a break!
Principal Jeff Baker warned the 1,200 students Monday about the rule before issuing the broad-reaching punishment a day later, Mr. Dahlander said. The students whose belts were out of compliance waited in the gymnasium until a parent could provide another one, he said.
"He's doing exactly what he's been charged to do," Mr. Dahlander said of Mr. Baker. "If you're not going to send a message at the beginning of the school year, when are you going to send it? Rules are rules."
When Brat, who lives in Dallas, asked me if I had heard about this on the news, or read about it anywhere, I honestly thought she was kidding. Belts?
My granddaughter's school has their announcements in Spanish. They have dumbed down the grading system….again, yet DISD is worried about belts?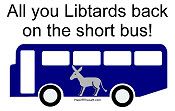 Major Media Decide – Vote Obama
Lawyers call this a "declaration against interest."
Washington Post ombudsperson Deborah Howell wrote a column in her own newspaper comparing the paper's front-page coverage of Democratic nominee Barack Obama with that of Republican nominee John McCain.
Her findings? Examining stories from June 4, when Obama became the presumptive nominee, until Aug. 15, the Post ran 142 political stories about Obama, compared with 96 about McCain. As to front-page stories, Obama was 35 to McCain's 13.
What about photographs? The Post ran, during this time, 143 pics of Obama versus 100 of McCain.
The paper's assistant managing editor for politics explained the discrepancy this way: "We make our own decisions about what we consider newsworthy. We are not garment workers measuring our product every day to fulfill somebody's quota." In other words, Obama makes good copy, and this is, after all, a business. Fair enough. (But what's he got against garment workers?)
But why, then — when the Post's Howell pointed out the discrepancy in photographs — did the disparity disappear over the next two weeks? Howell writes that since she first pointed out the lopsided nature of the photo coverage: "Editors have run almost the same number of photos — 21 of Obama and 22 of McCain — since they realized the disparity. McCain is almost even with Obama in Page 1 photos — 10 to 9."
Wait a sec. If the Post assumed that photographs of Obama drive sales, then what happened? The likely explanation is that the Post considers itself a "news" organization, and was embarrassed when one of its own columnists revealed its blatant partisanship.
This is a good column. Go read the whole thing. The media chose both parties candidates. The media is deciding who will win.
Why is it that a whole lot of stuff I buy these days says "Heche en Mexico", but the Mexican economy sucks.  Since the Mexican economy sucks, we've got a whole lot of folks SNEAKING into the country, 'just to make a better life, for themselves and their families'.  (gag) Now, I keep hearing how the US economy sucks too, but yet we had a 3.3% growth.
Now, my question:  "Heche en Mexico" – sucky economy.  No "Made in the USA" – economic growth.  How does this jibe with the news we keep hearing from both sides of the border?
Obviously, I'm no economist.  Serious question.  Someone please 'splain?
I have gotten this YouTube video in my email box so many times, I thought I should probably go ahead and post it!
I don't now about you, but I don't think we've ever seen the REAL B. Hussein Obama. We've seen snippets of him, and none of them really good. What has he done to make life better for those he supposedly represents? Does anyone know?
When asked why he, or she, supports this guy, not ONE person has given an answer. They talk about 'change', 'hope', 'hope', 'change', but what the hell does that mean? Change? Yeah, every dime you've got in your pocket that you were planning on throwing in a jar to put in your kids savings account when you had accumulated enough. Hope? We all have hopes, but they aren't all the same. And providing hope isn't the job of the U.S. Gubmint, nor the POTUS. We provide our own hope and results for our future.
It's obvious to me that after sitting 20 years in the pew of Christ Trinity Church, under the tuteladge of the 'wrong' Rev Jeremiah Wright, B. Hussein really knows nothing about the Bible at all. Picking and choosing which Books and passages to quote, totally out of context, can give a man some semblance of legitimacy, but even the Devil can quote Scripture.  I'm no expert myself, but from what I've seen of this guy, he's one dangerous dude!
Obama Team Works With Hill Democrats
House Speaker Nancy Pelosi (D-Calif.) has assigned her committee chairmen to begin with low-hanging fruit to build confidence and provide a new, young president quick legislative victories, then pivot to more challenging issues, from ending U.S. military involvement in Iraq to broadening health-care coverage. House Ways and Means Committee Chairman Charles B. Rangel (D-N.Y.) said his policy staffs and Obama's have been working together for more than a month.
Don't you thin it would be prudent for Queen Moonbat to do HER job, instead of trying to do someone else's? I mean seriously, she's gonna need some help, IF she ever decided to get her ass back to work, and get a few issues resolved. Like maybe DRILL HERE! DRILL NOW! you feckless…. sigh And that's just one problem. How much time and energy did you yahoos waste passing useless 'resolutions'. Shucks! I missed the all important "Watermelon Month"! Why didn't anyone tell me?

EU considers sanctions on Russia
EU leaders are considering sanctions "and many other means" against Russia over the crisis in Georgia, French Foreign Minister Bernard Kouchner said.
He gave no further details but added "this will be solved by negotiation".
Does anyone actually believe that Russia gives a flying flip about sanctions…..from the EU??? Pfft!
Bush Tax Cuts Increased Tax Base, Study Says
Taxpayers responded to President Bush's tax cuts in 2001 and 2003 by generating greater taxable income, according to a new paper to be published this fall in the National Tax Journal. In fact, taxpayers reported so much more income than was anticipated, it likely offset as much as 40% of the revenue that was lost by lowering the top two tax brackets, the paper, authored by a vice president for economic policy at the Tax Foundation, Robert Carroll, and economists Gerald Auten and Geoffrey Gee of the Department of the Treasury, found.
In other words, tax cuts WORK! Now, if we could just a Congress that stopped acting like it was THEIR money, we might shrink that deficit AND have a strong military.
MLGW to pay $64,000 less for Joseph Lee's legal bills
Memphis Light, Gas and Water Division may have reduced the amount it is planning to reimburse former utility chief Joseph Lee III for his legal bills, but a city councilman is questioning why any of the bills are being paid in the first place.
According to documents released Wednesday by MLGW, the public utility will likely reimburse Lee, indicted last year on bribery charges but later exonerated, about $425,000. That would be down from the $489,861 the utility board approved Aug. 21.
I'm kind of wondering why they are paying his legal bills as well. Unless the reason he was charged had something to do with the company itself, I don't see a reason for it. But that's just me.
30 displaced were shot dead by the Sudanese troops in Kalma – UNAMID
Darfur hybrid peacekeeping mission announced today that 30 people were shot dead by the Sudanese forces two days ago during their attempt to forcibly enter Kalma camp.
On Monday August 25, Sudanese troops clashed with the displaced population inside on of the largest IDPs camp in the troubled Darfur. The armed forces killed dozens of people.
The UNAMID condemned the excessive and disproportionate use of force against civilians; it also said this attack came "in contravention of the Darfur Peace Agreement and International Humanitarian Law."
Is this wondrous Useless Numnuts organization just now noticing the "excessive and disproportionate use of force against civilians"?
Iraqi Forces Taking Steps to Lead, But U.S. Aid Still Needed
Such transitions to Iraqi command — occurring at different speeds around the country — have taken on added importance as Washington and Baghdad negotiate a pact that could have the last U.S. soldiers leaving by the end of 2011.
But they also expose the many weaknesses of the Iraqi forces that still rely on American help for everything from air support to bottled water in the field.
U.S. troops even were forced to step in and provide fuel when the National Police did not receive government allotments for about two weeks in July, leaving many units near empty.
All well and good, but why would we have to provide fuel to an oil rich country? I thought they were doing well in that department. Oh, and speaking of which….when are they going to start paying for their own rebuilding, and how about a refund to the American taxpayer for getting rid of that slime sucker for them? Just askin'.
Venezuela Tightens Ties With Iran, Hizbullah
International terrorism experts fear that Venezuela will soon become a base for terrorist attack initiatives, in light of the tightening of ties between the South American dictatorship and both Iran and Hizbullah.
A top expert in the war against terrorism, speaking with the Los Angeles Times, said that agents of Hizbullah and the Revolutionary Guard of Iran have formed a special force designed to kidnap Jewish businessmen in South America and smuggle them to Lebanon. He said that Venezuelan employees of the international airport in Caracas have already been recruited to provide information about Jewish tourists who arrive in the country.
I'm thinking a car accident. Perhaps a small gas explosion? Shoot, a sniper's bullet would work just fine! This is another piece of garbage that needs to go toes up!
S.F. gives teen drug suspect to immigration
Juvenile Court Commissioner Abby Abinanti concluded Monday that the youth, in custody accused of dealing crack in the Tenderloin, should be treated within the social welfare system and not as a criminal offender.
In doing so, she sided with defense attorneys who argued that the boy had no family in Honduras, fled to this country to escape gang beatings, turned to drug dealing to survive and deserved a chance to seek asylum while in foster care.
Oh sure, let's treat all the drug dealing scum like misguided youths. That'll work out real well. Moron! I'm starting to think, perhaps, the gubmint should do a study on what the hell is in the water out there on the left coast! Seems to be an epidemic of stupidity going on!
India: Conflict in Kashmir not about religion, says expert
Violence between Muslims and Hindus in the disputed territory of Kashmir should be seen as a conflict over secession rather than a dispute over religious differences, according a leading Indian commentator.
M.J. Akbar, a celebrated editor and author, sought to downplay the latest conflict that erupted in Kashmir after Hindus demanded land be set aside for pilgrimages.
"There's no conflict between Muslims and Hindus," Akbar told Adnkronos International (AKI). "The conflict is between Kashmiri separatists and Hindu agitators.
Riiiiiiiiiiiiiiiiiiiiiiiiiiiiiiiiiiiiiiiiiiiiight!
Charlie Crist for VP? Dems Seem to Think So…
Sen. John McCain is expected to name his running mate on Friday. And the Democratic National Committee seems to think it might be Florida Gov. Charlie Crist.
Well, since the DNC and the NY Slime picked our candidate, I guess they think they should pick the VP too. HEY! McCain! Do NOT do it! How about a lovely lady from Alaska? Just my 2 cents.
Obama set to woo nation with historic speech
Obama accepts his party's nod on a day few could ever imagine decades ago, when King fought for civil rights.
"This is a monumental moment in our nation's history," Martin Luther King III, the civil rights icon's oldest son, told The Associated Press on Wednesday. "And it becomes obviously an even greater moment in November if he's elected."
Dr King would, no doubt, be appalled that such a black man is the first. King was NOT a socialist!
Top Iraqi official detained at Baghdad airport
U.S. military officials said they arrested a senior Shiite militant at the airport on Wednesday, but did not release his name and would not say if it was al-Lami. The military says the suspect is believed to be behind a June bomb blast in Baghdad that killed four Americans and six Iraqis.
And this is a guy that is suppose to be trusted. Nice folks over there. Yep! Big field of glass!
Hebrews 9:14-18
14 How much more shall the blood of Christ, who through the eternal Spirit offered himself without spot to God, purge your conscience from dead works to serve the living God?
15 And for this cause he is the mediator of the new testament, that by means of death, for the redemption of the transgressions that were under the first testament, they which are called might receive the promise of eternal inheritance.
16 For where a testament is, there must also of necessity be the death of the testator.
17 For a testament is of force after men are dead: otherwise it is of no strength at all while the testator liveth.
18 Whereupon neither the first testament was dedicated without blood.