An Ol' Broad's Ramblings
Archive for 20 September 2008
Obama Moles in Justice Department Target Republicans for Campaign of Intimidation – Bill Hobbs
Common Sense Compassion: It's What America Needs – Maggie's Notebook
Sen. John McCain was tortured for five years and Jewish Democrats cannot stand up to some threatening phone calls from Barack Hussein Obama's campaign. – Right Truth
Hamas by the Rhine – The Brussels Journal
Stealing the 2008 Presidential Election - Freedom Eden
Wendy Brown stole daughter's identity – Southern Sass on Crime
Music City Enters Thunderdome – TennViews
Democrats are Funny – Lance Burri
Pure Evil: Rangel Calls Palin 'Disabled' – JammieWearingFool
And the Schmuck of the year award goes to…..Alan Colmes! – Our World As We See It
Say, what are those? - Badger Blog Alliance
Husaria Scholarship on the Failed Campaign of Socialist Squirrel Obama and all those nuts he surrounds himself with! – Grizzly Groundswell
comPost's Kurtz disputes McCain's ad based on "bad information"…which, um, was published in comPost! – Crush Liberalism
The Seven Major Cracks in the Façade – Freedom's Cost
Abortion Survivor Speaks Out Against Obama on Hannity and Colmes – Political Pistachio
That 3% get vocal – This Ain't Hell
Support Corruption – Elect Democrats – Real Debate Wisconsin
Dems make millions, we get stuck with billions in bills – Stop the ACLU
THE LEFT'S ROLE MODELS? – Texas Hold 'Em Blogger
Optimism? Heck YeA! – Woman Honor Thyself
None of the Above, some explanation and opinion – Texas Fred's
700 Billion Dollar Bailout – silent E speaks
Iran's Supreme Leader: All Israelis are targets – Elder of Ziyon
Pandering To The Left By The Left – The Hill Chronicles
If You're A Woman Voting For Barack Hussein Obama, Pardon Me But You're An Idiot, Thank You – Chicago Ray
Bachmann: Take Away Planned Parenthood's Government Funding – Crystal Clear Conservative
Penn & Teller – Bullsh!t – Get Stewed
IBD: Carter More to Blame for Financial Crisis Than Bush or McCain – Newsbusters
My Platform continued… – Disgruntled Truck Driver!
NFL Picks Week 3 – Ick's Corner
Let's just get this election over with – Hasenpfeffer Incorporated
Bring the Hammer Down – blogger boarding
That's Not Country First; That's Obama First – Badger Blogger
The American Left and the War in Iraq – The Tennessee ConserVOLiance
Screw The Nashville Gas Shortage – Newscoma
Who's Racist? – The Political Jungle
Off With His Head! – Blue Collar Republican
Hillary Clinton hiding from Sarah Palin. – American and Proud
Voter fraud alert: Watch Virginia – Michelle Malkin
Alert: Pelosi 'Drill Nowhere, Drill Never' Scam Headed for Senate Vote – ARRA
Big HUGE H/T: Covertress
1972 crash still haunts driver's family
Since his vice presidential nomination, Joe Biden's 2007 statement that a "guy who allegedly … drank his lunch" and drove the truck that struck and killed his first wife and daughter has gained national media traction.

Alcohol didn't play a role in the 1972 crash, investigators found. But as recently as last week, the syndicated TV show Inside Edition aired a clip from 2001 of Biden describing the accident to an audience at the University of Delaware and saying the truck driver "stopped to drink instead of drive."
So, why is Biden lying about the circumstances of the tragedy? Yes, I used the word LIE! That's what it is…..a lie. Does he think that people will feel sorry for him, so he'll gain votes? What about finding out he's nothing more than a man, who suffered a tragedy, and embellishes……LIES….about that tragedy?
The senator's statements don't jibe with news and law enforcement reports from the time, which cleared driver Curtis C. Dunn, who died in 1999, of wrongdoing.
My disgust for Biden grows by leaps and bounds!
"To see it coming from [Biden's] mouth, I just burst into tears," Dunn's daughter, Glasgow resident Pamela Hamill, 44, said Wednesday. "My dad was always there for us. Now we feel like we should be there for him because he's not here to defend himself."
Seems to me Biden started using this lie after the man died. How convenient.
Biden spokesman David Wade said Wednesday that the senator "fully accepts the Dunn family's word that these rumors were false."
Then why on earth is he still spouting the lie? Has he made a public announcement that he's been full of male bovine excrement? Has he apologized to the family for the slander?
Even before Obama asked Biden to join his campaign, political observers said the senator's gaffes could be a liability in a contest where every word will be scrutinized. Biden's first presidential campaign 20 years ago was undone by charges he plagiarized parts of a speech by British Labor Party leader Neil Kinnock.
Speaks volumes about B. Hussein's judgement, doesn't it.
APOLOGIZE SEN. BIDEN…..VERY PUBLICALLY…..THEN…..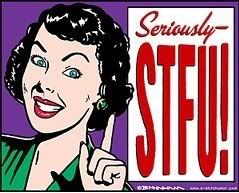 H/T: Newsbusters
Congressman's son caught smuggling immigrants
The son of a U.S. Congressman was arrested in Willcox Sunday, charged with human smuggling. According to court documents John F. Boyd, son of Democratic Florida Congressman Allen Boyd, attempted to drive through a Border Patrol checkpoint in Willcox on Sunday with five illegal immigrants, including a 6-year-old girl.
In a statement sent Tuesday, Congressman Allen Boyd said, "On September 14, 2008, my 30-year-old son, John Boyd, was arrested in Arizona, and at a preliminary hearing yesterday, he was charged with alien smuggling."
You can guaran-damn-tee, if there was an "R" behind the Congressman's name, this would have been shouted all over the MSM. But since the guy is a Dem, crickets!
"This is a family matter that my family and I will be dealing with privately. John is a grown man and must face the consequences for his actions, but he has the love and support of his family," says the elder Boyd.
No, sorry. This is a NATIONAL matter. It's people like your son who turning this nation into a third world country! The security of our country comes before your son, or you, or Congress!
According to court documents the illegal immigrants said they were to pay Boyd $3,000 each to be smuggled into the United States and transported to their final destination.
Did the six year old have to pay full price? Or did the child get a discount? My disgust for people like Boyd…..I can't even express!
Court documents also state that the vehicle contained, "two plastic bags that contained several rocks of crystal methamphetamine, four unopened syringes, a spoon with white residue and burn marks on the bottom, and three knives. A further search of the vehicle revealed a Beretta 22LR pistol loaded with eight rounds of ammunition and a spare magazine loaded with eight rounds of ammunition in a suitcase in the bed of the truck."
To support his drug habit, he not only puts a child in danger, he also puts his country at risk? No words!
H/T: La Frontera
85% of Nashville-area stations are out of gas, AAA says
The gasoline shortage that has plagued Middle Tennessee for more than a week, and which took a turn for the worse Friday, will probably persist for at least several days, state and industry officials said.
At least 85 percent of the stations in the Nashville area were without gasoline Friday morning, AAA Auto Club South estimated, and those that had it were running out quickly, despite regular deliveries to the region.
This is ridiculous! The stations are getting regular shipments, yet they still run out? I might be wrong, but my first impression is that those folks in Nashville who are filling up are in panic mode. Why? Who the heck knows! Instead of sitting in line to get gas when your tank gets to 3/4, why not wait till you really need it? Something just doesn't make sense!  Is this happening in other cities, or is it unique to Nashville?
Democratic presidential nominee Sen. Barack Obama opted Friday not to divulge details of his recovery plan for the financial crisis after a morning meeting with his top economic advisers — fearing it would stir Wall Street jitters.
Maybe he doesn't actually have a plan. Big shocker.  

Whatever The ONE comes up with, you can guaran-damn-tee it's going to cost the taxpayers. Politicians like using YOUR money for their plans. ALL of 'em!
Huge blast near Pakistani hotel kills 40, injures 25
A huge explosion ripped through part of the heavily guarded Marriott Hotel in Pakistan's capital Saturday, damaging buildings in a wide radius, killing at least 40 people and wounding 25.
The Marriott is a favorite place for foreigners to stay and socialize in Islamabad, and it has previously been targeted by militants.
I guess it wasn't as heavily guarded as they thought. I've no doubt there will be more and more of these types of attacks in Pakistan as the country is increasingly taken over by the Islamonazis.
'Tutu must consider Arab fanaticism'
"It is not the criticism of Israel that's been muted. It is the absence of any criticism directed at the Arab world that has been muted," said Hier in a statement released Friday.
"If Bishop Tutu is looking for bias, let him direct his attention at the United Nations, where 57 Muslim countries have paralyzed the General Assembly, preventing it from dealing with the single most important issue of our time – international terrorism – and never allowing it to issue a single condemnation against Hamas, Hizbullah, or the suicide attacks perpetrated by Islamic fundamentalists," he continued.
Tutu, and those appeasers just like him (Cahtah, anyone?) do not see the whole picture. It's not Israel that sneaks in homicide bombers to kill innocent women and children. Any mistake Israel has made has been blown out of proportion, exaggerated, or just plain fabricated. The Pallies aren't fighting for their survival, they are fighting for the destruction of Israel.  (Are those the same "57 states" BO wants to represent? Just askin'.)
Rescue Plan Seeks $700 Billion to Buy Bad Mortgages
The Bush administration on Saturday formally proposed to Congress the largest financial bailout in United States history, requesting virtually unfettered sweeping authority for the Treasury to purchase up to $700 billion in mortgage-related assets from financial institutions headquartered in the United States.
The proposal was stunning for its stark simplicity: less than three pages, it would raise the national debt ceiling to $11.3 trillion. And it would place no restrictions on the administration other than requiring semi-annual reports to Congress, allowing the Treasury to buy and resell mortgage debt as it sees fit.
I'll give you simple!

How's that for simple! When you asswipes in D.C. stop spending OUR money on foolish 'programs', we can talk. Until then…..bite me! You are ALL fired! If you can't balance a simple checkbook, you have NO business writing checks!
Muslims offer free health care at Memphis clinic
Volunteers have passed out flyers inviting non-Muslims to use the clinic, but so far only a handful have done so.
Dr. Mohammed Khan says he thinks the hesitation comes in part from negative stereotypes of Muslims.
Gee, y'think?
Magazine Featuring Female Pastors Pulled From Shelves, 'Treated Like Pornography'
The five women on the cover are dressed in black and smiling — not an uncommon strategy for selling magazines.
But these cover girls are women of the cloth, featured in Gospel Today magazine's latest issue, which the Southern Baptist Convention has pulled from the shelves at its bookstores, though the magazine is available for sale upon request.
The group says women pastors go against its beliefs, according to its interpretation of the New Testament. The magazine was taken off stands in more than 100 Lifeway Christian Bookstores across the country, including six in metro Atlanta.
Honestly, I'm not sure what I think about this.

Proverbs 30:5-6
5 Every word of God is pure: he is a shield unto them that put their trust in him.
6 Add thou not unto his words, lest he reprove thee, and thou be found a liar.