An Ol' Broad's Ramblings
Archive for October 2008
Seems to be a 'toon day!  Can I help it if there are so many that express what I'm thinking? 
Courtesy of Ken the cop.
I spent a good piece of the morning on the phone with the airline.  We have rebooked our flight and WILL be leaving on Tuesday!  I don't care if we have to walk along side the bloomin' plane….WE WILL BE GOING ON OUR TRIP!
Granted, it is going to cost a bit more for the tickets, but at this point, we can worry about the economy later.  If we have to live on mac and cheese, so be it!  The Mr is none too thrilled, but hey….at least they waived the rebooking penalty, right?
Now, I need to spend the rest of the day trying to rebook hotels and getting the guide set up again!  Jeeez….I need to take up drinking!  ……….
Naw! Wouldn't get much done, now would I.
2 accused of hanging Obama effigy on Ky. campus
A University of Kentucky student and another man were arrested Thursday, accused of hanging a life-sized likeness of Barack Obama from a tree on the campus.
The incident was one of several in recent weeks involving effigies of the presidential candidates or their running mates. No charges have been filed in four other cases that have made national headlines.
I knew about one other case….that would be the Sarah Palin one out on the left coast, but I haven't heard diddly about the other three. I guess if it's "The ONE", that makes all the difference in the world. They call it a hate crime. Well, someone explain to me how hanging the effigy of ANYONE, is a LOVE crime?  Think a Bubba Hussein presidency isn't going to trash the Constitution?  Think again!
Washington Times kicked off Obama plane for finale
The Washington Times, which has covered the Barack Obama campaign from the start, was kicked off the Democrat's campaign plane for the final 72 hours of the race.
The Obama campaign informed the newspaper Thursday evening of its decision, which came two days after The Times editorial page endorsed Senator John McCain over Mr. Obama. The Times editorial page runs completely independent of the news department.
"This feels like the journalistic equivalent of redistributing the wealth, we spent hundreds of thousands of dollars covering Senator Obama's campaign, traveling on his plane, and taking our turn in the reporter's pool, only to have our seat given away to someone else in the last days of the campaign," said Washington Times Executive Editor John Solomon.
Now, why doesn't this surprise me!  Looks like Bubba's campaing doesn't want anything resembling truth to be reported.  Heaven forbid people should actually find out what kind of sleaze ball he really is!
Early voting smashes state record
Tennessee voters turned out in record numbers to cast their ballots early in this year's presidential election.
An estimated 1.5 million people voted during the state's two-week early voting period, and election officials expect at least that many voters to head to the polls on Election Day itself, Nov. 4.
In Middle Tennessee, slightly more than half of registered voters in Nashville voted early, sometimes waiting in line for an hour or more for their turn to vote, even as doors were closing at polling places Thursday night.
I saw on the news last night that people in Memphis were still standing in line at 10p.m. to vote. Yes, this is an important election, but honestly ALL elections are important!  Why don't people care this much when electing those who actually make the laws?????
Brown's 'irresponsible spending splurge' will force taxes up and set us on 'road to economic ruin'
Gordon Brown's plans to 'spend his way out of recession' risk deepening the downturn and saddling future generations of Britons with massive tax hikes, shadow chancellor George Osborne warned today.
In a speech drawing dividing lines between Conservative and Labour approaches to the economic crisis, Mr Osborne branded the Prime Minister 'irresponsible' for suggesting the Government can "borrow without limit" to stave off recession.
I don't know if anyone has noticed, but for some reason, the lib types believe that spending hard earned taxpayer money on stupid projects, that don't work, is a good way to stave off economic doom. How stupid do you have to be to even think up such nonsense? The gubmint spends, puts the country further into debt, raise taxes, no one has any money left to spend, people lose jobs, the gubmint has to pass out more money that isn't theirs…..it's an ugly cycle that never ends, and the economy is in the crapper!  If someone like me can figure this out, why can't the yahoos who actually have control????  What a bunch of idjits!
2 minor earthquakes hit Dallas-Fort Worth area
Two minor earthquakes have shaken the Dallas-Fort Worth area, but no significant damage has immediately been reported.
The U.S. Geological Survey says an earthquake with a 2.5 magnitude was reported at 11:25 p.m. Thursday, centered in the Grand Prairie area.
The agency says a slightly stronger quake, at 3.0 magnitude, occurred at 12:01 a.m. Friday, centered in Irving about 10 miles west of Dallas.
I'm not even going to bother asking Brat if she felt it. If she was asleep, a typhoon wouldn't wake her up! Heh.
Oldest Hebrew Text Discovered at King David's Border Fortress
Archaeologists have discovered what they say is the oldest Hebrew text ever found, at a site they believe was King David's front line fortress in the war against the people of Pleshet, also known as the Philistines. The site overlooks the Elah Valley, where the young David slew Goliath, the Philistine giant, with a well-aimed shot from a sling.
The text is written in ink on a pottery shard. It is made up of five lines of text in Proto-Canaanite characters separated by lines. The discovery, by archaeologists Prof. Yossi Garfinkel and Sa'ar Ganor of Hebrew University, is being hailed as one of the most important finds in Israel since the Dead Sea Scrolls.
How seriously cool is that! I love this line – "The local Bedouins refer to it as… are you sitting down?… Khirbet Daudi – David's ruins."
Pakistani Police Arrest Cleric Who Presided Over Kids' Wedding
Police raided a wedding between a 7-year-old boy and a 5-year-old girl in Pakistan's largest city, arresting the Muslim cleric officiating at the ceremony and the children's parents, a senior officer said Friday.
The cleric had not yet begun the ceremony in Karachi, which was attended by 100 guests, said deputy superintendent of police Malik Mazhar.
Pakistan law forbids marriage below the age of 18, but some Muslim scholars say it is permissible if the bride and groom have reached puberty.
What kind of parent would marry off their small children? I realize we're talking about a different culture, but in this day and age, it's insanity.
Prisoners turn pagan, but can't wave wand
THE number of prisoners who describe themselves as pagan has more than doubled in England and Wales since 2003, according to new government figures.
According to prison service guidelines, pagan prisoners are permitted to keep artefacts, including a hoodless robe and a flexible twig for use as a wand, among their personal possessions. Naked worship, known as skyclad, is not allowed.
Thank goodness for such small favors….no nekkid prisoners. Criminy!  There's a mental image I didn't need this morning.
Austin police: Mom beat girl, 4, threw her in path of SUV
A woman has been charged with child endangerment, a state jail felony, for beating her 4-year-old daughter before throwing her into the path of an oncoming vehicle, police said.
The driver of the brown Suburban braked and did not strike the child.
Aurelia Gallardo, 24, could face up to 20 years if convicted. Bail was set at $25,000.
Child endangerment? How about attempted murder? $25,000? How 'bout NO bail! Anyone, and I mean anyone who would treat their old child with such contempt doesn't deserve to be a parent. There is a HUGE difference between discipline (aka spanking) and trying to literally KILL a child. To me, that's what this POS was doing. And she called a FOUR YEAR OLD a 'slut'? Human excrement!
S.S. D.D.
After the last couple of days, I really could have used a break.  But what do I see this morning when I get up?  A really stupid bird greets me, pecking at silk flowers, on the front porch.
I stopped taking care of the real flowers when my knee started crapping out, so what better way to have some color?  Silk ones!  Well, evidently, this bird is too dumb to know the difference.
I keep wondering what Mr Spot would do if he ever actually got a hold of that bird.  He sure does have a great time attacking the window though.  Obviously, he's not in attack mode here, but he was.  Guess he got tuckered out pretty quick, since he hadn't had breakfast yet.
Honestly, it was just a tad too nippy for me to go haulin' out the door, in my jammies and bunny slipper to go chasing him…not to mention my knee isn't quite up for that kind of joyful activity. 
1 Corinthians 13:1-8
1 Though I speak with the tongues of men and of angels, and have not charity, I am become as sounding brass, or a tinkling cymbal.
2 And though I have the gift of prophecy, and understand all mysteries, and all knowledge; and though I have all faith, so that I could remove mountains, and have not charity, I am nothing.
3 And though I bestow all my goods to feed the poor, and though I give my body to be burned, and have not charity, it profiteth me nothing.
4 Charity suffereth long, and is kind; charity envieth not; charity vaunteth not itself, is not puffed up,
5 Doth not behave itself unseemly, seeketh not her own, is not easily provoked, thinketh no evil;
6 Rejoiceth not in iniquity, but rejoiceth in the truth;
7 Beareth all things, believeth all things, hopeth all things, endureth all things.
8 Charity never faileth: but whether there be prophecies, they shall fail; whether there be tongues, they shall cease; whether there be knowledge, it shall vanish away.
Eyewitness News Uncovers people who were born in the 1800s and still voted in Shelby County.
Eyewitness News Chief Investigator Jeni DiPrizio discovered that there are more than 1,000 dead voters still on the election rolls in Shelby County. And some of them even made it to the polls last August.
Elizabeth Gage died eight years ago and she is buried in north Shelby County. But records show that she somehow was still able to vote in the August Primary Election.
Gage's family members say that is news to them. "No she didn't! She died in 2000, January 2000," said Gage's niece Bettye Green. She went on to say, "It seems like someone's not on the ball and really checking out all of these things. I can't imagine how the voter registration wasn't destroyed or whatever they do before this time."
According to Brook Thompson, the Tennessee State Coordinator of Election, the state gave the Shelby County Election Commission the names of about 4,400 residents who passed away. Thompson says the election commission was supposed to remove those names from the voter registration list. As of this month, about 1,800 of those residents were still registered to vote in Shelby County.
Rich Holden is a Shelby County Election Commissioner. Holden says two federal laws aimed at voter rights have made it harder to purge names from voter registration lists than in the past. Holden says "the thought was, better to have someone in there who was deceased than it would to disenfranchise people and take away their right to vote."
Uh, pardon my stupidity, but if they are DEAD, they aren't 'disenfranchised'!
Holden says the election commission can't just look at the age of voters and then go check to see if the voter is alive. He says that would be considered age discrimination. Commissioners can't target certain people.
If I'm dead, I shouldn't be voting, should I?  I'm just askin'.  And if they showed picture ID, with their voter's registration card, I don't think asking someone's age would be an issue.
When Eyewitness News asked Holden if he had ever just gone and looked at the rolls himself, he replied he did and "had the same questions you did."
Chairman of the Shelby County Republican Party Bill Giannini said, "We can't continue to keep people on the rolls if we want it to be accurate."
The Democratic Chairman Keith Norman says he supports national standards for purging voter lists. Norman says if nationwide standards were in place, all counties would have the same rules to follow for removing voters. But, Norman says he doesn't want to see certain people target and removed from the list.
Target?  Criminy.  THEY ARE DEAD!
Holden says he is looking into what happened to Gage and three other voters. Eyewitness News Uncovered that they were still able to vote, despite not being alive. Holden is trying to determine if someone impersonated the voters, or if there was some sort of clerical error.
Giannini says even if this was just a mistake; if dead people were not still on the voter rolls, then the mistake could not be made.
If dead folks voted in the primary, don't you think someone would notice the smell?
Qaeda wants Republicans, Bush "humiliated": Web video
An al Qaeda leader has called for President George W. Bush and the Republicans to be "humiliated," without endorsing a party in the upcoming U.S. presidential election, according to an Internet video posting.
"O God, humiliate Bush and his party, O Lord of the Worlds, degrade and defy him," Abu Yahya al-Libi said at the end of sermon marking the Muslim feast of Eid al-Fitr, in a video posted on the Internet.
Libi, a top al Qaeda commander believed to be living in Afghanistan or Pakistan, called for God's wrath to be brought against Bush equating him with past tyrants in history.
The remarks were the first from a leading al Qaeda figure referring, albeit indirectly, to the U.S. elections. Muslim clerics often end sermons by calling on God to guide and support Muslims and help defeat their enemies.
It still amazes me that there are those who support a guy that KNOWN terrorists also support. I mean seriously, does that make you feel safe? I know the economy is important, but if you're dead, it won't matter if you pay too much in taxes, or have a job, or can pay your house payment. Dead is dead, and these people want YOU dead!
Once again, it's front page, local fishwrap time.  :)  And once again, you're going to have to take my word for it.
Norovirus sickens 150 North Elementary students
Stool sample tests show a sudden illness which struck North Elementary School on Oct. 22 and sickened 150 students and eight staff members was caused by a norovirus, according to the Tennessee Department of health.
"It is not food related," said Neill Caldwell, field office manager for 10 county health deparments, including Hardin County.
The following day about 100 students remained absent, suffering from nausea, vomiting and diarrhea.  By Tuesday, only 23 were absent.
Well, I hope all the lil' tykes are feeling much better now.  Personally, I think they could have found a better way to start the story without the words "stool sample".  But, that's just me. 
Cops have to taste the taser
…and they don't want the experience again
If you want to know what it feels like to get "tazed," just ask any Savannah police officer.
Although the Savannah Police Department has had the Taser electronic stun devices since 2001, it wasn't until a few weeks ago that all the officers were required to undergo the shock as part of their training.
"This year I made the choice to have them actually experience the power of it," said Chief Donal Derr, who included himself in the directive.
I suppose this is a pretty good idea.  Glad I'm not a cop though.  I'm a wuss.  Don't taze me, 'bro!
A special day for firefighters
Contests will show off their unique skills
Come out to the Hardin County Fairgrounds on Saturday for the sixth annual Firefighter Appreciation Day.
"Bring the family and kids," says county Fire Chief Melvin Martin.
Service awards will be presented at 1 p.m., and vounteer hardin County firefighters will compete in training challenges.
Well, that actually sounds like fun.  A fire hose drill and Sparky the Fire Dog, with the fire department clown?  What could be better!
Freddy's ready
Swinging his bloody chain saw, Freddy could be hiding anywhere in the Counce (Dist.3) Volunteer Fire Department's house of Halloween horrors.
Visitors brave (or foolish) enough to enter the ghastly domain at the Counce Fire Hall off Tenn. 57 across from the paper mill can get into the spirit of things with a bonfire and outdoor showings of "Friday the Thirteenth" and "Halloween" on a big screen.
Ok, I gotta ask.  What does "Freddy", or a chain saw, have to do with either of those movies?  I haven't seen either movie in a VERY long time, but if I'm not mistaken, the originals didn't have chain saws involved, and "Freddy" was in Nightmare on Elm Street.  But, what do I know.  Hey brat!  You're the horror movie expert….help me out here.
Why vote on Tuesday?
Why November?  Why Tuesday?
Offhand it would seem that any day of the year would be appropriate to exercise the freedom to vote in the United States.  But the tradition of voting on the first Tuesday after the first Monday in November has been in effect since 1845 for a number of reasons.
*Many Americans made their living by agriculture in 1845.  November appeared to be a convenient month for farmers, in that their time wasn't consumed with planting or harvesting crops.  Also, the land was dry enough to allow an easy trip to the polls by horse and buggy.
*The county seat served as the polling place, and for many was a full day of traveling with an overnight stay to make it to the polls. Tuesday made it convenient for those who would have to depart on on Monday for the polls. Voting couldn't take place on a Monday, otherwise, individuals wold have to leave on Sunday, and Sunday was traditionally a day reserved for church and family.
*The first Tuesday after the first Monday was picked because election day was never to coincide with Nov.1 or All Saints Day, a holy day of obligation in the Catholic Church.
Now ya know…..just in case ya didn't.
Kids invited to 'Treat Street' on Halloween
"Treat Street" will be populated by little monster, princesses, goblins and superheroes on Halloween afternoon.
Sponsored by Savannah's Tennessee Main Street Program, children are invited to Trick or Treat the businesses on Treat Street, which masquerades as main Street the other 364 days of the year.
Businesses will be giving away candy from 3-5 p.m., and there will be "fun stuff" at the gazebo on Court Square from 5-6.  Visit with Sparky the Fire Dog, chalk decorate the walkway around the square, munch on some sweet kettle corn and learn from local police officers and sheriff's deputies about how to keep children safe.
I'm going to take a wild stab, and say this shindig is going to be tomorrow, the 31st.  :?  Oh, and if ya stick around, they're going to show "The Ghost and Mr. Chicken".  I really liked that movie.  Classic Don Knotts!  But no, sadly, the Mr and I won't be going to town for this big event.  Something about large numbers of small screaming children just doesn't do it for us. 
Cindy Sheehan's Campaign Headquarters Heavily Damaged in Late Night Attack
Just 5 days before the election, at 3a.m. on October 30th, all of the front windows of the Cindy Sheehan for Congress campaign offices were shattered. Although staffers had been in the office less than an hour earlier, no one was in the building at the time of the incident. No one was hurt and there were no witnesses. Cindy Sheehan is a candidate for Congress in California's 8th Congressional District race against incumbent Nancy Pelosi (D-CA).
"It seems to have been a calculated intimidation tactic," said Tiffany Burns, the Cindy for Congress campaign manager. "One of our computers was stolen, but no other property was taken from our offices and no surrounding buildings were targeted. Clearly they wanted to both frighten us and to gather information." Total damage to the campaign office is currently estimated at more than $5,000.
The Cindy for Congress campaign recently chronicled a series of unusual events, including other threats of violence, in a statement issued on October 13th. In that statement, Cindy Sheehan noted "[t]he past few weeks have been a little strange at Cindy for Congress [...] the things that have been happening could just be coincidences, or a run of bad luck, but the climate for the possibility of campaign hanky-panky certainly exists."
Campaign staffers also note each incident, including today's early morning incident, has followed closely on the heels of a confrontation with Cindy Sheehan's opponent Nancy Pelosi. This morning's incident occurred after an on-air confrontation between the two candidates on KQED's public affairs program Forum with Michael Krasny on Wednesday morning.
"Each time we confront her, each time we ask her for a debate, each time we gain ground in the polls, something horrible happens," said Burns. "Once or twice might be a coincidence, but such a consistent correlation is hard to ignore."
SOURCE Cindy Sheehan; Cindy for Congress
Cindy is being haunted.  Heh.  Honestly, I think the odds of them creating these incidents themselves, for the press coverage, are fairly high.  I might be wrong. 
Instead of happily landing in our destination of choice, I spent the majority of the day running around like the headless chicken.  Going back and forth, to and fro, inside and out.  If I drank, I'd seriously be considering having a major hangover tomorrow!
And to top it all off, while on my way home, my brakes decided they needed to be replaced….IMMEDIATELY!!  So, I headed into the dealership to resolve the problem.  Turns out, that's not all that was wrong.  We're talking serious metal on metal, and some dodad that was frozen, and something else.  The guy looked at me like I was crazy for driving the car like that.  Well, I'd agree….DUH!  That is why I was there, right?  Sheesh!
Long story short, this has been the second worse day of my life.  :?  I'm now carless, at least until tomorrow afternoon, so I sure hope I got everything done that needed to be done so we can leave next week!  Sheesh!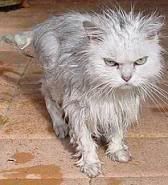 Dear Fellow Business Owners
As a business owner who employs 30 people, I have  resigned myself to the fact that Barack Obama wll be our next President, and that my Taxes and Fees, will go up in a BIG way.
To compensate for these increases, I figure that the Customer will have to see an increase in my fees to them of about 8%. I will also have to lay off 6 of my employees. This really bothered me as I believe we are family here and didn't know how to choose who will have to go.
So, this is what I did. I strolled thru the parking lot and found 8 Obama bumper stickers on my employees cars. I have decided these folks will be the first to be laid off.
I can't think of another fair way to approach this problem. If you have a better idea, let me know.
I am sending this letter to all Business owners that I know.
Courtesy of Mr Ol' Broad.
1 Corinthians 1:3-6
3 Grace be unto you, and peace, from God our Father, and from the Lord Jesus Christ.
4 I thank my God always on your behalf, for the grace of God which is given you by Jesus Christ;
5 That in every thing ye are enriched by him, in all utterance, and in all knowledge;
6 Even as the testimony of Christ was confirmed in you: