An Ol' Broad's Ramblings
Archive for 10 October 2008
Government pushes for global halt to executions
Italy's Foreign Minister Franco Frattini  on Friday reiterated the Government's commitment to end executions worldwide.
"Minister Frattini expresses his strong support for moves worldwide to abolish the death penalty," said a statement from Italy's Foreign Ministry, released to mark the European day against the death penalty.
I guess Mr Frattini wants to supply food and housing for child murderers, mass murderers, etc. I don't know….can he afford to support ALL of them?
The Italian Foreign Ministry's statement backed the resolution approved last year by the United Nations' General Assembly calling on states to halt all executions immediately and enact bans on capital punishment in their legislation.
Here's a "WHO GIVES A FLYING FLIP" about what the Useless Numnuts say or do? They are nothing more that child murderers and rapists themselves!
"Reports of the execution of minors and other vulnerable people are a particular cause for concern," the statement said.
Perhaps they should have a "chat" with those nice folks in Iran about that!
"The death penalty constitutes a violation of the most fundamental of human rights: the right to life," said an EU statement.
Psst! EU!

Well, I suppose those 'civilized' types over there don't much care about the victims of the scum who kill for the fun of it. I've no doubt they'd have been against capital punishment for Hitler, eh?
The Rome-based Hands Off Cain, which campaigns to stop the death penalty, estimated that China executed least 5,000 people in 2007.
Iran had the second highest number of executions, with 377 in 2007, according to campaign group Amnesty International.
The United States was fifth in the rankings with 42 executions, 11 less than in 2006, Amnesty said.
Big difference? We don't execute children (although there are some who SHOULD get the death penalty), or gays.
And then this, swiped from covertress:
Even though this house was only 5 years old when we bought it, there have been things going on that makes us think the people we bought the house from were doing a 'flip' job.  We found that the a/c-heater was much older than the house, and apparently, the original had been removed, and a seriously cheap piece of crap replaced it.  Naturally, it crapped out the day I got out of the hospital last year, on the HOTTEST day of the year.  Ever been ill, suppose to take it easy, living in a house where the night time temp was over 100?  Not pleasant.  So, we bought a new one.
Not all that long ago, the refridgerator started acting up.  Instead of waiting till it totally stopped working, we got a really nice stainless one.  It's sooo cool!  All kinds of snazzy dodads.
Of course, shortly after, the kitchen sink starting acting up.  Lowe's has some really nice ones, and I'm quite happy with the new one. 

NOW?  Well, somehow, I managed to break it.  NO, it was NOT intentional.  Would I do something like that?  Did you know that ceramic bowls bounce without breaking?  But it sure can do some serious damage to a stove top.  The whole bloomin' thing is all cracked.  We were advised that it would cost almost as much to get it fixed as it would to buy a new one….to match the fridge and sink, naturally.  We can't use the stove top, and I don't do a whole lot of baking, so, what it's doing right now is gathering dust.  Why not get a new one?
Now, if you are going to go to all the trouble of getting a new stainless stove, you might as well have the microwave to match, right?  They're suppose to deliver the stove tomorrow (do I have to cook?) and the nuker will be installed in a week or so.
Maybe next year, the white dishwasher will crap out. 

Job losses. High gas prices. Times are tough. That's why we need new leadership. That's why it's time to vote Vance Dennis for State Representative. Vance will use his experience as a farmer and as an attorney to fight to keep our jobs and to recruit new ones. He will work hard for our children's schools and for more health care choices for our seniors and working families. Vance will oppose higher gas taxes and will never vote for a state income tax. Vance knows West Tennessee has been overlooked for too long, and he will get us back on the right track. Thanks for your support for Vance!
You're invited! Fish fry Monday night
Lt. Governor Ron Ramsey is hosting an early voting kickoff fish fry in support of Vance Dennis for state representative and Dolores Gresham for state senator Monday night at 7:00 PM at the Adamsville Community Center. The fish will be good, and the best part is that it is free! Come join us!
Rally with the Honorable Bill Frist, M.D.
The honorable Bill Frist, former majority leader of the U.S. Senate, will be visiting West Tennessee for a rally in support of Vance Dennis on Thursday, October 16, at 3:00 PM at the Bethel Springs Community Center, 40 S. Parkway, Bethel Springs, TN (McNairy County). Come meet Senator Frist, Vance, and other supporters!
Upcoming events

With election day only weeks a way, there are lots of upcoming events. Mark your calendar for:
October 13: Area-wide early voting kick-off rally and fish fry featuring Lt. Governor Ron Ramsey at the Adamsville Community Center, 7:00 PM
October 16: Rally with the Honorable Bill Frist, M.D., former Majority Leader of the U.S. Senate, Bethel Springs Community Center, 3:00-4:00 PM
October 15-30: Early voting
November 4: Election day
Secret Service questions Lufkin woman over alleged Obama threat
A Lufkin woman received a surprise visit from the Secret Service last week because of a "death threat" comment she reportedly made about Sen. Barack Obama to a campaign volunteer asking for her support of the presidential candidate.
Two federal agents arrived at Jessica Hughes' home Thursday to ask her if she said, "I will never support Obama and he will wind up dead on a hospital floor."
Hughes said her words were deliberately twisted by a volunteer who was apparently unhappy Hughes was rude during a phone conversation. The Lufkin mother, a Republican, said she received a call on her cellphone Wednesday from a woman with the Obama Volunteers of Texarkana.
"She asked if I was an Obama supporter, to which I replied, 'No, I don't support him. Your guy is a socialist who voted four times in the state Senate to let little babies die in hospital closets; I think you should find something better to do with your time.' (And then) I hung up."
Now, where in that statement does it say ANYTHING about Bubba Hussein dying on the 'floor'???? Gee, ya think maybe that BO drooler was….GASP…..LYING?
In light of this recent story, nothing is surprising me anymore. With the extreme voter fraud from the left, why should anyone be surprised that BO supporters would LIE?  (Psst….ACORN is NOT non partisan!)
You can kiss America, the way you knew it, goodbye.
Connecticut High Court Permits Gay Marriage
Connecticut's Supreme Court has ruled that same-sex couples have the right to marry, making that state the third behind Massachusetts and California to legalize such unions.
The court agreed with the plaintiffs, who said the state's marriage law discriminates against them because it applies only to heterosexual couples, therefore denying gay couples the financial, social and emotional benefits of marriage.
Eight same-sex couples sued in 2004, saying their constitutional rights to equal protection and due process were violated when they were denied marriage licenses.
Our society has surely sunk below the level of decency.
Now, if the gubmint folks would shut up, stop the tinkering, and people would stop panicking, we can weather this too.
Bush: Anxiety Persists, Economy is Resilient
President Bush said Friday that "anxiety can feed anxiety," causing a market panic, but his administration is working aggressively to provide the tools to restore liquidity and sanity to capital markets.
In remarks from the White House Rose Garden, the president also warned anyone against trying to make a fast buck on the financial crisis and reassured Americans that their money is safe.
"We are concerned that some investors could take advantage of the crisis to illegally manipulate the stock market," Bush said. "Anyone caught engaging in illegal financial activities will be prosecuted."
Ok, so when are they going to start issuing warrants to Barney Frank and his buds?
"The American people can be confident in our economic future. We know what the problems are, we have the tools to fix them and we're working swiftly to do so," he said.
The president spoke ahead of his Saturday meeting in Washington with finance ministers and central bankers from the Group of Seven industrialized countries — the United States, Japan, Britain, Germany, France Italy and Canada. The officials are also meeting with Treasury Secretary Hank Paulson, who is spearheading the administration's financial rescue.
Since NO ONE has any confidence in Bush or any other putz in D.C., or New York, I'd suggest they ALL stop talking, and stop trying to convince us they have the answers. Shoot, they don't even have the questions!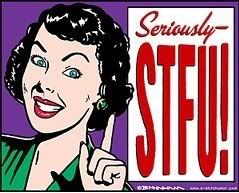 Senators disown McCain mortgage plan
After Sen. John McCain detailed for a national audience Tuesday "my proposal" to have the government buy out bad mortgages, his presidential campaign Thursday said he was actually following in the footsteps of proposals by Sen. Hillary Rodham Clinton and others.
I don't give a flip whose idea it was, it still sucks. Enough with the tinkering!
Bush poised to talk about economic crisis
President Bush is ready to make a statement to the nation about the crisis in the credit markets that has caused substantial sell-offs on Wall Street.
Bush a week ago signed a $700 billion bailout bill into law. In advance of what is expected to be reassuring words from the president, the Dow Jones industrials futures plunged 185 points ahead of the opening bell Friday.
White House press secretary Dana Perino said Thursday night that the Treasury Department, the Federal Reserve and the Federal Deposit Insurance Corporation all have the necessary tools to deal with the problem. Bush will deliver his remarks at about 10:25 a.m. ET from the White House Rose Garden.
Oh PLEASE….don't talk! Every time one of you yahoos opens your mouth, things spiral even farther out of control. Just zip the lip!!  NONE of you have the "tools" to do anything more than make matters worse!
A long, hot winter for Pakistan
The Taliban are escalating the conflict in Pakistan's cities, aiming to strike before the US and its partners can dig in for the all-out war that all quarters – the Western ruling establishments, Afghan government, Pakistani ruling military and political establishment and the two US presidential candidates – tacitly agree must be waged against the Taliban and al-Qaeda inside Pakistan.
Those animals are not going to go away peacefully. Large bombs. Many places.
$90 million lawsuit filed in deadly Orange Mound fire
Survivors of the seven people who died in an apartment fire this summer in Orange Mound filed suit Thursday against the property's owner, the city and others for allegedly allowing dangerous conditions to exist.
The Circuit Court suit says electrical problems at the rental property were ignored or were not properly repaired, that there were no working smoke detectors and that the triplex did not have at least two modes of exit.
This is why I have problems with lawsuits. Not the fact that there shouldn't be one, there should. It's the ridiculous dollar amounts people come up with that puts the bug up my butt. Where do they get these numbers? This family would have never seen such an income in their entire lives. Yes, lives were lost, and it's horrible, but let's try to put some reason in with the grief. Their lawyer is looking for a HUGE payday. The people wouldn't see much of that amount even it was awarded.
NATO defense ministers Friday authorized their troops in Afghanistan to attack drug barons blamed for pumping up to $100 million a year into the coffers of resurgent Taliban fighters.
"With regard to counter-narcotics … ISAF can act in concert with the Afghans against facilities and facilitators supporting the insurgency," NATO spokesman James Appathurai said, referring to the NATO force.
The United States had been pushing for NATO's 50,000 troops to take on a counter-narcotics role to hit back at the Taliban, whose increasing attacks have cast doubt on the prospects of a Western military victory in Afghanistan.
Well jiminy crickets! Where the hell have they been for the past seven years? Where did they think the bad guys were getting the money to fund their little terror reign. Sheesh!
Climate change forcing animals to move up
From the mountains of Yosemite to the tropical lowlands of Costa Rica, global warming is forcing animals and plants to move to higher and higher elevations, searching for climates that have allowed them to evolve and thrive for millions of years.
The exodus from less tolerable habitats to cooler and more benign environments has been taking place for nearly a century, according to scientists who scrambled over rocks and ridges, through steamy rain forests and up steep volcanic slopes to complete their painstaking surveys.
Uh huh. And what were these critters doing for the hundred years before, or the thousand years before that? Give me a break people! Climate changes. Deal with it! Get over yourselves. The world has been changing for millennium…you are NOT that important, and you can NOT control it!  This might be proof that animals are a lot smarter than some people…..they adapt.
Kuwait: Nuclear Iran would alter regional balance, says expert
A nuclear Iran would severely alter the balance of power in the region, the head of a leading Middle East think-tank has told Adnkronos International (AKI).
"With only one atomic bomb in its arsenal, it (Iran) would become an insurmountable regional power, a fact that would not contribute to the stability and security of our region," Sami al-Faraj, president of the Kuwait Centre for Strategic Studies told AKI.
Yeah….with nutbars in charge, it would be a definite problem!
Hamas-Linked Charity Sues US Gov't to Unfreeze Funds
The "Kindhearts for Charitable Humanitarian Development" organization filed a lawsuit in federal court in Toledo, Ohio on Thursday, demanding that the government unfreeze its assets.
In 2006, the U.S. Treasury Department ordered banks to freeze the organization's accounts, due to suspicions it was serving as a conduit to groups that were linked to the Hamas terrorist organization.
Sure, go ahead, unfreeze those funds, and distribute them to the people Hamas has terrorized.
Freshman arrested in threats at MTSU
Justin Davis, of Antioch, will face terrorism and arson charges. He was arrested at 5 p.m. Thursday and is reportedly cooperating with authorities.
Davis' arrest followed a day of intensified police presence on campus and the cancellation of classes for the rest of the week.
Students packed their cars to get an early start on a fall break that would have started at the end of the day today. Worried parents phoned students on campus to find out what was happening.
Throw the book at him!
S.S. D.D.
Psalm 119:33-40
33 Teach me, O LORD, the way of thy statutes; and I shall keep it unto the end.
34 Give me understanding, and I shall keep thy law; yea, I shall observe it with my whole heart.
35 Make me to go in the path of thy commandments; for therein do I delight.
36 Incline my heart unto thy testimonies, and not to covetousness.
37 Turn away mine eyes from beholding vanity; and quicken thou me in thy way.
38 Stablish thy word unto thy servant, who is devoted to thy fear.
39 Turn away my reproach which I fear: for thy judgments are good.
40 Behold, I have longed after thy precepts: quicken me in thy righteousness.