An Ol' Broad's Ramblings
Archive for 17 October 2008
Did Barack "Spread the Wealth" Obama Just Blow the Election?
No. Really. You're kidding me. Barack Obama actually told that Joe the Plumber guy that he wants to "spread the wealth around." What, did Obama just get done reading the Wikipedia entry on Huey "Share the Wealth" Long or something? Was he somehow channeling that left-wing populist from the Depression? Talk about playing into the most extreme stereotype of your party, that it is infested with socialists.
Read the rest here.
That clown, Shelley Wynter, is no where near a conservative and for him to claim he is, is beyond the pale. No TRUE conservative would EVER support Barack Hussein Obama. The man is flat out LYING!
Check out James T. Harris' site (also on my Blogs I Frequent list), The National Conversation. He's GOOD!
Swiped from silent E speaks.
Well, since the local fish wrap's web site is a week behind (trust me, cuz I read it, even though there's no date), I'm going to have to practice my typing and y'all are going to have to take my word for it.  Here's what we have on the front page.
City of Crump to Mark 20th Anniversary
The city of Crump celebrates the 20th anniversary of its incorporation Saturday with activities at the city park and community center Saturday.
Motorheads will appreciate the car and motorcycle show which starts at 10 a.m., and bands with performers such as Wayne Jerrolds, Billy Morris and more will be performing through the day under the park pavillion.
This is kind of cool.  The Mr is going to do a little pickin' and grinnin' with Wayne Jerrolds, sometimes around 10 or 10:30.  There's also a 'cake walk'.  Gracious sakes!  Haven't seen one of those in decades.  I even bought a cake to donate.  Whut!  You actually think I was going to bake one?

County Sued Over Pothole
The roads in even the more exlusive parts of Hardin County are not immune to potholes, a motorcyclist and his wife know to their misfortune.
Physician Timothy Klein and Angela Klein have filed a suit in Curcuit Court seeking $600,000 for personal injuries after they hit a large pothole on Northshore Drive.
However, hardin County Highway Superintendent Paul Blount says Northshore is not a county road and not the county's responsibility to maintain.
Blount said he believes the county may have intially accepted the road, but then the developer took it back.
The developer "didn't want us in there.  It is not on our road list of the time of the accident," he said Tuesday.  "I know that for sure."
Ok, I gotta tell ya, other than U.S. 64, the roads around here pretty much suck!  Maintenance doesn't seem to be high on the list of priorities.  Granted, I've seen worse, but the side roads are unbelievably bad.  Hope the couple are ok.
Childers is running as an independent candidate
State representative candidate Shephen Childers is giving citizens in Tennessee's 71st District a chance to vote for someone other than a Republican or Democrat.
Neither party "has a corner on the market of good ideas," said Childers, the 33-year-old youth and children's minister at First Baptist Church in Savannah.
The candidate said he decided to throw his hat in the ring because "I felt that our current representative, Randy Rinks, had lost touch with the people of decatur, Hardin and McNairy counties and was more concerned with Nashville."
Kind of odd.  Randy Rinks isn't running again, so I'm not too sure what this guy is talking about.  Obviously, I didn't vote for him, considering I have a Vance Dennis link on my sidebar.
Just Ducky (there's a picture, but since there's no link, and I don't feel like scanning it….it's a guy in shorts with a lot of little rubber duckys)
Savannah manufacturer Design Team's Realy for Life team is organizing a Tennessee River Duck Run to raise money for the American Cancer Society and its fight for a cure.
Participants make a contribution to sponsor a duck and the first to float across the finish line wins $300.
The ducks, shown being checked for proper buoyancy by John McRae, will be released at noon on Nov.1.  The event at Wayne Jerrolds  Riverside Park in Savannah also offer family activities including Party Jumpers and food available from 10 a.m. to 2 p.m.
To sponsor a duck or for more information, call VaRand Sevier at ###-####.
Ok, if you seriously want to sponsor a duck, I'll send ya the number through email.  It's a good cause, but we won't be here.  I might give 'em a call m'self, and sponsor a duck.
Quarry gets pros, cons at hearing
A proposed limestone rock quarry to be dug near the intersection of Pyburn Road and Tenn. 69-S has its friends and foes.
Initially projected to create six jobs at the site itself, along with work for gravel truck drivers, the location across from the Horse Creek Wildlife Refuge and Animal Sanctuary has drawn opposition from the charitable organization and its supporters.
On the other side are the owner of the property, Elton Johnson, and his friends and family.
(…)
Johnson referred to Horse Creek's owner, Ron Pickard, as a "rich neighbor" trying to control the surrounding area and who uses the charity as a tax write off.  "Is there a health hazard in limestone rock?" he said. If there is, "then Hardin County is polluted from one end to the other."
Horse Creek Wildlife encompasses more than 2,000 acres devoted to the safety and security of wildlife native to the area.  It houses and cares for abandoned domestic animals and seeks homes for them.
Well, I am all for creating jobs, but if you had ever seen Horse Creek, it's beautiful and should be kept that way.  Being covered by limestone dust from the quarry wouldn't do much for the scenery.  The shelter for the animals, mostly dogs, is close to 69, so personally, I don't think it's such a great idea.
Voters can cast ballots early
Early voting for the Nov. 4 election is now underway at the hardin County Election Commission.
During the early voting period, the office in the basement of the county courthouse on Main Street is Savannah is open weekdays from 8:30 a.m. until noon, closes from nonn to 1 p.m. for lunch , and reopens from 1 p.m to 4 p.m.
Ok, what about the folks who are taking their lunch hour to go vote?  And most folks work past 4, right?  Hmmm…
On Saturdays, the Election Commission office is open for early voting from 8:30 a.m. until noon.
Ah ha! Welp, since the Mr and I have already voted, not a problem.
There ya go!  The front page of our weekly paper, The Courrier.  Aren't you impressed? 
Arpaio raids Mesa City Hall; mayor outraged
Sheriff Joe Arpaio traded angry words and accusations with Mesa officials Thursday after 60 deputies and posse members armed with search warrants stormed City Hall and the public library in the middle of the night in a hunt for illegal workers.
"I believe the safety of our citizens was gravely compromised" when Maricopa County sheriff's deputies in "battle gear" swept into city buildings about 2 a.m. while cleaning crews were at work, Mesa Mayor Scott Smith told reporters. "I believe we had set the scene where bad things could have happened."
Arpaio defended his tactics, claiming the raid came only after a former city employee called the sheriff's illegal-immigration hotline to report that a cleaning company under contract with the city was hiring illegal immigrants.
If the freakin' mayor has issues with upholding the law, perhaps he should find another line of work!
I am getting so sick of elected officials not giving a happy crap about the people who put them into office. Sure, let's let people break the law, cause mayhem, kill our citizens, bring drugs into the country, cost the taxpayers BILLIONS every year. Yeah, that's what we'll do…..SCREW LEGAL CITIZENS!
In my book, Sheriff Joe is a HERO!  Wish we could find more like him, and get rid of all the illegal loving pissants in D.C. and every where else across the country!
H/T: The Jawa Report
And then he shows a great deal of class with a good deal of humor!
To be fair, B. Hussein got a few good jabs in, although his delivery wasn't the greatest. Or maybe I'm just biased?
Humility and awesomeness? Uh huh. Ok, it was humorous. Barack "Steve" Obama. Heh. However, his deliver still isn't all that terrific. Where's the charisma I keep hearing about?
Nice mention of Tim Russert.  He's right.  Russert is sorely missed in this campaign!
But I have to tell you, I'm extremely offended by a person who quotes scripture, yet supports baby murder!
Totally swiped from covertress!
Now I don't have to hold my nose when I change the channel at 6pm (central)!
Glenn Beck Ditches CNN for Fox
The Fox News Network has finally settled on an anchor for their 5pm slot—Glenn Beck!
Beck's move from CNN to Fox was announced by Fox in a press release today.
Fox Chairman Roger Ailes said, "As we embark on a new political landscape, Glenn's thought provoking commentary will complement an already stellar line-up of stars at FOX News."
Beck said, "I am thrilled and profoundly humbled to have the chance to bring my program to FOX News. Expanding my audience is exciting, but I'm really looking forward to joining Mr. Ailes and his world-class team."

Hawaii Ending Universal Child Health Care After 7 Mos.
Hawaii is dropping the only state universal child health care program in the country just seven months after it launched.
Gov. Linda Lingle's administration cited budget shortfalls and other available health care options for eliminating funding for the program. A state official said families were dropping private coverage so their children would be eligible for the subsidized plan.
"People who were already able to afford health care began to stop paying for it so they could get it for free," said Dr. Kenny Fink, the administrator for Med-QUEST at the Department of Human Services. "I don't believe that was the intent of the program."
Now seriously, if you could get something for "free", even though you could pay for it, wouldn't you do it? That's the big problem with this so called 'universal health care' crap!  Too many have the mind set, 'why pay for it if someone else will?'!
Vast 'City of the Dead' Found Underneath Rome
Workers renovating a rugby stadium have uncovered a vast complex of tombs beneath Rome that mimic the houses, blocks and streets of a real city, officials said Thursday as they unveiled a series of new finds here.
Culture Ministry officials said that medieval pottery shards in the city of the dead, or necropolis, show the area may have been inhabited by the living during the Dark Ages after being used for centuries for burials during the Roman period.
It is not yet clear who was buried in the ancient cemetery, but archaeologists at the still partially excavated site believe at least some of the dead were freed slaves of Greek origin.
They're just finding all kinds of cool things over there.
Churches' voter guides slip past IRS ban
Under IRS regulations, nonprofits and churches are prohibited from directly or indirectly participating in, or intervening in, any political campaign on behalf of any candidate for public office. But churches are allowed to discuss political issues and distribute voter guides informing members where various political policies fall within the framework of their faith.
Seriously, who gave the IRS the right to violate the U.S. Constitution? Are they looking into Trinity? Heaven knows, there was a LOT of politicking going on there, probably still is. Oh, wait a minute….I get it. Churches only get in trouble if the pastor talks about Republican candidates. Endorsing socialists, aka Barack Hussein Obama, is just fine. Got it! Well, if you attend a church that follows the REAL Word, then there shouldn't be any question about it!
Pakistan does some US dirty work
Pakistan's seven-year association with the United States' "war on terror" has moved to a new and dangerous level: the US has given it a contract to build 1,000 Humvees for use by troops in Afghanistan against the Taliban-led insurgency.
The fact that Pakistan is now providing the hardware for the "war on terror" is a highly sensitive issue, given the already inflammatory situation that exists in the country over Islamabad siding with Washington in this fight against terrorism.
So, instead of providing jobs for Americans, the gubmint passes off the work to a country that, contrary to some beliefs, is NOT really a true ally. Smart move asshats!

S.F. to return $5.2 million in federal funds
San Francisco officials have agreed to pay back $5.2 million in federal grant money the city now admits it was not entitled to under a U.S. program to compensate local law enforcement for fighting border crime.
The U.S. Justice Department audited its Southwest Border Prosecution Initiative grant program last year and concluded that San Francisco – through a private consultant – had applied for money it was not entitled to claim for prosecuting cases for federal authorities and incarcerating defendants.
Rather than basing its claims on specific cases that federal officials referred for local prosecution, as required by the program guidelines, the city and its consultant determined that the city should be paid for 30 percent of all drug-related prosecutions.
Pfft! As far as I'm concerned, San Fransisco is on it's own, and should be give one single dime of taxpayer money. It could slide right into the Bay, and it wouldn't bother me a bit. Matter of fact, I think the country would be a WHOLE lot better off!
Poll: Voters souring on McCain, Obama stays steady
People's regard for the Republican presidential nominee has deteriorated across the board since September, an Associated Press-Yahoo News poll showed today, with McCain losing ground in how favorably he's seen and in a long list of personal qualities voters seek in White House contenders.
Perceptions of Obama have improved or remained steady. Beyond views of the two rivals' character traits, McCain faces another problem — Obama is more trusted on the economy, the contest's commanding issue, including a 15 percentage-point edge for better grasping how the raging financial crisis is affecting people.
Well, if someone bothered to ask me, I'd say McCain wasn't the best choice the RNC could have made. We didn't choose him, he was chosen for us. But that doesn't mean you aren't going to have those "soured" aren't going to vote for him. And those folks who think Bubba Hussein has a grasp on the economy???

(*****, please!) His socialistic plans are going to make the poor, even more poor, and bring everyone else down too. Not to mention the fact that his running mate can't even count to FOUR!
Bush to give pep talk to anxious country Friday
Wild gyrations on Wall Street, a loss of confidence in the U.S. banking system and worries the economy will be weak for some time are raising Americans' anxiety level.
Against this backdrop, President Bush on Friday was to give the nation a more detailed explanation of what the government is doing to battle the worst financial crisis in more than a half-century.
Dear Lord in heaven! Don't! The reason people are anxious out here in the REAL world is cuz those yahoos in D.C. keep bumping their gums!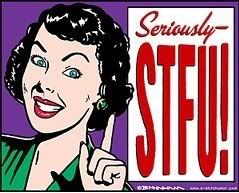 Pakistan: Girls' school 'blown up in northwest'
Suspected militants on Friday blew up a girls middle school in Mingora, in the volatile Swat valley in North West Frontier Province, Pakistan's Geo News reported.
The bombing follows a rocket and suicide attack on Thursday against a police station in Mingora that killed at least four Pakistani security officials and wounded twenty-six.
Militants? Oh please! Call them what they are: Female hating Muslim terrorists!
Forget my bonus, says bank boss Josef Ackermann
THE head of Germany's biggest bank, Deutsche Bank, will forgo his annual bonus of several million euros to show solidarity with staff in this time of financial crisis.
"I told the Deutsche Bank supervisory board that I am renouncing my bonus in this difficult year in favour of hard-working staff that need the money more than I do," Josef Ackermann told Bild am Sonntag.
Wouldn't it have been nice if a few banks in the U.S. had folks like this guy? Could have saved a lot of grief. Ya know, I don't begrudge anyone a bonus for a doing a good job, but these clowns do a piss pour job, send the American economy into a tailspin and they get millions. Where's the logic?
Middle East: Bush offers Golan Heights withdrawal, report says
A report in a Kuwaiti newspaper claims that Palestinian leader Mahmoud Abbas delivered a secret letter from US President George W. Bush to Syria's President Bashar al-Assad offering Israel's withdrawal from the disputed Golan Heights
In exchange for Israel's withdrawal, Syria would have to end the 'Syrian-Iranian' alliance once and for all.
Uh….since when does the American President have the power to tell Israel it has to withdraw from it's on land??
Gaining control not a big concern in state senate race
Control of the state Senate hangs in the balance, but the candidates in what may be the pivotal race said Thursday that's not uppermost on their minds.
While saying it's important to many people, Morgan County Executive Becky Ruppe, a Democrat, said she's not running to tip the current balance (16 Democrats, 16 Republicans, one Independent).
I beg to differ, it is important. See, even if they 'think' something is not partisan, it actually is. The perspective on any issue seems to be a lot different if you are a conservative or a liberal. Let's just drop the party names, and call it what it is. Ok, maybe Republicans aren't conservative anymore, but I have hopes of bring them back to the basics. Democrats want more control over people's lives, I'd say that state issues have a whole lot to do with that, wouldn't you?
S.S. D.D.
Romans 10:8-13
8 But what saith it? The word is nigh thee, even in thy mouth, and in thy heart: that is, the word of faith, which we preach;
9 That if thou shalt confess with thy mouth the Lord Jesus, and shalt believe in thine heart that God hath raised him from the dead, thou shalt be saved.
10 For with the heart man believeth unto righteousness; and with the mouth confession is made unto salvation.
11 For the scripture saith, Whosoever believeth on him shall not be ashamed.
12 For there is no difference between the Jew and the Greek: for the same Lord over all is rich unto all that call upon him.
13 For whosoever shall call upon the name of the Lord shall be saved.