An Ol' Broad's Ramblings
Archive for November 2008
….and so did the traffic!  I was OUT of Arkansas!

Dear heavens!  What insanity!  It was seriously like daylight and dark!  Hit Texarkana, and traffic started moving quite normally!  And there was a LOT of traffic on the highway today.  Everyone heading home I suppose.  Everyone, that is, but ME! 
After sleeping for 11 hours last night, we set off on the last leg.  No time for breakfast at Waffle House the kid wanted.  Check out time was 11 and I opened my eyes at 10:50.  No idea why I slept so long, other than maybe I needed it?
So, here I am, finally in Dallas, sitting in a motel room, after doing battle with the poor girl at the desk.  I'm about at the point that the whole Intercontinental bunch can bite my hinder!  I made my reservation, two nights, smoking.  With confirmation in hand, I walk in and the kid tells me they don't have any smoking rooms.  Well, guess who went off on the kid?  Normally, I'm quite patient, but not today.  This is the second time they've screwed up my reservation at this hotel.  Was NOT having any more of it.  Long story short, I told her to call her manager, and inform this person that I would be smoking in my non smoking room, and if they didn't like it…too flippin' bad!  After a good 15 minutes of back and forth, I have two ashtrays. 
It turns out they let all the maids off for Thanksgiving.  NOT my problem!
I'm sick, I'm old, and I'm about as grouchy as I can be after doing battle with loony 'toon drivers in Arkansas and dealing with a 10 year old with attitude……when given half a chance, is pretty dadburn grouchy!  Ok, add to all this the fact the temp control thingy does not work, and we have one fairly crabby ol' broad!  I'm FREEZING!  Now, while this would be great for sleeping, and I'm considering digging my earmuffs out of my suitcase.  I brought 'em just in case…..  I think this is one of those 'in case' scenarios!  I can't even turn the thing off!  Sheesh!
Am I home yet?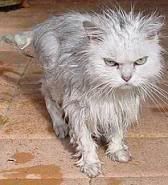 My opinion of the drivers in Arkansas has not changed!  Good heavens!  Yes, I am aware, there are people from other states driving through, but all the horrible ones have Arkansas tags.
I have come to the conclusion the entire state needs 3 lanes.  Far right for the pokiest, those who can't get above 40mph!  Middle lane for folks who can read….like "Speed Limit 70″!  And the far left for people who don't think there is any limit whatsoever for them.  You know the ones….they insist their vehicles can do Mach 10, and try to prove it!  Unfortunately, most of the time, there were only 2 lanes, and neither of them could do the speed limit.  What was with all the slamming on the brakes?  And I do mean slamming.  I came very close to becoming a pancake.  Not because I was tailgating….I don't…but because the yahoos in front of me don't know what that peddle on the right is for, AND a tailgating yahoo behind me.
Now, one thing that causes to the congestion would be the different speed limits for cars and trucks.  If a truck can only do a max of 65, that will slow down everyone else, and no one can get around 'em.  And ya know….having State Troopers turning on their lights, slowing down, acting like damn fools, is quite dangerous.  Where do they train these guys?
Oh, and I'd really like to know who decided it was a good idea to have XXX Adult Superstores at every exit between Memphis and Little Rock.
Luckily, we made in one piece to the motel, tired, cranky and hungry.  I broke one of my own rules and went to McDonald's.  It was close….like right next door.  The kid is so bloomin' picky about what she will eat, I didn't feel like arguing about where, or what.  I'm all about easy tonight.
Now, I'm having internet issues.  I think I'll just turn this contraption off, finish watching Santa Clause 2 with the rug rat, and sleep!
Since I'm trying to figure out what I'm going to need for four days on the road, I can't seem to concentrate on anything else.  Gotta take Short Person back to Dallas, spend 2 nights and turn around…make a stop through Vicksburg, and come home.  Doesn't that sound like fun?  Especially when battling with bronchitis?  sigh…   Since I don't drive in the dark anymore, we'll have to make a stop in Arkansas.  I swore I'd never go through there again, if I could help it, but just on the trip going….once is enough.  Do they train people there to be horrible drivers?  Even worse that the Demolition Derby known as Chicago!
I wanna go back to bed!  Sitting in a car for hours at a time with a 10 year old is not my idea of an adventure.  Although, to give her credit, she's not as bad as some.  :)  She even has an immagination, which seems to be sorely lacking in a lot of kids these days.  Nope, the problem isn't the kid….it's this crotchety ol' broad.  Just don't have the patience I use to.  sigh…
Romans 3:10-18
10 As it is written, There is none righteous, no, not one:
11 There is none that understandeth, there is none that seeketh after God.
12 They are all gone out of the way, they are together become unprofitable; there is none that doeth good, no, not one.
13 Their throat is an open sepulchre; with their tongues they have used deceit; the poison of asps is under their lips:
14 Whose mouth is full of cursing and bitterness:
15 Their feet are swift to shed blood:
16 Destruction and misery are in their ways:
17 And the way of peace have they not known:
18 There is no fear of God before their eyes.
What gun is right for you
Classic M1911
The Godfather of all semiautos, This .45 acp is the perfect fit for you! It's a design thats still in use after almost 100 years, so it totally kick ass!!!
H/T: covertress
Post created by Chris from Racine!  (Her first, but surely NOT her last! 
)
Gift certificates for Planned Parenthood
INDIANAPOLIS (WISH) – Gift certificates have become a popular holiday gift option, but a controversial new one, already has people talking.
For the first time, Planned Parenthood in Indiana is offering gift certificates. The organization said a big increase in calls and visits from newly unemployed and uninsured Hoosiers prompted what it calls the unusual, yet practical gift option.
Wow!! Isn't that what you'd like to see in your Christmas stocking??
The certificates come in $25 increments. They can be used for everything from birth control to $58 examinations that include breast exams and pap tests. Men who receive healthcare at Planned Parenthood can use them too.
"They can be seen for sexually transmitted disease screenings, HIV tests and general prostate exams and those kinds of things," said Struben-Hall.
Some Hoosiers 24-Hour News 8 talked to asked if the gift certificates could be used towards abortions. The answer is yes. But, Planned Parenthood said that's not the purpose of the gift certificates.
Struben-Hall said, "They really are intended for preventative healthcare. We decided not to put restrictions on the gift certificates so it's for whatever people feel they need the services for most."
Pardon me while I scoff at that. The first link under health topics on the Planned Parenthood website is Abortion, and clicking the link leads to the following:
"Abortion is a safe and legal way for women to choose to end pregnancy. There are two kinds of abortion in the U.S. — in-clinic abortion and the abortion pill.
Abortions are very common. In fact, more than 1 out of 3 women in the U.S. have an abortion by the time they are 45 years old. "
In fact, the American Life League has some interesting statistics…
2006 Planned Parenthood service numbers
Number of abortions (medical and surgical): 289,750
Total number of abortions per week: 5,572
Adoption referrals: 2,410
Ratio of adoption referrals to abortions: 1 per 120
Let's get real here – Planned Parenthood has an agenda, and that agenda is to kill as many babies as they can get their hands on. And no, it has nothing to do with race…
Percentages of U.S. Women Who Obtained Abortions, Broken Down by Race (According to Center of Disease Control, 2004)
Whites: 54.1%
Blacks: 38.2%
Other: 7.7%
Listen, I understand that there are far too many people who are uninsured, underinsured, or have recently lost their jobs; in fact, this may be a good idea to help those who can't afford it get medical care. However, If they were sincere in the intentions that these gift certificates were to be used for preventative care, I see no problem in putting restrictions on them which state exactly that. Instead, these gift certificates can be used to murder a child. Merry Christmas.
Garage built for local woman serving overseas
Thanksgiving came early to the Sweeney residence in North Fond du Lac. Neighbors collaborated for weeks to replace the driveway and garage on the property.
Sgt. 1st Class Karen Sweeney has been stationed in Kandahar, Afghanistan since January for her second tour overseas. Karen's mother, Sue Haefemeyer, has been watching her daughter, Rachel Sweeney, at Karen's home.
While Karen has been away, the neighbors have pitched in to help Haefemeyer shovel the driveway, trim trees, remove a stump and mow the lawn. The driveway and garage were in rough shape and two neighbors thought repaving the driveway would be a nice thing to do while Karen was away.
"Before Karen left, she said she was going to put up a new garage when she got home," neighbor Al Fink said. "The neighbors thought we should do it before she gets home."
According to Haefemeyer, it was going to be a surprise for Karen, but she had to sign the building permit before the project could start.
More.
Yes, in some neighborhoods, there are still actual neighbors…..not just folks who live on the same block.  And there are still those who care about our troops, and the service they are performing for their country.  Karen is a hard working, decent, single mom, and it's a wonderful thing her neighbors have done for her, and her little girl.  I know Sue worked hard, with Karen's neighbors to get this done before Karen came home, and it looks like they got 'r done! 
Acts 20:35 – I have shewed you all things, how that so labouring ye ought to support the weak, and to remember the words of the Lord Jesus, how he said, It is more blessed to give than to receive.
Metro values could rise 10% in reappraisal
The upcoming reappraisal of all Davidson County property could yield an overall increase in value of 10 percent or more, opening up an array of revenue-generating possibilities for Metro Nashville.
Mayor Karl Dean and the Metro Council could use the results to bring in as much as $70 million — a tantalizing possibility for a city that wants to keep moving forward as much as possible in an economic downturn.
Only a bunch of morons would think that increasing appraisals would be a good idea when the prices of homes and property have been slashed. They migh want to consider going in the opposite direction.  the only thing they'll move 'forward' is the line at the bancruptcy courts.  Idjits!
Putin's Intentions Debated After Shift on 4-Year Term
Now, months after leaving office and becoming prime minister, Putin is helping another relatively young, newly elected Russian president do exactly what he promised never to do himself — rewrite the constitution to extend the presidential term. The abrupt reversal has sparked speculation in Moscow about whether Putin is preparing to take back his old job as president, and why.
Why not just call himself Czar? I'm not sure how Bush saw his soul, cuz I'm questioning whether he's actually got one, or if it's black as tar, in which case, it'd be hard to see anyway when "looking into his eyes".
Texas officials warn parents of babies dying while 'co-sleeping' with adults
Nearly every other day, a baby dies in Texas while sleeping with an adult or older child, marking an alarming phenomenon that causes more child deaths than accidental drownings, state officials said Wednesday.
The Texas Department of Family and Protective Services found that 170 children, nearly all younger than 6 months old, died while "co-sleeping" with a parent, sibling or older caregiver in the 2008 fiscal year. Authorities did not release the causes of death, but experts say suffocation is the most common cause of such fatalities.
"Co-sleep"? What kind of stupid term is that? If you don't have a bed to put the kid in to sleep, use blankets and a laundry basket. Or a drawer. I know it sounds almost 'abusive', but tell me, which is worse….letting the kid sleep in a padded drawer, or rolling over on him/her and suffocating him/her? Seriously! I had to do it with Brat (laundry basket) and Brat Jr (drawer). They survived just fine.  Being poor is not a sin, but being stupid……??
SIEGE AS JEWISH CENTER IN MUMBAI SAID TO BE OVER
A fresh battle raged at the luxury Taj Mahal hotel Friday as commandos fired grenades at that Mumbai landmark while other forces ended a siege at another five-star hotel.
Meanwhile, Indian commandos emerged from a besieged Jewish center with rifles raised in an apparent sign of victory after a daylong siege that saw a team rappel from helicopters and a series of explosions and fire rock the building and blow gaping holes in the wall. The fighting comes two days after a chain of militant attacks across India's financial center that began Wednesday night left at least 143 people dead.
An Israeli rescue service run by Orthodox Jews said that staff it had sent to Mumbai to help at a siege of a Jewish religious center believed that hostages in the Chabad Centre had died, Reuters reported.
The pigs who would do this to innocents have NO right to live. Justice will be served! Maybe not in this life, but surely in the next.
5 Dead in Mumbai Chabad House Terror Attack
After more than 40 hours and a day-long siege by Indian commandos against Islamist terrorists holed up in the Mumbai Chabad House, the operation ended with the discovery that five of the Jewish hostages had been murdered by their captors, including Chabad-Lubavitch emissary, Rabbi Gavriel Holtzberg and his wife Rivka.
My most sincere prayers with the families, of ALL the victims of these animals.
Tax-exempt benefit disputed in Prop. 8 campaign
In the wake of Proposition 8′s passage, opponents are railing that churches that supported the ballot measure violated their tax-exempt status.
It's a common accusation at the now-weekly protests, gaining enough traction that Geoff Kors, a member of the No on 8 executive committee, said lawyers are investigating the issue.
"The Mormon church overstepped its boundaries by being a tax-exempt organization," said Sharone Negev, 54, of San Francisco, who has gone to protests in San Francisco and the Mormon temple in Oakland. "They clearly are not supposed to be involved in political activities."
Because decent God fearing people took their information straight from the Bible, it's 'political'? No, you twit….it's MORAL, and that's where churches MUST step in. Haven't y'all already dragged this country down far enough into the cesspool?
U.K. takes over Royal Bank of Scotland
The British government took control of Royal Bank of Scotland on Friday after investors shunned the lender's share sale, paving the way for a larger government role in Britain's banking sector.
Investors only signed up for 0.24 percent of the shares, which were offered as part of a plan to bolster the bank's capital, and the government had to take up the rest, leaving it with a 57.9 percent stake in RBS. The government agreed to buy a separate block of preferred shares bringing its investment in RBS to about $31 billion. The investment leaves taxpayers already with a paper loss of more than $3 billion, based on Thursday's closing share price.
I told the Mr he needed to sell his stock, but did he listen???? sigh…
City schools could train police
Supt. Kriner Cash intends to turn either Manassas High or Hamilton High into a four-year public safety academy, annually turning out 200 potential Memphis police recruits as early as 2013.
"You don't come out ready to be a police officer, but you are ready to pursue postsecondary training," Cash told The Commercial Appeal's editorial board this week.
Memphis schools can barely teach these kids to read and write. They haven't even bothered with the concept of 'personal responsibility'. What on earth makes them think they could take them through the first step to become a police officer?
Israel wants to 'corner' Hizbullah in EU
Hizbullah's foreign relations officer, Nawwaf al-Moussawi, accused Israel on Thursday of launching "a political and diplomatic campaign to corner Hizbullah in Europe." "This campaign aims to shackle the European role in Lebanon and the region, to impose the Israeli logic and cover up continued Israeli crimes and aggressions, as well as deform the image of the resistance," he said after a visit to the Italian Embassy. Moussawi met with Italian Ambassador Gabriele Checchia and discussed recent developments in Lebanon and the region. Moussawi called on European states to "break the inhumane [Israeli] siege against Gaza." He described the siege as "collective punishment against a political choice." He questioned why the process of starving Palestinians is "met with silence and complicity." "This fosters the belief among the Lebanese that what protects them from Israeli aggression is their own capability of resistance," he added.
They should be 'cornered' somewhere, other than right next to Israel where they could do more damage. As for that 'imposing Israeli logic'? Well, wanting to survive, without the constant threat of Hizbullah hanging over their shoulder, seems pretty flippin' logical to me.
Russia seeks new missiles due to U.S. shield plans
Russia has intensified efforts to develop new ballistic missiles in response to U.S. plans to deploy an anti-missile system in Europe, Interfax news agency quoted a top Russian general as saying on Friday.
The decision by the United States to deploy interceptor missiles in Poland and a radar system in the Czech Republic has angered Moscow, which says Russia's national security will be compromised by the U.S. anti-missile system.
Perhaps if Russia wasn't such close pals with folks who want to destroy, like Iran and Venezuela for example, there would be no need for the defense shields. The fact they want bigger and better missiles just proves the point that they are NOT the peaceful types they'd like people to believe.
Psalm 149
1 Praise ye the LORD. Sing unto the LORD a new song, and his praise in the congregation of saints.
2 Let Israel rejoice in him that made him: let the children of Zion be joyful in their King.
3 Let them praise his name in the dance: let them sing praises unto him with the timbrel and harp.
4 For the LORD taketh pleasure in his people: he will beautify the meek with salvation.
5 Let the saints be joyful in glory: let them sing aloud upon their beds.
6 Let the high praises of God be in their mouth, and a two-edged sword in their hand;
7 To execute vengeance upon the heathen, and punishments upon the people;
8 To bind their kings with chains, and their nobles with fetters of iron;
9 To execute upon them the judgment written: this honour have all his saints. Praise ye the LORD.
If there is nothing to hide, why are so many people having to basically beg the president-elect to produce a document I could pull out of my safety deposit box right now and show the world….if need be.  I'll be real happy to give Obama at least a chance to screw up on his own, but why won't he produce his birth certificate?  Sure, we've seen that scanned thing on several sites, but y'know what?  ANYONE could get one of those.
So, what you need to do, if you haven't already, go and sign this petition!
PETITION FOR PUBLIC RELEASE OF BARACK HUSSEIN OBAMA'S BIRTH CERTIFICATE
To: Electoral College, Congress of the United States, Federal Elections Commission, U.S. Supreme Court, President of the United States, other controlling legal authorities
Whereas, by requirement of the United States Constitution, Article 2, Section 1, no one can be sworn into office as president of the United States without being a natural born citizen;

Whereas, there is sufficient controversy within the citizenry of the United States as to whether presidential election winner Barack Obama was actually born in Hawaii as he claims;

Whereas, Barack Obama has refused repeated calls to release publicly his entire Hawaiian birth certificate, which would include the actual hospital that performed the delivery;

Whereas, lawsuits filed in several states seeking only proof of the basic minimal standard of eligibility have been rebuffed;

Whereas, Hawaii at the time of Obama's birth allowed births that took place in foreign countries to be registered in Hawaii;

Whereas, concerns that our government is not taking this constitutional question seriously will result in diminished confidence in our system of free and fair elections;

We, the undersigned, assert our rights as citizens of the United States in demanding that the constitutional eligibility requirement be taken seriously and that any and all controlling legal authorities in this matter examine the complete birth certificate of Barack Obama, including the actual city and hospital of birth, and make that document available to the American people for inspection.
H/T: Texas Fred's
Think the Ol' Broad will know I was here?? *looks around*
Happy Thanksgiving everyone
Psalm 115
1 Not unto us, O LORD, not unto us, but unto thy name give glory, for thy mercy, and for thy truth's sake.
2 Wherefore should the heathen say, Where is now their God?
3 But our God is in the heavens: he hath done whatsoever he hath pleased.
4 Their idols are silver and gold, the work of men's hands.
5 They have mouths, but they speak not: eyes have they, but they see not:
6 They have ears, but they hear not: noses have they, but they smell not:
7 They have hands, but they handle not: feet have they, but they walk not: neither speak they through their throat.
8 They that make them are like unto them; so is every one that trusteth in them.
9 O Israel, trust thou in the LORD: he is their help and their shield.
10 O house of Aaron, trust in the LORD: he is their help and their shield.
11 Ye that fear the LORD, trust in the LORD: he is their help and their shield.
12 The LORD hath been mindful of us: he will bless us; he will bless the house of Israel; he will bless the house of Aaron.
13 He will bless them that fear the LORD, both small and great.
14 The LORD shall increase you more and more, you and your children.
15 Ye are blessed of the LORD which made heaven and earth.
16 The heaven, even the heavens, are the LORD's: but the earth hath he given to the children of men.
17 The dead praise not the LORD, neither any that go down into silence.
18 But we will bless the LORD from this time forth and for evermore. Praise the LORD.
Now, I'm taking the day off!