An Ol' Broad's Ramblings
Archive for 23 November 2008
Why?  Because I am as sick as the proverbial dog!  Wasn't feeling to swuft even before we got back from Israel, but honestly, I didn't have time to be sick, so, I guess I put it off.  Now, I'm about as miserable as a kid who got a lump of coal for Christmas.  I'll spare ya the details!
So, now, Short Person is here to visit for a week, and I'm suppose to entertain her?  Poor kid is gonna be bored out of her mind and leave thinking Big Mama is even meaner than she thought previously.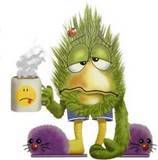 I wonder if Brat would consider taking her back with her….just for her own well being?  Hmmm….  Naw…probably not.  Poor kid would probably end up as a greasy spot on the side of the highway, somewhere in Arkansas.
Psalm 100
1 Make a joyful noise unto the LORD, all ye lands.
2 Serve the LORD with gladness: come before his presence with singing.
3 Know ye that the LORD he is God: it is he that hath made us, and not we ourselves; we are his people, and the sheep of his pasture.
4 Enter into his gates with thanksgiving, and into his courts with praise: be thankful unto him, and bless his name.
5 For the LORD is good; his mercy is everlasting; and his truth endureth to all generations.