An Ol' Broad's Ramblings
30 November 2008, 9:17 pm.
Comments Off
. Filed under
Travel
.
….and so did the traffic!  I was OUT of Arkansas!

Dear heavens!  What insanity!  It was seriously like daylight and dark!  Hit Texarkana, and traffic started moving quite normally!  And there was a LOT of traffic on the highway today.  Everyone heading home I suppose.  Everyone, that is, but ME! 
After sleeping for 11 hours last night, we set off on the last leg.  No time for breakfast at Waffle House the kid wanted.  Check out time was 11 and I opened my eyes at 10:50.  No idea why I slept so long, other than maybe I needed it?
So, here I am, finally in Dallas, sitting in a motel room, after doing battle with the poor girl at the desk.  I'm about at the point that the whole Intercontinental bunch can bite my hinder!  I made my reservation, two nights, smoking.  With confirmation in hand, I walk in and the kid tells me they don't have any smoking rooms.  Well, guess who went off on the kid?  Normally, I'm quite patient, but not today.  This is the second time they've screwed up my reservation at this hotel.  Was NOT having any more of it.  Long story short, I told her to call her manager, and inform this person that I would be smoking in my non smoking room, and if they didn't like it…too flippin' bad!  After a good 15 minutes of back and forth, I have two ashtrays. 
It turns out they let all the maids off for Thanksgiving.  NOT my problem!
I'm sick, I'm old, and I'm about as grouchy as I can be after doing battle with loony 'toon drivers in Arkansas and dealing with a 10 year old with attitude……when given half a chance, is pretty dadburn grouchy!  Ok, add to all this the fact the temp control thingy does not work, and we have one fairly crabby ol' broad!  I'm FREEZING!  Now, while this would be great for sleeping, and I'm considering digging my earmuffs out of my suitcase.  I brought 'em just in case…..  I think this is one of those 'in case' scenarios!  I can't even turn the thing off!  Sheesh!
Am I home yet?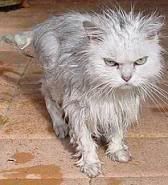 Comments are closed.