An Ol' Broad's Ramblings
Archive for 11 December 2008
Well, it looks like The Courier is a week behind again, so until they update their web site, you're going to have to take my word for it……again.  All our front page news!
Idea would give more education financial aid
A traditionally short pre-Christmas agenda awaits the Hardin County Commission for its December business meeting set for Monday at 6:30 p.m.
Commissioners will take up a request to participate in the "County Covenant Scholarship Program."
According to the Hardin County Mayor Kevin Davis and local education officials., the program is a new workforce development and education scholarship that is a public-private partnership aimed at providing residents of southwest Tennessee counties the opportunity to attend community college or vocational-technical school for free.
Personally, I think it's a terrific idea to provide education to folks, but to say it is "free" is definitely out of bounds.  It may free to the recipients, but it is not free.  Someone will pay for it, like the taxpayers.  Honestly, I don't mind.  This is poor county, and any educational opportunities is a good thing.  Education is a real good way to step out of poverty.
Whooping cranes are rare sight
Fourteen rare whooping crane chicks being guided on their first migration south have been stranded in Hardin County by unfavorable weather since Friday.
The birds, protected by the Endangered Species Act, are the tallest in North America.
The flock left the Necedah National Wildlife Refuge in central Wisconsin on Oct. 17, enroute to St. Marks National Wildlife Refuges along Florida's gulf coast.
Without experience adult birds to teach them the way, the chick are instead being led south across seven states by four ultralight aircraft they have been conditioned to follow.  The imprinting begins while the birds are still in the egg, by exposing them to the sounds of the engines.
How cool is that.  Very reminiscent of that movie, Fly Away Home.  And there's a really cool picture too, but since the website hasn't updated, that's another thing you'll have to take my word for, at least for now. 
Pharmacist has a date in federal court
Nearly three years after being indicted, a Savannah pharmacist charge with distributing controlled substances without a prescription is to appear before a federal judge in Memphis on Jan. 22 to decide whether to go to trial or enter a plea, a federal court official said.
The indictment alleges pharmacist Larry Egan Boatwright engaged in a scheme to divert more than 44,000 tablets of Schedule II and Schedule IV controlled substances from SuperDrugs in Savannah, including hydrocodone, Oxycontin and Methadone.
Also in the March 2, 2006 indictment, Boatwright is also accused of diverting more than 61,000 tablets of controlled substances from Boatwright Drug Company in Millington, Tenn., which is owned by the defendant's uncle.
What is wrong with yahoos like this?  I'll never understand why someone would consciously set out to destroy lives, for monetary gain.  I suppose I just don't have a criminal mind, and I'm rather glad I don't.
School plan cost won't be unveiled yet
Presentation to county commission delayed until January to get a maximum price
A plan on a proposed countywide school upgrade and new construction project will not be presented to the Hardin County Commission for funding consideration until January, local school officials said.
David Long, chairman of the Hardin County Board of Education, said contractors for the school system are still working to provide information needed to obtain a "guaranteed maximum price" for the project.
They want to install a "geothermal system, also called a ground-source heat pump".  Hey, this is some really interesting science type stuff.  Sure wish I could link to it. 
City bans junk cars, unsightly property
Owners of rust buckets on blocks won't be able to skirt Savannah's laws on the storing of junked motor vehicles on their property just by calling a once-beloved car an "antique" under an ordinance tentatively approved by the City Commission.
The change comes as part of a larger amendment to the city's code governing maintenance of private property and junked motor vehicles.
To be classified a "bonafide antique" under the ordinance, the vehicle must bear a state license tag certifying it it as antique, according to Savannah City Manager Garry Welch.
Not a bad idea.  I've never understood the need to keep a rust bucket sitting out in the front yard, up on blocks, with weeds growing up through the floor boards.  This is site ya see a lot around small county towns, and this area is no different.  If it doesn't run, and you aren't gonna fix it, I'm sure there is someone who would be happy to take it for scrap or some such thing.
There ya go!  The front page news from Podunk! 

Go and read this:
The Only 10 Ways the Obama Express will get Derailed
Well, it looks like Obama finds himself waist deep in yet another controversy. But, considering the media and public's reaction thus far it would seem as if the Teflon Man will be able to wiggle his way out of this one too because nothing seems to stick to this guy.
Didn't they call Reagan the "Teflon Don"? I'm thinking Obama is a whole lot slippery than that, but I might be wrong. Doubt it, but maybe.
A correction:  Reagan wasn't called the Teflon Don, although he had been referred to as the Teflon President.
Thanks Fred. 
So, go read the whole thing, K?
….from Texas Fred's!
….but for the love of all that's holy, JUST GO AWAY!  Aw hell, I don't care if ya do get mad!
Obama's Human Rights Opportunity
By Jimmy Carter
The advancement of human rights around the world was a cornerstone of foreign policy and U.S. leadership for decades, until the attacks on our country on Sept. 11, 2001.
Oh, you betcha. And look what it got us….3000 dead!
Since then, while Americans continue to espouse freedom and democracy, our government's abusive practices have undermined struggles for freedom in many parts of the world. As the gross abuses at Abu Ghraib and Guantanamo Bay were revealed, the United States lost its mantle as a champion of human rights, eliminating our national ability to speak credibly on the subject, let alone restrain or gain concessions from oppressors. Tragically, a global backlash against democracy and rights activists, who are now the targets of abuse, has followed.
Psst. Peanut farmer….. while a very few were involved in that so called fraternity prank, and yes, it was beyond stupid…. where are the abuses? Oh, you mean all the hand chopping off, daily beatings, that kind of stuff? Oh, wait a minute….that's YOUR buds who do that….NOT Americans.
President-elect Barack Obama has pledged to shut down the detention facility at Guantanamo Bay and end torture, which can be accomplished by executive orders to close the prison and by enforcing existing prohibitions against torture by any U.S. representative, including FBI and CIA agents. The detention of people secretly or indefinitely and without due process must cease, and their cases should be transferred to our courts, which have proved their competence in trying those accused of terrorism. Further, a nonpartisan expert commission should be named to conduct a thorough review of U.S. practices related to unwarranted arrest, torture, secret detention, extraordinary rendition, abandonment of habeas corpus and related matters. Acknowledging to the world that the United States also has made mistakes will give credence to our becoming "a more perfect union" — a message that would resonate worldwide. Together, these actions will help us restore our nation's principles and embolden others abroad who want higher moral standards for their own societies.
Hey! Here's a thought! How 'bout all those still at Gitmo move in with YOU and the Mrs?
The moral footprint of the United States has always been vast. Our next president has an unprecedented opportunity to lead through example by inspiring and supporting those who would reach for freedom and by being tough and effective with those who would impede freedom's march. All Americans must give him full support.
I guess the president-elect should suck up even more to Muslim terrorists, eh? Is that your answer?
We are fighting a war for our very survival, and all this POS can do is whine.
This bunch has NO right to call themselves a church of anything but evil!
H/T: Newscoma via Twitter
Give the Guy a Butt!
By Ron Rosenbaum
Let me offer a somewhat hyperbolic hypothetical. It's the winter of 2009, and a crisis has erupted between the United States and the former Soviet Union. Putin (surprise!) is acting arrogantly and aggressively, trying to push the new American president around. Do you want Barack Obama, the guy who has his finger on our nuclear trigger, notorious nicotine addict, to be dying for a smoke? All irritable, his nerves and famously smooth temper on edge? No outlet for his intolerable frustration but … a butt. But no butts to be found.
As a smoker, and as one who has tried to quit quite a few times, this is NOT a scenario you want…..anywhere….but especially with a man who has that button close at hand!
Do you want to die because President Obama is dying for a smoke? It's true that smoking would be bad for our 44th president, who's been trying to kick the habit. Lung cancer caused by smoking is a major cause of death in America. Even secondhand smoke is deadly, we're told. But how about secondhand radioactive plutonium? Might that turn out to be a major cause of death (for those not already dead in a nuclear exchange)? Do I have to answer that?
Contrary to what is being pushed by the nannies, EVERYONE has the ability to get lung cancer. You don't have to smoke to get it. You don't even have to be around anyone who does smoke. You either get it, or you don't.
Which is why those who say a president who smokes in the White House would be a bad role model are all wrong. In fact, consider the possibility that he'd be a better, perhaps more effective, negative role model. He'd teach the nation's youth how scary an addiction smoking is: Even the most powerful man in the world is putty in its tobacco-stained hands.
A bad role model? As opposed to the one who used smoking materials for OTHER activities? Yeah…he was a REAL good 'role model', wasn't he. Pfft!  Well, I guess it all depends on what your definition of cigar is, right?
The media don't seem to share my views on this, at least if their recent bout of hysterical scolding is any indication. (Perhaps they're using this issue to show they can be tough on the president they helped elect—about something, however trivial.)
Let me share a little something with you MSM maroons: If smoking in the White House is the "worst" thing he does, I'll be ecstatic! Get over yourselves!
You have to admire Obama's good nature as he puts up with these narrow-minded nannies (addicted to tobacco in their own perverse, negative way) and offers up this masterpiece of obfuscation.
Y'know, when I saw snippets of that interview, I was more inclined to reach through the idjit box and smack Brokaw! Where does all this 'holier than thou' crap come from, anyway? Now, I'm not a BO supporter, but seriously, if his only vice is smoking? I'd be REAL impressed. I suppose the media believes it own propaganda of him being "The ONE"! Pathetic.
Surgery waiting times fall 60% in 12 months
The number of patients waiting more than 12 months for surgery has fallen by 60 per cent, but many patients are still waiting for months for critical tests for cancer and for minor heart procedures, according to new figures.
Maybe they died. Waiting for critical care is a sure fire way to cut the population. Oh yeah, nationalized health care is a REAL good idea!  (insert MASSIVE sarcasm here)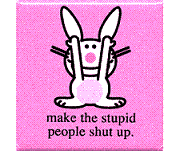 Senate GOP puts brakes on bailout
"I haven't made a final decision that I've announced myself with regard to the proposal that's been negotiated," Mr. McConnell told reporters after a closed-door policy luncheon where Bush administration officials tried to sell Republicans on the deal.
The measure did not appear to have enough Republican support to survive in the Senate, which remains narrowly divided between the parties so that bipartisan support is critical to achieve the 60 votes required to advance most legislation.
I think Dick Morris is right, for a change. Bush HAS had a lobotomy! And anyone who wants to keep their seat should recognize that the only way the problem will be fixed is a complete restructuring, NOT at the expense of the taxpayer. It is not my fault the unions have run the auto industry into the ground, so why should I have to pay for their foolishness? And it certainly isn't my fault that the execs have their heads stuck so far up their hind ends they couldn't see the forest for the trees.
Jesse Jackson Jr. is 'Senate Candidate 5′ in corruption charge against Blagojevich
Jackson's lawyer unmasked the congressman as the "Senate Candidate 5″ mentioned in a federal criminal complaint against Blagojevich, charged Tuesday with hawking Obama's vacant seat to the highest bidder.
Jackson has been among the most ardent seekers of the post, and Blagojevich and his cronies are revealed in the complaint saying that Senate Candidate 5 would be willing to raise $1 million or more for the governor.
Oh, big shocker. Pfft! Apple seldom falls from the tree.
Senate Finance Chairman: Congress Must Spend Money to 'Show it Cares'

Sen. Max Baucus (D-Mont.), the chairman of the Senate Finance Committee, said the federal government is going to have to spend a "significant" amount of money if it is going to get the country out of its current economic troubles — despite rapidly ballooning federal deficits, historic unemployment, and the hundreds of billions already spent.
"One thing we've learned from past recessions, is that you've just got to spend money to get out of it," he said, in response to questions from CNSNews.com.
Moron! You can't spend what you don't have! Printing more money does NOT help. And by the way, ya putz….all your spending hasn't done dick to help anything, or anybody. It's all that spending that got us into this mess to begin with…….PUTZ!
Casino bed tax, smoking ban face tough go
The 2009 session of the Mississippi Legislature likely will turn a cold shoulder to two issues — a statewide smoking ban and a casino hotel bed tax — that the state's struggling gaming industry opposes, members of the House Gaming Committee said Wednesday.
Mississippi casino revenues, especially those in Tunica County, are down for the first four months of the 2008 fiscal year compared to the same period a year earlier. In Tunica, the numbers are down 12.4 percent.
Any attempts to drive potential customers away would further harm Mississippi's gaming industry, the third largest in the country behind Nevada and New Jersey, committee members said.
I know of a few specific people who wouldn't be returning if they passed. Especially the smoking ban! As for their numbers being down? Last time we were down there, it was packed! Some of the casinos might be doing too well, but not the ones we hit.
Arab Muslim Clerics: 'Slaughter the Jews on the Land of Hevron!'
"Oh noble Gaza, raise your head high," he screamed into the microphone, panting heavily. "You have made the Muslims raise their heads high. And you, people of Hebron – you are now waging a war against the Jews. You are well-versed in this. We saw how, on a day in 1929, you slaughtered the Jews in Hebron. Today, slaughter them on the land of Hebron. Kill them in Palestine. Arise, oh people of Palestine, all the people of Palestine – arise in defense of your Al-Aqsa Mosque, arise in defense of Nablus and Hebron. Arise and face the [PA] Preventive Security forces. Fear them not, for they are rabbits. They are wolves, so fear them not, oh lions," he exhorted.
Once again, the religion of pieces rears it's ugly head. Y'know, I don't think I've heard about a Rabbi or Pastor screaming for the murder of ANYONE. But this is what you get from the Muslims. Question: If the 1.7 billion are mostly moderate, why are these pigs still able to screech their venom? Why don't the so called moderates shut them down?
Report: Obama to Offer Israel 'Nuclear Umbrella' Against Iran
President-elect Barack Obama will offer Israel a strategic pact designed to fend off any nuclear attack on the Jewish state by Iran, an Israeli newspaper reported on Thursday.
Haaretz, quoting an unnamed source, said the Obama administration would pledge under the proposed "nuclear umbrella" to respond to any Iranian strike on Israel with a "devastating U.S. nuclear response."
Granting Israel a nuclear guarantee would essentially suggest the U.S. is willing to come to terms with a nuclear Iran, the paper reported.
Gee. How nice of him. He pledges to slap Iran AFTER their attempt to "wipe Israel off the map". (/sarcasm) Seems to me that perhaps preventing Iran from even getting a bomb would go a lot farther in helping Israel.
Voting mix-up cited in provisional ballot fight in state House race
Tory and Brooke Schoonmaker cast provisional ballots at an Irving polling place after being directed there by a Web site. Mr. Schoonmaker's ballot was rejected by a ballot board, but his wife's was accepted despite her address in Keller.
Three board members and county elections officials had recommended rejecting the woman's ballot, but Democratic ballot board chairwoman Chorsia Davis, who has been criticized for her handling of the provisional votes, used her authority to overrule their recommendations and allowed the ballot.
Dallas County Republican chairman Jonathan Neerman said that though Ms. Davis' actions didn't change the outcome of the District 105 race, they're troubling.
Now this is a REAL interesting column. If you have time, read the whole thing. Not surprising that a Democrat refuses to take responsibility for her actions, and seems to flat out lie!
S.S. D.D.
2 Timothy 4:2-5
2 Preach the word; be instant in season, out of season; reprove, rebuke, exhort with all long suffering and doctrine.
3 For the time will come when they will not endure sound doctrine; but after their own lusts shall they heap to themselves teachers, having itching ears;
4 And they shall turn away their ears from the truth, and shall be turned unto fables.
5 But watch thou in all things, endure afflictions, do the work of an evangelist, make full proof of thy ministry.