An Ol' Broad's Ramblings
Archive for 18 December 2008
Well, the Mr and I made it safely to Vicksburg, MS around 5:30, sat for a bit, and headed to the casino.  Big mistake.  Well, mostly.  Got one good shot, but the rest of the time, I was just feeding the beast.
One of the places we went was new to us.  We'd never checked out Diamond Jacks, and I was quite surprised at how nice it is in there.  It wasn't exactly packed, but it is a Thursday night, so no big surprise there.  After about an hour or so, we headed to the place we normally go….Horizon.  We should have stayed where we were.  Horizon was HOT!  And I don't mean paying off on anything.  I mean they must have had the heater on full blast.  When the temp outside is about 70, do you really want to sit around in a place where the heat is at least 85?  Well, that's how it felt.
Another aggravation….a good half of the slot machines were shut off, including my favorites.  How tacky is that?  I'm not at all surprised the place was practically empty.  I don't see that one making it through the economic downturn if that's how they are treating the customers.  HMPH!
So, we are back at the motel, all snug, with the A/C cranked!  Now Chris, don't get yer knickers in a twist…..it's not going to last.  Suppose to get down in the 30s this weekend. 
All packed up….and ready to go! Yeah…the Mr is fairly surprised too!
Holder testimony on pardon questioned
Correspondence with the Justice Department and testimony secured by Congress from other witnesses show that 15 months before the pardon, Mr. Holder met privately with Mr. Rich's attorney and received a presentation about what Mr. Rich's defense believed were flaws in the government's case.
(…)
The Republican lawmaker who investigated the controversial Rich pardon told The Washington Times that evidence documenting the 1999 contacts conflicts with Mr. Holder's testimony and that he has forwarded information he has on the subject to the Senate Judiciary Committee, which will examine President-elect Barack Obama's choice for attorney general.
Ya know, there are a lot of actually good and decent lawyers out there. Why would BO pick someone connected to such a controversial pardon? And to think, already his testimony conflicts with the records. Go figure. (sarcasm)
UN: Gaza unemployment rises to 49 percent
A U.N. report says nearly half of all Gazans are unemployed and is calling Israel's stringent closure of the Palestinian territory a "profound human dignity crisis."
The report says Gaza's 1.4 million people are increasingly preoccupied with obtaining basic supplies such as water and food.
The U.N. Office for the Coordination of Humanitarian Affairs says unemployment now stands at 49 percent, up from 32 percent a year ago. Thursday's report says residents of Gaza City are without power for up to 16 hours a day. Half the city's residents receive water only once a week for a few hours.
Excuse me while I snort in derision. The reason there is a 'stringent closure' is because the Gazans are doing their best to murder as many Israelis as possible. If they have such a high unemployment, they might want to consider using the aid they get to actually AID the people. Give them loans to start businesses, and I don't mean making bombs! Plant crops, irrigate, little things like that might go a long way in telling the Israelis they are serious…..not lobbing rockets into the Negev area!
Kassam rocket attacks continue, IAF responds with airstrikes
With less than one day left until the ceasefire between Israel and Gaza factions expires, the tempo of hostilities between the two sides continued to rise on Wednesday.
Terrorists continued to pound western Negev communities with rockets, and as of mid-afternoon Thursday, nine Kassams had slammed into the western Negev. Five mortar shells also hit the South. No one was wounded and no damage was reported in the attacks.
Psst! What cease fire? I thought a cease fire was when no one was firing bad things at other folks, that kill, maim, and destroy. And they wonder why there is high unemployment? Why the Israelis don't want the Gazans coming and going freely? Give me a break! It's called self preservation!
Dems' new budget plan adds $9 billion revenue
State lawmakers are expected to vote today on an $18 billion budget, put forth Wednesday by Democrats, that contains more than $9 billion in added revenue and requires only a simple majority vote of the Legislature to be approved.
(…)
Under the Democrats' budget, much of the new revenue for the general fund would come from new taxes after the Legislature's repeal of the state gasoline tax, which is set aside for transportation funding. Funding for transportation would be restored with a new gas fee fixed at 39 cents a gallon.
Are they out of their birkenstock lovin' minds????????  They've already driven a good number of companies out of the state with their excessive taxes.  Now, they want to run out the rest of them.  Well, see here…if ya don't have any people to pay the tax, you aren't going to have any taxes to collect.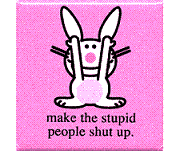 Stimulus could cost $1 trillion
Eager to jolt a worsening economy back to life, President-elect Barack Obama's aides are assembling a two-year stimulus package that could cost nearly $1 trillion, dwarfing last spring's tax rebates and rivaling drastic government actions to fight the Great Depression.
The emerging plan is a blend of new jobs, middle-class tax relief and expanded aid for the poor and the unemployed, congressional officials said Wednesday.
And The Tennessean is just now finding this out? BO's 'takeover' schemes will cost us all dearly, and not just in the wallet, but also in freedoms.  The gubmint doesn't create real jobs…..jobs that will be useful to the general public.  It creates bureaucrats.
1 in 7 eighth-graders failed to pass TAKS, will need waivers to avoid being held back
One in seven eighth-graders failed to pass the Texas Assessment of Knowledge and Skills after three tries this year, requiring them to be held back unless their parents obtained a waiver to promote them this fall.
For the sake of their kids, I really hope the parents do NOT get waivers. If they aren't learning, something is wrong, either with them, or the teachers. Without basic skills, you have a generation of kids who will be wandering aimlessly through life. Don't we already have enough of those?  And for the love of pete…..teach the kids how to speak proper English!  Jeeeez!
Rwanda genocide mastermind jailed
Former senior defence official Theoneste Bagosora has been convicted of instigating Rwanda's 1994 genocide and sentenced to life in prison.
Bagosora and two co-defendants were found by a UN tribunal to have led a committee that plotted the massacre of ethnic Tutsis and moderate Hutus.
It is the first time the Rwanda tribunal has convicted anyone of organising the killings.
With 800,000 slaughtered, I'm real curious why it took so long? It's not like they didn't have enough evidence, aka dead bodies!
S.S.  D.D.
Deuteronomy 4:4-8
4 But ye that did cleave unto the LORD your God are alive every one of you this day.
5 Behold, I have taught you statutes and judgments, even as the LORD my God commanded me, that ye should do so in the land whither ye go to possess it.
6 Keep therefore and do them; for this is your wisdom and your understanding in the sight of the nations, which shall hear all these statutes, and say, Surely this great nation is a wise and understanding people.
7 For what nation is there so great, who hath God so nigh unto them, as the LORD our God is in all things that we call upon him for?
8 And what nation is there so great, that hath statutes and judgments so righteous as all this law, which I set before you this day?
There's a Junior Schroeder!