An Ol' Broad's Ramblings
Archive for January 2009
Even More Haslam On Guns – Say Uncle
"Anthroprogenic Global Warming: THE Greatest Fraud In History?" – The Discerning Texan
Embracing What is Right – Truth and Life
Friday Photo: a toxic Al Gore mystery UPDATE! Mystery solved; g00gle sucks! – Cutting Edge
Oh, for a little cynicism – Bookworm Room
Stimulus slush fund for the housing entitlement mob – Michelle Malkin
Mahmoud's "Trump" Letter to Obama – Feed Your ADHD
Sell Your Wallet, You Won't Be Needing It Anymore – Blue Collar Republican
Michigan Muslims Attack Free Speech, Again – Islam in Action
How Many Websites Does It Take To… – The Daily Scoff
Friday Afternoon Roundup -The Congress of Corruption and a Turkish – Sultan Knish (some great links)
So Much For All That Transparency – Jammie Wearing Fool
Hate Crimes: The Importance of Lady Justice's Blindfold – The Brussels Journal
Republican Congresswoman Marsha Blackburn…A 21st Century Maggie Thatcher? – Lagomorphic Tendencies
The WTF Blanket – Southern Beale (video…hilarious!)
Unreal!… Stimulus Includes Government Plan to Crush New Cars – Gateway Pundit
This Might Surprise You.. – silent E speaks
The NO Grocery Bag Dilemma – Faultline USA
Heckuva job, Nancy – RedState
The Stunning Hypocrisy of Obama and the Left – The Conservative Post
Netanyahu says Iran will not get hands on nukes – Infidels Are Cool
Al Qaeda Video Featuring Former GITMO Prisoners, Translated – The Nose On Your Face
More on Steele's win; media pay attention here – This Ain't Hell
Nashville, Gasoline Shortages And Child Abuse – Newscoma
10 Days And Enemies Already Laughing & Mocking America Thanks To Hussein Muhammad Obama – Chicago Ray
Obama and Jack: A Perfect Pair – DeMarCaTionVille
Ben Steyn writes about A Bleak Day – Fausta's Blog
What is the worst thing you can call a Hamas supporter? – Elder of Ziyon
ACTION ALERT: CAIR is to meet with members of the House and Senate. – Monkey in the Middle
Discussing Israel; Jimmy Carter Style – Big Mark
Election Day in Iraq – Badger Blogger Alliance
The Gregg Set-Up – Black & Right
A Question for John Woods and Eliot Cotton – Rustmeister's Alehouse
The Million Gun Owner March – Texas Fred's
The Cost Of Global Warming? $515 Billion. Per Year – Stop the ACLU
And one of the BIGGEST feckless weasels of all time:
Holocaust-denying bishop apologizes
A bishop recently rehabilitated by Pope Benedict XVI expressed regret Friday to the pontiff for the "distress and problems" he caused by denying the Holocaust.
In a letter to the Vatican, Bishop Richard Williamson, who recently denied in a TV interview that 6 million Jews were murdered during the Holocaust, called his remarks "imprudent."
The letter was posted on Williamson's personal blog and addressed to Cardinal Dario Castrillon Hoyos, who has been dealing with the rehabilitation of Williamson and other renegade bishops who had been excommunicated.
This kind of nonsense is real personal to me. Why? I'm not Jewish. I didn't have any family members murdered by the Nazis. So, why is it personal? Well, I am going to tell you.
When I was a young sprout, we were visiting my uncle in Dallas, and me, being the snoopy kid (nothing has changed much) I was going through some of the uncle's stuff, when I came across some pictures. I don't think I was more than 6 or 7 years old at the time, so being a kid, no one usually got in a major snit when I was being a kid. Except this one time. (Thankfully, I outgrew my rude nosiness of other people's property.)
It turned out that my uncle had been a photographer for the U.S. Army during WWII, and he was one of the ones who had taken pictures of liberated camps. What I found were those pictures and those images have never left me.  My mother explained to me (other than how rude it was to go through my uncle's things) that her brother had never spoken about what he saw, except through those photographs.  Which camp, or camps?  I don't know.  No one would ever tell me.
Shortly after this incident, the photographs were moved, and I was never able to find them again.  The images of those immaciated bodies, stacked like cordwood, of children, with eyes almost larger than their faces, of the shaved heads, of the piles of shoes, and many other person items…..no, those images have NEVER left me, after all these years.  So, when I hear of such a person, my bile rises, and the urge to slap the crap out him almost becomes overwhelming.
No, I will never truly understand the real horror children my age had to go through, and I pray that NO child shall ever have to endure such evil.
Ice-storm survivors seek shelter in Ark., Tenn.; Bredesen seeking aid
During a week dominated by news of a failing economy and a fledgling president, a vast region north of Memphis has suffered under the national radar.
Northern Arkansas still had 284,000 homes and businesses without power Friday, down from a high of 350,000.
Nine people in Arkansas, including the 39-year-old Blagg, died.
Sometimes, we get so wrapped up in the "what is BHO going to screw up next", we forget there is other news out there, other than about The ONE.  Personally, I don't think the Gov. should be 'seeking aid'.  I believe those of us who live in this are, and even those who don't, should be donating to help our fellow citizens in their time of need.  That's what charity is all about, isn't it?  WE give, not the government taking our money and giving.  Let's just cut out the middle man, shall we?
Gaza Militants Fire Rocket Into Israel
An Israeli military spokesman says that Palestinian militants fired a rocket from Gaza toward Ashkelon.
The spokesman said the rocket was fired early Saturday. He cannot be named according to military regulations. It is the first rocket fired from Gaza since Thursday.
Let's see…just who is that is breaching that cease fire? Is it Israel? Umm….no. That would be those folks who are praised by the lunatics of the world. And since when did Fox become so PC? Militants is too polite a word. Call them what they are….TERRORISTS. What else could they be, when their intent is to cause terror among the civilian population.
Feds allege plot to destroy Fannie Mae data
A fired Fannie Mae contract worker pleaded not guilty Friday to a federal charge he planted a virus designed to destroy all the data on the mortgage giant's 4,000 computer servers nationwide.
Had the virus been released as planned on Saturday, the Justice Department said the disruption could have cost millions of dollars and shut down operations for a week at Fannie Mae, the largest U.S. mortgage finance company.
Rajendrasinh B. Makwana, 35, of Glen Allen, Virginia, pleaded not guilty in US District Court in Baltimore to one count of computer intrusion, the US attorney's office said.
Well, this is interesting. I find it a little odd I hadn't heard about it from our own news sources, yet read about it in the J-Post. The article further states "A search of public records found no address or telephone number for him there." I'm of two minds. This guy is a scape goat for higher ups, or….. Without more detail, it's kind of hard to make an assessment.
Life For Bungling Suicide Bomber
A Muslim convert who blew himself up in a restaurant in a failed suicide attack has been jailed for life with a minimum of 18 years.
Nicky Reilly accidentally set off a home-made nail bomb in a toilet cubicle as he prepared to target dozens of innocent customers.
The 22-year-old, described as the "least cunning" person ever to have been charged with terrorism", injured only himself in the blast in May last year.
If only the rest of the garbage was this stupid. If they want to die so bad, let them….out in the middle of the desert….by themselves!  Now, the British taxpayers will have to support him for a minimum of 18 years.  Hogwash!
Teacher charged with statutory rape released on bond
A West Tennessee teacher accused of having oral sex and exchanging text messages with a 14-year-old boy is out on bond.
Melissa Dawn McCord, 35, was released from jail Thursday on $7,500 bond. She has been charged with statutory rape by an authority figure, providing obscene materials to a minor, solicitation of a minor to observe sexual conduct and solicitation of a minor, according to Milan police.
It seems obvious that something is seriously lacking in people like this….one might call it a 'moral compass'. I'm becoming more and more suspicious of teachers coming into the education system. I know there are good teachers, but crap like this are doing them a great deal of harm.
Proposals would let licensed owners tote guns more easily
Michael Guzman, a 25-year-old Texas State University senior and Marine veteran, takes his Kimber Ultra Carry II handgun just about everywhere he goes. Except to school.
Texas lawmakers, how­ever, are crafting ways to allow licensed handgun owners to tote their guns more easily. One proposal would let guns be carried on campuses, and another would allow licensed handgun owners to openly brandish their guns in public.
Together, the two issues are likely to be the most contentious gun-related laws of the session.
Either idea would be just fine with me! You have to go through some serious training to be able to carry, so I have NO problem with someone being able to carry openly, or concealed on campuses. Perhaps, if someone had been able to take down Cho Seung-Hui, 32 people wouldn't have lost their lives.  "An armed society is a polite society." ~ Heinlein
Ohio dad who shock-collared kids gets 16 years
An Ohio man has been sentenced to 16 years in prison for disciplining his children with a dog shock collar.
David Liskany of Jamestown had pleaded guilty to charges of felonious assault and attempted felonious assault.
In court Friday, Greene County Common Pleas Judge J. Timothy Campbell compared the punishments to torture.
The judge said Liskany punished the children in 2006 and 2007 by putting them in cold showers, holding them underwater and using the shock collar, which is commonly used to train dogs.
Perhaps this piece of work should be required to wear a shock collar for the remainder of his sorry life!
Skeptical judge grants bail to former BART cop
Former BART police Officer Johannes Mehserle meant to fire his Taser stun gun, not his pistol, when he fatally shot an unarmed man on an Oakland station platform, his defense attorney said Friday in persuading a judge to set bail in the murder case.
Attorney Michael Rains said another BART officer reported hearing Mehserle say just before shooting Oscar Grant that he was going to "tase him." Afterward, Mehserle told the other officer he thought Grant had been reaching for a gun, Rains said.
I'm no expert, but from what I've seen of tasers and guns, it's kind of hard to mistake one for the other. Although, perhaps some are similar, I just have a hard time believing an experienced officer would make such a mistake. Anything can happen though. Although, from the video I've seen, even using a tasing the guy, already on the ground, doesn't make much sense. Perhaps I need to watch it again?
S.S.  D.D.
Psalm 86:8-12
8 Among the gods there is none like unto thee, O Lord; neither are there any works like unto thy works.
9 All nations whom thou hast made shall come and worship before thee, O Lord; and shall glorify thy name.
10 For thou art great, and doest wondrous things: thou art God alone.
11 Teach me thy way, O LORD; I will walk in thy truth: unite my heart to fear thy name.
12 I will praise thee, O Lord my God, with all my heart: and I will glorify thy name for evermore.
What the hell was THAT!?!?
Courtesy of brother in law Tom.
A Russian arrives in New York City as a new immigrant to the United States . He stops the first person he sees walking down the street and says, "Thank you Mr. American for letting me into this country, giving me housing, food stamps, free medical care, and a free education!"
The passerby says, "You are mistaken, I am a Mexican."
The man goes on and encounters another passerby. "Thank you for having such a beautiful country here in America."
The person says, "I not American, I Vietnamese."
The new arrival walks farther, and the next person he sees he stops, shakes his hand, and says, "Thank you for wonderful America!"
That person puts up his hand and says, "I am from Middle East. I am not American."
He finally sees a nice lady and asks, "Are you an American?"
She says, "No, I am from Africa."
Puzzled, he asks her, "Where are all the Americans?"
The African lady checks her watch and says, "Probably at work."
Courtesy of  Mr Ol Broad.
Well, you see, the thing is……we don't care what color a person is, we care about his/her politics.  There is a big difference between electing a guy as POTUS JUST because of his skin color, and choosing a guy to lead because of his stand on policies.
Seriously, I don't really care, one way or the other, who the RNC chair is.  What I DO care about?  Will the guy bring the Party back to the right….where it belongs.  (I might reconsider my membership if he does.)  I have concerns about Steele's stand on the 2nd Amendment, and the right of us little folks out here to defend ourselves again the criminal element…AND an oppressive government.  I may have been steered wrong, and haven't a clue where he really stands.  Other than that, I don't see a problem with the man.
Now, to put light on the whole thing, if a black person is a conservative, they are fair game for the left, no matter what.  If those on the right take issue with a very left/liberal/progressive, or whatever they call themselves these days, then it's racist.  Will someone please explain this to me?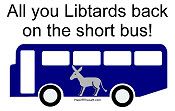 It was pointed out to me last night that I failed to post a picture of one of my Christmas presents.  For reasons known only to themselves, Brat and Ick refer to me as Bat.  I can't imagine where they ever got such an idea….me being the sweet, lovable type and all. 

I have my very own bat Christmas tree ornaments too.  Hmmm…
Last year, they sponsored Cleobatra in my name.  This year….it was Rocky Batboa.  Bless their hearts. 

Oh, don't get me wrong.  I really do love my bats. I think it's a great thing to be able to sponsor such critters.  But fer the love of pete….does he have to be so butt ugly?

Heh.
When I was a young sprout, growing up in Virginia, fourth graders had to learn and recite, in front of the whole class, no less, the most famous part of Patrick Henry's speech, given on 23 March 1775, in Williamsburg (House of Burgesses if I remember correctly).  You know, the "I know not what course others may take; but as for me, give me liberty or give me death!" part. Hey, when you grow up less than 30 miles from some of the most historic sites in America, you tend to learn a lot about them in school.  Well, at least kids USE to learn the history.
I was thinking about that speech this morning, and read it again.  ALL of it.  It's been a while since I actually read it, beginning to end.  The second paragraph got me to thinking.
Mr. President, it is natural to man to indulge in the illusions of hope. We are apt to shut our eyes against a painful truth, and listen to the song of that siren till she transforms us into beasts. Is this the part of wise men, engaged in a great and arduous struggle for liberty? Are we disposed to be of the number of those who, having eyes, see not, and, having ears, hear not, the things which so nearly concern their temporal salvation? For my part, whatever anguish of spirit it may cost, I am willing to know the whole truth; to know the worst, and to provide for it.
Illusions of hope.  What does that remind you of, given the current situation?  Closing our eyes to painful truths.  Not a good idea, is it.  Yet so many have done just that.  That siren song has tranformed many into beasts.
(No, not the
type of beast.  Although, truth be told, many on the left seem to take on such a posture when spouting their positions.)
Mr Henry's words of more than 200 years ago, are just as pertinent today, in 2009.  We are, once again, struggling for our freedom.  This time, it's not the British who are oppressing us, though.  It is our own United States government.  Men, women and children died to procure our freedom from the oppressive Monarchy in Great Britain.  Many men, women and children have died to retain those freedoms.  Now, we fight another battle.  One for our very existance.  A nation founded on truths.  The truth of Creator endowed freedoms, not the goverment endorsed.  The truth of the right of life, not the taxpayer funded murder of innocents.  The truth of marriage as one man and one woman, not the lies 'civil rights' for a deviant lifestyle.
We must face many truths now.  Do we have the strength of character to fight for the WHOLE truth?  Will be able to stand against those who would destroy the very foundations that made this country great?  We have already allowed many of the bricks that held us on the high ground to be removed, and replace them with sand.  Will we stand in front of those who would remove the rest, to watch our home tumble to the ground?
Once again, we must fight for our survival.  Perhaps not with arms, yet, but with deeds. To quote that most famous of Patrick Henry's speech….."give me LIBERTY, or give me death!"  For I would choose meeting my Maker with a clean heart, than bow to the pressures and live under the oppressive rule of the coming socialism.

I'd like to know….why did my two REPUCLICAN Senators voted FOR a socialistice program like S-CHIP?
NOT a real good idea guys!
| | | |
| --- | --- | --- |
| Tennessee: | Alexander (R-TN), Yea | Corker (R-TN), Yea |
Is it "new" to acknowledge Muslim interests and show respect to the Muslim world? Obama doesn't just think so, he said so again to millions in his al-Arabiya interview, insisting on the need to "restore" the "same respect and partnership that America had with the Muslim world as recently as 20 or 30 years ago."
Astonishing. In these most recent 20 years — the alleged winter of our disrespect of the Islamic world — America did not just respect Muslims, it bled for them. It engaged in five military campaigns, every one of which involved — and resulted in — the liberation of a Muslim people: Bosnia, Kosovo, Kuwait, Afghanistan and Iraq.
The two Balkan interventions — as well as the failed 1992-93 Somali intervention to feed starving African Muslims (43 Americans were killed) — were humanitarian exercises of the highest order, there being no significant U.S. strategic interest at stake. In these 20 years, this nation has done more for suffering and oppressed Muslims than any nation, Muslim or non-Muslim, anywhere on earth. Why are we apologizing?
That is a damn good question!  Why should we apologize for saving their butts time and again?  The idea is absurd, but then, so are a lot of 'ideas' coming out of the B. Hussein adminitration.  Not even 2 weeks into office, and he's sucking up to the Muzzies, just like many of us said he would.