An Ol' Broad's Ramblings
Archive for 25 January 2009
Speaker of the House Nancy Pelosi boldly defended a move to add birth control funding to the new economic "stimulus" package, claiming "contraception will reduce costs to the states and to the federal government."
Pelosi, the mother of 5 children and 6 grandchildren, who once said, "Nothing in my life will ever, ever compare to being a mom," seemed to imply babies are somehow a burden on the treasury.
The revelation came during an exchange Sunday morning on ABC's THIS WEEK.
STEPHANOPOULOS: Hundreds of millions of dollars to expand family planning services. How is that stimulus?
PELOSI: Well, the family planning services reduce cost. They reduce cost. The states are in terrible fiscal budget crises now and part of what we do for children's health, education and some of those elements are to help the states meet their financial needs. One of those – one of the initiatives you mentioned, the contraception, will reduce costs to the states and to the federal government.
STEPHANOPOULOS: So no apologies for that?
PELOSI: No apologies. No. we have to deal with the consequences of the downturn in our economy.
This woman is an embarrassment to anyone with a brain.  Why she is still Speaker, much less in Congress, tells me a LOT about those who vote for her.  And it's not anything positive. This woman has given new meaning to the word 'feckless'.   It is NOT my job to pay for YOUR contraception.  Sorry, that's just a fact.  It is YOUR responsibility to cross your legs and say NO if you can't afford a 50 cent rubber.  And those same tax dollars are NOT for the murder of any babies.  If you are so dead set on paying for contraception woman, YOU pay for it out of YOUR pocket.
It is my opinion that this is one very dangerous piece of work, and it would be a real good idea if she were removed from office.  ASAP!
(You have NO idea how hard it is for me to not use numerous four – and five – lettered words right now.)
….for folks to start contemplating, but considering what we've seen in less than a week, maybe it's already too late.
Barack Hussein Obama appears to be chiseling away the foundations of our nation, replacing them with sand, and that just won't do.  So, I'm wondering….
That would put the gaffe king in charge.  Do we want that?  No, of course not.  Impeach both?  Where does that leave us:
Speaker of the House of Representatives  (Queen Nanny…..ACK!)
President Pro Tempore of the Senate  (Robert KKK Byrd?  Jeeeez)
Secretary of State  (Hillary Clinton…ummmm…the lesser of the evils?)
Secretary of the Treasury  (Timothy Geithner [nominated]…the man can't even run himself)
Secretary of Defense  (Robert Gates….might be able to live with that…at least he's into defense)
The only exception to the line provided in the law states that to ascend to the Presidency, the next person in line must be constitutionally eligible. Any person holding an office in the line of succession who, for example, is not a naturally-born citizen cannot become President. In this case, that person would be skipped and the next eligible person in the line would become President.  (source)
Well, you get the picture.  I'm thinking we need to get VERY serious, and come 2010, elect some serious conservatives, in the hopes that any damage that is done, can be reversed.
Note to the moonbats:  52% is NOT a majority.  BHO's approval ratings have dropped in less than a week of taking office.  42% strongly approving isn't all that impressive, considering he just took office and all the hoopla surrounding his election.  Hopefully, folks are starting to wake up from their Kool Aid induced stupor and seeing this guy for what he really is….NOT the messiah.
Matthew 7:24-27
24 Therefore whosoever heareth these sayings of mine, and doeth them, I will liken him unto a wise man, which built his house upon a rock:
25 And the rain descended, and the floods came, and the winds blew, and beat upon that house; and it fell not: for it was founded upon a rock.
26 And every one that heareth these sayings of mine, and doeth them not, shall be likened unto a foolish man, which built his house upon the sand:
27 And the rain descended, and the floods came, and the winds blew, and beat upon that house; and it fell: and great was the fall of it.
To put it in simpler terms….think houses build right on the beach, and a big hurricane comes through.  Not much left, is there.
In less than a week after Obama's swearing in, our nuevo POTUS unfurled his radically liberal abortion and family plans together with his juicy pro-homosexual agenda.
Good job, all evangelicals who voted for Obama, as these aforementioned ditties—from a biblical perspective—are about as sanctified as the Antichrist French kissing a crack whore in Bret Michaels' hot tub.
Yep, I wanna give a special shout out to all the "major" ministers who fawned and swooned over Barack and swayed their congregations to vote for him in spite of his anti-scriptural stances on life, marriage and sexuality.
Such a shame we won't be able to see it though. 
Annular Eclipse: The Ring of Fire
Explanation: Tomorrow, a few lucky people may see a "ring of fire." That's a name for the central view of an annular eclipse of the Sun by the Moon. At the peak of this eclipse, the middle of the Sun will appear to be missing and the dark Moon will appear to be surrounded by the bright Sun. This will only be visible, however, from a path that crosses the southern Indian Ocean. From more populated locations, southern Africa and parts of Australia, most of the Moon will only appear to take a bite out the Sun. Remember to never look directly at the Sun even during an eclipse. An annular eclipse occurs instead of a total eclipse when the Moon is on the far part of its elliptical orbit around the Earth. The next annular eclipse of the Sun will take place in 2010 January, although a total solar eclipse will occur this July. Pictured above, a spectacular annular eclipse was photographed behind palm trees on 1992 January.
Early this month, Barack Obama was meeting with the House speaker, Nancy Pelosi, and other lawmakers when Rahm Emanuel, his chief of staff, began nervously cracking a knuckle.
Mr. Obama then turned to complain to Mr. Emanuel about his noisy habit.
At which point, Mr. Emanuel held the offending knuckle up to Mr. Obama's left ear and, like an annoying little brother, snapped off a few special cracks.
The episode, confirmed by Mr. Emanuel's office, underscores some essential truths about Mr. Emanuel: He is brash, has a deep comfort level with his new boss, and has been ever-present at Mr. Obama's side of late, in meetings, on podiums and in photographs.
Actually, this type of nonsense underscores a LOT about B. Hussein himself, and the sort of people he surrounds himself.
There he was, standing at President Obama's desk in one of the first Oval Office pictures; and again, playfully thumbing his nose at his former House colleagues during the inauguration; there he was, accompanying the president to a meeting with Congressional leaders on Friday.
Yep. Real classy there dud….er dude. How professional.
It's official:  The lunatics have taken over the asylum.

United States of America:  4 July 1776 – 20 January 2009
Obama Envoy Mitchell Arriving Wednesday; NU Calls it Chutzpah
Ketzaleh said that Obama needed to be reminded that Israel is not an American colony or the 51st state. "I think it is great arrogance and even chutzpah on the part of the U.S. administration that it does not respect the Israeli public," he said in an interview. "Although Olmert is ending his role, the administration is trying to 'close' things that it could not close over the past years. We hope that the Prime Minister and his ministers will explain to him that he should go home," he added.
Yesha Council head Danny Dayan said Saturday evening that Mitchell's appointment is a "disturbing" one. He cited a report prepared by Mitchell during President Bill Clinton's term, in which he called for an end to all settlement activity "including natural growth."
"Soon we will have to ask Obama for permission to have babies," he told Ynet.
Heh. I like this guy! No, Israel is NOT one of B. Hussein's toys to play with. This is a sovereign nation. What the US should be doing, NEEDS to be doing, is ensure that we are standing WITH them against the nonstop attacks from the Arab world.
Obama likely to loosen Cuba policy
With the inauguration last week of Barack Obama, many Cuban-Americans are anticipating a change in policy toward their homeland that reflects both the new president's campaign promises and shifting views and demographics among a once-solid Republican political bloc.
Mr. Obama won more than one-third of Florida's Cuban-American vote in November, a voter base that in the past has favored Republican presidential candidates by margins of more than 80 percent.
"More than one-third"? That also translates to a bit under two thirds who voted AGAINST The ONE. I guess countries who violate any and every sort of 'human rights' is just fine with him, eh?  Oh, and if these are folks who are now US citizens, I would say that Cuba is no longer their "homeland".  If it is, then they are in the wrong country.
Immigrant Teens Struggle With Formal Schooling
New York City classrooms have long been filled with children from all over the world, and the education challenges they bring with them. But hidden among the nearly 150,000 students across the city still struggling to learn English are an estimated 15,100 who, like Fanta, have had little or no formal schooling and are often illiterate in their native languages.
More than half of these arrive as older teenagers and land in the city's high schools, where they must learn how to learn even as their peers prepare for state subject exams required for a diploma.
Here's a thought. Since NY wastes so much money on those teachers that have been suspended, for whatever reason, to just sit around and do nothing in a special building, why not use that building for such students. Let them begin at the beginning….1st grade, 2nd, etc. Teach them English, and the basics. As they progress with their learning, they can move into the grade level they need to be for their age. So much money is wasted on the bloated bureaucracy, why not actually use it to TEACH? Seems a simple enough solution.
Only after six years of litigation were they able to fire him. In the meantime, they paid the teacher more than $300,000. Klein said he employs dozens of teachers who he's afraid to let near the kids, so he has them sit in what are called rubber rooms. This year he will spend $20 million dollars to warehouse teachers in five rubber rooms. It's an alternative to firing them. In the last four years, only two teachers out of 80,000 were fired for incompetence. Klein's office says the new contract will make it easier to get rid of sex offenders, but it will still be difficult to fire incompetent teachers.  (source)
Taped inauguration music robs Americans of experience
Well, "performed" is perhaps overstating it. What the audience on the Mall and at home heard, it turns out, was a prerecorded track of the John Williams piece "Air and Simple Gifts," which the quartet made two days earlier in a studio at the Marine Barracks. It was simply too cold Tuesday to perform at the players' usual standard.
Hearing something performed live matters. There is a significance to being able to say, "I was there." It was because of this that more than a million people converged on the Mall to be present at Obama's swearing-in — even if they were so far from the Capitol that they couldn't actually see him in person.
I've no doubt that listening to a stringed instrument completely out of tune due to the cold (think a yard full of cats in heat) wouldn't have been a great experience at all. C'mon people. Use a little common sense. You went, be happy. Now, back to reality.
Gore highlights new US push on climate change
Gore's testimony comes as environmentalist groups hope for a 180-degree turn from what they, and much of the world, viewed as former president George W. Bush's foot-dragging approach on fighting global warming.
"We have something frankly we haven't had for eight years: Close, positive coordination between the White House and Congress," said Tony Kreindler, communications director for the Environmental Defense Fund.
"I don't think you can even begin to measure that. That's huge," Kreindler told AFP by telephone.
Obama has said he wants to commit to reducing US greenhouse gas emissions to 1990 levels by 2020, and by 80 percent in 2050, mainly through a 150-billion dollar, 10-year program to develop renewable forms of energy.
These weasels never cease to amaze me. Even though it's been proven….yes…PROVEN….that man does NOT control the climate, they push forward with their money grubbing plans. And that's ALL it is…a grab for taxpayer dollars. How the hell did we allow these morons so much power? Time to send them ALL packing!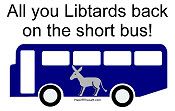 For Pakistanis under Taliban, a reign of terror via radio
Every night around 8 o'clock, the terrified residents of Swat, a lush and picturesque valley a hundred miles from three of Pakistan's most important cities, crowd around their radios.
They know that failure to listen and learn might lead to a lashing – or a beheading.
Using a portable radio transmitter, a local Taliban leader, Shah Doran, on most nights outlines newly proscribed "un-Islamic" activities in Swat, like selling DVDs, watching cable television, singing and dancing, criticizing the Taliban, shaving beards and allowing girls to attend school. He also reveals names of people the Taliban have recently killed for violating their decrees – and those they plan to kill.
So much for your 'religion of peace', eh Georgie? I'm guessing these are the same sort of tactics that B. Hussein will use if he, and the weasels of Congress are allowed to shut down the voices of the 'right'.  I'd say a LOT more of those drones need to be dropping bombs in that area of Pakistan, since the current gubmint of that country seems to have no control.
S.S.  D.D.
2 Timothy 2:23-26
23 But foolish and unlearned questions avoid, knowing that they do gender strifes.
24 And the servant of the Lord must not strive; but be gentle unto all men, apt to teach, patient,
25 In meekness instructing those that oppose themselves; if God peradventure will give them repentance to the acknowledging of the truth;
26 And that they may recover themselves out of the snare of the devil, who are taken captive by him at his will.