An Ol' Broad's Ramblings
Archive for 30 January 2009
What the hell was THAT!?!?
Courtesy of brother in law Tom.
A Russian arrives in New York City as a new immigrant to the United States . He stops the first person he sees walking down the street and says, "Thank you Mr. American for letting me into this country, giving me housing, food stamps, free medical care, and a free education!"
The passerby says, "You are mistaken, I am a Mexican."
The man goes on and encounters another passerby. "Thank you for having such a beautiful country here in America."
The person says, "I not American, I Vietnamese."
The new arrival walks farther, and the next person he sees he stops, shakes his hand, and says, "Thank you for wonderful America!"
That person puts up his hand and says, "I am from Middle East. I am not American."
He finally sees a nice lady and asks, "Are you an American?"
She says, "No, I am from Africa."
Puzzled, he asks her, "Where are all the Americans?"
The African lady checks her watch and says, "Probably at work."
Courtesy of  Mr Ol Broad.
Well, you see, the thing is……we don't care what color a person is, we care about his/her politics.  There is a big difference between electing a guy as POTUS JUST because of his skin color, and choosing a guy to lead because of his stand on policies.
Seriously, I don't really care, one way or the other, who the RNC chair is.  What I DO care about?  Will the guy bring the Party back to the right….where it belongs.  (I might reconsider my membership if he does.)  I have concerns about Steele's stand on the 2nd Amendment, and the right of us little folks out here to defend ourselves again the criminal element…AND an oppressive government.  I may have been steered wrong, and haven't a clue where he really stands.  Other than that, I don't see a problem with the man.
Now, to put light on the whole thing, if a black person is a conservative, they are fair game for the left, no matter what.  If those on the right take issue with a very left/liberal/progressive, or whatever they call themselves these days, then it's racist.  Will someone please explain this to me?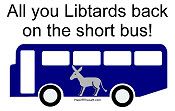 It was pointed out to me last night that I failed to post a picture of one of my Christmas presents.  For reasons known only to themselves, Brat and Ick refer to me as Bat.  I can't imagine where they ever got such an idea….me being the sweet, lovable type and all. 

I have my very own bat Christmas tree ornaments too.  Hmmm…
Last year, they sponsored Cleobatra in my name.  This year….it was Rocky Batboa.  Bless their hearts. 

Oh, don't get me wrong.  I really do love my bats. I think it's a great thing to be able to sponsor such critters.  But fer the love of pete….does he have to be so butt ugly?

Heh.
When I was a young sprout, growing up in Virginia, fourth graders had to learn and recite, in front of the whole class, no less, the most famous part of Patrick Henry's speech, given on 23 March 1775, in Williamsburg (House of Burgesses if I remember correctly).  You know, the "I know not what course others may take; but as for me, give me liberty or give me death!" part. Hey, when you grow up less than 30 miles from some of the most historic sites in America, you tend to learn a lot about them in school.  Well, at least kids USE to learn the history.
I was thinking about that speech this morning, and read it again.  ALL of it.  It's been a while since I actually read it, beginning to end.  The second paragraph got me to thinking.
Mr. President, it is natural to man to indulge in the illusions of hope. We are apt to shut our eyes against a painful truth, and listen to the song of that siren till she transforms us into beasts. Is this the part of wise men, engaged in a great and arduous struggle for liberty? Are we disposed to be of the number of those who, having eyes, see not, and, having ears, hear not, the things which so nearly concern their temporal salvation? For my part, whatever anguish of spirit it may cost, I am willing to know the whole truth; to know the worst, and to provide for it.
Illusions of hope.  What does that remind you of, given the current situation?  Closing our eyes to painful truths.  Not a good idea, is it.  Yet so many have done just that.  That siren song has tranformed many into beasts.
(No, not the
type of beast.  Although, truth be told, many on the left seem to take on such a posture when spouting their positions.)
Mr Henry's words of more than 200 years ago, are just as pertinent today, in 2009.  We are, once again, struggling for our freedom.  This time, it's not the British who are oppressing us, though.  It is our own United States government.  Men, women and children died to procure our freedom from the oppressive Monarchy in Great Britain.  Many men, women and children have died to retain those freedoms.  Now, we fight another battle.  One for our very existance.  A nation founded on truths.  The truth of Creator endowed freedoms, not the goverment endorsed.  The truth of the right of life, not the taxpayer funded murder of innocents.  The truth of marriage as one man and one woman, not the lies 'civil rights' for a deviant lifestyle.
We must face many truths now.  Do we have the strength of character to fight for the WHOLE truth?  Will be able to stand against those who would destroy the very foundations that made this country great?  We have already allowed many of the bricks that held us on the high ground to be removed, and replace them with sand.  Will we stand in front of those who would remove the rest, to watch our home tumble to the ground?
Once again, we must fight for our survival.  Perhaps not with arms, yet, but with deeds. To quote that most famous of Patrick Henry's speech….."give me LIBERTY, or give me death!"  For I would choose meeting my Maker with a clean heart, than bow to the pressures and live under the oppressive rule of the coming socialism.

I'd like to know….why did my two REPUCLICAN Senators voted FOR a socialistice program like S-CHIP?
NOT a real good idea guys!
| | | |
| --- | --- | --- |
| Tennessee: | Alexander (R-TN), Yea | Corker (R-TN), Yea |
Is it "new" to acknowledge Muslim interests and show respect to the Muslim world? Obama doesn't just think so, he said so again to millions in his al-Arabiya interview, insisting on the need to "restore" the "same respect and partnership that America had with the Muslim world as recently as 20 or 30 years ago."
Astonishing. In these most recent 20 years — the alleged winter of our disrespect of the Islamic world — America did not just respect Muslims, it bled for them. It engaged in five military campaigns, every one of which involved — and resulted in — the liberation of a Muslim people: Bosnia, Kosovo, Kuwait, Afghanistan and Iraq.
The two Balkan interventions — as well as the failed 1992-93 Somali intervention to feed starving African Muslims (43 Americans were killed) — were humanitarian exercises of the highest order, there being no significant U.S. strategic interest at stake. In these 20 years, this nation has done more for suffering and oppressed Muslims than any nation, Muslim or non-Muslim, anywhere on earth. Why are we apologizing?
That is a damn good question!  Why should we apologize for saving their butts time and again?  The idea is absurd, but then, so are a lot of 'ideas' coming out of the B. Hussein adminitration.  Not even 2 weeks into office, and he's sucking up to the Muzzies, just like many of us said he would.
Lawmaker admits he negotiated for position
Republican state Rep. Brian Kelsey acknowledged Thursday that he offered to tone down attacks against new House Speaker Kent Williams in exchange for a committee chairmanship.
Kelsey, R-Germantown, said he sent a text message to a Williams aide that said, "Tell Kent I'm willing to talk about reconciliation if he's willing to talk about chairman of the full committee."
Kelsey didn't get a committee chairmanship, but Williams did appoint him as chairman of a subcommittee.
House Minority Leader Gary Odom, D-Nashville, says Kelsey's offer amounts to "extortion," and called for him to resign.
I watched this guy on the news, and it didn't sound like he admitted anything to me. Then there is his response in the comments section of the article. What's interesting are the responses to his response.  I don't know this Kelsey guy, from the looks of him, he can't be more than 12….ok, maybe 16, but I'm fairly sure that this is not the first time some politician, wrong or right, has offered something in return for something else.  Seems to me, it's a forgone conclusion that this will happen.  I also find it interesting that the timeline of the said events appear to be left out in the story.
Colo. man accused of threatening Obama surrenders
The indictment says a second e-mail threatened to blow up the mall with 40 pounds of C4 explosive and TNT planted on seven cars parked outside.
"Good luck thank you and God bless the you know the rest time is wasting," the e-mail read, according to the indictment.
In an interview Thursday, Gutierrez told the Cortez Journal that the threat against Obama was just a prank because the president misrepresented himself.
"I'm not mad about him becoming president, but he's not doing what he said he was going to do," he said. "He's not doing anything for the lower class — just the middle and upper class. Medications are going up, not lowering, and jobs are being lost. His actions are going to get him in trouble."
Two things here. If that particular email is perceived as a 'threat', we've got some SERIOUS problems coming our way. I can only assume that it is not the one that caused the hoopla. Second, odds are, you're going to see a lot more of the Kool Aid drinkers losing 'faith'. The man has only been in office less than two weeks, and he's already working toward destroy the foundations of the nation. I guess idea of not having to work to pay the mortgage and buy gas was taken way to seriously by some.
Prop. 8 campaign can't hide donors' names
Proposition 8 proponents' complaint that a California campaign-finance disclosure law has led to harassment of same-sex marriage opponents failed to sway a federal judge, who refused Thursday to throw out the law or shield donors' names.
"If there ever needs to be sunshine on a particular issue, it's a ballot measure," U.S. District Judge Morrison England said after a one-hour hearing in his Sacramento courtroom.
In California, this decision was a foregone conclusion. Will the donors from the opposition side have their names and addresses published for all to see? Or is it just those who believe in the sanctity of marriage who are to be targeted. I wonder which sideof the issue the judge was on? 
President Obama delivered a blistering message to Wall Street yesterday, blasting the big-bucks bonuses doled out to fat-cat execs as "shameful."
Obama called reporters in to the Oval Office to express outrage over a report on Wednesday by New York state Comptroller Thomas DiNapoli that corporate employees were paid more than $18 billion in bonuses despite the worst economic crisis in decades.
*gritting teeth* He's right! The actions by the 'fatcats' was totally irrisponsible.  Would you give a brain surgeon a big bonus for killing his patients?  Of course not, so why, pray tell, did these high ups get fat bonuses for running their companies into the ground, and taking the economy with them?  It's my understanding that bonuses are for 'a job well done', not for doing a majorly crappy one.
Gazans get aid, blame Hamas for situation
A Hamas cabinet minister carried a carton stuffed with checks worth nearly $2 million into a Gaza tent camp pitched on the ruins of the Salam neighborhood, close to the Israeli border.
But before hundreds of homeless residents could collect, they had to listen to a political speech. Social Affairs Minister Ahmed al-Kurd told them Israel's military machine was defeated and that the Hamas government would rebuild their neighborhood bigger and better.
"There's a lot of talk," resident Zayed Khader, 45, said after the speech, as he waited for his name to be called so he could pick up relief checks worth a total of $6,000 for his family of nine. "When I see them actually building my house, I'll say these are good words."
Who was the genius who thought it would be a good idea to hand millions over to the bunch who brought about the destruction?  Hamas yahoos can say they 'won', all they want, but it won't change the reality.
Danforth adds voice to unanswered appeal for U.S. special envoy
Obama, who took office last week, has repeatedly voiced his intention to "end genocide," which is largely a reference to Darfur. But thus far he has not appointed a special envoy for Sudan, leaving the role vacant after the departure of Bush's most recent envoy, Richard Williamson.
BHO doesn't give a happy flip about the millions of babies he's sentenced to death….what on earth makes these people believe he cares about the thousands being slaughtered in Sudan?
2 Memphis police officers charged in separate investigations
Two Memphis police officers were walked to squad cars in handcuffs Thursday after their arrests in separate criminal investigations.
Both men were jailed and relieved of duty with pay pending administrative hearings.
"Corruption has no place in the Memphis Police Department," said Director Larry Godwin. "As far as I'm concerned, that's two criminals off the streets."
I'm starting to wonder which is worse when it comes to corruption….Chicago, New Orleans, or Memphis.
Obama cheers Congress over children's health bill
"Providing health care to more than ten million children through the Children's Health Insurance Program will serve as a down payment on my commitment to ensure that every American has access to quality, affordable health care."
The measure is similar to legislation twice vetoed by President George W. Bush, and is another building block in attempts by Obama's Democrats to roll back the former US leader's Republican agenda.
The bill, which earlier passed by 289 votes to 139 in the House, renews the State Children's Health Insurance Program (SCHIP), preserving healthcare coverage for seven million children and extends it to four million who were uninsured.
It is paid for partly by raising the tax on tobacco, among other measures, a move which the bill's advocates say will have the added benefit of discouraging more than a million children from taking up smoking.
One more step in the nanny state.  It is not the government's job to provide health care.  They screw up everything else, and they'll screw this up too, with an overbloated bureaucracy.  Question:  If smokers are taxed out of existence, who is going to pay the bill?
Senate Republicans May Use Filibuster to Block Stimulus
Republican senators who oppose the $819 billion economic stimulus plan passed in the House Wednesday declined to say whether they personally would lead a filibuster to try to stop the legislation in the Senate. But they said a filibuster is an option and they are developing a strategy to stop the bill.
The House bill passed 244 to 188. No Republicans voted for the legislation and 11 Democrats also opposed it. As this story went to press, GOP senators indicated they were working on a coordinated plan with Senate Republican Whip Jon Kyl (R-Ariz.) and that a filibuster is a possible part of that plan.
Images of Jimmy Stewart pop into my head. I wonder if they coordinated the effort, took turns reading the Constitution, Declaration of Independence, the Bible…things like that, yielding to ONLY those who would take up the banner…..would it work?
S.S.  D.D.
Philippians 4:4-7
4 Rejoice in the Lord always: and again I say, Rejoice.
5 Let your moderation be known unto all men. The Lord is at hand.
6 Be careful for nothing; but in every thing by prayer and supplication with thanksgiving let your requests be made known unto God.
7 And the peace of God, which passeth all understanding, shall keep your hearts and minds through Christ Jesus.