An Ol' Broad's Ramblings
Archive for 6 February 2009
Thought my windshield was dirty!
But I don't have this kind of talent…..or patience.
Courtesy of Sharon.
Redneck Test from Dumb Spot!
Dumb Quizzes | MySpace Quizzes & Quotes | Make a Quiz
I suppose I've lived in too many cities to actually qualify by this standard.  That's quite alright.  I prefer indoor plumbing anyway.  Hey….. I'm a girl!
Intelligence Test from Dumb Spot!
Dumb Quizzes | MySpace Quizzes & Quotes | Make a Quiz
What???  You mean you don't believe it??  And NO, I did not cheat!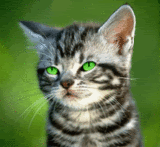 Yes, every once in a while, I get extremely bored with politics, and find things to amuse myself.
As a follow up to this post on Monday:
Worldwide Condemnation Pours Down On Venezuela After Synagogue Attack in Caracas
In the meantime, even after 5 days, eyewitnesses and video, criticism began to mount on government authorities who have not yet identified the perpetrators of the attack and 4 hour long occupation.
While the government publicly denied that investigations had yet to support claims that its supporters were involved in the attack, a source close to the investigation in the government security services confirmed to the Latin American Herald Tribune that a group of Palestinian and Arab supporters in Venezuela were responsible.
No, really? I'm shocked…SHOCKED, I tell ya! /sarcasm
Chavez for his part, in a live interview on CNN on Monday continued a government strategy that sought to put responsibility for the attack on the Opposition in Venezuela. "Here what we have is a tremendous blackmail of some media that are owned by the bourgeoisie. What happens is that there is is a laboratory that creates these incidence of violence and then points the finger at the government."
Chavez doing what Chavez does.  Attempting to break the fingers pointing directly at him.
Other officials in and out of the government had chimed in, echoing this strategy of blaming the opposition or even the victims themselves. For example, Susana Kalil, a member of the Organization for the Relief of the Palestinian People, pointed the finger at Mossad, the Israeli intelligence service. She claimed that Mossad had done it in order to damage the image of Chavez' revolutionary process. She went on to claim that the attack on the Jewish house of worship is typical of Mossad and the Zionist movement worldwide, "putting bombs in their own synagogues and then accusing the rest of anti-Semitism."
I'm trying to follow the logic here. Oh, wait a minute. These are major anti-semites. There IS NO logic.
General Motors to Invest $1 Billion in Brazil Operations — Money to Come from U.S. Rescue Program
SAO PAULO — General Motors plans to invest $1 billion in Brazil to avoid the kind of problems the U.S. automaker is facing in its home market, said the beleaguered car maker.
According to the president of GM Brazil-Mercosur, Jaime Ardila, the funding will come from the package of financial aid that the manufacturer will receive from the U.S. government and will be used to "complete the renovation of the line of products up to 2012."
I beg your pardon? OUR tax dollars, meant to 'stimulate' OUR economy, helping Detroit with is major problem, is going to a different country????? $1,000,000,000!
"It wouldn't be logical to withdraw the investment from where we're growing, and our goal is to protect investments in emerging markets," he said in a statement published by the business daily Gazeta Mercantil.
Do they have to pay absurd ridiculous union packages down there? If not, someone might want to take a GOOD look, and figure out how to do things a bit differently up here.
This year sales will reach 2.85 million vehicles, which represents a growth of 15% over last year.
Car sales in Brazil are up. In the U.S., they are down. Why is this? And I would still like to know who gave them permission to steal OUR money, and invest it in a FOREIGN operation! I know I sure didn't!  From a business standpoint, investing money where it will actually MAKE money, is just plain common sense.  That being said, we do not pay taxes so we can prop up the economy of a foreign country.  We pay taxes to aid in our own economy.
IMHO:  Not one more single thin dime goes to General Motors.  I want that money returned!  NOW!
If I'm not mistaken, the American people said NO to the Detroit automakers.  D.C. should have listened!
H/T:  Sharon via email
Senator: Talk Radio Hearings Could Be On The Way
WASHINGTON — February 5, 2009: Sen. Debbie Stabenow (D-MI) told nationally syndicated talk host Bill Press this morning that the recent flips of liberal Talk stations in several markets were a "disservice to the public."
Stabenow said that, in the day of the Fairness Doctrine, "you had to have balance," and continued, "I think something that requires that in a market with owners that have multiple stations that they have got to have balance — there has to be some community interest — balance, you know, standard that says both sides have to be heard."
Stabenow told Press that the airwaves are "dominated by one view" that "overwhelms people's opinions — and, unfortunately, incorrectly," and said that "right-wing conservative talk hosts" are "trying to make people angry and saying all kinds of things that aren't true and so on."
When Press asked if it is time to bring back the Fairness Doctrine, Stabenow responded, "I think it's absolutely time to pass a standard." To Press' inquiry as to whether she will push for hearings in the Seante "to bring these owners in and hold them accountable," Stabenow replied, "I have already had some discussions with colleagues, and, you know, I feel like that's going to happen. Yep."
Let's see. The left has NBC, CBS, ABC, CNN, MSNBC, not the mention the overly left leaning "entertainment" industry, all whose numbers are going down the tubes. We have "talk radio", whose numbers are sky rocketing. Hmmm…. Fair? Yes. It is fair. People don't want to hear the garbage that liberal radio spews, ergo, they go under. They want 'fair'? How 'bout shuttin' up, and give us thinking folks a break from their hatred? Now THAT would be fair!
Employer Slashes 598K Jobs in January, Unemployment Rate Jumps to 7.6%
U.S. employers eliminated 598,000 jobs in January, the most since the end of 1974, and catapulted the unemployment rate to 7.6 percent. The grim figures were further proof that the U.S. job climate is deteriorating at an alarming clip with no end in sight.
The Labor Department's report, released Friday, showed the terrible toll the drawn-out recession is having on workers and companies. It also puts even more pressure on President Obama to revive the economy.
To be perfectly honest, I believe the reason companies are slashing so many jobs is because they have no faith in The ONE to keep them afloat, as they shouldn't. Do you know ANYONE who has faith in the federal government?  I dunno, perhaps if they were more interested in actually doing the job, instead of having power, folks out here in the real world wouldn't consider them the most useless bunch of freeloaders……EVAH!
Nashville doctor in drug case served time for murders
Before this week's arrest on charges of drug-related organized crime in Kentucky, the anesthesiologist Visuvalingam Vilvarajah was a convicted murderer in Tennessee.
He served five years for the 1986 murders of his wife and mother-in-law. While on parole for the felonies, Vilvarajah got his medical license back.
Ok, the word murder is used. Murder. 5 years? For murder????? And then he gets his medical license re-instated? Who's running that pop stand???  I'm speechless.
UNRWA Suspends Aid to Gaza Over Hamas Raid
The United Nations Relief and Works Agency (UNRWA) announced Friday it will suspend its humanitarian aid to Gaza until further notice over a raid on the agency's distribution center.
Hamas police held up the UNRWA distribution store at Beach Camp in Gaza at gunpoint Tuesday, stealing 3,500 blankets and 406 tons of food parcels intended for 500 impoverished families in the region.
The raid was carried out after UNRWA staff had earlier refused to hand over the supplies to the Hamas-run Ministry of Social Affairs, according to the agency's Jerusalem-based spokesman, Chris Gunness.
NO aid should be sent into Gaza until the Gazans kick Hamas to the curb!
HAMAS' BAGMEN CAUGHT WITH $9M+
The delegation walked away from the cease-fire talks because of disagreements over the blockade against Gaza and border security. Talks will continue at a later date.
An Egyptian security official, speaking on condition of anonymity, said the group initially refused to be searched by Egyptian authorities at the Rafah border crossing.
When the group relented, authorities found $7 million and 2 million euros ($2.5 million) in cash in their suitcases. But another security official, also speaking on condition of anonymity, said $9 million and 2 million euros were found.
Why do I get the impression that money was NOT for the workaday folks? Hmmm…. Probably because Hamas has done NOTHING to help them? Instead of making good use of the facilities left by the Israelis, like hot houses, that could actually provide jobs, and food, for the people. Just one example.
Undercover officers snare at least 8 suspected prostitutes
Undercover officers picked up at least eight suspected prostitutes Thursday night during a sting that targeted well-known Memphis sex markets.
Those arrested were Kim West, 23, Tannille Carrick, 27, Destinae Slighton, 28, Melanie Jones, 41, Bethany Culliver, 25, Tabitha Masterson, 46, Tracy Murrell, 26, and Angela Hull, 41.
All were charged with prostitution near a church or school.
I know that prostitution is not a good thing, it does destroy lives of more than just those who, um, are caught with their pants down. And near schools and churches? Well, that's pretty trashy. But what struck me…there is so much crime going on in Memphis, a LOT of gang activity and such, is it really doing any good focusing on hookers, a symptom, instead of going to the source of the symptom? Perhaps that 'broken window' philosophy can do some good?
Senate leaders strain for stimulus bill votes
Any hopes for bipartisan cooperation that President Obama once harbored crashed on Capitol Hill just three weeks into his presidency as Senate leaders strained Thursday to pass his $900 billion economic stimulus bill with the minimum necessary number of Republican votes.
After threatening to meet through the night and warning that the financial markets could crash in the morning, Senate Majority Leader Harry Reid of Nevada said a bipartisan group of 16 senators would look for more spending cuts in the bill today.
Give me a flippin' break! There was NO hope of bipartisanship when BHO took office. What he was hoping for was that the Repubs would just bend over for him, like his drooling acolytes. Nancy Pelosi and Harry Reid, two of the most feckless in D.C. run roughshod over everyone, including their own party members, and ignore common sense. They want 'spending cuts'? How about throwing out all those special 'projects', that do NOTHING for the American people!  Oh, and Harry?  At this point in time, the market is UP!  When are CA and NV going to get rid of those two morons?
Kosovo: Rise in depleted uranium related ailments, report says
The number of illnesses related to exposure to depleted uranium in some parts of Kosovo has more than doubled after the 1999 NATO bombings, where the controversial weapon was used, a non-governmental organisation's report has shown on Friday.
Depleted uranium? Just what kind of bombs did NATO use? I don't remember anything about any uranium being involved back then. Did I miss something?
In Japan, a lonesome bridge offers U.S. a lesson
Moreover, it matters what gets built: Japan spent too much on increasingly wasteful roads and bridges, and not enough in areas like education and social services, which studies show deliver more bang for the buck than infrastructure spending.
"It is not enough just to hire workers to dig holes and then fill them in again," said Toshihiro Ihori, an economics professor at the University of Tokyo. "One lesson from Japan is that public works get the best results when they create something useful for the future."
I'm thinking the key word here is useful. I've seen very little in the Porkulus that would be all that useful, to anyone.
S.S.  D.D.
Luke 22:67-70
67 Art thou the Christ? tell us. And he said unto them, If I tell you, ye will not believe:
68 And if I also ask you, ye will not answer me, nor let me go.
69 Hereafter shall the Son of man sit on the right hand of the power of God.
70 Then said they all, Art thou then the Son of God? And he said unto them, Ye say that I am.