An Ol' Broad's Ramblings
Archive for 6 March 2009
There has been a war going on for a very long time….millennium as a matter of fact. In today's world, the war is still being waged, on many different fronts, but the objective is still the same. We are battling for our very soul, as people, as a nation, the entire world. Evil comes in many different forms, and right now, we are seeing an ugliness, that may have been apparent in earlier times, but never in my lifetime.  I've been feeling like I'm being dragged down into the cesspool, and I don't much like the feeling.
I started this blog nearly four years ago because I had something to say. It turns out, I had a LOT of somethings to say. 

Since that time, there have been ups and downs, good and bad. There have been some folks who have traveled to far places with us, and battled those butt ugly birds with me. Y'all have visited with my family (and friends), and prayed when I had health issues. For each and every one of you, I am grateful.
I have made some good friends (obviously, there are MANY more), made an enemy or two….or five, been called some rather amusing, and not so amusing names.
Recently, I have been doing some serious soul searching, and while I will never give up my battle, my 'front' is moving in a different direction. My priorities are still the same, they are just in a different order.
What am I getting to? Well, I'm going to be stepping away from my keyboard.  Not completely, but I won't be posting as much as has become my norm.  I've asked a young lady to pop in now and then to post her rants. Yes….I said young. At this point in time, anyone who is at least five years younger than me is "young".
Is she going to take me up on my plea? I think so. She's still contemplating, but things are lookin' good.  Don't scare her off.  She's got the MOM gene, and she knows how to use it!  She also works for a living…..at least so far…..so odds are, there won't be the ton of daily posts from her end.
I'm sure, if you are a frequent visitor, you'll have noticed a few differences, and now you know why.  I will be stepping in now and then, probably at least once a day….for a while. You can't get rid of me that easy y'know.  I still have something to say, just won't be saying it very often.  Oh, and I'll also be frequenting lots of the same sites I always have, and tossing in my two cents.
Matthew 19:26
But Jesus beheld them, and said unto them, With men this is impossible; but with God all things are possible.
Speaker Pelosi Backs Senate Amendment to Regulate Talk Radio
Speaker of the House Nancy Pelosi (D-Calif.) told CNSNews.com on Thursday that she supports an amendment to a Senate bill that would force the Federal Communications Commission (FCC) to "take actions to encourage and promote diversity in communication media ownership and to ensure that broadcast station licenses are used in the public interest."
Ok, let's take the obvious violation of the 1st Amendment out of the equation here for a minute. The most listened to stations are of the conservative bent. What do these talkers discuss? Why, they point out all the absurdity of the left, of course. And who is on the left? We have the Queen P, herself….ol' Pelosi from moonbatland. So, of course she is going to support anything that will shut up people who criticize her, and her cronies.
What is this promotion of 'diversity'? According to Durbin: "When we talk about diversity in media ownership, it relates primarily to gender, race and other characteristics of that nature."
Uh huh. Got it. How 'bout this instead….how about we let people who have the means, and the willpower, run their stations in the manner they wish, regardless of gender, race and those "other characteristics", which, no doubt means either conservative or liberal. Hey…what a novel concept!
Now, back to that pesky 1st Amendment:
Congress shall make no law respecting an establishment of religion, or prohibiting the free exercise thereof; or abridging the freedom of speech, or of the press; or the right of the people peaceably to assemble, and to petition the government for a redress of grievances.
Hmmm….let's see. "Freedom of speech". Ok, now I'm no Constitutional expert, by any stretch of the imagination, but I take that itty bitty phrase to mean just what it says. Free to speak your mind, which many talk radio hosts do….on a regular basis. Some, a whole lot better than others.
Then we have "the right of the people peaceably to assemble". I don't know about you, but when I'm with the Mr, gathered around the radio, we are mostly peaceable…with the occasional "You have GOT to be kidding", and "Holy crap!" thrown in. We don't typically start a riot or anything while riding in the car, or sitting in the living room.
Ok, how about that "petition the government for a redress of grievances"? Isn't that what many of the conservative talkers doing? Addressing grievances of a large number of the citizens?
So, you see Mizzzzzzzzzzzzzzzzzzzzz Pelosi, and Massa Durbin….your actions are a violation of the U.S. Constitution. IMHO.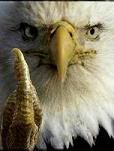 Execute Rush Limbaugh for treason?
Radio talker Stephanie Miller, outraged that Rush Limbaugh wants Barack Obama's policies to fail, has called for the nation's top talk host to be charged with treason and executed.
She made the call, not on her rather obscure radio program but on CNN's "Larry King Live" show Tuesday.
King seemed unfazed by the suggestion, neither following it up with a challenge or a question.
"To me that seems treasonous," Miller said. "If I could say something tonight that gets me that kind of attention, like maybe Rush Limbaugh should be executed for treason. How about that?"
Who?  Who the heck is Stephanie Miller? This is getting ridiculous!  Does anyone remember the nonstop calls for Bush to be killed, for no other reason than he wasn't a Dhimmicrat?  I don't remember anyone on the left yelling treason, and few on the right mentioned those calling for his death, and actually working for his failure, to be charged and executed.  But this mindless Obama drooler has decided the 1st Amendment only applies to HER side.  WRONG, bimbo!  I want B. Hussein's policies to fail too….you want me charged with treason and executed?  I'm afraid there would be a REAL long line.
James 1:12-15
12 Blessed is the man that endureth temptation: for when he is tried, he shall receive the crown of life, which the Lord hath promised to them that love him.
13 Let no man say when he is tempted, I am tempted of God: for God cannot be tempted with evil, neither tempteth he any man:
14 But every man is tempted, when he is drawn away of his own lust, and enticed.
15 Then when lust hath conceived, it bringeth forth sin: and sin, when it is finished, bringeth forth death.