An Ol' Broad's Ramblings
Obama is a great pretender. He repeatedly says he is doing things that he isn't, trusting his powerful rhetoric to obscure the difference. He has made "responsibility" a personal theme; the budget's cover line is "A New Era of Responsibility." He says the budget begins "making the tough choices necessary to restore fiscal discipline." It doesn't.
And y'all that bought into his BS?  Thanks for putting the nail in our coffin!
A prudent president would have made a "tough choice" — concentrated on the economy; deferred his more contentious agenda. Similarly, Obama claims to seek bipartisanship but, in reality, doesn't. His bipartisanship consists of including a few Republicans in his Cabinet and inviting some Republican congressmen to the White House for the Super Bowl. It does not consist of fashioning proposals that would attract bipartisan support on their merits. Instead, he clings to dubious, partisan policies (mortgage cramdown, union card check) that arouse fierce opposition.
A prudent country wouldn't have elected such an arrogant weasel as POTUS.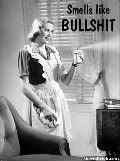 Comments are closed.