An Ol' Broad's Ramblings
Archive for 6 October 2009
I was snooping around the internet, looking for something, and came across this: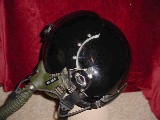 What's so creepy? Well, evidently, this is the helmet that my cousin used. He was an Air Force test pilot, 'bandit' #166 in 1984, F-117.  Something went real wrong, and it crashed.  Now, tell me that coming across his helmet isn't just a tad bizarre.
I can't even remember what I was looking for now.
Oh, in case you were wondering:

….but I have a couple of questions.  Why didn't bho's staff tell their hand picked doc's to bring their own 'lab coats'?  Just what kind of doctor wears a lab coat out in public?  And just how stupid does the Obama folks think we are to buy into this bogus crapola?

White House staffer hands out lab coats to audience members prior
to US President Barack Obama's remarks on Health Care reform
in the Rose Garden of the White House.
Friend and blogging bud, Texas Fred, is really good at getting under the skin of as he calls them, "libber pukes".  Fred pulls no punches! 
Well, earlier today, Fred put up a post about the anti-gun mayors.  In the course of the afternoon, he discovered there was ONE mayor in Texas who had signed on to Mayors Against Illegal Guns.  Now, I honestly don't see the need for such an organization.  I don't know a single person who is FOR 'illegal guns', other than criminals, and they don't give a flip about legality of anything.  Well, the exchange between Fred and Mayor Feckless of Hurst (or as many folks I knew in Dallas called it, Wurst) Texas got quite, shall we say, interesting.
I gotta tell ya, if this clown is an elected official, no wonder people call it Wurst!  What a juvenile reaction to an email….FROM anyone!  This is the face he's putting on his city??  I find it really hard to believe this guy was actually BORN in Texas!  How embarrassing!
A small portion of this idiot's response:
You are as ugly as you are dumb. I suggest you at least take your picture from your web site. If you want to see a handsome dude, go to the City Of Hurst web site.
Hey Mayor! Here's yer sign!
Marsha is a little spitfire, that's for sure, but there's one thing I wish she'd do for me. Just haul off and smack the hellfire outta Nancy Pelosi.
I know she won't do it, cuz well, that would just be tacky in the halls of Congress. Hmmm… Better idea….drop her off in the middle of Memphis.
Just a suggestion.  Oh, and for the record, I don't agree with everything she's done, but lemme tell ya, compared to the Rep we use to have, she's a total prize!
Today we begin yet another week in Washington and it seems as though many of the issues that have been of concern for so long are finally coming to a head. On issue after issue, my colleagues and I are battling against bureaucratic overreach executed by an Administration that doesn't seem to have the same healthy suspicion of big government solutions that I do. As you tune in to the news every day, you can expect to see movement on all of these issues:
Health Care: The Senate Finance Committee is wrapping up their work and now House and Senate Democrat leaders are busy counting votes. I expect to see final floor action within the next three weeks in both the House and Senate. The Democrats want America to believe that Republicans have no health care reform ideas of our own. That just isn't true. I am co-sponsor of three different pieces of legislation that will use free market principles, not government takeovers; to achieve the kind of reform American's want. We will all have to fight hard in the coming weeks to make sure that our ideas are included in any final product. We know that Americans don't want to replace health insurance bureaucracies with government bureaucracies and we're fighting to make sure this doesn't occur.
Cap & Trade: Speaker Pelosi barely maintained a majority to get the Cap & Trade vote through the House. Companion legislation is now beginning to make its way slowly through the Senate. However, the Environmental Protection Agency isn't satisfied with Congress' deliberations. The EPA has decided to begin implementing Cap & Trade style restrictions on carbon dioxide unilaterally. Last week, the EPA took another step in creating onerous regulations that could shut down hundreds of factories across America and put thousands more Americans out of work. My bill, H.R. 391, will stop them, and I am working hard to get it passed.
Czars: What the President can't get done in Congress he tries to push through with super-bureaucrats many in Washington call "Czars". While there is nothing wrong with a President choosing his own staff to execute his priorities, the proliferation of staff in this Administration who have duties that would otherwise require Senate confirmation is amazing. I have a resolution that will require immediate transparency for the "Czars," while many of my colleagues have introduced bills to apply long-term accountability.
What are we getting for all of this overreach? Our federal debt has reached historic levels, but unemployment is climbing just as high. The news that GM is shutting down the Saturn brand is as hard for Tennessee's auto parts manufacturers to digest as 10% unemployment is for the rest of the country.
As these issues develop over the rest of October, expect to see us fighting hard for a return to fiscal responsibility and common sense good government.
My Best
Marsha
There has been much to do about flu in recent years, from the media and government.  These days, folks seem to be quite divided about taking flu shots, and this 'new' H1N1 vaccine is creating quite a controversy.  Now, I don't know about you, but I will NOT be taking a flu shot, of any kind.  And I'll tell you why!  The last time I took one of those shots, I was more sick than I've ever been in my entire life, to the point I wish I would have died!  It developed into pneumonia, and lemme tell ya, if you've ever had that, you KNOW death might an improvement.  I have not had, nor will I EVER take another flu shot!  NEVER!  EVER!
Watch this video:

Signs and Symptoms of Influenza (source)
As most of you probably know, influenza is a contagious viral respiratory infection. Symptoms include:
* Fever
* Chills
* Runny nose
* Sore throat
* Cough
* Muscle aches
* Fatigue
* Decreased appetite
Typically, the condition will improve after two to three days of bed rest, although some symptoms may persist for about a week.
What many people do NOT know, however, is that death caused directly by the flu virus is very rare. The vast majority of so-called "flu deaths" are in fact due to bacterial pneumonia – a potential complication of the flu if your immune system is too weak.
Crap!  Except for that decreased appetite business (I wish), I've had the flu for the majority of the last 8 years! 
  Ok, not really, but shoot, at some point or another, haven't we ALL had such symptoms?  Well, perhaps not the Mr.  Honestly, he never gets sick (and I think I know why
).
Let's see…it's nippy, so I've got chills.  I have allergies, so we have the occasional runny snout.  Sore throat?  Yeah..a little.  Cough?  Hey, I smoke!  Morning hacks are the norm.  Muscle aches come from both old age and fibromyalgia. Right now, I'm going to blame the fatigue on the weather. Rain, rain, and MORE rain. Well, alright, let's just say it…..lazy!
Alright, now I'm going to stop being flippant, for just a moment. Do I take the flu seriously? Oh, you bet I do. I'm sure we all have heard about the Spanish Flu Pandemic of 1918. I'm trying to figure out why they called it Spanish flu, if the flu virus tends to originate in Asia? Well, that's neither here, nor there.
(Source.)
An estimated 50 million people died worldwide from this flu, with approximately 500 million reported cases. If my old brain is working correctly, that's one in 50?  How many people die every day, because, well, because that's what happens?  People die.  Accidents, disease, and plain old age.  We die.  We ALL will die.  No matter what we do, our bodies are going to be worm food.  That's just the way it is, and there is NOTHING we can do about it.  We all have an appointment with death.
Now, when it comes to the panic mode that the 'officials' are pushing, I think people need to get ALL the facts!  I've done my own personal investigation, and taking into account my personal experience, I will repeat….I WILL NOT BE TAKING ANY FLU SHOT!
A Letter from a Child
by Thomas Sowell
Recent videos of American children in school singing songs of praise for Barack Obama were a little much, especially for those of us old enough to remember pictures of children singing the praises of dictators like Hitler, Stalin and Mao.
But you don't need a dictator to make you feel queasy about the manipulation of children. The mindset that sees children in school as an opportunity for teachers to impose their own notions, instead of developing the child's ability to think for himself or herself, is a dangerous distortion of education.
Parents send their children to school to acquire the knowledge that has come down to us as a legacy of our culture– whether it is mathematics, science, or whatever– so that those children can grow up and go out into the world equipped to face life's challenges.
Too many "educators" see teaching not as a responsibility to the students but as an opportunity for themselves– whether to indoctrinate a captive audience with the teacher's ideology, manipulate them in social experiments or just do fun things that make teaching easier, whether or not it really educates the child.
"You don't need to know. You can't know." That's what Kathy Norris, a 60-year-old grandmother of eight, was told when she tried to ask court officials why, the day before, federal agents had subjected her home to a furious search.
If I'm not mistaken, the 4th Amendment says just the opposite: The right of the people to be secure in their persons, houses, papers, and effects, against unreasonable searches and seizures, shall not be violated, and no warrants shall issue, but upon probable cause, supported by oath or affirmation, and particularly describing the place to be searched, and the persons or things to be seized. And if ever there was a case of 'unreasonable', this would be it!
The agents who spent half a day ransacking Mrs. Norris' longtime home in Spring, Texas, answered no questions while they emptied file cabinets, pulled books off shelves, rifled through drawers and closets, and threw the contents on the floor.
The six agents, wearing SWAT gear and carrying weapons, were with – get this- the U.S. Fish and Wildlife Service.
Fish & Wildlife? SWAT gear and weapons?  Are the serious?
Kathy and George Norris lived under the specter of a covert government investigation for almost six months before the government unsealed a secret indictment and revealed why the Fish and Wildlife Service had treated their family home as if it were a training base for suspected terrorists. Orchids.
If you really want to get your blood boiling this morning, read this whole column.
I don't care what side of the political spectrum you are on, things like this should really make you stand up and pay attention to what has REALLY been happening in this country.  How many stories like this do we NOT hear about?  Obvious violations by a federal agency of the U.S. Constitution, and down right common sense!  This type of blatant disregard of the citizens of this country started long before either Bush, or Obama were gleams in their daddy's eyes.  This is not a left or right issue.  This is a right and wrong problem.  One that has been going on for FAR too long, and must be stopped!