An Ol' Broad's Ramblings
I was snooping around the internet, looking for something, and came across this: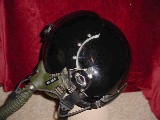 What's so creepy? Well, evidently, this is the helmet that my cousin used. He was an Air Force test pilot, 'bandit' #166 in 1984, F-117.  Something went real wrong, and it crashed.  Now, tell me that coming across his helmet isn't just a tad bizarre.
I can't even remember what I was looking for now.
Oh, in case you were wondering: