An Ol' Broad's Ramblings
Archive for 23 October 2009
Gingrich: Liberal Republican 'dramatically better' than Democrat
New York Republican congressional candidate DeDe Scozzafava not only has the backing of Planned Parenthood and The Daily Kos, but her campaign has also received financial endorsements from the Republican National Committee and Republican leaders such as House Minority Leader John Boehner, House Minority Whip Eric Cantor, and former House Speaker Newt Gingrich
Gingrich recently said Scozzafava's election could be the start of a "new Republican Revolution" that mirrors the "1994 Republican Revolution." On the Andrew Wilkow Show Wednesday, Gingrich explained his endorsement of Scozzafava.
"She's dramatically better than the Democrat. She's not the person I would have nominated [and] she's not the person who fits my values 100 percent, but she is a heck of a lot better than the liberal Democrat," stated Gingrich. "And if you want to have a conservative majority in Washington, part of that majority's going to make you uncomfortable."
I honestly cannot see how such a DIABLO (Democrat In All But Label Only) would aid in either mirroring the '94 'revolution' (which they screwed up royally) or having anything close to a conservative majority.  If Mr Gingrich was honestly concerned about putting conservatives into office, why did he not endorse the only actual conservative who is in the race?  The only explanation I can think of….it's all about the party, NOT the principles, and that just will NOT do!
Do you ever feel like your employees are giving you the shaft? That's probably because….they are!
Government watchdogs say those trips are a waste of taxpayer money, and they're not alone on an eye-popping list of NEH funding for projects, including:
* $400,000 for an exhibition "exploring the importance of plants as a source of inspiration for noted American poet Emily Dickinson"
* $350,000 to explore the "cultural significance of the circus poster"
* $725,000 to produce a two-hour documentary on the history of American whaling.
* $130,000 for 16 professors to study the "truth and meaning" of life according to Aristotle
* $50,000 to build a computer model of an ancient city in Pakistan complete with "animated and interactive 'inhabitants'"
This is NOT why we pay taxes!  And they wonder why we are so pissed off??
I happened to run across one of the best explanations of the Tea Party, that totally seems to escape the MSM, and the general lefties seem are incapable of understanding.
TEA PARTIES: ARE YOU MISSING the POINT???
by Matthew Murphy
Just a snippet:
A look at a few of the issues:
Debt
Money does not grow on trees. Money is scarce (limited in supply). Washington does not understand this, nor do they need to since the FED will gladly print money for them.
Both parties are guilty of creating this crisis. Foreign nations won't keep buying our debt, and it will become obvious to them that we won't be paying it back. Americans will face higher taxes but this won't be enough to cover it. That's where the printing press (or more and more often, entering the digits on a keyboard) will fill the gap. Bringing on such economic turmoil will leave the average American family in devastation.
Please go read the entire post here.
There are way to many who seem to believe our rallies are all about Obama.  They are wrong!  Some, and we all know who, would like to think this is about color.  Nothing could be farther from the truth!  We are all about policies, and the rampant destruction of our nation.  Some ask "Where were you when Bush was doing the same thing?"  When Bush needed criticism, we were on it, it's not our fault if you weren't paying attention.
Apathy has brought us to this point.  Well, we've had a serious wake up call with the erosion of the Constitution, and apathy is no longer an option.  Not if we want to preserve what we have and regain what we've lost.
U.S. production slow; Milwaukee wants target groups vaccinated first
If there was ever any question in your mind about the leanings of the lame stream media, wonder no more.
MSNBC Anchors Lash Out at Cheney; Wonder If He's of a 'Rational, Healthy Mind'
Shuster and Hall seemed particularly upset over Cheney's speech on October 21 where the Vice President accused Obama of "dithering" on an Afghanistan strategy and also being "afraid" of making a decision. Talking to Newsweek reporter Michael Isikoff, Hall bristled, "As a woman, of course, I read in all kinds of machismo with this language, you are afraid to come out with a decision, almost taunting there."
The liberal Shuster could barely contain himself. Commenting on Cheney's frail physical condition, he taunted, "What do you think he is after here, assuming that he is of some sort of rational, healthy mind?"
There seems to be some sort of mental disease running rampant, but it isn't on the part of Dick Cheney. I guess in their minds, if anyone dares to criticize the liberal media's Chosen ONE, they must be nuts, right?
Hey!  Libtards!  I'd take a strong Dick Cheney type over the linguine spined Obama….ANY DAY!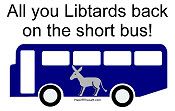 So, how's that workin' for ya!? In the grand scheme of things, I don't think McCain would have been doing a much better job, but I do know he would have been more open about what what he was up to, unlike this administration.
See the full post at ARRA.