An Ol' Broad's Ramblings
Archive for 25 November 2009
To the jackass who refers to himself/herself as "white power":  Not one single comment of yours will EVER be approved!  Never!  So, do us both a huge favor, and stop bothering to leave them.  There is nothing you have to say that adds to the conversation.  To be honest, I'm not at all surprise to find someone of you ilk living in a city such as Milwaukee, near Layton Ave.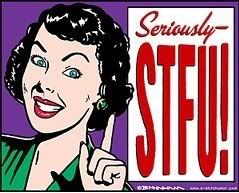 MSNBC Exclusive: Fort Hood Never Happened!
by Ann Coulter
It's been weeks since eyewitnesses reported that Maj. Nidal Hasan shouted "Allahu akbar" before spraying Fort Hood with gunfire, killing 13 people.
Since then we also learned that Hasan gave a medical lecture on beheading infidels and pouring burning oil down their throats (unfortunately not covered under the Senate health care bill). Some wondered if perhaps a pattern was beginning to emerge but were promptly dismissed as racist cranks.
We also found out Hasan had business cards printed up with the jihadist abbreviation "SOA" for "Soldier of Allah." Was that enough to conclude that the shooting was an act of terrorism — or does somebody around here need to take another cultural sensitivity class?
And we know that Hasan had contacted several jihadist Web sites and that he had been exchanging e-mails with a radical Islamic cleric in Yemen. The FBI learned that last December, but the rest of us only found out about it a week ago.
Is it still too soon to come to the conclusion that the Fort Hood shooting was an act of terrorism?
The BIG Lie!
The Lie That May Save America!
by J. D. Longstreet
Just a snippet:
I'm no "seer" or clairvoyant, or anything like that, but, I would bet, if I were a betting man, that they are going to try to salvage this thing — somehow. They have to. The US government (now under the management of socialists) along with the office of the President (also under socialist management) plus the entire west wing of the Executive Office Building, absolutely must do something to salvage whatever they can.
The socialists in the American government today are totalitarians. They believe they, and they alone, must have total power over you. And they do not think you are very smart, at all. They think they are they brightest of the bright and they have something akin to a "Divine Right" to rule over you. That is, if they actually believed in a divinity! They call themselves "Progressives" For those of you who have not lived as long as I have, back in my youth "Progressive" was the label used to denote members of the Communist Party. I declare to you now, nothing, much, has actually changed. If you compare the actions of the members of our current government to the actions called for by the communist world's leaders, you will quickly see that "OUR PROGRESSIVES" may still call themselves Progressives but in reality, they are communists. We have tried to be charitable here by using the less harsh term of "socialist." Maybe we should consider just letting it all hang out and begin the use of the "C" word to describe the folks now in charge of the US Government and be done with it.
Read the whole post here.
There has been a major battle going on for years, thanks in great part to the blowhard, Gore, who has been making MILLIONS off his scams.  Now things are going to get even more heated (no pun intended).
Much has been made of the way Michelle Obama dresses. Let's face it, they can call her a fashion plate, but the reality is something a whole lot different.
From the 'black widow'…
To the shower curtain…
The bumble bee look…
How about granny's curtains…
And let's not forget about this little number worn at the Posthumous Medal of Honor ceremony…

To say I was rather surprised at her choice of dress last night at the big State shindig, would be an understatement!

Rather tasteful in my humble opinion.  And from the looks of it, quite expensive. 
Looking at this picture this morning was, literally, the first time I did NOT cringe in embarrassment.
How Michelle Obama dresses makes no difference to me at all.  If she want to wear slip covers, that's her business.  But when she is representing the U.S.A., can we please have a little dignity?
And no, before the left goes into a wild orgasmic frenzy, I am not the height of fashion either.  T-shirts and blue jeans!  But then, I'm not the First "Lady", so I don't have to impress anyone.