An Ol' Broad's Ramblings
Matt Lauer Lectures: 'Our Appetite for Oil' Caused Spill
NBC's Matt Lauer, on Tuesday's Today show, blamed America's "appetite for oil" as the reason for the spill in the Gulf and asked former NBC Nightly News anchor Tom Brokaw if the country will finally "take away the proper message" from the mess? For his part Brokaw responded that he hoped "young people who are coming of age" and entering public service and the corporate world will view the spill as a "defining moment" and warned if they didn't make the needed changes "we're gonna have these kinds of ecological disasters in waves coming year after year."
Day after day, Matt Lauer must prove he is an idiot. No, you pompous ass, what caused the spill, and the ecological disaster is:
1. Not allowing companies to drill where it IS safe.
2. Reckless shortcuts taken by the company.
3. An administration that is beyond ignorant.
4. A bureaucracy that has done all in it's power to make the disaster MUCH worse than it should have been.
5. Idiots like YOU!
And that's just for starters.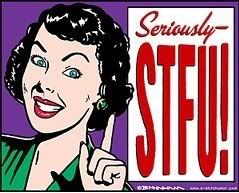 Glenn Mark Cassel AMH1(AW) USN Ret.. 29 June 2010, 11:30 pm

If either of my daughters had brought a piece of shit to the house like this?!?!?!?!?! Louisville Slugger. Bauer hardwood hockey stick. At least. Good Lord this so called journalist is a frigging idiot!
My mother the democrat for life, school teacher, clinton is way cool person she is has limits! And this would be one of them.
The boy Lauer would be made to drop and give me fifty. And by Gunny Ermey's rules, OK?!?!!?