An Ol' Broad's Ramblings
Archive for 12 March 2012
Texas Voter-Identification Law Is Blocked by Justice Department as Biased
The Obama administration blocked Texas (BEESTX)'s new law requiring voters to show government-issued photo identification at the polls, escalating a partisan dispute over voting restrictions.
The U.S. Justice Department used its power under the Voting Rights Act to halt the Texas law, saying in a letter to the state today that the measure may disproportionately harm Hispanics. The department in December blocked a similar law in South Carolina (NFSESC).
Democrats have objected to the voter ID laws as impediments to minority voting while Republicans have said they protect the integrity of elections. Republican officials in Texas, one of eight states that passed voter identification laws last year, said the administration has no valid reason to challenge the measure.
Ya know…I'm getting real sick of this administration thwarting the will of the people.  They seriously need to pull their heads out of their hind ends, and STFU!  Biased?  Excuse me?
While I was walking to my truck this evening, leaving the hospital, I took a short cut through a bank's drive thru area.  IN TEXAS!  Guess what I saw!
Uh huh!  That's right!  That bank is biased!  So is Blockbusters, any library in the country, and c-stores that sells cigarettes and beer!  This 'block' is definitely a large pile of male bovine excrement!  Obviously, they insist on this garbage because they know, without FRAUD, they are going to lose their cushy government jobs!  ENOUGH!  We have had it up to our eyeballs with the criminal activity of this administration, and it is past time for them to GO!  ALL OF THEM!
….. history?  Naw…  Today is the present, and what a present he is!
We welcomed Cameron Jason at 1:54 pm, weighing in at 7lbs 1 oz, stretching out to 19 inches, with BIG feet!
Honestly, I didn't think it was going to go so fast.  One minute, Jr was only dilated 5 cm, and the next she was at 9.  I'm not going to say she was extremely polite during this time, but I think she could have been a whole lot worse.  There were some four lettered words expelled a few times, and of course, the 'get it out', 'make it stop', "I will NEVER have sex again", and the like, but all in all, I was quite impressed she did as well as she did.
The most recent status reports from Brat on Brat Jr:
About an hour ago:
Pitocin administered.. Contractions coming… Dilation….zip.. Stubborn ass baby..
Trust me, he gets his stubbornness and lack of momentum from his mom and Granny! Heh.
A few minutes ago:
Dilation — 2 , time 9:34am.. Epidural is imminent (10 minutes allegedly) , water set to be broken … Whining scale is at a 9.5..
Yep….Drama Queen! And the hard part hasn't even started! Short Person and I will be heading over to the hospital in the not too distant future….after I get at least ONE more cup of coffee down! Had a hard time getting to sleep….sometime after 2am, and those evil dogs thought I needed to be up and feeding their furry faces around 7:30. I made 'em wait till a wee bit after 8. sigh…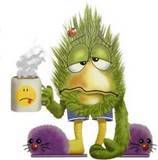 I have no doubt that both Brat and Michael could use a break!
The Nuclear Option for Powering America
The Foundry
When you flip on a light switch, turn on your TV, start up your coffee maker, or charge your cell phone, there's a good chance that the energy you're using to get the job done has been generated by nuclear power. Yet this misunderstood power source is vastly underutilized in America.
In a new documentary by The Heritage Foundation called "Powering America," we examine how nuclear energy is used in the United States and take a look at the big questions. Is nuclear energy safe? Can it help to meet our future energy needs? "Powering America" answers these questions and more by pulling back the veil on nuclear energy and follows the men and women who work in America's nuclear power industry.