An Ol' Broad's Ramblings
NBC Unearths Major Scandal: Paul Ryan May Have Washed Dishes That Were Already Clean
Following a report on Secretary of State Hillary Clinton taking responsibility for security failures in the terrorist attack on the U.S. consulate in Libya, political director and chief White House correspondent Chuck Todd actually treated the supposed dishwashing incident as if it were a scandal: "Paul Ryan is dealing with some fallout from that weekend photo-op….something that – that the campaign is a little nervous about because they're trying to get through this idea of whether they're in touch or out of touch."
ABC's Good Morning America and CBS This Morning chose not to cover dishwashing-gate.
After Todd's reporting on the manufactured controversy, Lauer turned to former McCain advisor and MSNBC contributor Steve Schmidt, again asking: "Is it within the realm of possibility that Paul Ryan was washing clean dishes? Would a campaign do that, Steve?" Schmidt replied: "It is absolutely within the realm of possibility." That prompted a roar of laughter, with Lauer adding: "I thought you were gonna say no…Wow, okay, that's good."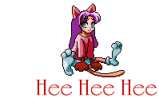 Seriously?  SERIOUSLY????  Talk about desperation! Jiminy crickets! Heh. Whether it was a photo op, or not, does it really matter? Have you ever rewashed a clean pot? I know I have. Ya wash it, dry it, and find something you missed, and rewashed it. Big freakin' deal!
With the flippin' world falling apart around us, and THIS is what NBC finds crucial?

What a freakin' joke!
Comments are closed.