An Ol' Broad's Ramblings
They think we're stupid.  They really do.  Even though I'm a 2nd Amendment advocate, I'm, by no means, an expert, and even I could see through this fraud?  Come on people!  Give us a little credit, will ya?  Oh, that's right.  We're too stupid.
Photo of Obama Shooting Skeet Complete Fraud, like his Presidency
The recently released photograph of President Obama reportedly "Taken at Camp David – the Maryland presidential retreat – on August 4, 2012, his 51st birthday," is a complete fake.
As a lifelong shotgunner, I immediately smelled a rat. Nothing in the photo looks right and upon closer examination, it is a complete fraud.
One need go no further than examining the ports on the shotgun. Ports are tiny holes sometimes drilled near the muzzle (the business end of the gun) to release energy and reduce recoil. They serve as a pressure release valve of sorts. One will immediately notice that there is smoke coming from the right side of the gun in the photo as well as out the front. The only problem is that there is no smoke coming from the ports on the left side of the gun, clearly seen in the photo suggesting that the smoke was doctored into the photo. Furthermore, the smoke exiting on the right side of the gun does not match the port pattern on the left. If this gun was being fired as suggested by the White House, then the smoke would be coming out the ports on the gun clearly seen in the picture and evenly on both sides.
Read the rest here.
Apparently, the White House got wise and removed the picture. *snicker*
The funny thing is, there was a notice attached to the picture that said no one may photo shop. Really?

  That was like an open invitation.  "Please, make the POTUS look even more ridiculous that he already does."  Or maybe they meant no RE photo shopping?  Hmmmm…
Well, you know it was going to happen.  Here are just a few samples I've come across on FB, but the varieties are practically endless.
And then we come down to the nitty gritty.
  Now, I'm not saying the White House is lying…  Oh…wait a minute…  YES… yes, I am.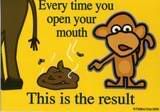 Maggie@MaggiesNotebook. 3 February 2013, 12:38 pm

Since when do you not point your gun upward when shooting skeet. You can see the fake smoke. He's shooting straight ahead, if he's really shooting, not tracking the gun upward as you have to do when shooting skeet.

He apparently went to Camp David after playing golf on his birthday, according to the report. Is that why the woods behind him look so dark and ominous?

Kathleen. 3 February 2013, 4:50 pm

Obama is busted again. They need new material, original material.