An Ol' Broad's Ramblings
Archive for 2008
I can add nothing to this column by Dr. Michael Youssef, except I was born in Dallas, Texas, not Africa.
When Americans elect a president without doing the hard work of examining his background, beliefs, or ideologies:
 America is soft
When Americans elect someone who has no respect for human life and who considers the issue of abortion "above [his] pay grade":
 America is soft
 When Americans elect a president who tells them in black and white that he will radically transform America, but they never ask what direction the transformation will take:
America is soft
 When Americans elect a president who for 20 years sat under the preaching of an anti-American pastor and thinks that none of that will rub off on him:
 America is soft
 When Americans vote for a president who, when he held elected office, voted "present" time and time again, determining not to take a stand on so many issues lest he offend one of the special interest groups:
 America is soft
 When Americans elect a president who has friends with checkered histories, to say the least:
 America is soft
 When Americans elect a president whose wife, the recipient of so many of America's blessings, declared that she was ashamed of America:
 America is soft
 As an American who was born in Africa, I am deeply grateful to be in America. I thank God continuously for allowing me to be in this great and blessed land. This is a land and a republic for which many faithful men and women have bled and died to secure the liberty and blessing that I now enjoy.
Far from being soft, I paid for my own education, and I paid for my children's educations. I taught them to love and respect the Founding Fathers and the founding principles of this great nation.
Far from being soft, I respect the Constitution, the Bill of Rights, and the biblical foundation on which this country was built.
Hard work, personal responsibility, love for God, not envying those who are more blessed than I am – these are the strong building blocks of America's foundation.
Maybe Obama's "America is soft" comment will wake Americans up to their sterling heritage and solid foundation so that next time around they will elect government officials and leaders who share their respect for that blessed heritage.
I knew that so called journalist, of the libtard variety weren't extremely bright, but I really had no idea they were this flippin' ignorant.  Criminy!
Blogger Matt Yglesias sent out a new post thread with the subject, "The line on Palin."
"John McCain picked someone to help him politically, Barack Obama picked someone to help him govern," Yglesias wrote.
Seriously??? ROFLMAO Biden was thought to have been chosen to help govern? Holy crap!
Suzanne Nossel, chief of operations for Human Rights Watch, added a novel take: "I think it is and can be spun as a profoundly sexist pick. Women should feel umbrage at the idea that their votes can be attracted just by putting a woman, any woman, on the ticket no matter her qualifications or views."
Mother Jones's Stein loved the idea. "That's excellent! If enough people – people on this list? – write that the pick is sexist, you'll have the networks debating it for days. And that negates the SINGLE thing Palin brings to the ticket," he wrote.
What a bunch of freakin' hypocrites! THEY chose a 'black man', a socialist, with NO experience at anything, and yet the choice of Sarah Palin was sexist? Jiminy crickets! Is it any wonder no one can take these clowns seriously? It's not surprising the alphabets have lost so many viewers, and the print media is major decline. Does anyone actually listen to these asshats? This isn't journalism. This is not news reporting. This is propaganda. Woodrow Wilson and Joseph Geobbels must be SO proud!
D.C. to get inauguration 'emergency' aid
President Bush on Tuesday declared the District of Columbia to be a federal emergency area so the city can access federal funds to help pay for the inauguration of President-elect Barack Obama.
"An emergency exists in the District of Columbia," said the statement from White House press secretary Dana Perino.
City planners have said they expect a few million people to come from all over the country and even the world to see Mr. Obama's swearing in one week from today.
D.C. Mayor Adrian Fenty has said previously he needs $75 million, which is significantly more than the $15 million appropriated by Congress to pay for security and other logistical preparations.

How much does BO have left from his campaign?  Why doesn't HE pay for all the extra stuff the city seems to believe they need for his corona….uh….inauguration?  He's got a LOT of really rich friends, why don't they kick in a few million each to insure their friend's drooling acolytes?
I'm afraid I do NOT see this as an emergency, to be paid for by the American taxpayer!
The ONLY reason this woman is not Vice President elect is the media! Yeah…John McCain wasn't a great presidential candidate, but we had Sarah to look to. Yep, the MSM buying into anonymous blogger's gossip show a lack of professionalism on their part!  Is it any wonder they are dying a not slow enough, painful death?
H/T: Big Hollywood
Obama portrait in crayons gets inaugural invite
Obama's message of unity inspired sculptor
The Crayola Man is going to Washington.
Nashville artist Herb Williams has been playing with crayons in his downtown studio for the past five years. There he has created life-size portrayals of cultural icons like Johnny Cash and Marilyn Monroe for local art collectors.
Now his portrait of Barack Obama has earned Williams international acclaim and an invitation to an art exhibit preceding the inauguration. From Jan. 17-19, Williams' creation will be on display in the Manifest Hope: D.C. exhibition. More than 15,000 people are expected to see it.
Manifest Hope:DC? What the heck is that?  I looked it up.  Didn't tell me a lot, other than the sponsors at the bottom, one of which is OBEY.  Obey who?  THE ONE?  You'll notice the major resemblance to the pentagram of course.  So, who exactly are all these B. Hussein acolytes anyway!  Hmm….  Well, propoganda engineers of course.
We all know what Moron.org is…..or we should.  SEIU is a union.  Big shocker there.  (insert sarcasm here) "Change that works."  Gimme a break.
So, this guy spent all his time, playing with crayons making a portrait of the Great and Wonderful OB.
"It's surreal," Williams said. "It's everything I have been working towards. So yeah, angels were singing in the background. I was in total disbelief."
Williams' portrait of Obama took about four months and 50,000 crayons to complete.
Cue Handel's "Messiah".
You'll excuse me if I'm not all that impressed.  Ya see, I don't have much use for commies, and that's what this whole thing appears to be, in the form of art.
…..what do these fine, upstanding, folks all have in common?
If ya wanna see all 20 'wieners', head on over to Right Wing News!
The 7th Annual "20 Most Annoying Liberals Of 2008″
Honorable Mentions: Bill Ayers, Jimmy Carter, Bill Clinton, Juan Cole, Kent Conrad, The Daily Kos, Bill Delahunt, Glenn Greenwald, Alcee Hastings, Christopher Hitchens, The Huffington Post, Jesse Jackson, Jesse Jackson Jr. Caroline Kennedy, John Kerry, Ezra Klein, The L.A. Times, Mike Malloy, Rachel Maddow, Michael Moore, MoveOn, Michael Newdow, The New York Times, Michelle Obama, Rosie O'Donnell, Keith Olbermann, Michael Pfleger, Ted Rall, Bill Richardson, Randi Rhodes, Al Sharpton, Cindy Sheehan, Ted Turner, Oprah Winfrey, Jeremiah Wright, Matthew Yglesias
20) Chris Dodd: Dodd, who ran a perfectly awful campaign for President, was one of the few candidates who didn't get an invitation to join Barack Obama's cabinet. Was it because he's so tragically boring? No, it's because not only was he, like Barney Frank, an enabler for the whole financial crisis that has currently engulfed the U.S. economy — he also got a sweetheart deal from Countrywide and then turned around and helped funnel billions of dollars their way during the bailout. Of course, Dodd claimed that he had no idea he was getting such a great deal because he is a U.S. Senator. He simply thought they were rewarding him for being such a good customer!
That's how it always seems to work with crooked politicians like Chris Dodd: companies funnel in money on the front end and the pols pay them back with taxpayer money by the bank vault full while shifting the blame elsewhere.
Defining quote: "It's not easy being a U.S. senator. People trick you into taking special favors you didn't even know existed. Shame on these unscrupulous people!…Most alleged victims of Countrywide were gulled into taking loans with onerous interest rates and excessive fees. But they don't know the agony of life as a U.S. senator, when at any moment a powerful, well-heeled interest might take advantage of you with cut-rate loans." — Rich Lowry
If there is nothing to hide, why are so many people having to basically beg the president-elect to produce a document I could pull out of my safety deposit box right now and show the world….if need be.  I'll be real happy to give Obama at least a chance to screw up on his own, but why won't he produce his birth certificate?  Sure, we've seen that scanned thing on several sites, but y'know what?  ANYONE could get one of those.
So, what you need to do, if you haven't already, go and sign this petition!
PETITION FOR PUBLIC RELEASE OF BARACK HUSSEIN OBAMA'S BIRTH CERTIFICATE
To: Electoral College, Congress of the United States, Federal Elections Commission, U.S. Supreme Court, President of the United States, other controlling legal authorities
Whereas, by requirement of the United States Constitution, Article 2, Section 1, no one can be sworn into office as president of the United States without being a natural born citizen;

Whereas, there is sufficient controversy within the citizenry of the United States as to whether presidential election winner Barack Obama was actually born in Hawaii as he claims;

Whereas, Barack Obama has refused repeated calls to release publicly his entire Hawaiian birth certificate, which would include the actual hospital that performed the delivery;

Whereas, lawsuits filed in several states seeking only proof of the basic minimal standard of eligibility have been rebuffed;

Whereas, Hawaii at the time of Obama's birth allowed births that took place in foreign countries to be registered in Hawaii;

Whereas, concerns that our government is not taking this constitutional question seriously will result in diminished confidence in our system of free and fair elections;

We, the undersigned, assert our rights as citizens of the United States in demanding that the constitutional eligibility requirement be taken seriously and that any and all controlling legal authorities in this matter examine the complete birth certificate of Barack Obama, including the actual city and hospital of birth, and make that document available to the American people for inspection.
H/T: Texas Fred's
All kinds of lawsuits flying back and forth over president-elect BO. Supposedly, this matter was put to rest, but then it again, it hasn't. So, this shot from BO's own website says he wasn't exactly a US citizen, but a British subject, even though he was born in Hawaii.  Maybe?  Jeeez!
So, was he legit when he started this campaign? Why has everyone been so up in arms on both sides, one to disprove, the other to prove, and neither of them doing a complete job.
Best thing to do? Step up, provide ALL papers, and put the whole mess on the table. Cuz personally, I'm already sick of the man.
And if it's proven he can't be prez, are we stuck with a Pres. Joe Biden?  (shudder)
I wasn't going to do any posting other than about our trip, but this was just too good to pass up, because it's just so dadburn true! (silent E has been doing all the other posting, in case you were wondering where the posts were coming from, and even if you weren't.)
Swiped from American and Proud.
'Twas the night before elections
And all through the town
Tempers were flaring
Emotions all up and down!
I, in my bathrobe
With a cat in my lap
Had cut off the TV
Tired of political crap.
When all of a sudden
There arose such a noise
I peered out of my window
Saw Obama and his boys
They had come for my wallet
They wanted my pay
To give to the others
Who had not worked a day!
He snatched up my money
And quick as a wink
Jumped back on his bandwagon
As I gagged from the stink
He then rallied his henchmen
Who were pulling his cart
I could tell they were out
To tear my country apart!
' On Fannie, on Freddie,
On Biden and Ayers!
On Acorn, On Pelosi'
He screamed at the pairs!
They took off for his cause
And as he flew out of sight
I heard him laugh at the nation
Who wouldn't stand up and fight!
So I leave you to think
On this one final note-
IF YOU DONT WANT SOCIALISM
GET OUT AND VOTE!!!!
Every 15 minute, we've been getting robocalls!  That's the average.  Sometimes, only five minutes have passed, and the phone rings again.  Do we get any calls from Republicans?  Oh heck no!  ALL from Dems!  Why?  Granted, there have been a couple of Dems I've voted for in the past…..WAAAAAAY past, but we didn't live here.  Don't even remember where I was living at the time….I think it was California.
Now, I realize that these calls are computer generated, but why aren't we getting calls from the other side as well?  I have a feeling whoever had this phone number prior to us was a registered Democrat.  Why didn't they change their number with the party?  Why are we having to suffer for their foolishness??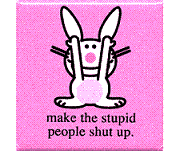 I'm thinking a flying phone is in our future.