An Ol' Broad's Ramblings
Archive for Male Bovine Excrement
KMOV's Conners Barred From Facebook, Interviews on IRS Controversy
KMOV anchorman Larry Conners has been "advised" by KMOV's parent company Belo Corp. to not make statements, post on Facebook, or participate in interviews concerning a recent controversy over Facebook comments he made about the Internal Revenue Service.
Conners has hired St. Louis attorney Merle Silverstein. Silverstein issued a letter to media outlets claiming that the corporate order "is the only reason for his silence."
Hmm….  Seems to me, this would be a news story.  Journalism dude is being hammered by the IRS, then interviews the POTUS, and gets hammered by the IRS?  Yep…seems like there's a story there somewhere. What'cha wanna bet he's one of the few…VERY FEW…in the news biz that leans conservative?  And he's having his own 1st Amendment right of 'free speech' being violated?  Yep….a bigger story than there was originally.
"Any issue he has with the IRS are personal issues. They have nothing to do with our television station KMOV or him as a journalist," Mike Valentine, vice president for content at Belo, told the website BuzzFeed earlier this week. "As a news anchor, he owes a duty to our viewers to report in an unbiased manner. His Facebook post and his Twitter posts, as a result, were inappropriate. And we don't condone personal posts that jeopardize the journalistic nature of our business. It's really that simple."
Oh, I dunno Mikey….I'd say that the bias is already there in the "news". The man mentioning IRS issues on his FB page, likely only seen by locals that follow him, and now it's national news? Well now, I'd say that YOU, Mikey, have made this a bigger issue than it would have been if you had allowed the man to do his job, and speak his mind. And now, he's off the air? Very interesting, don'cha think, eh Mikey??
FYI, just because Bush appointed someone, does NOT make them right leaning.
In wake of scandal, Obama ousts IRS chief — who was leaving anyway
President Obama announced Wednesday that acting IRS Commissioner Steven Miller would resign in the wake of the agency scandal in which conservative groups were targeted — though Miller was apparently set to step down anyway.
An official close to Miller told Fox News, shortly after Obama's brief announcement, that the IRS chief was "set to resign the position of acting commission as of early June." He was planning to leave the IRS entirely a "couple of months later, regardless of the current controversy," the source said.
These details were not mentioned by the president as he announced Wednesday evening Miller was resigning. Obama spoke following a meeting with Treasury Secretary Jacob Lew and other top department officials in which they reviewed a highly critical inspector general's report on the practice. The report concluded poor management allowed agents to improperly target Tea Party and other groups for more than 18 months, starting in 2010.
If you watched that so called press conference, and didn't laugh your hinder off, you just might be a "progressive"!  The phony outrage was hilarious!  Not only did he fail to mention the guy had already planned on leaving, he also didn't mention the fact that the majority of these events occurred under his predecessor's watch!  And you can't tell me Obama didn't know about this!  The dude has to be the most ill informed POTUS ever to step foot in the White House.
Oh, and it's WAY past time to repeal the 16th Amendment!!!
Benghazi Emails Directly Contradict White House Claims
The White House on Wednesday released 94 pages of emails between top administration and intelligence officials who helped shape the talking points about the attacks in Benghazi, Libya, that the CIA would provide to policymakers in both the legislative and executive branches.
The documents, first reported by THE WEEKLY STANDARD in articles here and here, directly contradict claims by White House press secretary Jay Carney and Secretary of State Hillary Clinton that the revisions of those talking points were driven by the intelligence community and show heavy input from top Obama administration officials, particularly those at the State Department.
The emails provide further detail about the rewriting of the talking points during a 24-hour period from midday September 14 to midday September 15. As THE WEEKLY STANDARD previously reported, a briefing from the Office of the Director of National Intelligence shows that the big changes came in three waves – internally at the CIA, after email feedback from top administration officials, and during or after a meeting of high-ranking intelligence and national security officials the following morning.
Read the rest here.
Anyone with half a brain knew that the 'talking points' coming out of the White House and the State Department was pure male bovine excrement.
The IRS wants YOU — to share everything
The Internal Revenue Service asked tea party groups to see donor rolls.
It asked for printouts of Facebook posts.
And it asked what books people were reading.
A POLITICO review of documents from 11 tea party and conservative groups that the IRS scrutinized in 2012 shows the agency wanted to know everything — in some cases, it even seemed curious what members were thinking. The review included interviews with groups or their representatives from Hawaii, New Mexico, Ohio, Texas and elsewhere.
The long-awaited Treasury Department inspector general report released Tuesday says the agency itself decided some of its questions to conservative groups were way over the line — especially the one about donors.
You have GOT to read the rest of this!!!
Paranoid?  Conspiracy theorists?  I don't FREAKIN' think so!
What the hell is Loyalty Day?  Are we suppose to put state above God?  Not gonna happen!  At least not in THIS house!!
Go read this piece of pap!  For a man who has done damn near everything OPPOSITE of what our Founders intended, all I can say is….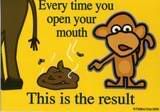 H/T:  The Bunker
Part II. Part I of the interview here.
Cuz Lord knows, they sure aren't in the public school system!!
Boy Suspended for Bringing Swiss Army Knife on School Camping Trip
A 10-year-old California boy was suspended and threatened with expulsion after he brought a Swiss Army Knife on a week-long school school camping trip.
Tony Bandermann told Fox News that his son Braden was on a science camping trip with his class at Garden Gate Elementary School in Cupertino, Calif.
According to a school incident report, the boy showed the small knife to other students who then reported him to teachers. The incident report stated that law enforcement was also notified. However, no charges were filed.
I should hope to hell there were 'no charges filed"!!  This brings to mind Crocodile Dundee…
Once again, the public school system has made total asses of themselves. Now, I don't know about you, but even when we girls went camping, we had knives. They were a part of the necessary package, and they were at least twice the size of that itty bitty thing the morons at that school consider a weapon.
Bandermann, who was out-of-town on a business trip, said he received a telephone call from the school's principal informing him that his son had violated the school's weapons policy. The punishment, she told him, must be immediate and severe.
"She threatened to expel him," he said. "She kept telling me, 'you can't bring a weapon to school.' A Swiss Army Knife is a tool not a weapon."
Since he was unable to pick up his son, the principal put the boy in 24-hour isolation at the camp – held in a teacher's lounge where he was forced to eat and sleep in solitude.
They put this little boy in solitude? Are they freakin' serious?? He's a little boy! The damage that could be done to this kid by their ridiculous overreaction to a 'nail cleaner' should earn them a big fat law suit! These are the people who are suppose to teach our children, help them grow up to be leaders? Is it any wonder we have a batch of pussies running the show if this is the type of 'education' that's being handed out?
I expect this kind of nonsense from John McCain, Lindsay Graham, Chuckie Schumer, and the typical roll call of Dems. To say I am more than disappointed in Marco Rubio and Jeff Flake, ESPECIALLY Rubio, would be like me saying "I don't like fish." I really DON'T like fish, and anyone who knows me, knows I definitely do not like fish! (no, one has nothing to do with the other…just a statement of fact)
We, the Constitution supporters, put a lot of faith in Rubio. Many worked long hard hours to get him into the Senate. People around the country sent money they could ill afford to help in the effort. This is how the people are repaid? With more garbage? More taxes? Amnesty???? To reward criminals? How is this a positive move for ANYONE other than the criminals themselves, and the politicians?
We have laws on the books. You commit a crime, you pay the penalty. It's not that complicated. Yet, these 8 weasels are throwing out those laws, putting more of a burden on the people who came to the country legally, in whichever century, and giving a free pass to those who believe themselves above the law. We have a border. There's a reason why man created fences. Good fences make good neighbors. Our fences are broken, and our neighbors aren't 'good'. They've trashed our yards, killed our 'family members', and cost billions in tax dollars.
We were promised a fence. Then, we were promised a 'virtual fence'. We spent an extremely large amount of money. They tell us "It didn't work". The solution is simple. Build a physical fence, a very tall, sturdy fence, with razor wire, electrify the fence, and if necessary, put gun turrets every 20 yards along that fence. If that doesn't work, there are always land mines, moats filled with alligators, piranhas, or some similar nasty creatures. If the tribes along the border have a problem, two words….imminent domain. After all, Congress has used that for reasons OTHER than what it was created, why not use it for the purpose it was intended? And if the EPA has a problem, you tell 'em to live down there, and deal with the criminals hauling drugs across our borders to poison our children. I can guaran-damn-tee, they'll change their tune quicker than you can say jackalope!!
It's a well know fact that government doesn't "fix" anything. They create more problems with their "fixes". They are worse than a child with a screw driver in a room full of expensive electronics!
Do they truly want to solve a very serious problem? If so, they can scrap that 844 page piece of crap, bring out one very clean sheet of paper, and start writing:
1. Build big fence.
2. Hire more border guards (uniforms Made in U.S.A., not Mexico).
3. Arm said guards to the teeth, with live ammo, not rubber bullets, or freakin' bean bags.
4. "Shoot to kill" orders, if said criminals don't turn their sorry asses around and go home.
5. All student and non immigrant visa recipients will wear tracking devices. If such person, or persons, overstay their visa, said device will emit an ear piercing screech, notifying all those around them, they are now illegal. If device is not removed within a certain period of time, while wearer is boarding a plane, etc., device will then explode, leaving the wearer quite maimed. Very few muslims will be allowed to enter the country, and those who get the privilege, will wear two.
6. No immigrant will receive any compensation from the American people. They will work, or go home.
7. No muslim, from ANY country, will be given 'preferred status'. Saudis status to be revoked. Israelis will now be given such status.
8. Profiling will now be implemented. Grandmothers and small children will no longer be groped and humiliated.
9. All mosques and muslim schools will be closed, plowed under, and the earth salted.
10. The official language of the United States of America is English. No signs, ballots, official documents, etc., will be printed in any language but English. Learn the language, or go home.
There! I've gotten them started. See how easy that was? No pork projects added!
Top 5 Problems with the "Comprehensive" Immigration Bill
James Carafano – The Foundry
The good news is Congress cares about trying to fix our flawed immigration system and broken borders.
The bad news is they want to do it with a solution that looks a lot like Obamacare—the "Gang of Eight" 844-page-plus "comprehensive" bill.
The sad news is that such an "easy button" solution will not improve our immigration system.
History shows that big bills designed to solve everything wind up creating as many problems as they address. They become loaded with payoffs for special interests and often introduce measures that work at cross purposes.
The "comprehensive" bill fails at the start. Here are the top five reasons it cannot be fixed.
Beck Breaks Exclusive Information on Saudi National Once Considered a Person of Interest in Boston Bombings
Background points:
A Saudi national originally identified as a "person of interest" in the Boston Marathon bombing was set to be deported under section 212 3B — "Security and related grounds" — "Terrorist activities" after the bombing
As the story gained traction, TheBlaze's Chief Content Officer Joel Cheatwood received word that the government may not deport the Saudi national, originally identified as Abdul Rahman Ali Alharbi
Homeland Security Secretary Janet Napolitano refused to answer questions on the subject when confronted by Rep. Jeff Duncan (R-SC) on Capitol Hill.
An ICE official said a separate Saudi national is in custody, but is "in no way" connected to the bombings.
A congressional source, however, says that the file on Alharbi was created, that he was "linked" in some way to the Boston bombings (though it is unclear how), and that documents showing all this have been sent to Congress.
Key congressmen of the Committee on Homeland Security request a classified briefing with Napolitano
Fox News' Todd Starnes reports that Alharbi was allegedly flagged on a terrorist watch list and granted a student visa without being properly vetted
New information provided to TheBlaze reveals Alharbi's file was altered early Wednesday evening to disassociate him from the initial charges
Sources say the Saudi's student visa specifically allows him to go to school in Findlay, Ohio, though he appears to have an apartment in Boston, Massachusetts
Sources tell us this will most likely now be kicked from the DHS to the DOJ and labeled an ongoing investigation that can no longer be discussed.
First, we have John Stossel on our public education system. More money for administration, but no improvement in the quality of education. If you ask me, kids are being so dumbed down, they can't answer simple question about their own country! Oh, they know who won in such and such a season on American Idol, but they have NO idea who fought for their right to be totally oblivious.
Next, we have Tom Sullivan. So, Barack Hussein Obama has decided how much you save for your retirement? YOU earn the money, YOU save YOUR money, but he says no, you can't save that much, so will take it away from you once you hit that mark. Who gave him the right to say who can retire with how much? NO ONE!
And, on that note…. I have things to do today!
While I do credit the police for their diligence, I do NOT believe it was necessary to treat innocent citizens like common criminals. Yes, they were searching for a very dangerous piece of trash, but this????
Via Police State USA
WATERTOWN, MA — On Friday, April 19, 2013, during a manhunt for a bombing suspect, police and federal agents spent the day storming people's homes and performing illegal searches. While it was unclear initially if the home searches were voluntary, it is now crystal clear that they were absolutely NOT voluntary. Police were filmed ripping people from their homes at gunpoint, marching the residents out with their hands raised in submission, and then storming the homes to perform their illegal searches.
This was part of a larger operation that involved total lockdown of the suburban neighbor to Boston. Roads were barricaded and vehicle traffic was prohibited. A No-Fly Zone was declared over the town. People were "ordered" to stay indoors. Businesses were told not to open. National Guard soldiers helped with the lockdown, and were photographed checking IDs of pedestrians on the streets. All the while, police were performing these disgusting house-to-house searches.
Watch the video!
Read on…
Clergy carrying symbolic loaves and fishes urge Medicaid expansion in TN
A group of 15 faith leaders from across the state delivered 133 baskets of loaves and fish and a letter Monday calling on Tennessee officials to not abandon Medicaid expansion if the state's alternative expansion plan is not approved by the federal government.
The letter, which was signed by nearly 100 clergy and faith leaders, called Medicaid expansion "not only the right thing to do, it's the moral and faithful thing to do."
I don't know what Bible these so called 'faith leaders' read, but the one I read doesn't say a damn thing about Medicaid expansion!  My first question to them:  Instead of spending money on, and carrying all those cheap plastic baskets, that cheezie plastic bread and those ridiculous paper fish (which I'm sure took time to 'make') to the seat of government, why weren't your sorry asses spending that money and time passing out REAL food to those in need…like those who have become homeless thanks to government interference, and massive amounts of spending 'entitlement' programs that NO ONE is entitled to?
I don't recall Caesar passing out any loaves or fishes to the crowd gathered.  It is NOT the job of the government to 'take care of the poor'.  It's YOUR job to minister to their needs, spiritual and physical…as best you can, asking for aid from your 'flock' to assist!  This is why we tithe, and volunteer our time…to share OUR bounty!  Not to have it confiscated from us by Caesar, in whatever amount it chooses, and distribute it to anyone.  Or were you not aware of this little tidbit?  You are passing off YOUR responsibilities to the government….. I'd suggest you find yourself a new Bible and study up, or a new line of work!
To say I am disgusted would be an understatement…. but then again, I feel disgusted on a regular basis lately!
H/T: Tom via FB
US delays missile test over N Korea tensions
The United States has decided to delay a long-planned missile test scheduled for next week out of California "to avoid any misperception or miscalculation", given tensions with North Korea, a senior US defence official has said.
The unusual precaution by the US follows a barrage of hostile rhetoric from North Korea – including the threat of open war – that has created jitters in South Korea's financial markets.
The US decision will delay the test of the Minuteman III intercontinental missile, which had been scheduled for next week out of Vandenberg Air Force Base in California.
"This is the logical, prudent and responsible course of action to take," the official said on Saturday, speaking on condition of anonymity.
Hell, I'd wanna be anonymous too if I was 'reporting' that the Obama administration was afraid of Lil' Kim.  Americans don't back down, but  I guess someone forgot to tell this current bunch up in D.C.  So, now, this crazier than bat chit pip squeak has a 'victory'.
Nice.
Way to go asshats! 

   Makes more sense to test the damn thing, have it be a success, and show that little brain fart we are NOT afraid of his blustering.  Sheesh!
Morning-after pill to go over the counter, be available to girls of all ages
A judge's ruling Friday that would allow women access to the morning-after pill without pharmacists or ID checks — and, for teens younger than 17, now without a prescription — could cut down on unintended pregnancies in Michigan, according to reproductive rights advocates.
"We are thrilled whenever there is further access to ensure women can have a baby when they want one and reduce the unintended pregnancy rate," said Lori Lamerand, president and CEO of Planned Parenthood of Mid and South Michigan.
Oh, I just bet these slaughterers of the innocent are just all pickled tink over the idea that more children will be murdered in the womb.
But others said they worry the ruling could expose girls to sexually transmitted diseases and erode parents' abilities to protect their daughters.
In a tweet late in the day, the Michigan Catholic Conference called the opinion of U.S. District Judge Edward Korman in New York "complete disregard for children's safety and parental rights."
Once again, an activist judge shows the total disregard for the rights of the parents, the safety and well being of young girls, and life in general.
I want to bring back shame!
1. negative emotion: a negative emotion that combines feelings of dishonor, unworthiness, and embarrassment
2. capacity to feel unworthy: the capacity or tendency to feel shame "He has no shame."
3. state of disgrace: a state of disgrace or dishonor "bring shame on the family"
4. cause for regret: a cause for regret or disappointment "It's a shame you couldn't stay for lunch."
5. cause of shame: somebody or something that causes somebody else to feel shame
Shame on the so called judges.  Shame on the murderers of the innocent.  Shame on the parents and schools that teaches children it's ok to be a slut…here's your pill.  Shame on the boys who think dipping their wick in anything that moves and creating an innocent life make them "cool".  You aren't!  Shame on the girls who buy into the "I love you" and "I DO respect you" bullsh*t, and allow themselves to be used as a sex object.  They don't!  Shame on a society that promotes the trashy behavior of our children, through the indoctrination system, movies, music, videos, etc.  And SHAME on the churches that don't teach children to respect themselves!