An Ol' Broad's Ramblings
Republicans to Democrats: 'We've done our part' in fiscal crisis negotiations
House Republican leaders said Wednesday they've done their job in negotiations to solve the looming fiscal crisis, while President Obama is returning to the campaign trail to sell tax hikes that studies show won't have much, if any, effect on solving the problem.
Psst!  HEY!!!  OBAMA!!!  The election is over.  Your droolers stole it for ya.  You can stop campaigning now, and pretend like you have a clue!  Well, dang!  I forgot!  You don't HAVE ONE!
"We have done our part by putting revenue on the table," said House Majority Leader Eric Cantor.
Cantor and fellow House leaders have agreed to close tax loopholes to generate revenue to reduce the $1.1 trillion annual deficit. But they argue the president has yet to say publicly what cuts he will make to the federal budget — specifically to costly entitlement programs such as Medicare, Medicaid and Social Security — to reduce the deficit.
They also say the president's plan to extend tax cuts only to middle-class Americans will not generate enough revenue to significantly reduce the deficit.
Now, I don't mean to be tacky, but it's not the middle class that creates the jobs.  How about you dipwads up there in that cesspool we call the nation's capital stop spending OUR money.  You wanna spend?  USE YOUR OWN MONEY!  We don't have anymore!  Y'all have royally screwed us, and not even a kiss or an offer of dinner!  WE, The People are pretty fed up with all of y'all's shenanigans, and if ya don't watch out, ya might find yourselves riding on a rail!
Sperling told House Democrats that failing to extend Bush-era tax cuts to the top 2 percent of income earners could trickle down to hit the middle class, sources tell Fox News.
It never ceases to amaze me just how utterly stupid Dims truly are! Honestly, I don't a one of them could pass a third grade math test! To put it simply, if you tax 'the rich', which, according to those fools, is anyone who makes more than $250K a year, you will be killing more small businesses. When you kill business, you don't have jobs. When there are no jobs, you don't have taxpayers. Is it really that freakin' complicated for them to grasp?
On Wednesday, the president will ramp up his public pitch amid a backdrop of hand-picked, middle-class voters at the White House.
Hand picked, eh? I'd like to pick…. Never mind. In other words, he's gonna have the SEIU and the like surrounding him, giving him adoring glances, praising his name. (GAG!)  Here's a thought… how about you get out here and talk to REAL PEOPLE, instead of your droolers?  Naw.  You couldn't do that, because then you'd find out…you are NOT 'the messiah'.
Congress may raise minimum wage to $9.80 per hour
Legislation was introduced late last week in Congress that, if passed, would raise the federal minimum wage to $9.80 an hour within the next three years.
The Phoenix Business Journal reports that U.S. Rep. George Miller, D-Calif., the senior Democratic member of the House Education and the Workforce Committee, introduced the Fair Minimum Wage Act of 2012 in the House, and U.S. Sen. Tom Harkin, D-Iowa, introduced the bill in the Senate.
The legislation would raise the federal minimum wage in three, 85-cent steps from its current $7.25 an hour to $9.80 by the end of 2014, and then adjust annually for inflation.
And this, ladies and gentlemen, is just one more reason why no person with a "D" behind their name, should EVER be elected to Congress!  They love to kill jobs!  They know NOTHING about how the economy actually works, and will go out of their way to prove just how ignorant they truly are, yet there are bigger fools than they….the ones who actually VOTE for them!
Common sense here people!  First, we have an economy that sucks!  Why?  Because Democrats, and that phony in chief have gone out of their way to destroy it.  Second, there should NEVER have been a 'minimum wage' to begin with…. starter jobs are just that…a start.  If you prove yourself to be a good, reliable worker, you advance.  If you are lazy, screw up, etc, you get canned, and someone with the drive to succeed will replace you.  Every time Congress gets this wild hair up their hinder, people LOSE jobs.  The cost of EVERYTHING goes up!
A young single mother, just starting out in the work force for the first time, isn't going to be making a lot of money, but with hard work, she will be able to advance.  She has to pay for day care.  The price of that day care is going to go up, no choice, and likely there will be fewer care givers, which means her child will likely not get the required supervision.  Add that ObamaCare BS, and it's possible that day care center will close it's doors, and the young mother will be without care for her child, and end up having to quit, go on welfare, and that pretty much ends her goals.  Congratulations, y'all just screwed up another life!  Two, actually…mom and child!
Third, that 'living wage' is caca de toro.  Low wage jobs were never meant to be a lifelong occupation!  They are starter positions, kids earn skills, learn how to deal with the public, or some such.  If you're career goal is to work at the counter of a fast food joint, then you have some serious issues.
I wish it was possible to slap some common sense into people.  Unfortunately, they'll continue on their merry way, thinking they are SO helpful, and end up surprised with the failures they have created.  Can we PLEASE put some people in Congress with just a little sense?  People who have actually lived in the real world recently?  Get rid of these asshats who think they KNOW, yet know know not a damn thing!  PLEASE?????
House panel backs contempt for Holder, Issa says floor vote can still be avoided
A House panel voted Wednesday in favor of holding Attorney General Eric Holder in contempt of Congress, a move that inflamed partisan rancor on Capitol Hill and sets up the possibility of legal action against the attorney general himself.
Holder has not yet been formally held in contempt of Congress. The full House would still need to approve the resolution in order for that to happen — Rep. Darrell Issa, R-Calif., afterward told Fox News that such a floor vote can still be avoided.
But the 23-17 party-line vote on the House Oversight and Government Reform Committee marked a significant turn in lawmakers' 16-month investigation into the botched anti-gunrunning operation Fast and Furious. With the vote, Republicans on the committee signaled they had exhausted all other means to extract sought-after documents from the Justice Department — though Democrats had insisted there was still an opportunity to sort out the mess without a contempt vote.
"We and the American people need answers sooner, not later," said Issa, R-Calif., chairman of the committee.
The fact that this vote was along party lines is extremely disturbing.  I guess the Democrats don't care that a man, a Border Agent, an American citizen, an officer of the law, was murdered.  Have they sucked up so much of the liberal bullshit, that they aren't even concerned with the lives of American agents?  Is that the problem?  Because, if it is, then things are MUCH worse than I thought.
The "war on poverty" was lost long before it even began during Johnson's term in the White House. Feel good programs do little to alleviate the problems, and in many cases, do more harm. When a man, or woman, doesn't have to rely on him/herself to provide for the family, then quite often, they will not even make the effort. Why should they? "The gubmint will take care of me!" This entitlement mindset has been the downfall of many communities, and especially the destruction of the family. Why worry about children you produce when there is someone else to take care of them? Why save for your retirement, when there's that Social Security at the end of the road. Unfortunately, none of these programs work as well as was hoped, and have become the black hole from hell, creating a greater dependency on the government, and less self reliance. Our military, on the other hand, has been given the shaft, time after time. Perhaps no one person in Washington, whether elected, or government employee, should EVER earn more than the lowest paid in the military. Nor, should they have better health care than the families of our fighting men and women. When those who protect us has to apply for food stamps, rely on family for much needed equipment, yet those who decide their fate ride around in leased Lexus' and Tahoes, at the taxpayers expense, there is something REALLY wrong!
Will Congress Defend Our Military?
The Foundry
It's one thing to talk a good game about cutting spending, but it's quite another thing to actually do something about it. This week, the House of Representatives has an opportunity to finally set some limits on Washington's spending spree while also ensuring that the U.S. military has the resources it needs to defend America. Here's the lay of the land this week in the nation's capital.
On Thursday, the House is set to take up a spending reduction plan known inside the beltway as "reconciliation." Under the measure, Congress would tackle two looming problems hanging over Washington's head: the soaring cost of entitlement spending and the arbitrary defense cuts mandated by the so-called Budget Control Act (BCA) that was enacted last year.
Those issues are nothing to gloss over, even though some in Washington would like to pretend they're not a problem. Since 1965, spending on Medicare, Medicaid and Social Security has more than tripled as a share of the economy, is continuing to grow at a rapid rate, hitting 9.7 percent of GDP this year, and will nearly double by 2050. Meanwhile, spending on defense has dropped over time, even when you add in the costs of the wars in Iraq and Afghanistan. As you can see in Heritage's Federal Budget in Pictures, that means that spending on entitlement programs is crowding out spending on defense — a core constitutional function of government.
I don't usually post on Sunday morning. I'm too busy trying to get both eyes open so I can get ready for church, but when I saw a link to THIS on FB…..
Citing an increasing debt burden, Egan-Jones Ratings Co. downgrades the US credit rating another notch. This is the second time they have done this in 8 months.
Here is what the President Sean Egan said in a telephone interview:
Reason for downgrade: "the increasing debt load coupled with the fact that there has been no tangible progress in addressing the country's growing debt to GDP"
"Unfortunately, the debt is growing fairly rapidly while the GDP is not."
The debt has climbed 23.6% from 2008 to 2010.
What is Obama doing to address this? Probably taking a vacation or campaigning.
This is dated April 9.  It's now April 22.  Am I the only one who never heard a word about another downgrade?  I realize I haven't been keeping up with the outside world as well as I should….too much going on…but seriously, I do watch the news once in a while, and if I heard about this, it evidently went in one ear, and out the other, which I find highly unlikely!
H/T: Lanie
Whether or not you like Bush 43, facts are facts! There are some who would love to change history to suit their agenda, but thankfully, there are enough of us who know the truth, and will do our utmost to keep the facts in the foreground!
The day the Democrats took over was not January 20, 2009, it was actually January 3, 2007, the day the Democrats took over the House of Representatives and the Senate, at the very start of the 110th Congress. The Democrat Party controlled a majority in both chambers for the first time since the end of the 103rd Congress in 1995. For those who are listening to liberals propagating the fallacy that everything is "Bush's Fault", think about this:
On January 3, 2007, the day the Democrats took control of Congress:
The DOW Jones closed at 12,621.77
The GDP for the previous quarter was 3.5%
The Unemployment rate was 4.6%
George Bush's Economic policies had SET A RECORD of 52 STRAIGHT MONTHS of JOB CREATION!
Remember that day…?
January 3rd, 2007 was the day Barney Frank took over the House Financial Services Committee and Chris Dodd took over the Senate Banking Committee. The economic meltdown that happened 15 months later was in what part of the economy?
BANKING AND FINANCIAL SERVICES!  THANK YOU DEMOCRATS (especially Barney), for taking us from 13,000 DOW, 3.5 GDP and 4.6% Unemployment to this CRISIS by (among MANY other things) dumping 5-6 TRILLION Dollars of toxic loans on the economy from YOUR Fannie Mae and Freddie Mac FIASCOES!
(BTW: Bush asked Congress 17 TIMES to stop Fannie & Freddie – starting in 2001 because it was financially risky for the US economy. Barney blocked it and called it a "Chicken Little Philosophy", but…the sky did fall!)
And who took the THIRD highest pay-off from Fannie Mae AND Freddie Mac?  OBAMA!!!
And who fought against reform of Fannie and Freddie?  OBAMA and the Democrat Congress, especially BARNEY!!!!
So when someone tries to blame Bush…  REMEMBER JANUARY 3rd, 2007…. THE DAY THE DEMOCRATS TOOK OVER!
Bush may have been in the car, but the Democrats were in charge of the gas pedal and steering wheel while they were driving the economy into the ditch. Budgets are not passed in the White House. They are passed by Congress, and the party that controlled Congress since January 2007 (until the 2010 election and the Republicans took the majority in the House) is the Democrat Party.
Furthermore, the Democrats controlled the budget process for 2008 & 2009, as well as 2010 & 2011. Obama has now gone more than 1,000 days without a budget, and is still blaming it on the Republicans! In that first year, Congress had to contend with George Bush, which caused them to compromise on spending when Bush, somewhat belatedly, got tough on spending increases.
For FY 2009 though, Nancy Pelosi and Harry Reid bypassed "Lame Duck President" George Bush entirely, passing continuing resolutions to keep government running until Barack Obama could take office. At that time, they passed a massive omnibus spending bill to complete the 2009 budget. And where was Barack Obama during this time? He was a member of that very Congress that passed all of those massive spending bills, and he signed the omnibus bill as President to complete 2009. Let's remember what the deficits looked like during that period:
If the Democrats inherited any deficit, it was the 2007 deficit, the last of the Republican budgets. That deficit was the lowest in five years, and the fourth straight decline in deficit spending. After that, Democrats in Congress took control of spending, and that includes Barack Obama, who voted for the budgets.
If Obama inherited anything, he inherited it from himself and a Democratic Congress.
In a nutshell, what Obama is saying is: "I inherited a deficit that I voted for, and then I expanded that deficit four-fold since January 20th 2009."
Of course, the left will do all they can to silence the truth, but as Jesus said in John 8:32, "…And you shall know the truth, and the truth shall make you free."
"The problems we face today exist because the people who work for a living are outnumbered by those who vote for a living."
Shared by Sharon, with a few additions of my own.
The following are 35 shocking statistics that prove that things have gotten worse in America….
#1 Median household income in the United States is down 7.8 percent since December 2007 after adjusting for inflation.
#2 There are 5.6 million less jobs than there were when the last recession began back in late 2007.
#3 The U.S. government says that the number of Americans "not in the labor force" rose by 17.9 million between 2000 and 2011.  During the entire decade of the 1980s, the number of Americans "not in the labor force" rose by only 1.7 million.
#4 In 2007, the unemployment rate for the 20 to 29 age bracket was about 6.5 percent.  Today, the unemployment rate for that same age group is about 13 percent.
#5 In 2007, 73.2 percent of all young adults between the ages of 18 and 24 that were not enrolled in school had jobs.  Today, that number has declined to 65 percent.
#6 Back in the year 2000, more than 50 percent of all Americans teens had a job.  This past summer, only 29.6% of all American teens had a job.
'Buying' House Votes for Unpopular Legislation
The Foundry
An examination of "administrative earmarks" around the time of congressional votes on key pieces of President Obama's agenda suggests the White House used its power to fund local projects as a means to "buy" votes for major legislative efforts.
Administrative earmarking refers to the federal government's allocation of funds from its discretionary budget for specific projects. The practice is less transparent than legislative earmarking, since, according to the Congressional Research Service, "[t]here is no source that defines and comprehensively identifies Administrative earmarks."
But an analysis of grants from agencies during the early years of the Obama administration shows that the districts of moderate Democrats, whose support was so crucial for Obama during the 111th Congress, received large sums right around the passage of three key pieces of legislation: Obamacare, Dodd-Frank financial regulations, and the cap-and-trade bill.
What is that problem?  Well, the laundry list is long, but in this case, I'm talking about two bills, HR 998 and S 555, both titled "Student Non-Discrimination Act of 2011 – To end discrimination based on actual or perceived sexual orientation or gender identity in public schools, and for other purposes".  Of course, the usual suspects are all co-sponsors.
Now, don't get me wrong, I don't think anyone should be discriminated against, for any reason.  I do, however, feel that making a certain group of people a 'special class' is ridiculous!   It is more and more obvious that this country has lost it's roots, and we are now floundering in the cesspool of 'secular religion'.  The intent of the bills on the surface, and I'm just guessing here, is to stop bullying.  Well, we already have laws that are suppose to do that, as in ya don't punch someone in the nose because they don't think or act like you. 
Congress evidently believes they can overrule God!
Leviticus 18:22 You shall not lie with a male as with a woman. It is an abomination.
This is not the only passage in the Bible that sets down the law, but it is the most well known one.
A brief summary of what this bill will do (from an email from the Public Advocate of the United States):
*** Require schools to teach appalling homosexual acts so "homosexual students" don't feel "singled out" during already explicit sex-ed classes;
*** Spin impressionable students in a whirlwind of sexual confusion and misinformation, even peer pressure to "experiment" with the homosexual "lifestyle;"
*** Exempt homosexual students from punishment for propositioning, harassing, or even sexually assaulting their classmates, as part of their specially-protected right to "freedom of self-expression;"
*** Force private and even religious schools to teach a pro-homosexual curriculum and purge any reference to religion if a student claims it creates a "hostile learning environment" for homosexual students.
In reality, the bills are promoting discrimination, but that's not all that unusual for the radical left.
SEC. 5. FEDERAL ADMINISTRATIVE ENFORCEMENT; REPORT TO CONGRESSIONAL COMMITTEES.
(b) Enforcement- Compliance with any requirement adopted pursuant to this section may be effected–
(1) by the termination of or refusal to grant or to continue assistance under such program or activity to any recipient as to whom there has been an express finding on the record, after opportunity for hearing, of a failure to comply with such requirement, but such termination or refusal shall be limited to the particular political entity, or part thereof, or other recipient as to whom such a finding has been made, and shall be limited in its effect to the particular program, or part thereof, in which such noncompliance has been so found; or
So, let me get this straight…no pun intended…if a public school doesn't doesn't comply with this law, and put their (both student and faculty) eternal souls at jeopardy, the federal gubmint will cut off funding? Somehow, refusing to return OUR money to OUR schools just doesn't seem right. Well, of course not…it's wrong, aka LEFT.
Section 7, STATE IMMUNITY
(a) State Immunity- A State shall not be immune under the 11th Amendment to the Constitution from suit in Federal court for a violation of this Act.
So, a state can't opt out of this obvious violation of the 1st Amendment? Am I reading that correctly?  People are suppose to be free to speak their minds, practice their faith, and NOT be penalized.  With these bills, a person can NOT practice their faith, or speak about it to others.  But yet, the religion of government is free to impose their will on the American people.  Does anyone else have a problem with this, besides me?
Please, go read BOTH bills.  They aren't very long.  I don't much care for bullies, of any gender, or status.  What I am seeing in these bills is the bullying of the American people by the very Congress whose salary they pay.
There is a petition to Congress, opposing these bills, not that Congress gives a flying flip what WE, The People have to say, but it doesn't hurt to give it a shot!
"You know, if we look back through history to all those great civilizations, those great nations that rose up to even world dominance and then deteriorated, declined, and fell, we find they all had one thing in common. One of the significant forerunners of their fall was their turning away from their God. Without God, there is no virtue, because there's no prompting of the conscience. Without God, we're mired in the material, that flat world that tells us only what the senses perceive. Without God, there is a coarsening of the society. And without God, democracy will not and cannot long endure.
"If we ever forget that we're one nation under God, then we will be a nation gone under."
~President Ronald Reagan~
August 23, 1984
Spending Bills Passed by GOP House Increased Debt $1T in 10 Months
Federal spending bills approved by the Republican-controlled House of Representatives have increased the national debt by more than $1 trillion dollars in just 10 months.
Republicans won a majority in the U.S. House of Representatives in the November 2010 elections and took control of the House on Jan. 5, 2011, when the chamber convened and elected Rep. John Boehner (R.-Calif.) as speaker.
Was our message not clear enough? Should we have camped out in your offices to make sure you DID get the message??? Should we behave like the trashy Occupy Wall Street slimes, and take up residence, smelling to high heaven, sharing vermin with the rest of the residents of the area?
But the Republican-controlled House did not gain a veto power over federal spending until March 4, 2011. That was the expiration date of the continuing resolution (CR) that the lame-duck Democrat-controlled Congress approved in December 2010. After March 4, federal spending has been approved by legislation that needed to be approved in the Republican-controlled House.
On March 1, 2011, the Republican-controlled House passed its first CR to fund the government after March 4. Since then, it has approved a series of CRs to keep the government funded. The Republican House approved its latest CR on December 16. It will keep the government funded until the end of fiscal 2012 on Sept. 30.
ONE TRILLION DOLLARS!  $1,000,000,000,000!!!!
Eighty-six House Republicans went against their party leaders and voted against the Dec. 16 CR, which actually garnered more votes from House Democrats (149) than House Republicans (147).
When the Republican-controlled House approved its first CR on March 4, 2011, the national debt was 14,182,627,184,881.03, according to the U.S. Treasury. As of the close of business on Jan. 9, 2012, the national debt was 15,236,506,139,986.86.
Those 147 Republicans should start looking for a new job! I'm not the only one that is fed up with D.C. wasting OUR money! The Democrats have been having a high ol' time spending money that doesn't belong to them for many decades now, and evidently, the Republicans are trying to play catch up! HEY!!! IT IS NOT YOUR MONEY!!!
That means the debt increased by $1.05 trillion over the past ten months.
That equals approximately $8,964 for each of the 117,572,000 American households estimated by the Census Bureau.
I don't know about you, but I don't have a spare 9 grand laying around each month. I don't have a spare quarter, thanks to the stupidity that runs rampant up there! The whole idea of 2010 was to STOP the madness, and bring some sanity back. Obviously, it didn't work, and WE, The People got screwed over, once again!
At the current rate, the Republican-controlled House is agreeing to allow the U.S. Treasury to borrow approximately an additional $896 per month American household per month.
Article 1, Section 9 of the Constitution says: "No Money shall be drawn from the Treasury, but in Consequence of Appropriations made by Law." Article 1, Section 7 says that every bill "shall have passed the House of Representatives and the Senate … before it become a Law."
The hell with it! You are ALL FREAKIN' FIRED!  Seems that 'oath of office' means NOTHING to you people!  Not a one of y'all are worth the effort that we put forth to get y'all elected, with one or two exception. And I'm starting to wonder about them as well!
Sen. Harry Reid's Unicorns: Fact Checking a Whopper
Tax policy should be serious business carried out by serious politicians using real facts and figures. This is why we have the Library of Congress and the Congressional Budget Office, among other expert institutions.
How can we take Congress seriously when the Senate Majority Leader, Harry Reid, makes patently inaccurate, outrageous and bizarre claims on an important tax-policy issue without any heads being turned? I guess this is what we have come to expect of Congress. No wonder citizens with favorable opinions of Congress are as rare as unicorns, to borrow a phrase.
Congress' ratings suck because Congress sucks. It's pretty much that simple. We have no trust in a body of arrogant back stabbers who are suppose to be working for US, not against us at every turn.
Harry Reid's statement on December 6 on his proposed 1.9 percent surtax on million-dollar incomes has kicked up some dust. Here is his statement:
"Millionaire job creators are like unicorns. They're impossible to find, and they don't exist… Only a tiny fraction of people making more than a million dollars, probably less than 1 percent, are small business owners. And only a tiny fraction of that tiny fraction are traditional job creators…Most of these businesses are hedge fund managers or wealthy lawyers. They don't do much hiring and they don't need tax breaks."
I'm tellin' ya….this guy needs to be put out to pasture! Millionaire's don't create jobs? Really? What has Bill Gates been doing? How about Steve Jobs? I guess they had their own unicorn's farting rainbows filled with pots of gold, eh? The dud shows all the signs of being either in early onset of Alzheimers or he is just flat out insane, and in need of a heavy dose of thorazine!
Taking their cue, National Public Radio launched a search for one millionaire job creator. They triumphantly announced:
"NPR requested help from numerous Republican congressional offices, including House and Senate leadership. They were unable to produce a single millionaire job creator for us to interview."
Really? Ya know, I find it absolutely amazing that no matter what we say, we are still funding NPR. What a bunch of useless libtards.  And they still beg for more from clueless listeners.  I seriously doubt they could survive in the real world where the market actually dictated the need for their, uh….non-services. 
Were it not for Google, I would have accepted Harry Reid's unicorn story and NPR's confirmation. Unlike Harry Reid's office, I went to the IRS's Table 1.4 "Sources of income, adjustments, and tax size of adjusted gross income, 2009" to check things out. (I summarize my sources in a separate blog posting). Here is what I found:
There are 236,883 tax filers with incomes of a million dollars or more. By Harry Reid's count, only one percent, or 2,361 of them, are business owners, and a tiny fraction of them create jobs. I do not know what Harry means when he says "a tiny fraction of a tiny fraction." If we let 5 percent represent Harry's "tiny fraction," we are left with 118 businesses owners who earn a million or more and create jobs. Yes, they are only slightly less rare than unicorns, if Harry is to be believed.
This leaves 236,765 million-dollar-plus tax payers, most of whom are "hedge fund managers and wealthy lawyers" who "don't create jobs and don't need tax breaks."
I would have to say that Reid's staff is totally incompetent. But then, so is Reid, so I guess they're all a good match. Heed the words Mr Reid: Google is your friend. Or if you prefer, Bing will also aid you in your search for a fact or two.
My Google search for Harry Reid's quarter million hedge fund managers and wealthy lawyers came up empty handed. I could identify at most sixteen thousand "wealthy lawyers and hedge fund managers," not Harry Reid's quarter million.
Well, Harry Reid's numbers leave much to be desired, but maybe he is right that millionaire business owners do not create jobs.
What does the IRS have to say about this? Millionaire tax filers earn a total taxable income of $623 billion, on which they pay the highest average rate (30 percent) of any tax bracket. (Either Warren Buffet's secretary has an incompetent tax accountant or Buffet has some pretty juicy tax breaks. I think the latter is more likely). A 1.9 percent tax surcharge on million-dollar-earners would yield $11 billion, assuming those shifty millionaires take no evasive action to avoid the tax.
I'm more inclined to say that Warren Buffet has lost what little sense he has, and will soon be sharing a rubber room with Harry Reid. While there are many people who are totally clueless, and will not do any investigation for themselves, there are just as many who WILL. This leaves people like Buffet, Reid, Pelosi, and D'Bama with a dilemma. What to do about the folks who aren't as stupid as they believe? Well, they are doing their darnedest to silence any dissent from their rainbows and unicorn scenario, of course!
Millionaire tax filers earn $221 billion – almost a quarter of a trillion — from business and professions, partnerships, and S-corporations. This is puzzling: If Harry Reid's figure is correct (2,361 millionaire businesses), then the average millionaire-owned business earns almost a hundred million dollars, and all, except 118 of them, do this without hiring anyone. These super heroes do their own typing, selling, drafting. public relations, building, and manufacturing. They do not need employees. Remarkable!
I wonder, since Harry Reid has become quite rich off the backs of the taxpayers, does he actually create any private sector jobs? Hmmm… Evidently, all those real business folks have managed to become quite wealthy (good on them) without doing a thing. How can I get into that racket? Not that I care about being rich or anything, but I'd really like to learn how these folks manage it without producing any products that the public wants, or without hiring hundreds or even thousands to not produce anything.
To summarize:
Millionaire tax filers earn almost a quarter trillion dollars from their businesses. They must hire hundreds of thousands of employees to do so.
There are a trivial number of millionaire hedge-fund managers and wealthy lawyers (who, according to Harry, do not hire anyone and don't need tax breaks). The millionaire tax surcharge is not aimed at them, but at the tens of thousands of millionaire business owners.
To put it in ol' broad terms…. Harry Reid is full of caca de toro!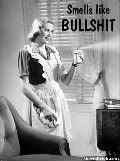 • $75,000 to promote awareness about the role Michigan plays in producing Christmas trees & poinsettias.
• $15.3 million for one of the infamous Bridges to Nowhere in Alaska.
• $113,227 for video game preservation center in New York.
• $550,000 for a documentary about how rock music contributed to the collapse of the Soviet Union.
• $48,700 for 2nd annual Hawaii Chocolate Festival, to promote Hawaii's chocolate industry.
• $350,000 to support an International Art Exhibition in Venice, Italy.
• $10 million for a remake of "Sesame Street" for Pakistan.
• $35 million allocated for political party conventions in 2012.
• $765,828 to subsidize "pancakes for yuppies" in the nation's capital.
• $764,825 to study how college students use mobile devices for social networking.
For a better picture of just what those assjacks are doing with the money that citizens work very hard for, go here.
Shared by Paula via Smart Girl Politics.
Dem says Perry wants Congress to get jobs at Wal-Mart
Rep. Steve Cohen (D-Tenn.) on Friday morning said GOP presidential candidate Rick Perry is pushing for a Congress that works just half of its time in Washington, and the other half at members' local Wal-Mart.
Congratulations Memphis! Once again, you make Tennessee appear to be full of idiots by continuing to elect this bozo to Congress! Stevie, I'm afraid you aren't qualified to work at Wally World. You'd have to have at least a little bit of common sense to be hired
Speaking on the House floor, Cohen was critiquing a GOP bill that could come up next week that would require Congress to approve all federal regulations. Cohen said this would require Congress to be in session even longer, which goes against candidate Perry's prescription for a half-time Congress.
Actually, no, it wouldn't. Well, it wouldn't if y'all actually did the job you were hired to do, and stay out of OUR business. You'd have plenty of time if y'all just stop creating more useless programs, spending money that isn't yours, and WE don't have.
"How can we work half-time under President Perry?" Cohen asked. "We'd have to be working time and a half. And we know there's not enough money for overtime, and President Perry doesn't want us to do that, he wants us to get a separate job when we go home.
Heaven forbid if y'all were actually efficient, and could do the job set out in the Constitution, instead of playing games with the American taxpayers money. Personally, I'd like to see your salary cut in half, or maybe more!
"We go back to San Antonio, we work half-time as a congressman and half-time we work at Wal-Mart," Cohen added. "That's what he's suggesting."
Perry has suggested that Congress only work part-time in order to reduce Washington's power and save money.
Dude, I'm not sure if you are aware of this or not, but San Antonio is in Texas, and YOU supposedly live in Tennessee. Why would you get a job in Texas?
Maroon! Evidently, Cohen is not aware that Congress is SUPPOSE to be a part time job, not a life time career. Aren't most of you idjits lawyers? How about you go home, and practice law. Heaven knows, y'all could use all the practice you can get! You've been getting rich off the sweat of OUR labors for long enough!
H/T: Maria
Charlotte Bergmann for Congress!!
Massachusetts Rep. Barney Frank Will Not Seek Re-Election
Longtime Rep. Barney Frank, D-Mass., will announce his retirement Monday at an afternoon press conference in Newton, Mass.
The 16-term lawmaker, whose name is emblazoned on the banking reform law that passed Congress last year, had long been rumored to be ready for retirement. He was previously chairman of the House Financial Services Committee but is now ranking member since Democrats lost the majority in the 2010 midterm election.
And He truly DOES love us!  Now, if we could just get the criminal behind bars, where he, and many of his colleagues belong! What they have done to this country is CRIMINAL!
But I repeat myself.  I would very much like to know why all those BOUGHT politicians are not behind bars? One more reason NOT to keep re-electing the same ones over and over again. They are there to do the PEOPLE'S will, not some fat cat lobbyists! And yeah, no Washington insider should ever be allowed to become lobbyist!
Capitol Punishment: The Hard Truth About Washington Corruption From America's Most Notorious Lobbyist
World Net Daily has
signed copies
for a bit more.